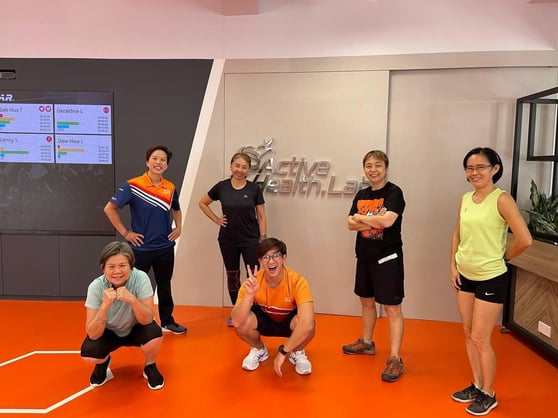 Standing from left to right: Active Health Coach Wan Xin, Lee Siew Hwa, Tan Lai Wan & Tan Gek Hua
Squatting from left to right: Lim Boon Lian, Active Health Coach Stuart
"When I started to push myself to do exercises, I realised I am capable of doing certain exercises such as ladder drills exercises. 3 months ago, I wouldn't even have dared to do them, but I realised that now I can actually do it." This was what 58-year-old Lee Siew Hwa, an engineering consultant, had to say after committing to exercise regularly.
Along with her friends Tan Gek Hua, Lim Boon Lian and Tan Lai Wan, aged 58-59 years old, they are defying stereotypes of being too old to exercise. The group has been attending exercise classes together at Active Health Lab in the last few months.
Many seniors shy away from the idea of exercising due to fears and misconceptions, the most common being that it is too late for them to start exercising and that they should avoid exercise to prevent injuries or falls. But the truth is, it is never too late. The only reason seniors become frail and get injured easily is because they do not exercise, allowing their bodies to become weak. Regular exercise helps strengthen bodies, build strong bones and muscle, and increase stamina. In turn, this improves one's balance and decreases the risk of falling and injury.
► Find Out More: Programmes and workshops specially curated for seniors
It goes without saying that exercise is highly beneficial for salth.sg/senieniors. Siew Hwa and her friends have experienced these benefits first-hand, especially after attending classes at Active Health. Boon Lian suffered from knee pains but through balancing exercise classes, she was able to build muscles to support her body weight which helped to reduce the pressure on her knees. Siew Hwa, Lai Wan and Gek Hua were able to train and build different muscle groups due to the diverse classes at Active Health, something which they were unable to do on their own as their own exercise routines consisted of mostly cardio exercises such as jogging.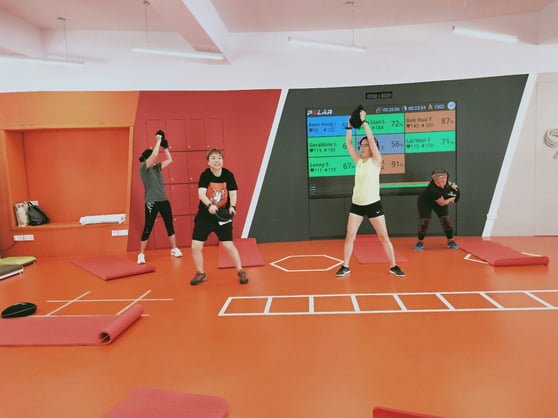 The change in lifestyle for the group is thanks to Gek Hua, whom as Lai Wan refers to as, "the catalyst in making our group know more about Active Health". The secret to motivating her friends to sign-up for classes was simple: frequent discussions on health and setting a good example.
► Watch: Simple yet effective exercises for masters and seniors
"I think over the years, I have been enforcing a lot about sarcopenia, or getting them to eat more protein so I have been nagging a lot and I am probably one of the fittest in the group. I noticed that some of my friends have been moving quite slowly, so if I know some activities that are easy like hiking, then I will get them to go. Although it is difficult to motivate one or two in the group, the majority are quite alright. Some are also quite busy so they can't join us too. So, a lot of talking about health helps a lot. By setting an example, I think a lot would want to follow," shared Gek Hua.
Injuries and family were other motivating factors. Boon Lian's family has a history of knee injuries which has caused her parents to be wheelchair-bound, and she was determined not to be the same. Siew Hwa's back injury from playing golf when she was only 40 years old was a wake-up call to exercise more seriously in order to strengthen her body and prevent injuries.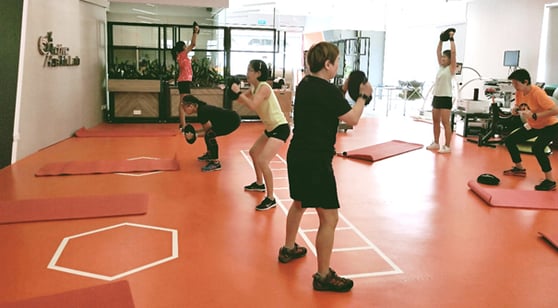 When asked if they had any advice to share for their peers who lacked motivation to exercise, the group mentioned two things: intrinsic "triggers" and positive influences. "To get someone to move, you would need to find out what their trigger points are, for example, what they might enjoy. That's when they will want to do it. It has to come from inside them and especially as everyone has different trigger points," Siew Hwa explained.
One good "trigger" is Active Health's Fitness and Health Assessment, which shows an analysis of the body and helps one understand their body composition, fitness and health status. Uncovering the true condition of one's body and seeing the undeniable evidence encourages one to seek out ways to change their lifestyle habits for the better. Positive influences such as friends and families can nudge one to exercise as well. Seeing good changes in them after exercising changes mindsets and inspire one to do the same.
A secondary motivation to continue to exercise for Gek Hua was to just keep fit and to also have friends to do it with. "My motivation is to just keep fit because when you are fit, things are just so much easier to do. I feel like I am in my fittest state now and I feel light now and I want to keep it. Maintaining the quality of life. It is also good to have partners to do it with, because it is more fun this way."
If there is any more reason needed to motivate seniors to exercise, it is the emotional satisfaction that one can experience. The four friends seem more fulfilled; they are happier because exercising has become fun when doing it with other people, and they are more confident now as they become stronger and fitter. At the same time, their friendship has become stronger as they bond over exercising together instead of their previous sedentary past-time of playing mahjong.
Outside of exercise, the ladies have also taken a step further to change their diet for better health. Lai Wan is more conscious in increasing her protein intake to help with muscle growth and cut down carbohydrates in her meal, and Siew Hwa has also cut down on her dessert intake. Gek Hua is also making a more conscious effort to make sure that her meals are healthy and well-balanced in nutrients. However, she admits it is difficult to control her temptations and eat healthy all the time, so she allows herself to cheat during the weekends only.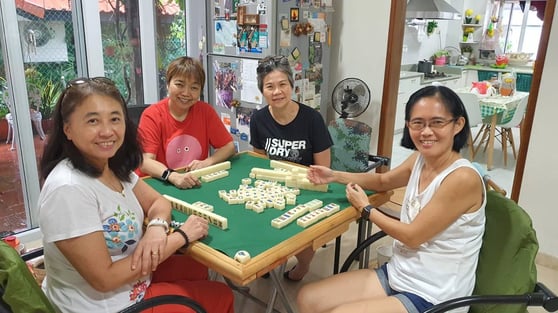 Throughout their exercise journey in the past few months, they felt that Active Health have been helpful. "The exercises are under expert advice since coaches are trained so our forms can be corrected" Gek Hua commented. Furthermore, Boon Lian also added that "a lot of empathy, care and concern shown by the coaches has been a very good factor" which is also why the group has been actively coming to Active Health for the exercise classes.
Boon Lian commented that the coaches helped to create a positive environment that provided more motivation for them during the workout. The only downside, the group playfully added, is the popularity of the classes which sometimes makes it hard to get preferred slots. The good news is that participants can now opt to join virtual classes!
Our Active Health Coaches, Wan Xin and Stuart, who have been coaching the group, also have positive feedback for the four ladies. From Wan Xin: "They have shown great determination and are keen learners to improve their health. Yet, they do not forget about fun at the same time while exercising. They find their respective exercise class that fit their individual needs to work towards their health goals. More than 40 years of friendships and going strong is amazing. They have also inspired me a lot in their own ways and I am glad to be part of supporting their health journey." As for Stuart: "They are a very fun and entertaining bunch who never cease to amaze me. They have been very positive and encouraging of each other and to the others who participate in the workshops. Each of them has different goals they want to achieve but found that they can achieve it in a fun way through our workshops. I really enjoy coaching them and watching them develop their physical mastery.".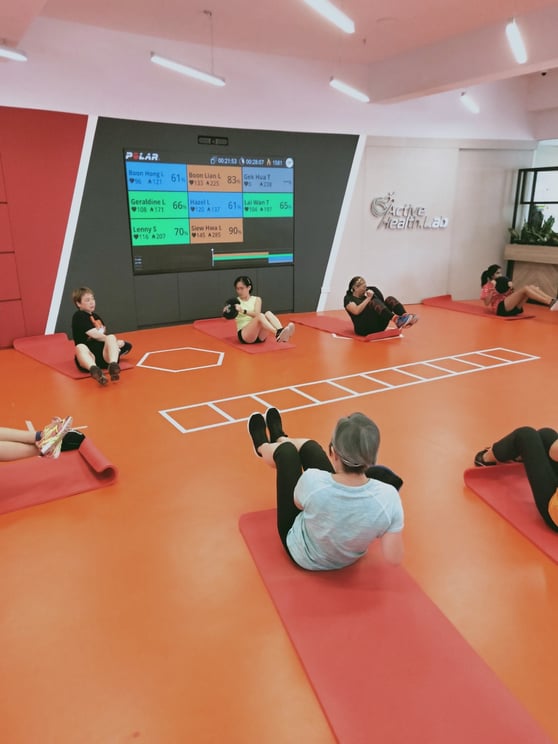 In summary, Active Health has made a good impact on their health. As mentioned by Lai Wan, "I realised I need to keep fit, and my old morning walks were not enough. So through the FHA session, that motivated me to join the programs, and when I come, there are great instructors and interesting sessions and from there, I noticed my health has improved. So in the last 3 months, I feel more agile as well. That's how AH has impacted me." Gek Hua and Siew Hwa also shared that they feel stronger and have targeted different areas of muscles they never worked on before.
Exercise is not limited by age, so join Siew Hwa, Gek Hua, Boon Lian and Lai Wan in taking charge of your health & wellness! The Active Health team is happy to help, so reach out to us anytime!
► Contact Us: Enquire about the Active Health for Seniors Programme via sport_active_health@sport.gov.sg