When it comes to raising healthy children, most parents are bound to worry whether their kids are eating well at school. Unfortunately, it's hard to determine if the food sold at outside eateries and school canteens are nutritious enough to meet the needs of a school-going child. Here's why packing a lunch box for children needn't stop at kindergarten, and some easy recipes to get started with.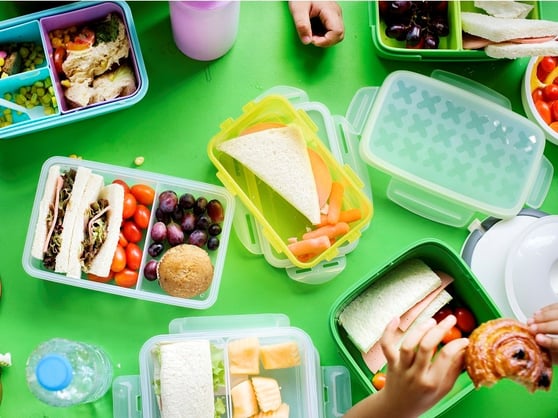 Photo: Active Health
Why packing lunch boxes is a good idea?
The main benefit of preparing lunchboxes for children to bring to school is that added level of assurance that they're getting the nutrients they need. Children of school-going age need lots of nutrients because their bodies are still growing and developing. Nutrient-rich foods will boost both short-term and long-term health in numerous ways:
• Good physical growth
The onset of puberty during a child's school-going years means they will need an abundance of nutrients to see them through the growth spurts. Boys will need to consume a lot more calories because of their rapid growth, while girls will need lots of calcium-rich foods to aid bone development as girls tend to have lower bone density than boys. All in all, making sure your child eats nutritiously during their growing years will help them get taller, stronger and healthier.
• Weight control
Many parents make the mistake of encouraging their children to eat much, much more during their puberty years – to the point that the child becomes obese. Childhood obesity is dangerous because obese children have a higher tendency to remain obese as adults, which could lead to them developing long-term health conditions like type 2 diabetes and liver disease in the future. Packing lunch boxes for your children helps to ensure they don't overeat or put on so much weight that they fall into the obese category.
• Mental health
Eating nutritiously doesn't only contribute to physical health, it also helps with brain and cognitive development. This translates to better focus, memory and cognitive ability, which will definitely serve your child well in school and help them learn better.
Homemade lunchboxes are the simplest ways to optimise your child's nutrient intake. Before looking into recipes, here are some pointers on how to prepare a nutritious lunchbox.
Guidelines to preparing lunch for children
• Choosing the right foods
A nutritious lunchbox should contain a mix of foods from the different food groups: protein, carbohydrates, vegetables and fruits. Always opt for fresh ingredients when it comes to meat and vegetables and go for whole-grain carbohydrates (such as brown rice and whole-wheat bread) instead of refined ones (such as white rice), as these provide more energy and help with weight management. Aside from these, make sure to include dairy-rich foods as these contribute to bone and muscle health. Milk, yoghurt and cheese are good examples that your children will probably enjoy too.
• What to avoid
Foods that should stay out of the lunchbox include those that contain added sugar and preservatives as well as those that are high in saturated fat. Bottled sauces, jams and deep-fried finger foods are common examples of things that should be limited, so be careful with these.
• How much food to prepare
The size of food portions your child needs depends on their age, gender and activity level. As a general guideline, children of upper primary age should consume between 1,500 to 2,400 calories while secondary school children need around 1,800 to 3,000 calories.
Determining your child's nutritional requirements might be difficult so don't hesitate to seek help from our Active Health Coaches at Active Health Labs located island-wide. Once you've determined how much food your child needs and how much of each food group to include, you're all set to start cooking!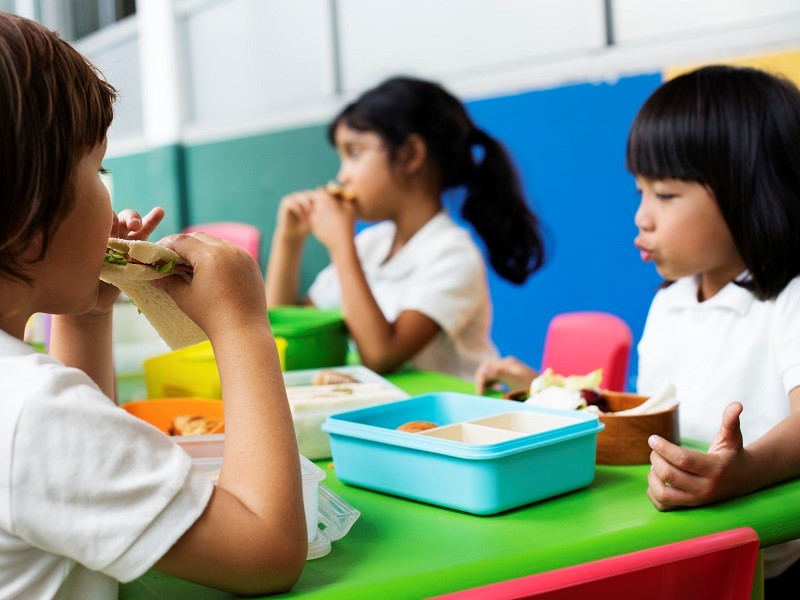 Photo: Active Health
5 easy lunchbox ideas you can try at home
1. Black bean burrito bowl
Ingredients:
60g basmati rice
½ tablespoon olive oil
1 chopped garlic clove
½ tablespoon cider vinegar
½ teaspoon honey
1 tablespoon chipotle paste
50g chopped kale
½ can black beans, drained and rinsed
½ chopped tomato
½ chopped red onion

½ sliced avocado
Instructions:
Cook the basmati rice and drain it. Keep the rice warm in a pan over fire.
Fry the garlic with the oil in a pan until golden.
Add the black beans, vinegar, honey and chipotle paste to the pan and cook for about 2 minutes.
Boil the kale for a minute and drain.
To serve, transfer the rice to a container and top off with the bean mixture and kale.
2. Rainbow salad jars with tuna and pasta
Ingredients:
75g pasta (any kind)
50g green beans, chopped
40g canned tuna, drained
1 tablespoon mayonnaise
1 tablespoon yoghurt
50g cherry tomatoes, sliced into quarters
¼ can sweetcorn
Instructions:
Boil the pasta until it is still slightly al dente (firm to the bite) and drain.
Cook the green beans for 2 minutes, rinse in cold water and drain.
In a separate bowl, mix the tuna with mayonnaise and yoghurt
To serve, pour the pasta into a jar and cover it with the tuna salad. Top off with green beans, cherry tomatoes and sweetcorn.
3. Pasta salad
Ingredients:
100g pasta
1 tablespoon pesto
¼ tablespoon mayonnaise
½ tablespoon yoghurt
¼ lemon, juiced
50g mixed cooked vegetables (e.g. sweetcorn, peas, beans)
25g cherry tomatoes, sliced in quarters
50g cooked meat (e.g. chicken, ham, prawns)
Instructions:
Boil the pasta until it is still slightly al dente (firm to the bite) and drain. Mix the pesto in and let it cool.
Once the pasta is cooled, mix in the mayonnaise, yoghurt, lemon juice and mixed vegetables.
To serve, pour the pasta mixture into a container and top off with the meat.
Cauliflower and broccoli bowl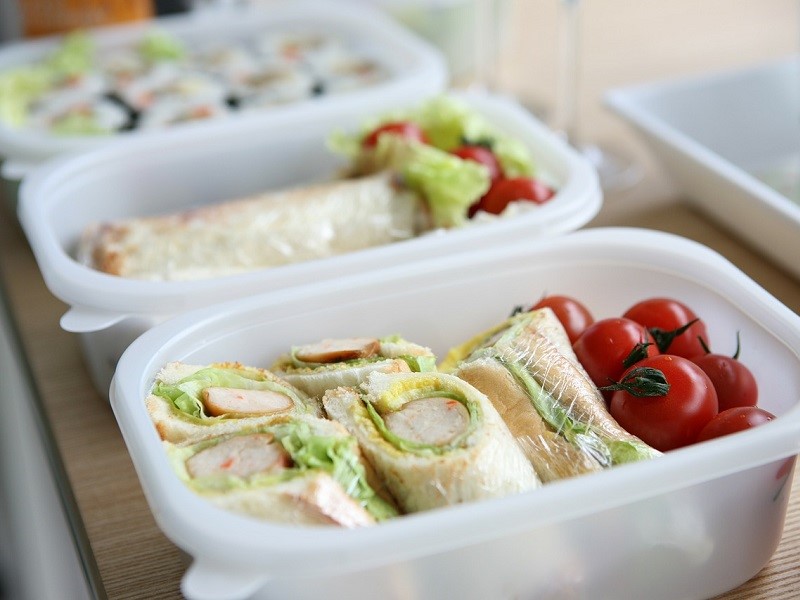 Photo: Active Health
4
. Cauliflower and broccoli bowl
Ingredients:
200g cauliflower and broccoli florets
1 tablespoon extra-virgin olive oil
100g cooked quinoa
1 cooked beetroot, sliced
A handful of baby spinach
5 chopped walnuts
1 tablespoon tahini
1 tablespoon hummus
¼ lemon, juiced
Sprinkle of salt
Instructions:
Preheat the oven to 200°C the night before. Roast the cauliflower and broccoli for 30 minutes in a roasting tin with the oil and salt and leave to cool.
For the dressing, mix the tahini, hummus, lemon juice and a tablespoon of water into a small bowl.
To serve, line the container with the cooked quinoa, followed by the beetroot slices, spinach leaves then the roasted cauliflower and broccoli
Sprinkle the chopped walnuts and add the dressing.
5. Turkey wraps
Ingredients:
100g cooked turkey, cut into strips
2 tablespoon hoisin sauce
1 flour tortilla
¼ cucumber, shredded
2 spring onions, shredded
A handful of watercress
Instructions:
Set the grill to high. Marinate the turkey with 1 tablespoon of the hoisin sauce and grill it on an ovenproof dish until it sizzles.
Heat up the tortilla on the grill and spread the remaining hoisin sauce over it.
Spoon the grilled turkey onto the tortillas and add the watercress, cucumber and spring onions.
To serve, roll up the tortilla and slice in half.
These are just some simple recipes you can try out. There's always room to substitute ingredients to meet a picky eater's preference – just ensure the different food and nutrient groups are balanced. While packing lunch boxes is a sure way to ensure that your child is eating right, there's more than you can do when it comes to inculcating lifelong healthy eating habits. This can be easily done with some simple lifestyle changes.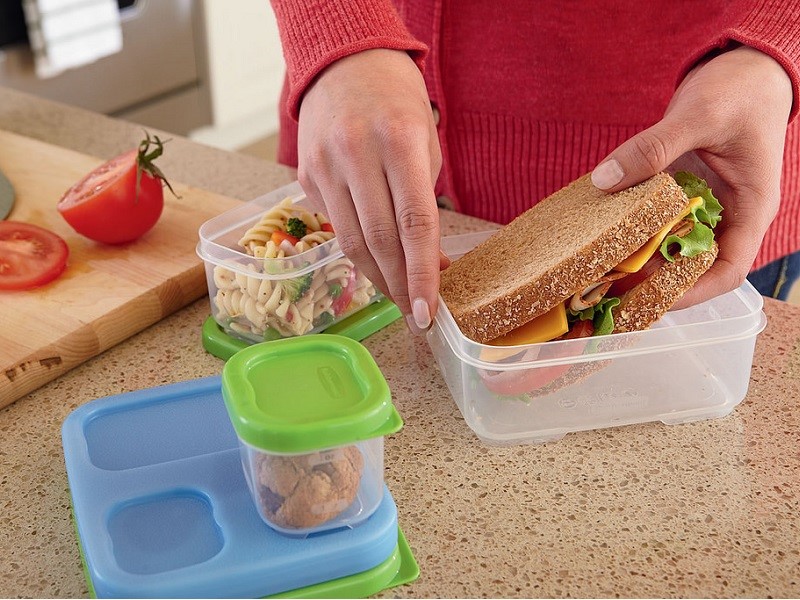 Photo: Active Health
How to encourage healthy eating habits in children
• Stock up your kitchen with healthy food
Your school-going child probably loves snacks and will reach for whatever is convenient, so fill your fridge and pantry cabinets with healthy snacks and keep the less healthy ones tucked away in less conspicuous or harder-to-reach places. For example, leaving pre-cut fruits in the fridge is a good idea so that it's the first thing your hungry child sees when he/she opens the door.
• Use positive reinforcement over negative ones
Praise your children when they choose healthy foods but don't yell at them or nag when they choose unhealthy ones. Children's palates are ruled by their taste buds after all! Scolding them may only make them more rebellious when it comes to food choices, so opt for a gentler, more rational approach – compromising is always a good idea and is also a great way to encourage dialogue between parent and child.
• Explain the benefits of healthy food in a relatable way
When encouraging your kids to pick healthy foods, always explain the benefits of the particular food in a way that relates to their life and needs. For example, tell them that calcium will help them build stronger bones, so they won't get injured from falling down when playing sports.
• Make family dinners a regular affair
Family meals are a great way to ensure your children are eating healthily and get them familiar with the idea of a balanced meal. They also make excellent opportunities for you to talk to your kids about nutrition and teach them about what goes into the preparation of healthy meal!
•

Let your children choose what goes on their plate
Besides simply cooking for them, let the kids have some fun by giving them some choice over what goes into their lunchbox or plate. Allowing them to customise their fruits, veggies or meat can make healthy eating much more fun and inclusive for them.
• Fix portion sizes
Most Singaporean families practice serving dinner in a sharing-plate fashion, where the main dishes are put on large plates for everyone to grab as much as they want. While this boosts family ties to an extent, it's less effective in helping kids (and adults) control their portion sizes. Splitting the main dishes onto each individual's plate could better help with portioning and inculcate a greater understanding of conservative eating.
As a parent of a school-going child, it's never too early to introduce your child to the concept of healthy eating. Since healthy eating is a lifelong process, taking the time to build the habit in your little ones is one of the greatest gifts you can give them. The only thing better than a happy child is one that is both happy AND healthy!