Which swimming pools are open to public?
Most of our training pools, competition pools and wading pools are open for public use.
For the latest facilities closure schedule, please visit https://www.myactivesg.com/Facilities/Sport-Centres/Facilities-Closure
What are the operating hours of the swimming pool?
The pools will be opened daily from 8am to 9.30pm except for MOE Evans Swimming Pool. The operating hours for MOE Evans will be weekday from 6pm to 9.30pm, Saturday from 2pm to 9.30pm and Sunday from 8am to 9.30pm.
ActiveSG swimming pools will be open for morning swim starting from 6:30am on alternate days except Sunday. Please refer to the table below for the opening hours and days at the respective pools.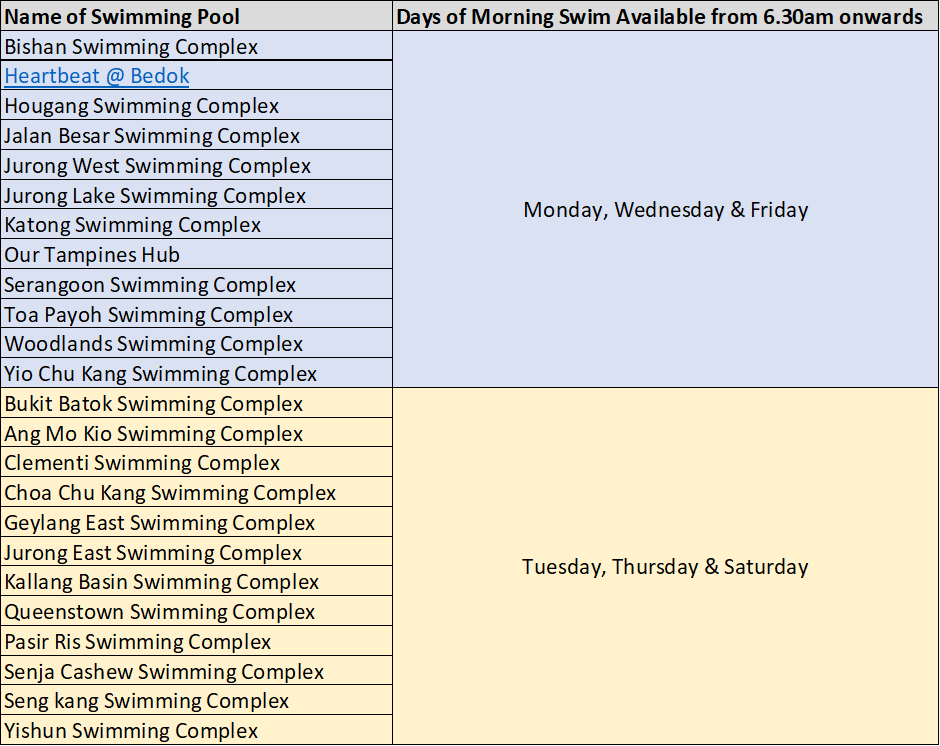 Can I come to swim at any time?
Starting from 26 April 2022, you will not be required to pre-book a slot for swimming. You may proceed to your preferred swimming complex and scan in with your NRIC or My QR on your ActiveSG app at the turnstile for admission.
The pool admission charges will be deducted from your e-wallet and please ensure that your e-Wallet has sufficient funds before doing so.
For those who had pre-purchase one-time swim pass, you will be able to use the swim pass for entry from 26 April 2022 onwards.
For Singaporeans 65 years old and above, you will be able to enjoy free entry to ActiveSG swimming pools and gyms.
Will I still be able to use my current swim passes (eg Monthly Pass, Merdeka Generation Package)?
Yes, your monthly passes and Merdeka Generation Package are still valid and you can continue to use them until the expiry date.
Is it safe for me to swim?
We test our pool waters 5 times a day, in accordance with NEA's guidelines. There is no evidence to suggest that the virus can be transmitted through swimming pool water. We also prominently display signs for users to observe the proper hygiene practices for the safety and benefit of all swimmers and have included enhanced measures.
Coaching at ActiveSG Swimming Pools
I am a swimming coach. Can I coach in the ActiveSG facilities?
Yes, you will be able to coach in ActiveSG facilities if you have a valid NROC and a Usage Permit.
Do I still need to book a lane for coaching?
If you are an organisation and would like to book a dedicated lane for your coaching session, you may want to find out more about corporate booking from this link - Corporate rates - ActiveSG (myactivesg.com). Booking is subject to availability.
Please note that in addition to the booking charges payable by the hiring organisation, individual admission charges to the pool applies.