Mountain Biking Disciplines - Cross Country, Enduro & Downhill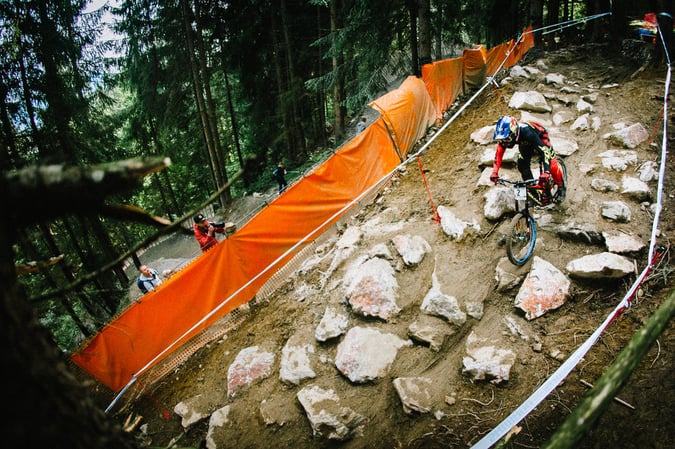 Rider "rocking and rolling" over huge rocks in a downhil mountain biking race.
By: Sylvia Tan
Mountain biking is an ever-growing sport which has made tremendous progress over the years and sees an increasing media coverage on major annual competitions held worldwide. The sport has over the years diversified into many riding styles or disciplines, with each discipline requiring a unique mountain bike design, kit and trail type.
Cross Country (XC)
Cross Country racing is the most popular mountain biking discipline and also the least extreme amongst the other forms. XC racing is also an Olympic discipline which involves competitors racing from point-to-point through defined trail sections in the fastest time possible. XC trails can range from open fire roads to winding narrow single-tracks that will test the rider's endurance and technical handling skills.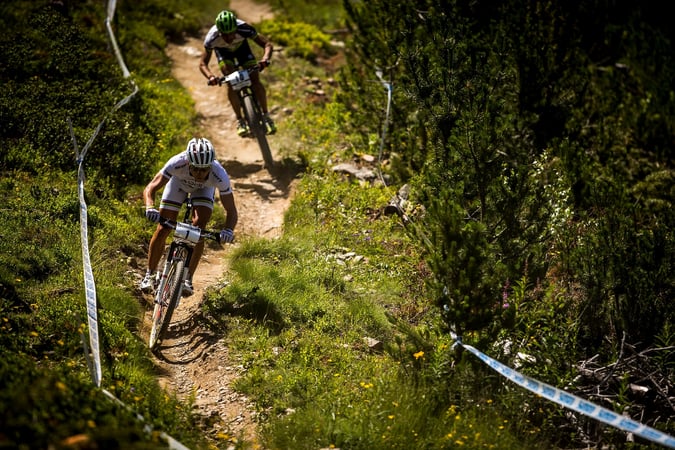 Cross country mountain bike terrains are the least extreme amongst the disciplines.
XC riders generally start on a hardtail (single suspension) and these XC bikes are built for climbing and quick-handling. However, they are not as forgiving as a full-suspension (dual suspension) bike which provides better stability and control on technical descents. They are fitted with knobby tires for grip and the front suspension fork has travel length that varies from 80mm to 120mm. Travel is basically the amount of movement that the front suspension fork can absorb. Hence the longer the travel, the smoother your ride will be over bumps.
Enduro/All-mountain
If you are looking for a more adventurous type of mountain bike riding, Enduro (also known as all-mountain) is the way to go. Enduro tracks are more technical than XC which involves bigger drops and jump sections to fuel your adrenaline thirst. Enduro competitions are staged races completed over a few days and involve steep climbs and timed descents.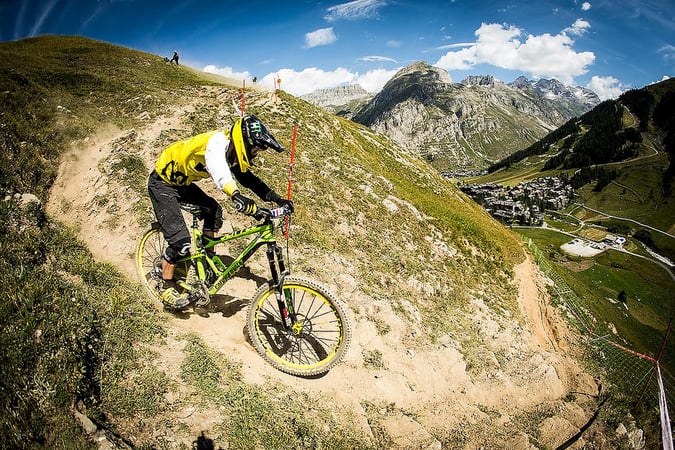 Racer navigates round a sharp turn during descent in an Enduro mountain bike race.
Enduro riders generally choose full-suspension bikes with larger width tires, longer rear suspension travel and longer front suspension travel. For enduro, the bicycles have a longer front suspension travel that typically ranges from 140mm to 170mm. These bikes are burlier than XC bikes which will take larger drops more efficiently and basically anything that the rugged mountain throws at them. Full-face enduro helmets (similar to that of a motorcycle helmet) and body armour such as knee and chest protectors are a common fixture for Enduro riders.
Downhill
This discipline is designed for the advanced and extreme riders whose love for speed brings them blazing down the roughest single-track descents through rock gardens, massive drops and gnarly root sections. Downhill races are very intense and exciting to watch, with one rider racing down a defined downhill section, at any one time, in the fastest time possible.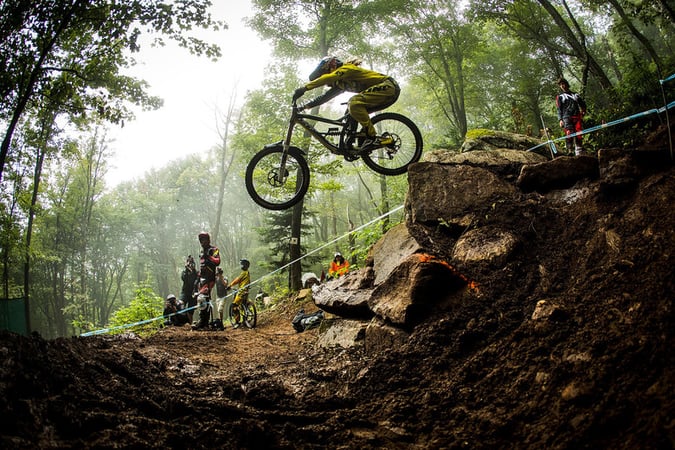 Female downhill rider leaps off a huge drop in a downhill mountain biking race.
Downhill riders will need an good sense of balance to navigate through the toughest terrains under high speeds. Downhill bikes usually have a slacker geometry, longer rear and front travels (and bigger rotors in the disc brakes for the added stability and control which the discipline demands. The front travel for downhill bikes is typically 200mm or 203mm (depending on which manufacturer you obtained them from). The bikes also sport fewer/smaller gears for added clearance over big obstacles. They are rugged and much heavier which makes them unsuited for uphill climbs. Full-face helmets are a must coupled with goggles to block out rock deflections and dirt from the eyes. It is recommended to wear additional body armour such as chest and back plates.
To receive the latest updates on the happenings in the Singapore sports scene, or to find out more about some of the latest programmes on offer at ActiveSG, like our Facebook page here.