Equipment required for golf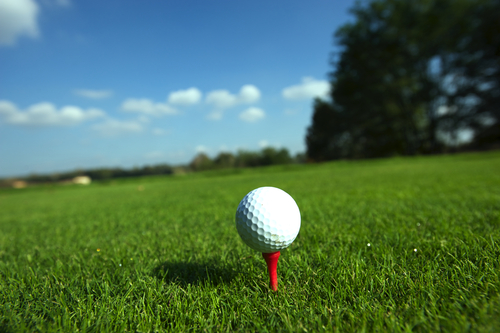 Image credit: Shutterstock.com
A game of golf certainly requires more than just a club and ball. The following are just a few of the equipment required - not just to protect the course and aid your game, but also to ensure an overall improved game experience for all the players involved.

Golf clubs

Consisting of a shaft, a grip, and a clubhead, clubs are used to propel balls towards the holes on a golf course. A typical set of golf clubs usually come in a bag of 14, with a variety of woods, irons, wedges, and putters. Each type of golf club is designed specifically to provide different degrees of trajectories and distances.

Golf balls

Fashioned from synthetic materials, golf balls usually have a dimple pattern on their surface. This pattern promotes better aerodynamics, helping to facilitate a ball's spin and elevation when it is hit.

Tees

Commonly made with wood or plastic, tees are stuck in the ground in order to elevate a ball's position, making it easier for the player to hit it. It is made up of a pointed bottom that is driven into the ground, and a head for balls to be placed on. Tees are only allowed when players are making the first stroke of each hole.

Ball markers

Under various circumstances, golf balls may be lifted from their positions on the green. However, their exact spots must be marked accurately in order to ensure fairness. These markers are usually a thin, circular object made from either metal or plastic. They may also be substituted by any other small object, such as a coin.

Ball mark repair tool

Also referred to as a pitchfork or divot tool, these items are used to fix any marks or minor damage that has been made by a ball. A player usually uses this tool to lightly push surrounding parts of the turf into the recess made, in order to aid quicker growth of grass in the area. They should end off the mending process by smoothing the surface with the flat bottom of a putter.

Gloves

Gloves help players to achieve better grip and more controlled swings, as well as reduce chances of skin abrasions. They are usually worn on the golfer's non-dominant hand, though one may wear them on both sides too.

Shoes

Golf shoes often have spikes on their bottom surfaces. These are made from either metal or plastic, and help with balance, especially when the ground is wet. Some courses prohibit the use of metal spikes, as they can cause serious damage to the turf.


To receive the latest updates on the happenings in the Singapore sports scene, or to find out more about some of the latest programmes on offer at ActiveSG, like our Facebook page here.