Cambodia 2023: 3x3 basketballers stand tall after trying tournament
by ActiveSG Circle, on May 7, 2023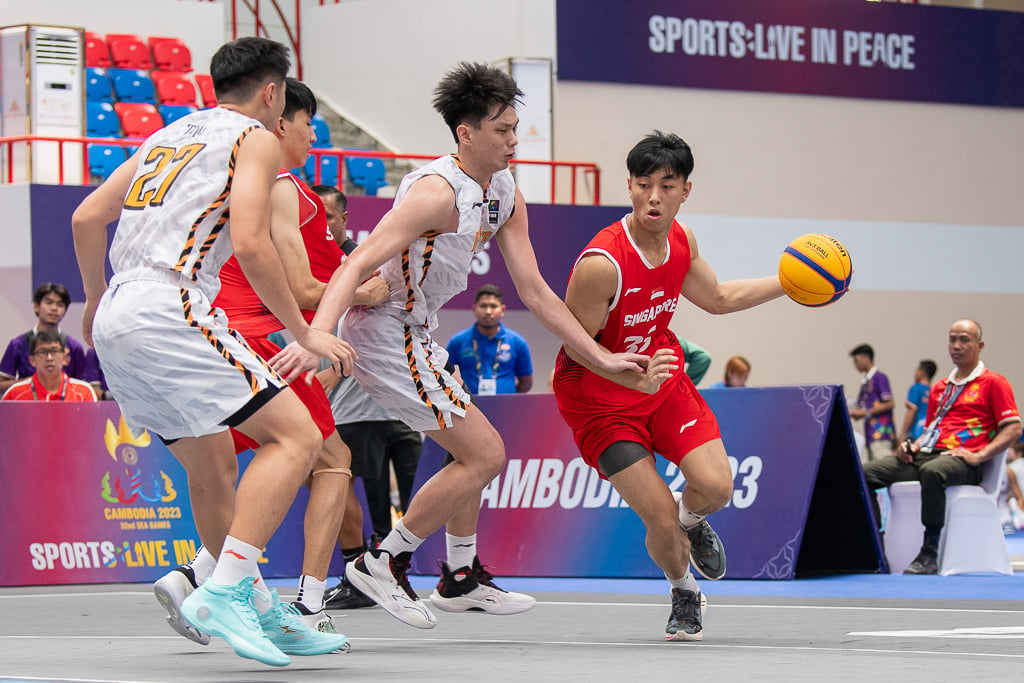 Singapore's 3x3 basketball teams finished seventh out of eight teams at the Cambodia SEA Games. Photo: SportSG/Flona Hakim
By May Chen
Team Singapore's basketball 3x3 teams may not be leaving Cambodia with any silverware, but they will come away with a wealth of experience.
The men's and women's teams completed their campaigns at the Morodok Techo Elephant Hall 2 on Saturday (May 6), with both sides finishing seventh out of eight teams.
While they were unable to notch a win in any of the three games either teams played, players said it was a rare chance to see where they stood against the region's best.
Said Dania Ervianny Nah, who was competing in her first international competition of this scale: "The experience was eye-opening. I'm a rookie with the least experience in the team and the SEA Games is the biggest stage I've been put on.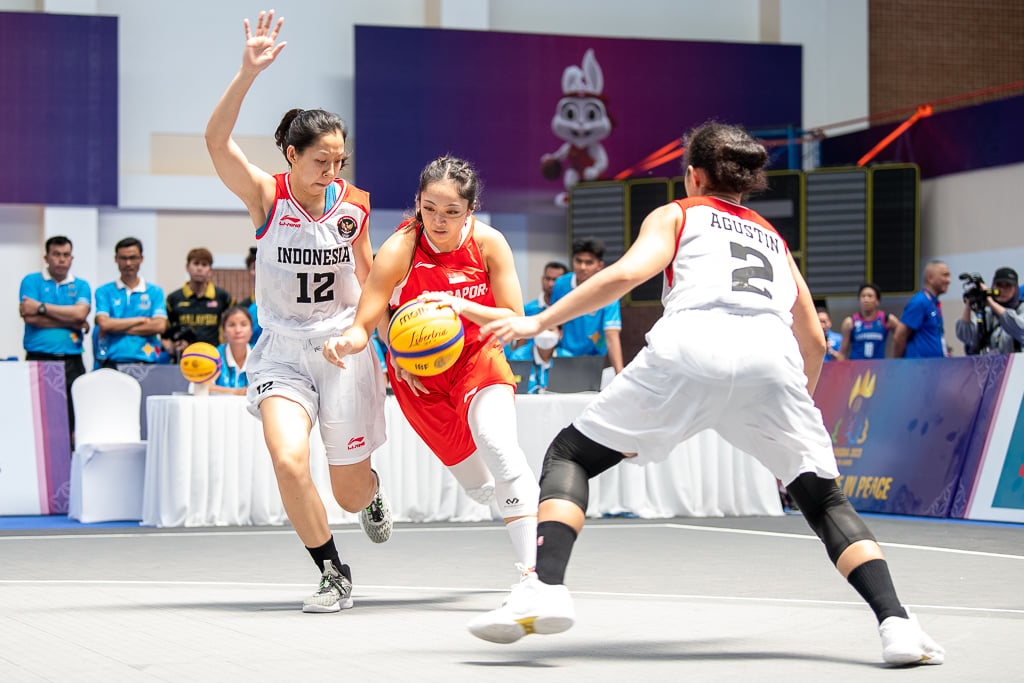 Dania Ervianny Nah dribbles past Indonesian opposition in a game at the Morodk Techo Elephant Hall 2 on May 6, 2023. Photo: SportSG/Flona Hakim
Nah, the youngest in the women's team at 20 years old, said one of her biggest highlights was gaining experience and memories with her teammates, bonding over matches, and time in the Athletes' Village.
Still, she had to cope with a hard fall on her elbow in the first game, but soldiered on to play through injury for the rest of the tournament.
At 1.65m, she and the rest of her Team Singapore teammates were often towered by their rivals from nations like Indonesia.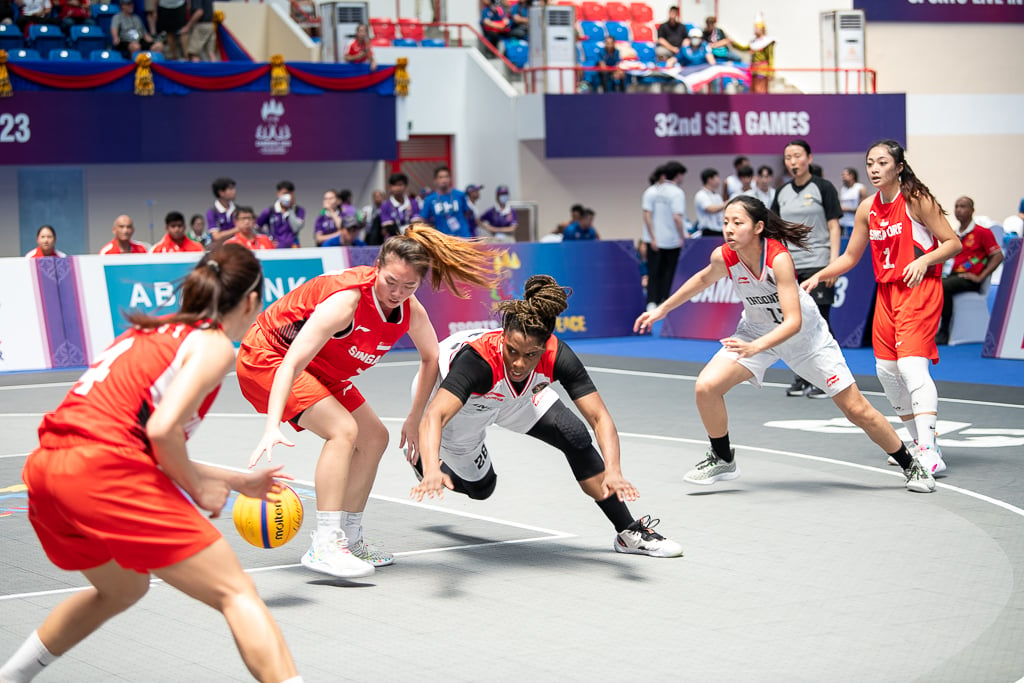 From left: Sara Choong, Lydia Ang in action against Indonesia, with Dania Ervianny Nah looking on. Photo: SportSG/Flona Hakim
"We were up against professionals who play basketball for a living, whereas we are doing it out of passion."
"We had to work twice as hard for the rebounds and hold our ground. We struggled to stop the (bigger-sized) players and the shots they created, which led to the tough scorelines. But we are working on it, and we'll do better next time."
For the men's team, falling short of their target of a top four finish was no doubt disappointing.
Said Jonathan Ng: "This experience gained me a lot of exposure, and helped me see that the playing styles and skills of some 3x3 teams are so much better and stronger."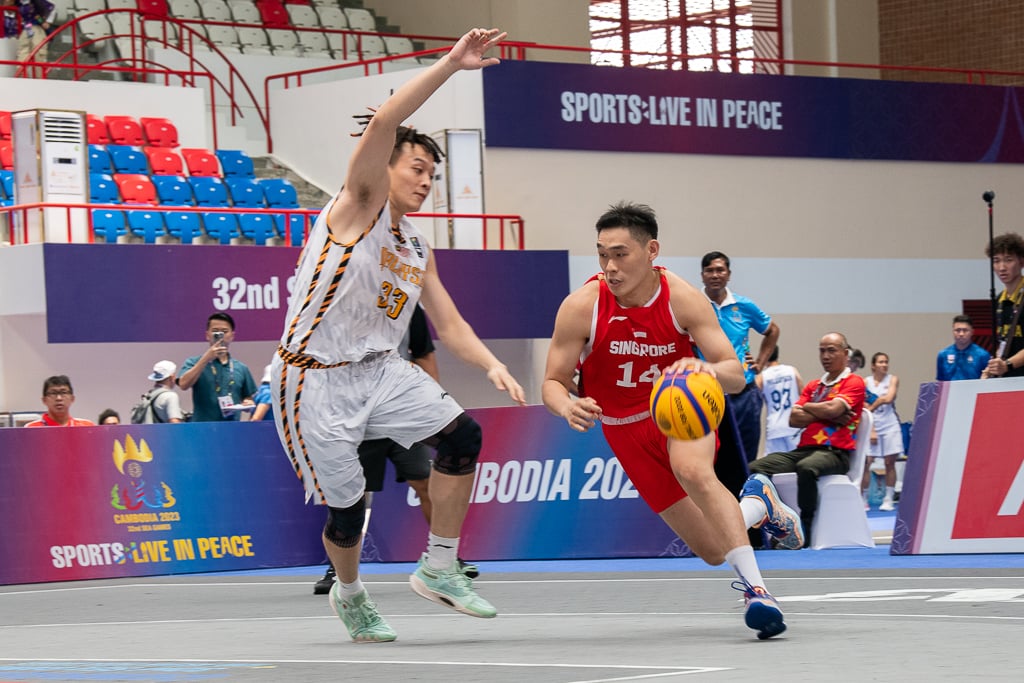 Team captain Branson Tan in action in a preliminary round game against Malaysia. Photo: SportSG/Flona Hakim
Going back to the drawing board, the teams now have a better idea what they lack. While there is little the players can do about differences in physique, fitness is definitely something they can work on. Better accuracy in shooting is also something the players want to work towards.
Said Nah: "We need to work on our conditioning to be able to match up with our opponents who are professional athletes who train day in, day out. Because we do not have the luxury of time, we need to be more disciplined and keep the intensity up with the limited time we have in order to grow alongside the others."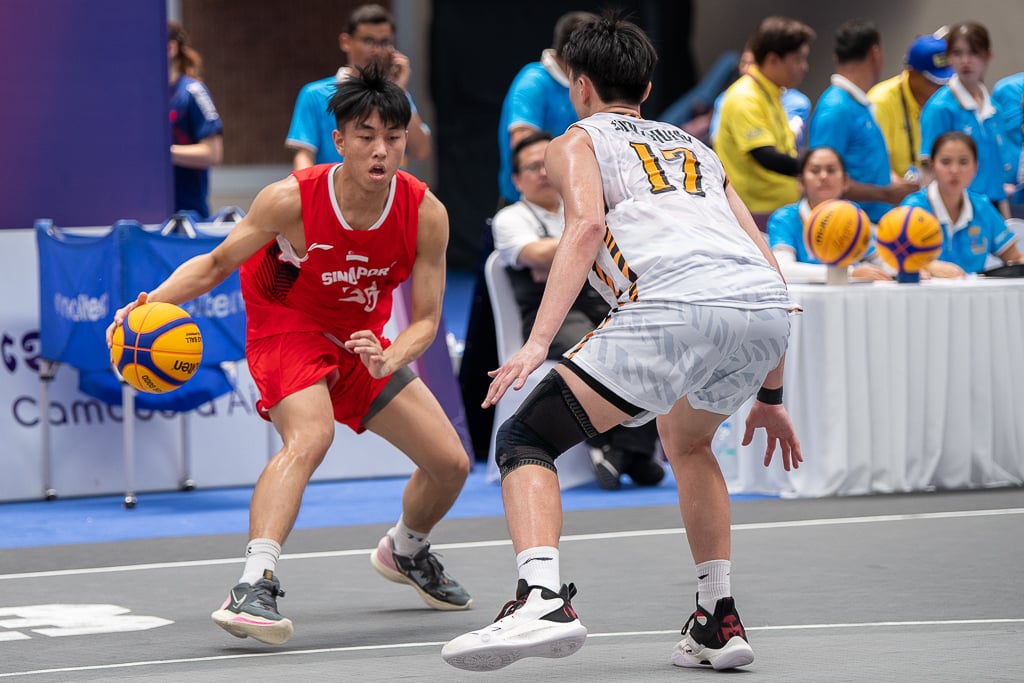 Singapore's Jonathan Ng in action in a preliminary round game against Malaysia. Photo: SportSG/Flona Hakim
Added Ng: "We played against tougher, stronger and more physical teams, which helped us be exposed to aggressive and hungrier opponents. The team has made big progress in terms of playing together as a team, rather than as individuals."
The players hope to test themselves next at the Asian Games with the U23 squad, and work towards the FIBA Asia Cup next year.
"We are a young team looking long-term at the 3x3 leagues and will work hard with every blessed opportunity that comes to us," said Nah.
The 32nd SEA Games are held in Cambodia from 5 to 17 May 2023. For the latest Team Singapore coverage and news, follow Team Singapore on their social media channels (Facebook, Instagram, TikTok) or visit the official Team Singapore website.
Recent Events & Programmes