Cambodia 2023: Men's indoor hockey team improvise to retain bronze
by ActiveSG Circle, on May 6, 2023
By May Chen
Team Singapore's indoor hockey players are not quite like their counterparts from other nations.
For starters, most are not full-time athletes and can only squeeze in precious training hours a few times a week, after school and work. Preparation for the SEA Games in Cambodia has also mostly been done on a basketball court.
The men's team completed their campaign on Saturday (May 6) with a 1-4 defeat to Thailand in the final round-robin match at the Rong Roeung Hall. It made for an overall fourth place finish out of six teams, earning the side a joint bronze.
The women's team drew their match against the Thais 2-2 in their final round-robin match, and finished fifth out of six teams.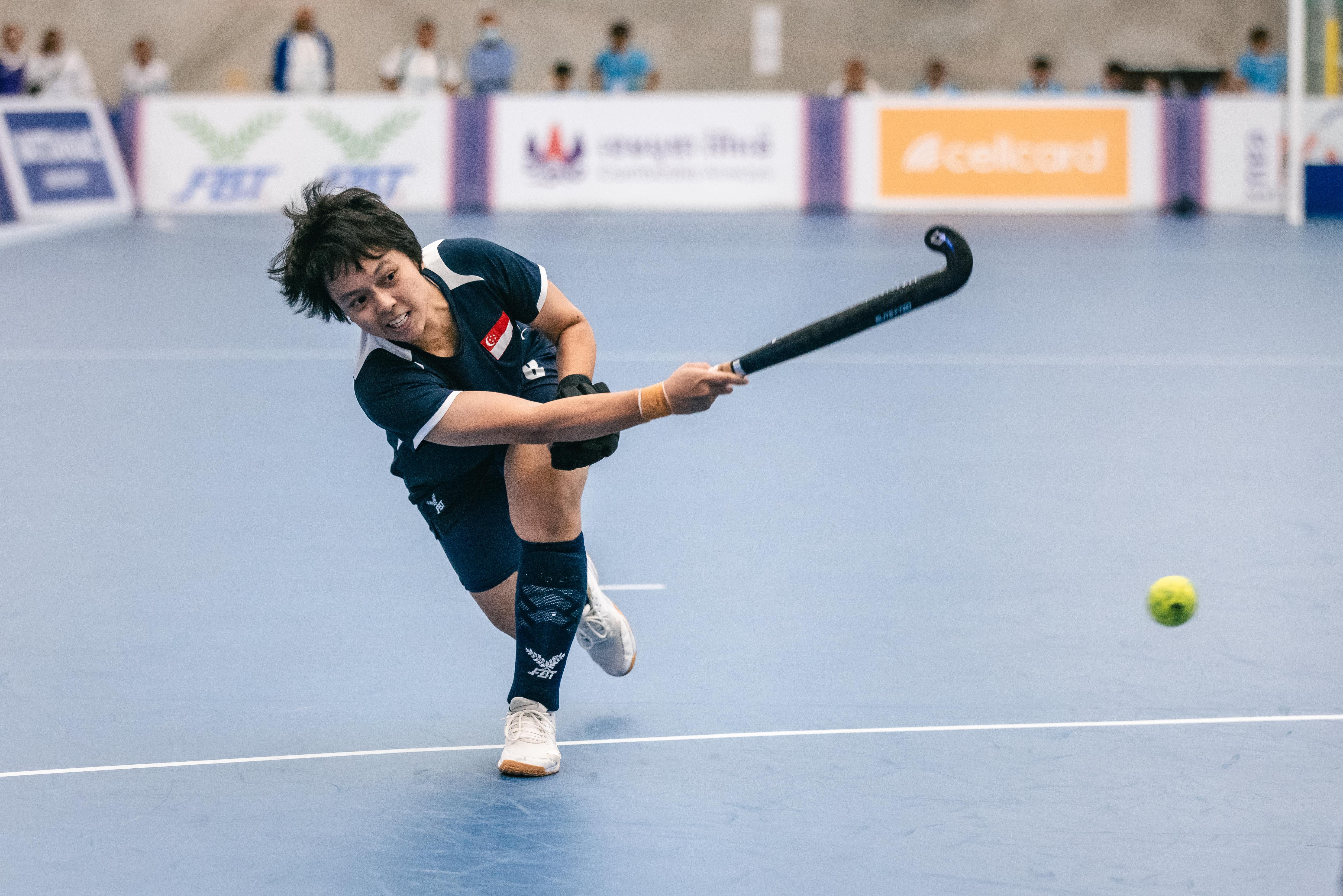 Singapore women's team indoor hockey player Nadia Ibrahim in action in a round-robin match against Malaysia on May 1. Photo: SNOC/Eng Chin An
Their performance is a repeat of their showing at the 2019 edition of the Games in the Philippines, and the teams know they have much to work on to make that leap forward.
Said Mayazhagu Guhan of the men's team, who made his SEA Games debut in Cambodia: "A basketball court is slightly smaller (than an indoor hockey court). Our goal posts are also not the actual size, and the flooring is different too."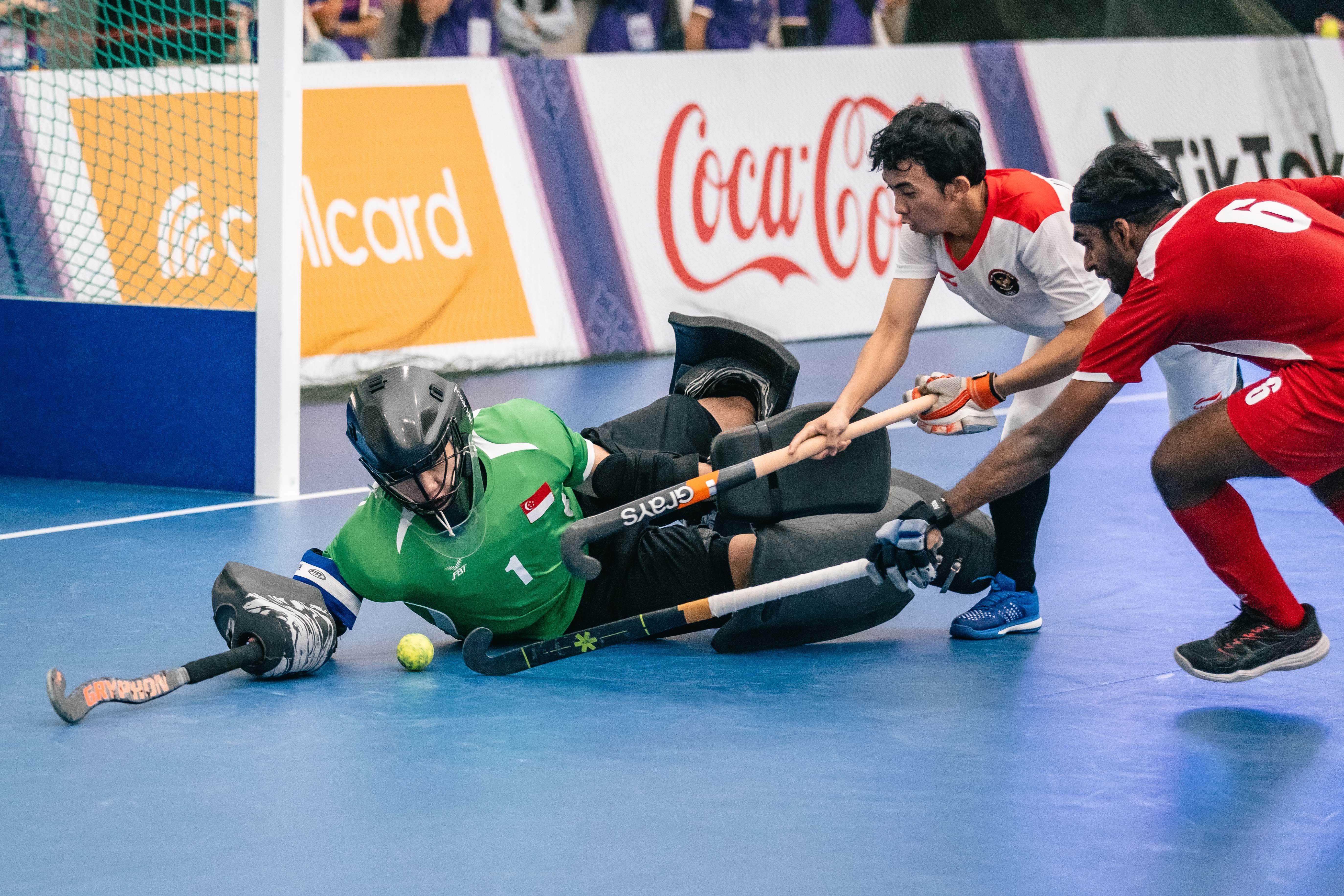 Singapore indoor hockey players Aik Yu Chen (goalkeeper) and CT Karuppiah Arasu in action against Indonesia. Singapore was beaten 7-0 in that match. Photo: SNOC/Eng Chin An
That inevitably translates into some getting used to, when competing on a court of accurate dimensions.
After six years of making do, the team finally moved to new facilities in Boon Lay, but only for about a week before travelling to Cambodia.
Said CT Karuppiah Arasu: "We need to work more on our penalty corners, attack and defence. Now, we'll be able to have a better gauge of how the pitch and court is, work on our tactics and that will help us do better against other teams in the future."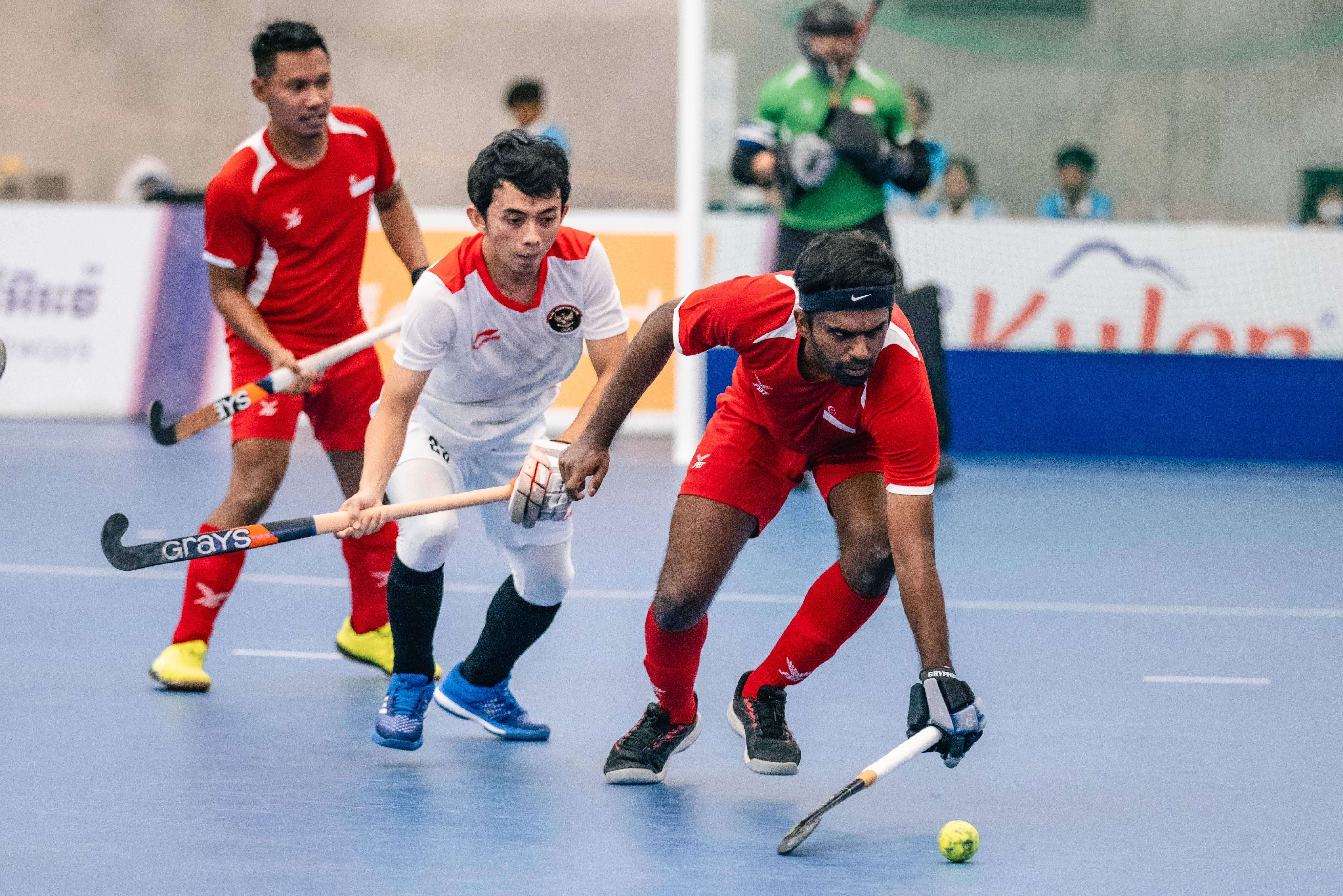 Singapore's CT Karuppiah Arasu (right) and Muhammad Shafiq Abdul Rashid (background) in action. Photo: SNOC/Eng Chin An
Said women's team captain Nadia Ibrahim: "One of the greatest challenges we had at the beginning was coping with the pressure of playing against the top teams. A lot of it had to do with our mental strength and self confidence.
"As we gained momentum, we started to find our footing in the tournament. Moving forward, this is definitely an aspect that we would seek to improve upon."
Still, despite some one-sided scorelines, Team Singapore's indoor hockey players can take pride in putting up stronger opposition than before against some of the region's hockey kingpins.
This included the women's team holding Asian champions Thailand to a draw, and men's side taking the lead against Thailand, keeping them at bay until half-time when the score was even.
Said Nadia: "Considering the fact that this is a fairly new team that has only trained together for about six months, there is progress in certain areas of our play.

"As a team, with continued support and effort, we will be able to overcome the challenges we faced in this tournament and improve over time."
Said Arasu: "Over the years we've become better against strong teams like Malaysia. A few years ago, they would've taken us as an easy team, but now we push them and make them work for the win."
"The greatest challenge was to put aside the games (we lost) and look forward to crucial games against Cambodia and the Philippines. As a team we came together and focused on what we wanted to achieve."
The 32nd SEA Games are held in Cambodia from 5 to 17 May 2023. For the latest Team Singapore coverage and news, follow Team Singapore on their social media channels (Facebook, Instagram, TikTok) or visit the official Team Singapore website.