More than 80 Local & Foreign Athletes featured in FM Singapore Nationals 2023!
by Circle, on March 28, 2023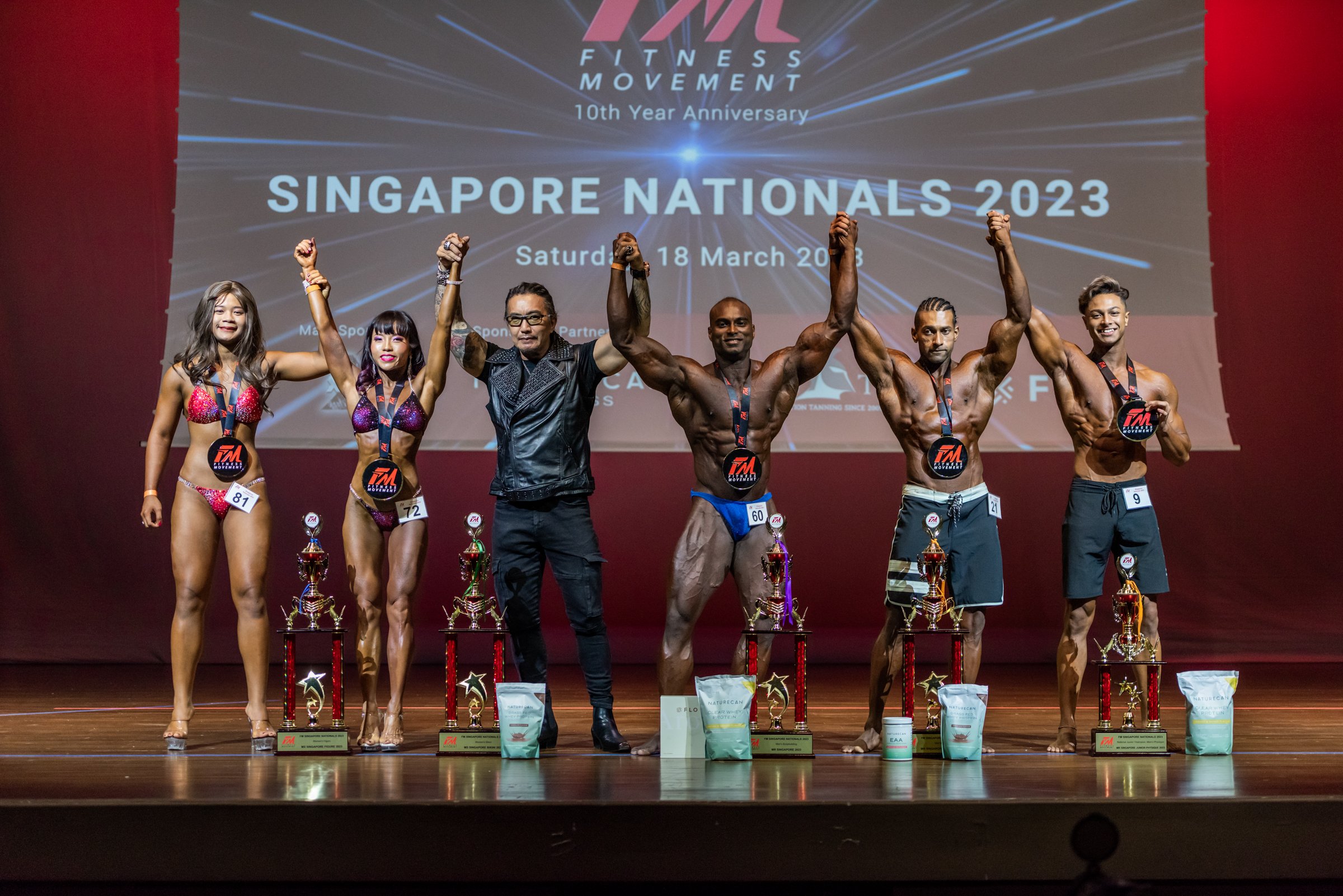 (3rd from L) Kevin Chiak (Founder, Fitness Movement) with the Champions of FM Singapore Nationals 2023. Photo Credit : Fitness Movement
2023 marks the 10th anniversary of FM Singapore Nationals - the Republic's annual national championship for physique sports (including bodybuilding and fitness modeling) to determine the national ranking for athletes for the year. They're a social enterprise that supports the hopes and dreams of local physique sports athletes. Since its formation in 2013, Fitness Movement (FM) has taken the sole responsibility to continue the sport of bodybuilding and has crowned the coveted titles of Mr Singapore, the top bodybuilding award for Singapore physique athletes. And as part of their 10th birthday, the FM Singapore Nationals was expanded to include international open divisions, allowing foreign athletes to join and share the glory.
FM Singapore Nationals 2023 took place on 18 March at Kreta Ayer People's Theatre with 80+ local and foreign athletes in action. Posing and flexing in front of a capacity crowd of 500 spectators, the athletes competed in 10 categories. And for a review of the 10th edition of the Republic's premier local bodybuilding and fitness event, ActiveSG Circle caught up with Kevin Chiak (Mr Singapore 2010 and the Founder of Fitness Movement).
Kevin Chiak (Founder and President, Fitness Movement)
Q : Can you describe the role which Fitness Movement plays in the overall Singapore community?
Kevin : Fitness Movement envisioned itself to be Singapore's premier development platform for aspiring champions to achieve greatness. Since establishing in 2013, FM has been the main physique sports organiser in the Lion City, that represents 80% of all competitive fitness models and bodybuilders nationwide. FM supports the aspirations of more than a thousand local physique sports athletes, including all the top national champions, and organises the largest and most prestigious events for the sport in Singapore annually.
Q : How does the annual Singapore Nationals organised by your company, differ from other similar events held in the Lion City?
Kevin : Celebrating its 10th anniversary, Fitness Movement has held on to the sport of bodybuilding through the good and bad times. And it's back with the first annual Singapore Nationals this year, crowning the new Mr Singapore and Ms Singapore. FM is dedicated to the local athletes as opposed to other similar events, who do not give the same attention and support to the local athletes. Afterall, Fitness Movement comprises Singaporean founders and the company is meant to provide the platform, basically for locals and those serving in the Singapore society.
Q : What were your expectations of the athletes who competed on 18 March at Singapore Nationals 2023?
Kevin : To be frank, we didn't expect a very high standard of performance, understanding that this is the first Singapore Nationals after lifting the Covid-19 restrictions. Having said that, we actually do have a lot of returning Mr Singapore and former champions competing in it. Overall, I am pleased with the results, and glad there were also new faces and past participants. To sum up, it was satisfactory and I'm already looking forward to the next competition in July.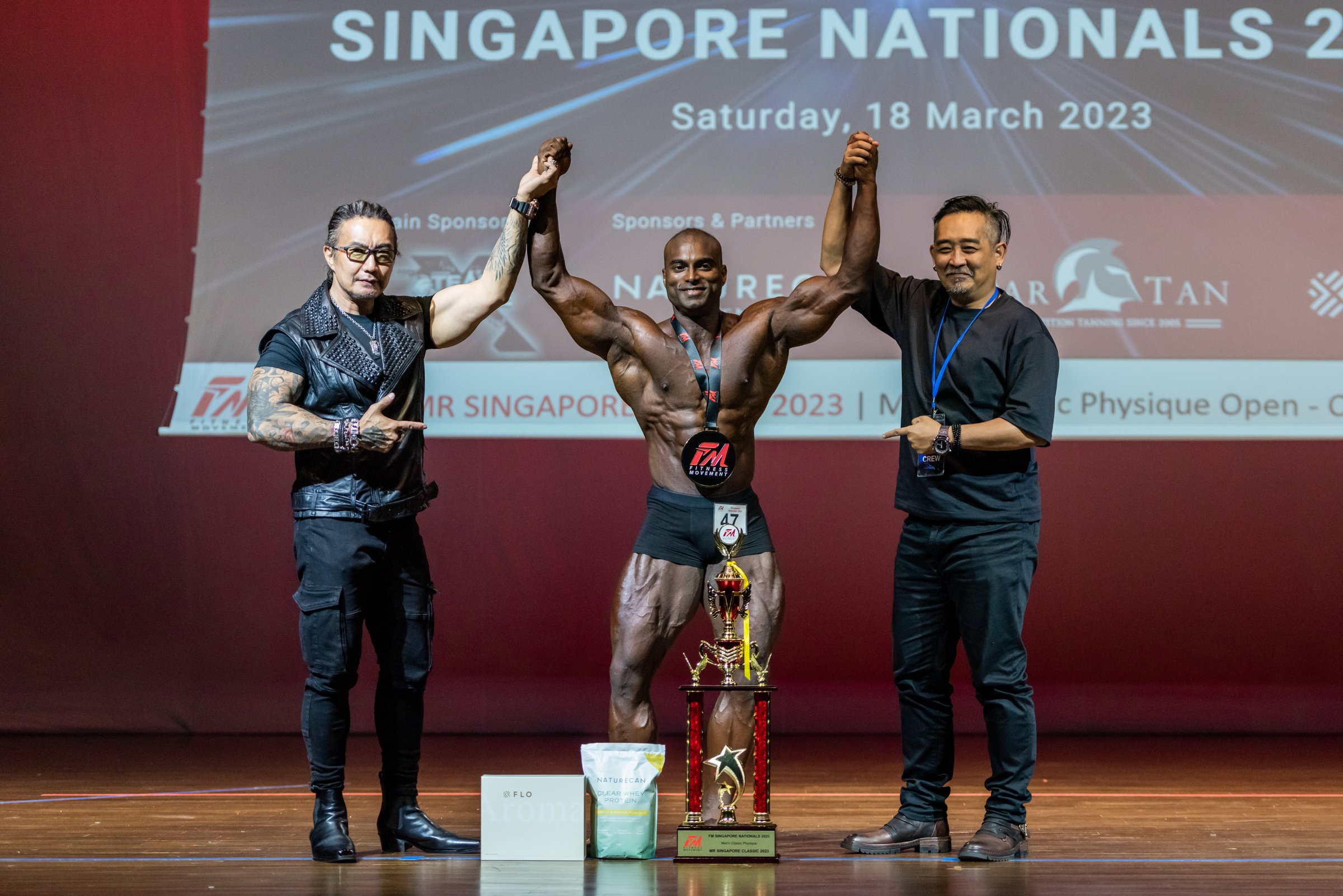 (2nd from L) Danie Dharma (Mr Singapore 2023). Photo Credit : Fitness Movement
Q : Can you describe Danie Dharma's sweep of the major overall titles at FM Nationals 2023?
Kevin : His sweep of 4 titles (Mr Singapore, Mr Singapore Classic and Men's Bodybuilding International-Overall Champion) in a single night was truly spectacular! He is a very good stoic athlete. He actually improved from the last time he won on our national stage and that is commendable, as it was at least 5 years ago, and he is 36 now. Looking at his progress, he looks like he still has a full tank to go further!
Q : What's next for Fitness Movement in 2023?
Kevin : In July, we have the "Singapore Regional Natural Classic" and come September, it will be "Physique and War".

We now look at the 5 Champions at FM Nationals 2023, starting first with Danie Dharma, who made a clean sweep of 3 titles in a single night!
Highlights of Mr Singapore Classic 2023. Video Credit : Fitness Movement

Winner of Mr Singapore 2023 : Danie Dharma
Age : 36
Occupation / Profile : Personal Trainer, Stunt Actor & Fitness Model. Bodybuilding 2001 and competing for 19 years. Also performs as professional wrestler with Singapore Pro Wrestling and a track and field enthusiast.
Danie : I started competing in bodybuilding 19 years ago, and over time I competed and even won shows at the regional level. I feel that Fitness Movement (FM) is the local bodybuilding organisation that has the most prestigious and recognised Mr/Ms Singapore titles. It takes pride in producing very well organized shows, with very fair judging panels, and it also gives recognition to it's athletes.
FM is a great platform for newcomers to enter the sport, as well as for the top guys to compete for Singapore's number 1 titles in the various divisions. I feel that FM has had the best interests of the sport of bodybuilding at heart. And as one of the top current bodybuilders in Singapore, I feel that I can contribute more and give back to the local bodybuilding scene by being present in FM, whether it is in the capacity of an athlete, official or mentor.
Highlights of Mr Singapore Physique 2023. Video Credit : Fitness Movement
Winner of Mr Singapore Physique 2023 : Muhammad Hafiz
Age : 33
Occupation : Franchisee of Gold's Gym Singapore
Hafiz : I've been bodybuilding since my junior days when I was 18/19. Passion for Football, UFC, Powerlifting. I do a weekly cyclical Keto diet all year round, so I love my carbs when I do get a chance to eat them ie bread, rice, pasta, pizza etc
Highlights of Mr Singapore Junior Physique 2023. Video Credit : Fitness Movement
Winner of Mr Singapore Junior Physique : Shir Muhammad Zaakhir
Age : 21
Occupation : Student
Shir : I have been in the bodybuilding industry for about 6 years. It started as a distraction etc, but in the end, it became a passion. I mostly like to eat chicken and steak.
Highlights of Ms Singapore Bikini 2023. Video Credit : Fitness Movement
Winner of Ms Singapore Bikini 2023 : Wang Li Jing
Age : 37
Occupation : Visual Merchandiser
Li Jing : I've been in bodybuilding for 2.5 years. I also have a passion for fashion, riding motorcycles and baking. I like to to eat pancakes (mcgriddles particularly) and croissants. I'm always thinking and trying out new recipes to make meal preps tasty, without sacrificing calories and macros. For eg, I'm able to make a cake out of whatever food I'm allowed to eat during peak week - low to zero carb phase.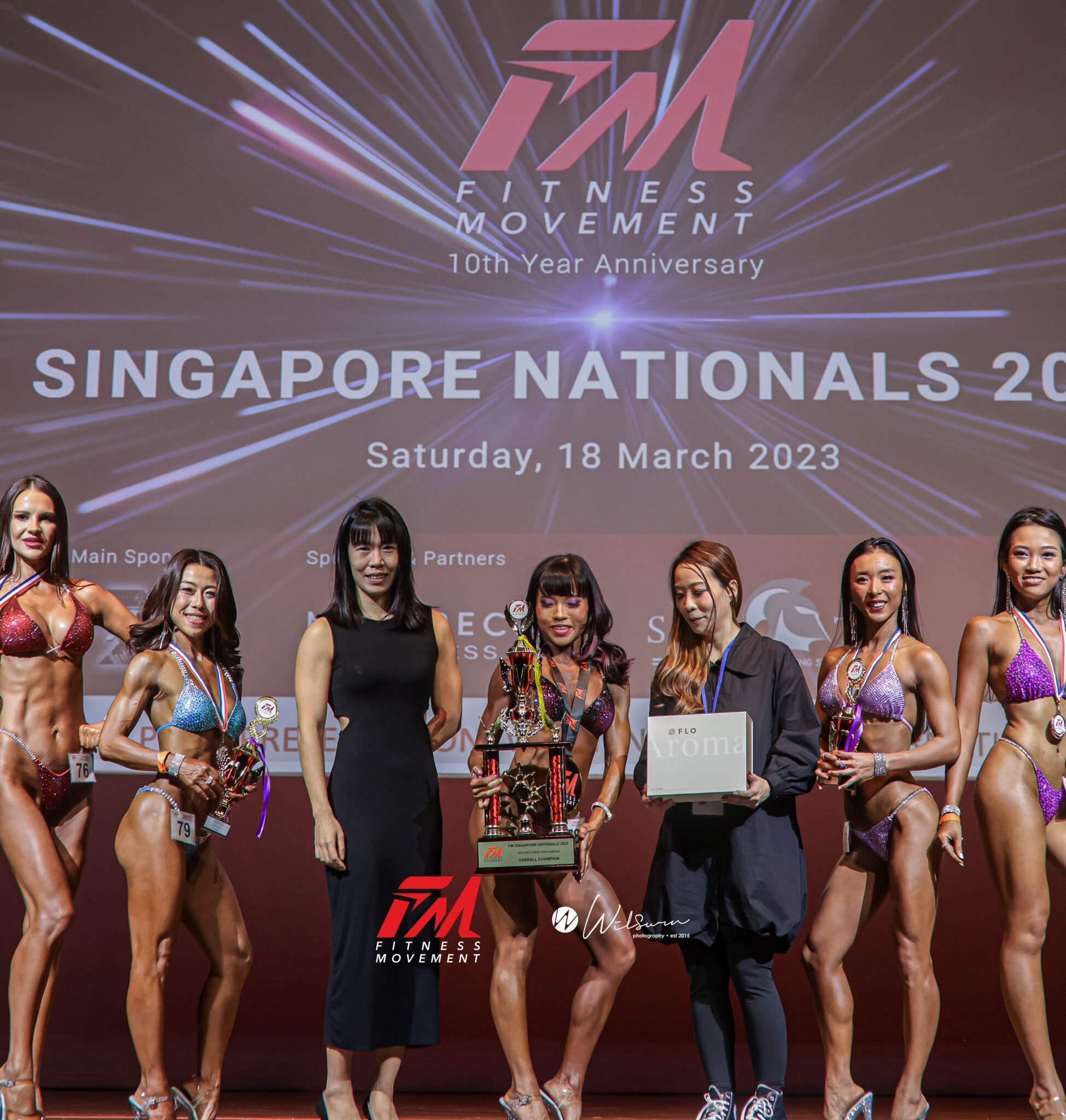 (4th from L) Wang Li Jing (Ms Singapore Bikini 2023). Photo Credit : Fitness Movement
Li Jing : I was always inspired by bikini / figure competitors. and my trainer saw the potential in me and suggested that I should try competing as a challenge for myself. And what made FM Nationals even more meaningful is that I'm competing together with my trainer. It's also both our first time prepping together. The journey was not easy as we had many elements to figure out, but it definitely taught me bodybuilding is about self discipline and strong willpower to persevere on despite all odds.
What motivates me is to see my body change as time goes by, closer to my stage-look goal. Everyday, I strive to be a better version of me than yesterday, and that's what keeps me going. I do hope that I can inspire people who want to start their fitness journey. Never give up!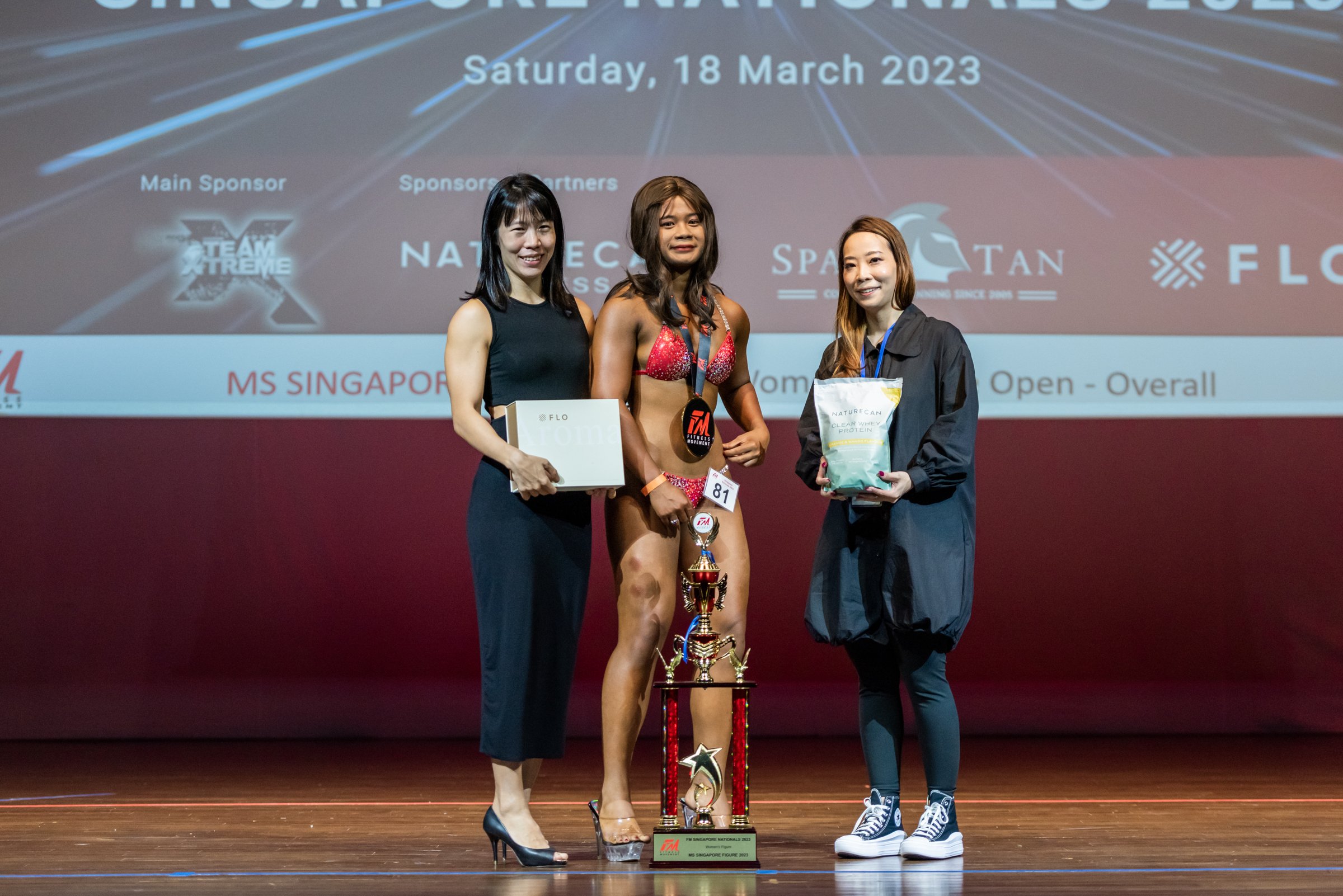 (2nd from Left) Ms Singapore Figure 2023, Nur Atiqa. Photo Credit : Fitness Movement
Winner of Ms Singapore Figure 2023 : Nur Atiqa
Age : 20
Occupation : Fitness trainer
Nur Atiqa : 4 months into bodybuilding and I have a passion for coaching kids. I like to eat naan with butter chicken.