Fortitude plays a key role in the Rafflesians' dominance of NSG Water Polo!
by Circle Stories, on April 9, 2022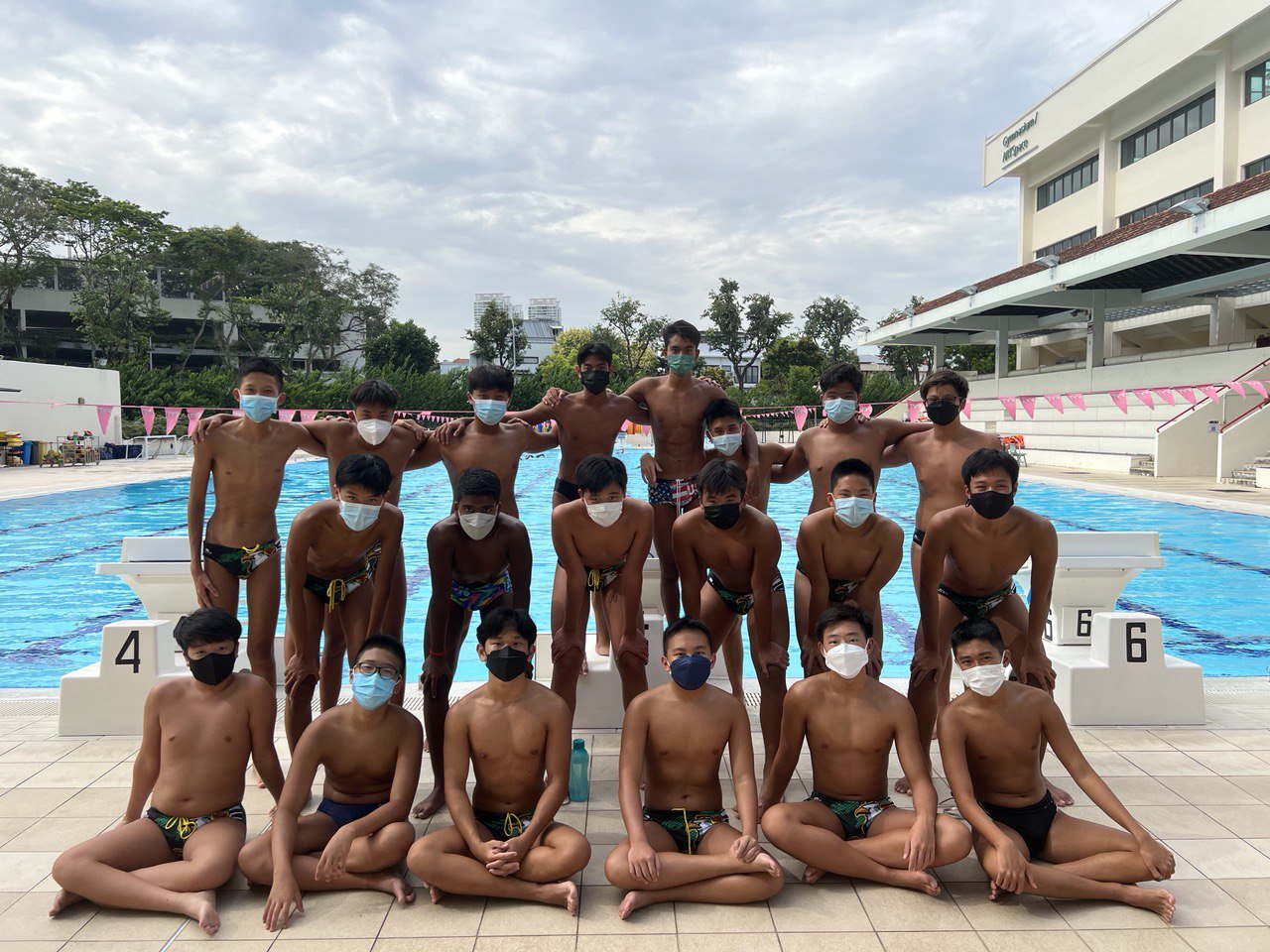 (2022 Raffles Institution's B Division Waterpolo Squad. Photo Credit : Raffles Institution)
By Pearlyn Koh
Having consistently attained podium finishes in the annual National School Games (NSG) since its inception, Raffles Institution (RI) is undoubtedly one of the top performing schools in Water Polo!

When Covid-19 struck in 2020 and the various Safe Management Measures (SMMs) were introduced, the greatest challenge for the RI Water Polo team - as well as many other team sports, was the limitations of group training.

The Rafflesians however, tried to optimize the amount of time they had to prepare for this year's NSG, by focusing on their physical fitness - a key attribute for Water Polo. But with physical training reduced, student-athletes had also learnt to become more independent, taking responsibility to keep themselves fit for competitions.

We recently caught up with Muhamad Mirza Osman, a Year-4 student-athlete and Captain of the RI Water Polo Team through a recorded Zoom call, to find out about the team's preparations for the ongoing NSG (Watch Interview Below!) We also conducted an email interview with Mr Ong Chen Tat, Teacher-in-charge of RI Water Polo.
(For all the news, post-match interview videos, stories, photos, fanzone details and much more from the 2022 National School Games, do visit our website : go.gov.sg/nationalschoolgames)

(Zoom Interview with Md Mirza Osman - Captain, RI. Video Credit : Pearyln Koh)


Email interview with Mr Ong Chen Tat, Teacher-in-charge of RI Water Polo

Q1. How long have you been the teacher-in-charge for Water Polo at your school?
This is my 7th year being the teacher in charge of Water Polo in RI.

Q2. Over the years that you have been teacher-in-charge, what has been the proudest moment for you?
The proudest moment for me would be guiding the 'C' Division team to the finals in 2017 and 2018 - the first time RI was able to be in the 'C' Division finals for two years running. It was memorable for me because it was my 2nd and 3rd year being the teacher in charge of water polo. It is nice to see the boys having fun playing water polo and building strong friendships along the way.

Q3. When did the Waterpolo CCA start in RI, and how many NSG titles has RI claimed in Water Polo?
RI water polo first started in 1924. RI last won the 'C' Division title back in 2002 and the B division title in 2004. For 'A' Division, the boys secured 8 titles in the past 13 years. The National School Games girls 'A' Division only started in 2009, with the team securing back to back titles since then until 2019, totalling 11 titles.

Q4. How did RI fare at the last NSG in 2019?
'C' Div: 4th
'B' Div: 3rd
'A' Div Boys: 2nd
'A' Div Girls: 1st

Q5. How does your school manage to consistently perform well in Water Polo over the years?
We do get a few Direct School Admission (DSA) students every year, but the bulk of our players actually learn the sport from scratch. Through hard work, desire and discipline, we always strive to do the best that we can against other schools. We believe in the process of long term development of the players in our team. The students' commitment to the team and the sport is really what drives them to do well and put effort into training and competitions.

Q6. How often is your school's Water Polo training?
We train 3 times a week.

Q7. How do you think Water Polo has shaped your students into better individuals?
One of the school values is Fortitude. Water polo is not an easy sport to pick up and play because it is very intense and it requires a great deal of stamina to last in the game. But it's good to see the boys showing Fortitude by coming for every training, pushing themselves hard and trying to become the best that they can be as a team. Developing their resilience will serve them well in the future when they are faced with life challenges. This sport also helped the boys to have a great deal of respect and care among the team for one another. They always look out for each other, be it inside and outside of the pool.
(For all the news, interviews, results, schedules, videos, stories, photos, fanzone details and much more from the 2022 National School Games, do visit our website : go.gov.sg/nationalschoolgames)
Sport Singapore would like to Thank the school principal, students, teachers and parents from Raffles Institution for their kind assistance and responses towards this NSG preview. This article would not have been possible without their invaluable input and comments. And we wish the Rafflesians, the Best of Luck, Success and Safety in their 2022 National School Games campaign :)
Pearlyn Koh has been playing Table Tennis competitively for 9 years. She is a 4-time Champion at the National School Games, over a period of 6 years. And she's currently a member of the National Team and has represented Singapore at several major tournaments, including the 2018 Asian Games and World Table Tennis Championships. In 2019, Pearlyn was also the sole Southeast Asian player to enter the Top 16 at the Asian Junior & Cadet Table Tennis Championships. During her free time, Pearlyn enjoys reading and catching up with her friends.