Mahiyu Bhatia: True-blue ACS (I) Cricket Captain in National School Games!
by Circle Stories, on May 24, 2022
RI players in confident mood after winning the opening toss. Photo credit: Suresh Nair
By Suresh Nair
He raised his hands like a true leader as his power-packed shot got the match-winner, in Thursday's (12 May) National School Games' (NSG) Cricket boys "B" division final.
At the Ceylon Sports Club Ground at Balestier Road, Mahiyu Bhatia, the ultra-confident skipper of Anglo Chinese School (Independent), knew his powerful strokes would make the difference in the important match against an equally confident Raffles Institution (RI).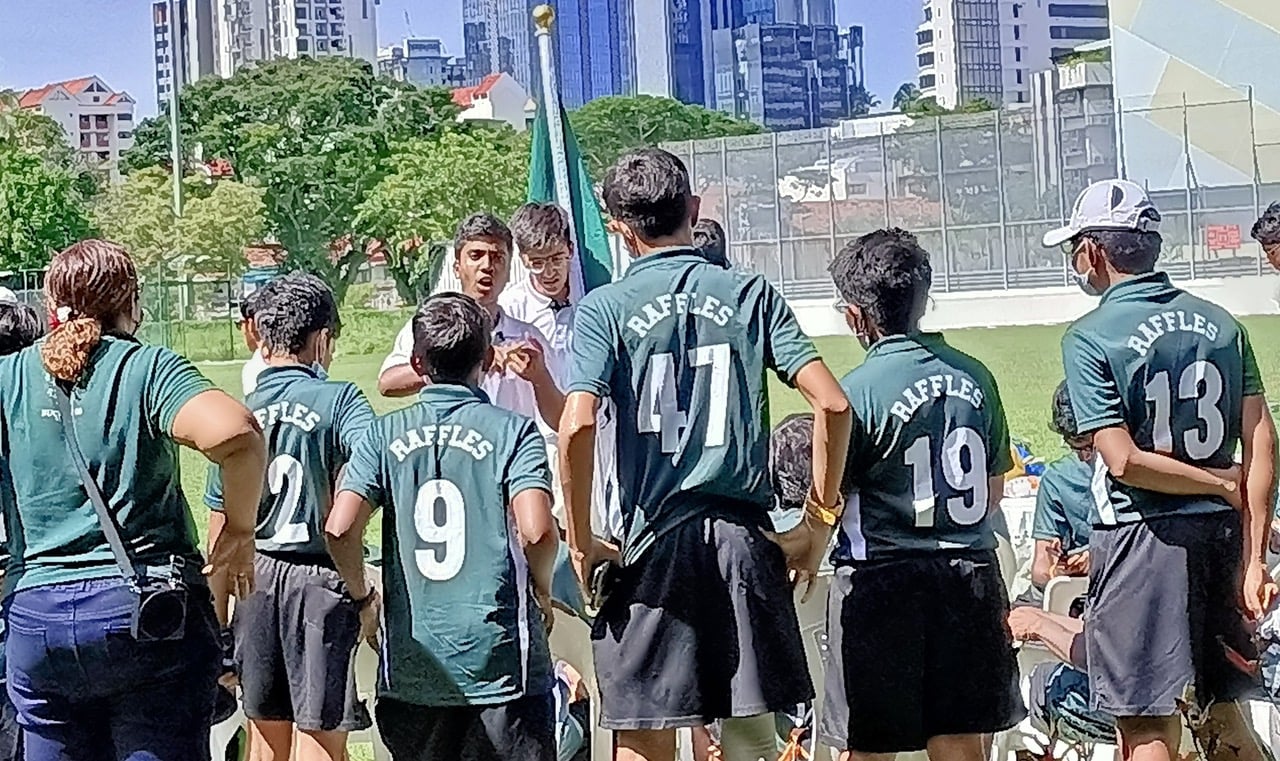 The cheering RI supporters listen to the senior players. Photo credit: Suresh Nair


RI won the toss and decided to bat and garnered 82 for 8 in the 20-overs limited edition final. And Mahiyu knew it was an achievable target to win and patiently rallied his team to eventually hit 86 for 3 over 14.1 overs to win the match by 7 wickets.
Big and strong, the skipper personally scored 53 runs in 36 deliveries with a blistering three "sixes" and three "fours" which showed that he knew he could lead by example as he understood the elementaries about effective leadership from cricket and captaincy.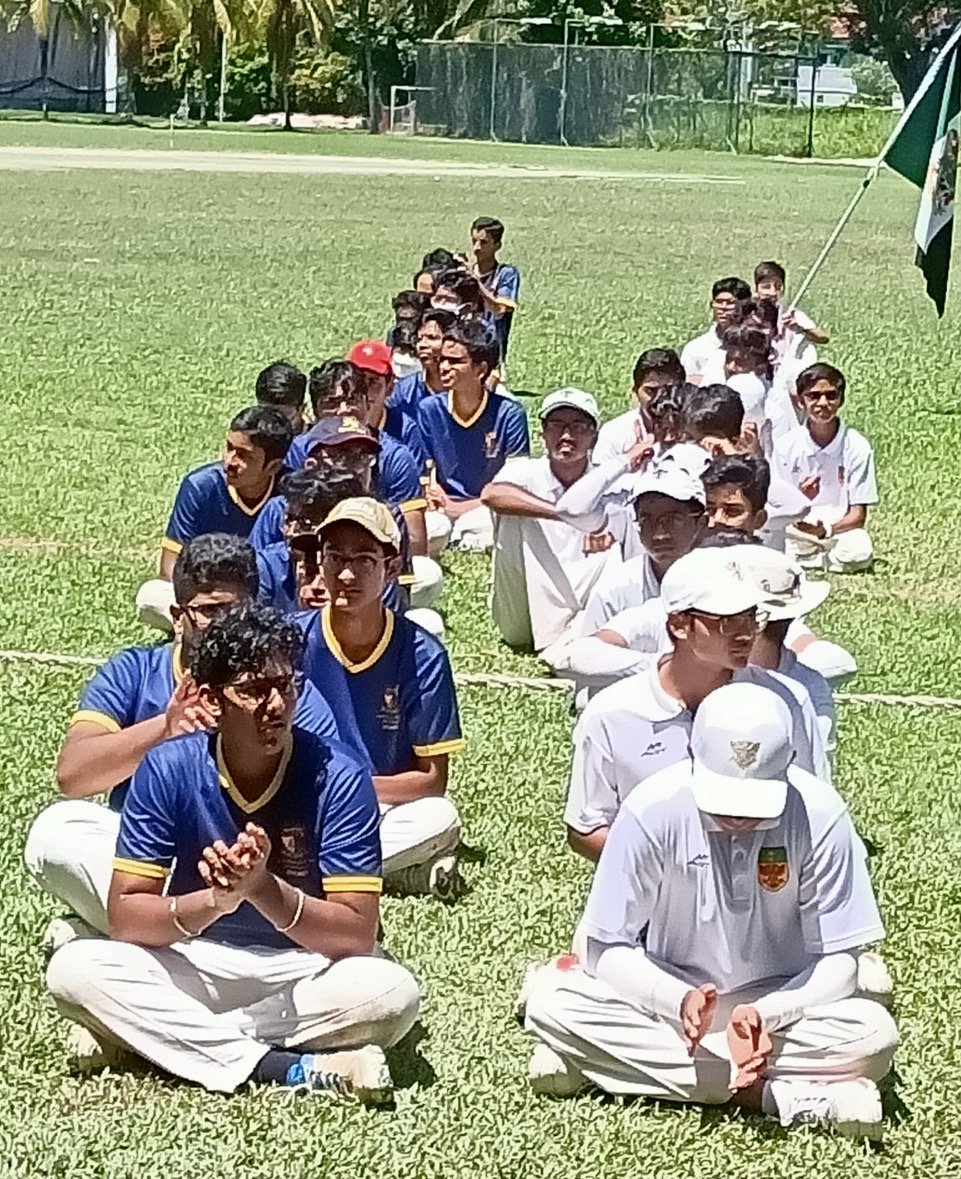 Ready for the prize-ceremony. ACS (in blue) and RI (in white). Photo credit: Suresh Nair
In any sport, success is reliant on having a united team and strong leadership. In cricket, there are many leaders, from coaches, captains and vice-captains, to the bowlers setting the field. Yet both on and off the field, it's the form of the captain that plays the most important role in building an united team.
Mahiyu proved just that from making the decisions on order of play, determining strategy and tactics, and inspiring the team to keep learning and growing, which means there is a lot riding on the leadership qualities of the captain.
"We lost the starting-toss. But we were determined to make it up and every player worked hard in batting, bowling and fielding. We went through some tough patches but teamwork prevailed and I believe there's a lot of crossover between the desired leadership qualities of a cricket captain and a leader or manager in any organisation," he says.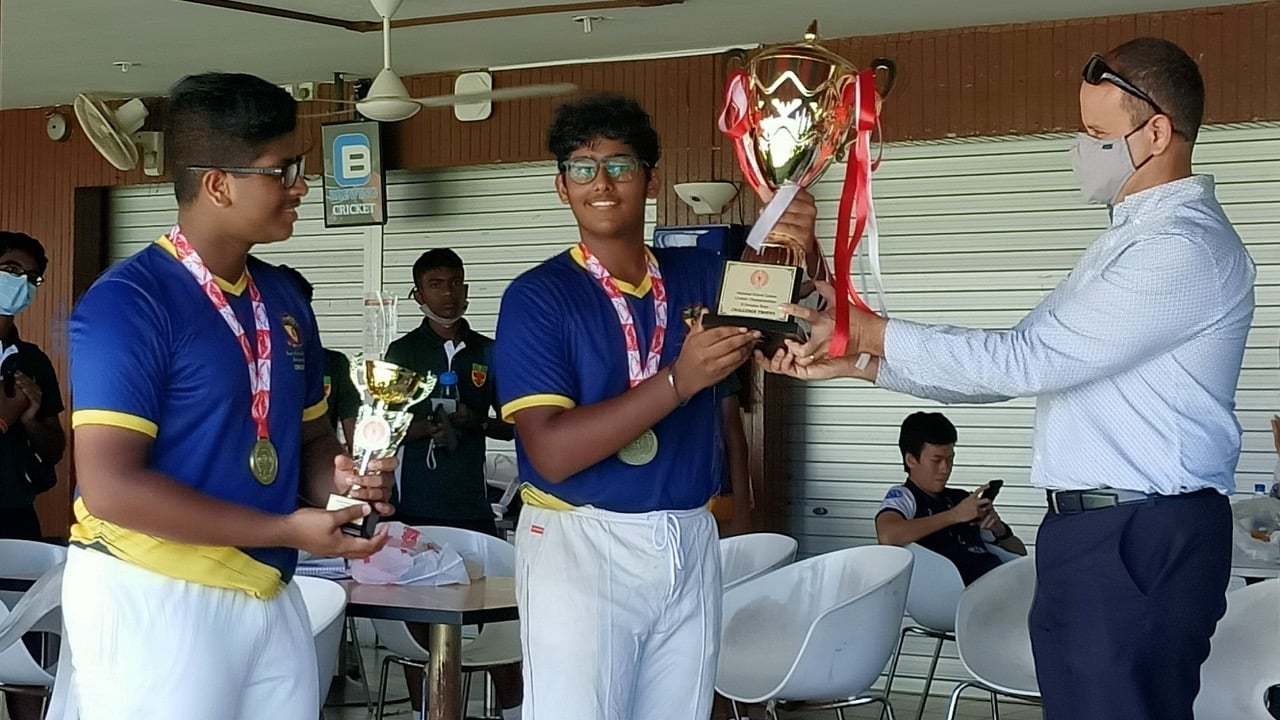 ACS skipper Mahiyu Bhatia receives trophy from the cricket convenor. Photo credit: Suresh Nair
His playing style was a sporting beauty to watch as he guided the players in the attack and defence strategies. And how better to show your class in the field as he excelled, particularly when holding the bat.
Watching Mahiyu, you could see that leadership isn't a one-size-fits-all solution. Not everyone leads in the same way and usually our personality plays a big part in this. In my opinion, what makes a damn good leader is someone that knows when and how to play to team strengths.
I could see that leaders don't need to overhaul their leadership style or follow the exact footsteps of others in the leadership team. What they do need to do is work at being the best version of themselves. Only then can they get the best out of those they lead. That perfectly sums up the ever-consistent Mahiyu, a true role-model in the field of play.
Mahiyu says: "The captain has to pull together 10 varying individuals with contrasting personalities and personality traits and get them all going in the same direction by treating them equally but differently.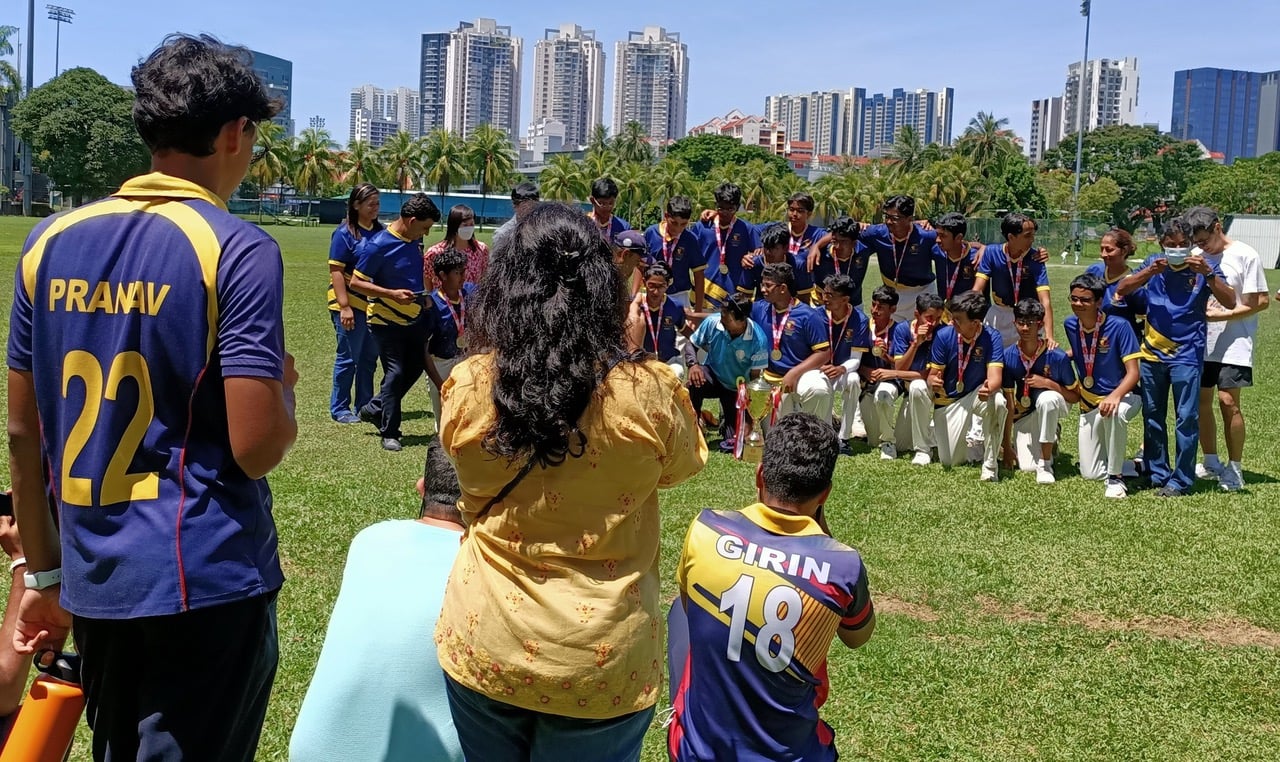 Delighted ACS team ready for the post-match congratulations. Photo credit: Suresh Nair
"Player-management and the ability to get the best out of every individual in the team is as important in the workplace as it is in cricket. Just like any team, there will often be an unpredictable mix of people with different personalities, behaviours, attitudes and experiences."
But at the final whistle when he achieved his match-winning target at the 14.1 over, there was distinct pride as he held the bat over his head as his players surrounded him with congratulations for courageously defending the cricket title.
(For all the news, post-match interview videos, stories, photos, fanzone details and much more from the 2022 National School Games, do visit our website : go.gov.sg/nationalschoolgames)