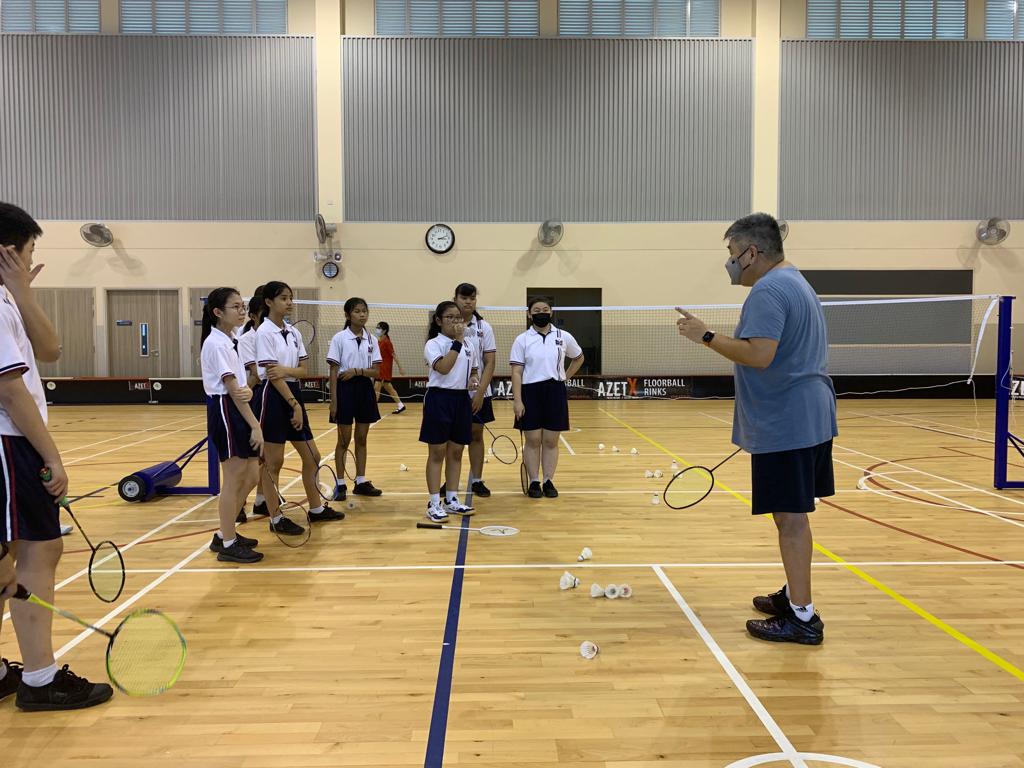 (Coach Wong with his Marsiling Secondary School students at training. Photo Credit : Marsiling Sec)
By Mohit Lalvani
Knowledge of badminton and a little experience of playing the sport are key aspects to becoming a badminton coach. Coach Wong Shoon Shoo, was a Bronze medallist when he represented Team Singapore at the 1985 SEA Games. And he shares his experiences as an ex-player and as the current badminton coach at Marsiling Secondary School.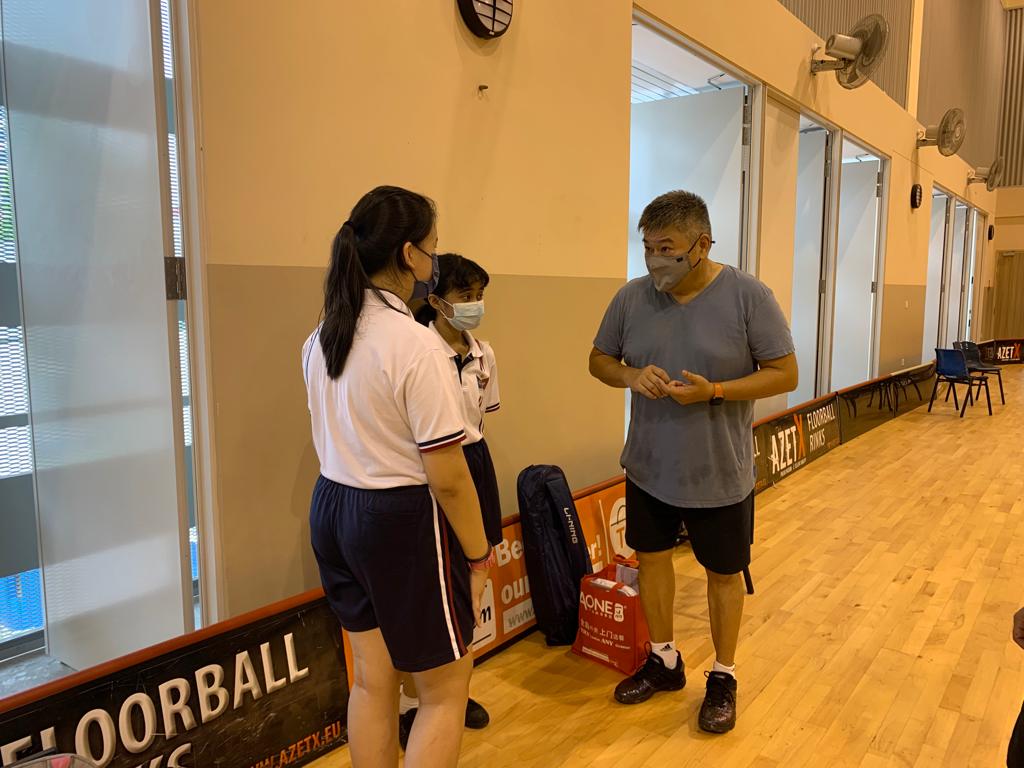 (Coach Wong at the National School Games. Photo Credit : Marsiling Sec)
Q: Could you start by giving us an insight into your passion for badminton?
Coach : I would say, the passion for badminton began from a very young age. I was born in Changi and today I'm 60 years old. When I was young, Singapore was a lot of villages (kampongs) and so on. In my kampong, we had quite a number of national players - Liang Oh Chow, even my uncle Wong Ku Gi. Those days, there weren't many sports. Basically, in the village either you do Sepak Takraw or you do badminton. That's the only thing that I was exposed to.
Q: In your younger years, what was your life like in the world?
Coach : As I grew up I would say, yes, my family many of them were playing badminton. However, when I was young, I was also exposed to other sports, like softball, soccer, basketball, field hockey. During junior primary school, I was doing almost everything. Once I came to Primary 3, Primary Four, then I find that you know, for me to enjoy sports, any kind of sports, be it rain or shine, I guess one of the few games is badminton. So that's why I chose to go to badminton not because of my family's influence, but also because I want to have something that I can enjoy regularly.
Q : When you embarked on your career as a badminton player, what was that like?
Coach : In my career, I would say after the Thomas Cup finals in 1986, when Singapore was in the top 8, being one of the team players and ranked number 1 in singles, I found that I had to focus on something else, which is my regular career. In those days, there weren't many career planning opportunities from sports organization to support you. We had to basically help ourselves.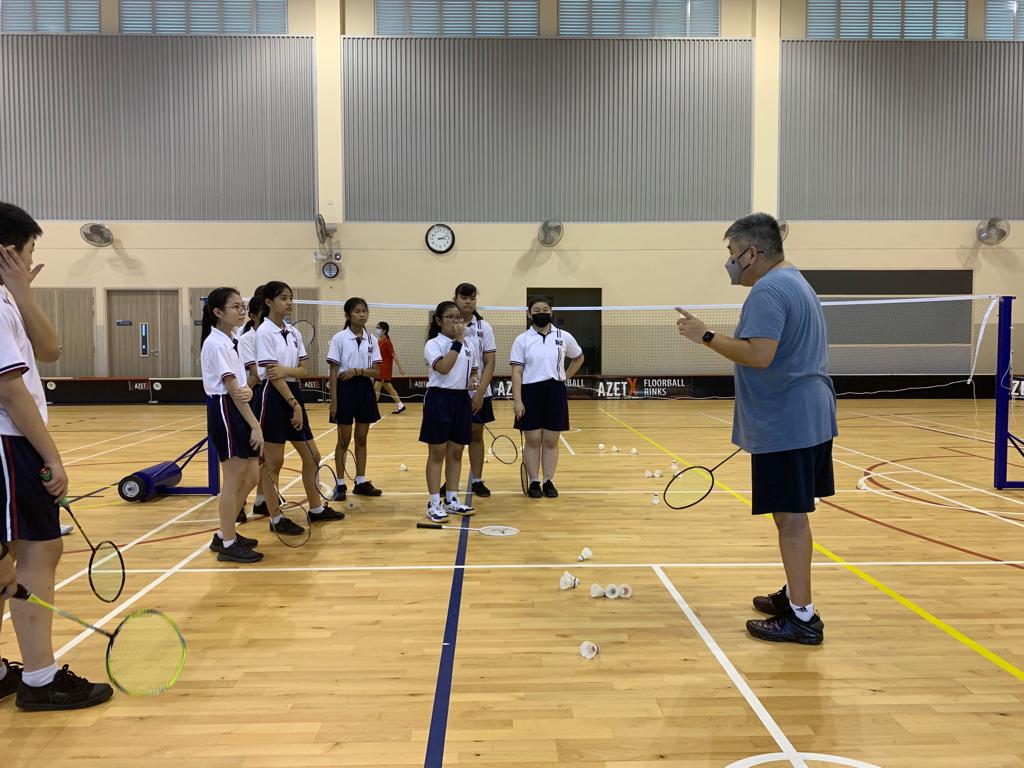 "I enjoy (coaching) because I feel pleasure seeing the children grow up be better individuals both mentally as well as physically, learning a skill." - Coach Wong
Q: What are the key learnings and challenges while making the transition from player to coach?
Coach : It's not difficult for me, because after playing, I pursued my career. I finished my degree, a post-graduate degree and worked in MNCs traveling around the world and doing global and regional jobs. And after more than 20 years of experience in a senior executive role, I decided to retire. Basically, I was based overseas quite a bit and coming back home with the decision to retire was because working overseas, you only see your family every now and then, or when the children are on school holidays, or when they will be based there with me. But I find that the first thing I need is to be with my family, with my mum.
Then in the last few years, I would say one of my brothers encouraged me to take up coaching and, since I had kept in touch with playing badminton while I was working mainly in China, I decided that okay, I'm going to try. I took all the necessary courses to be a registered coach. I supported one of my brothers who asked me, and I started to enjoy it. I enjoyed it because I feel pleasure seeing the children grow up to be better individuals, both mentally as well as physically, learning a skill. I pursued further in terms of improving my own coaching skills, observing how other coaches train and coach, and I tried to improvise or even improve on different methods.
Q : How do you define the role of a coach?
Coach : Oh, I would say being a coach means you have to be a mentor. First of all, you have to gain the trust. You have to be a guardian. For me, because I'm also an ex-sports scholar, I won some scholarships a few years in a row, I find that if you plan well, you can balance your studies and sports. So, I tried to encourage this in school, especially because it is a neighbourhood school. I also came from a neighbourhood school. I encourage them, be their friend, support them. If they have an injury, I explain to them how to avoid injuries. These multitudes of roles, you know, if they have difficulties in their studies, I have a master's degree, so I can guide them. Okay, how do you approach this subject? So, there's a multitude of roles whereby, you want to do your best for the child.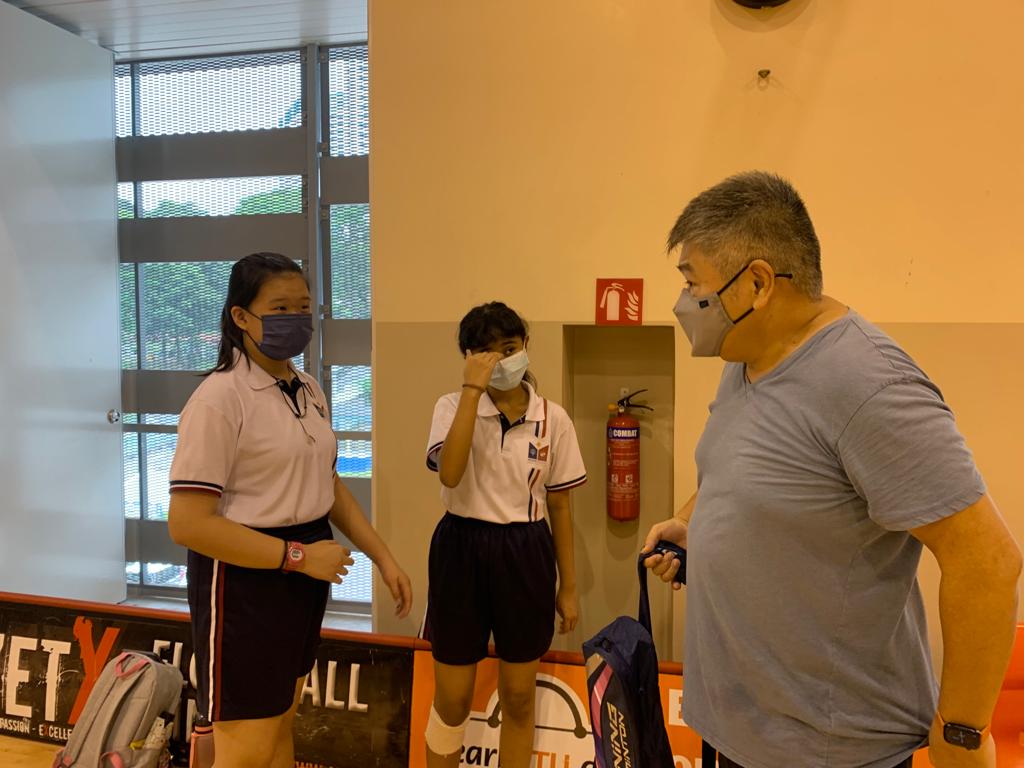 "I would say being a coach means you have to be a mentor. First of all, you have to gain the trust. You have to be a guardian." Coach Wong on being a coach. Photo Credit : Marsiling Sec
Q : What are the key skills training methods for Badminton?
Coach : Badminton, I would say, it starts with the mindset; a mindset that you are willing to learn, you're willing to even go through some hardship, in terms of strenuous training. You're even willing to take some negative remarks from your coach, from your teacher, from your friends to say this method is wrong. So, a student to learn badminton, you must have a very humble spirit. You must have resilient spirit. It doesn't matter whether you are gifted or not gifted. If you have the right spirit, I think you can enjoy the game for life.
Q: It's a sport where the shuttle travels at very high speed. Agility, reflexes, footwork, what are the skill sets that you look for as a coach?
Coach : First is coordination, I think it's very important. Not every player has got the same level of agility. I believe agility, you can mould them. Some get it faster. But the coordination skill is something which is, I would say, more inborn. Coordination has to do with hand-eye coordination, and timing. These are the key aspects. It's not just for badminton; I believe for squash, basketball, soccer, the timing of how you kick the shot, rugby, there's a lot of coordination, timing. This area is fundamental for badminton.
Q : How important is a player's diet? For every sport, it's a different kind of muscle build. For a sport like badminton, what's an ideal diet and how is it different from match days compared to non-match days?
Coach : Kids in Singapore, primary or secondary school, or even JC, not many families are well versed in terms of nutrition. As a coach, I'm not a specialist in nutrition. What is important is for them is a diet where you have carbo, you have Protein, you have fibre like fruits, lots of water. There must be some balance. Some kids around this neighbourhood are not so well to do. So how do you help them? For me, I provide biscuits, different kinds of biscuits; before the game, before the training, after the training, just to make sure that they don't go home hungry. You know, the situation here is different. If I were to coach Singapore Chinese Girls' School, or other independent schools, then it's a different ballgame. But I would recommend SportSG to think about providing some kind of sports nutrition advisory for primary schools, secondary schools, that will be helping the teacher and the coaches.
Q : What about off-court training? What do you recommend?
Coach : Because these kids at this age, are still having growth spurts, I told the kids if you have PE lessons that you can play soccer, basketball, even cross-country jogging, sprinting. Just go and enjoy different sports, build up different capabilities, understand your body, let your body grow naturally. I think that will help a lot because as they develop, things will be different.
Q : Mental Toughness in a player these days, there're tools and ways to toughen up. The clutch points, training them, how do you work on this?
Coach : My time, mental toughness was very different from today. Nowadays, the kids have access to headphones, iPads, and so on. So mental toughness is something I would say, a huge challenge for Singaporeans. Here, mental toughness has got to do with the coach understanding each student. You have to tell them, you know, what does it take for this game, for you to be competitive at a certain level, what is required. You have to share with them, you know, you play social badminton, or you want to go competitive badminton, mental toughness is not just about going through all the hard training. It is also about when you're under pressure, how do you keep calm. How do you remain more observant while under pressure? How do you make the right decision? Be it right or wrong, how do you learn from that? I think nowadays, the mental toughness, it's different for different kids.
Q: Tell us about your B division campaign this season.
Coach : I took over the boys only this year, and they managed to go to the second round. I would say it is a good learning experience for them because they have never been to the second round for quite a few years. For me to put together a team, I thank them for trusting me. I thank them for believing in me and believing in the team. And the decision to field certain players for certain games, it's all about learning, it's about teamwork. I've learned a lot about them as well because handling boys and girls are very different. The boys I would say over here, one thing that is different this year is they believe in themselves more. I think that is something I feel good about because they see things differently. They are willing to learn and try and give their best.
Q : What do you reckon needs to be done for next year to take them to another level?
Coach : The partnership with the school is important. The school leaders here are very supportive, and the teacher, obviously. More importantly, I have a program. And I tell the students what the program takes; six months, nine months, what are we going through. Some will improve faster than the others. And I tell them, not all of you will improve at the same rate. You have to learn how to persevere, be resilient, self-discipline. The learning is a lot of iteration, going through the same technique, training and then how you move yourself better.
Q : What are the values that your players take home from you?
Coach : I think one of the key values is to never give up. I've told them, including the girls, whatever you're faced with in life, never give up. Be it in your studies, you find that you cannot solve the problem, don't give up. You're still hitting against the wall, find your friend. Cannot find an answer? Find your teacher, find your coach, I believe someone will be able to guide you through.
Q: Coming back to you, what has been the greatest badminton memory of your life?
Coach : For me? I would say the whole journey from primary school to representing Singapore from at the age of 15 in ASEAN, my first international tournament, until the last tournament, which was the Thomas Cup finals in Indonesia. I've learned a lot about myself, my body, discipline, how to train, the various techniques of training. I was trained in Indonesia and in China. Singaporeans are quite lucky, because we are exposed to a lot of good players from around this region. There are many things to learn. As the game evolves, we also have to evolve in our training methods.
Q : Talking about training methods, is there anything you would like to specially achieve as a coach?
Coach : First of all, my greatest feel as a coach, I want the students here to learn the game of badminton, to enjoy the game for life. The next level would be for some of them to achieve a higher level of competency to compete. That is another bonus. What I want to do is to support the school and mainly the students here, to tell them, it doesn't matter if you're a neighbourhood school. You're no different from any other opportunities out there. It's how you plan your time, schedule your time, focus on your studies. When you have time for the game, you do your very best. Both on and off the court, you have to do your best. Whatever your family background, if you're able to learn how to discipline yourself in various aspects, you will go far.
Q: And finally, a message for young badminton players not necessarily from your school, but for everyone?
Coach : I've been to primary school competition, secondary school and so on. There's a lot of raw talent. What is important is, I guess in Singapore, we still have to focus on our rice bowl. At the same time, there are opportunities for the young players to achieve more. There're some sacrifices involved. And there's a lot of decision-making to be done. But I do hope that parents and teachers can continue to guide and give good support to these students who want to pursue competitive badminton; become the next World Champion, SEA Games champion or whatever, there must be some support, not necessarily money. It has a lot of guidance in terms of how to prepare them for post-competitive badminton, what do they want to do? What is their passion? I think that part of the planning must go hand-in-hand while they are competing, so that they know they can give their very best. And then, at the same time, they're also preparing for their post-competitive careers.
For all the news, post-match interview videos, stories, photos, fanzone details and much more from the 2022 National School Games, do visit our website : go.gov.sg/nationalschoolgames