Raffles Institution advance to NSG Softball Semis, after 3 straight wins!
by Circle Stories, on April 11, 2022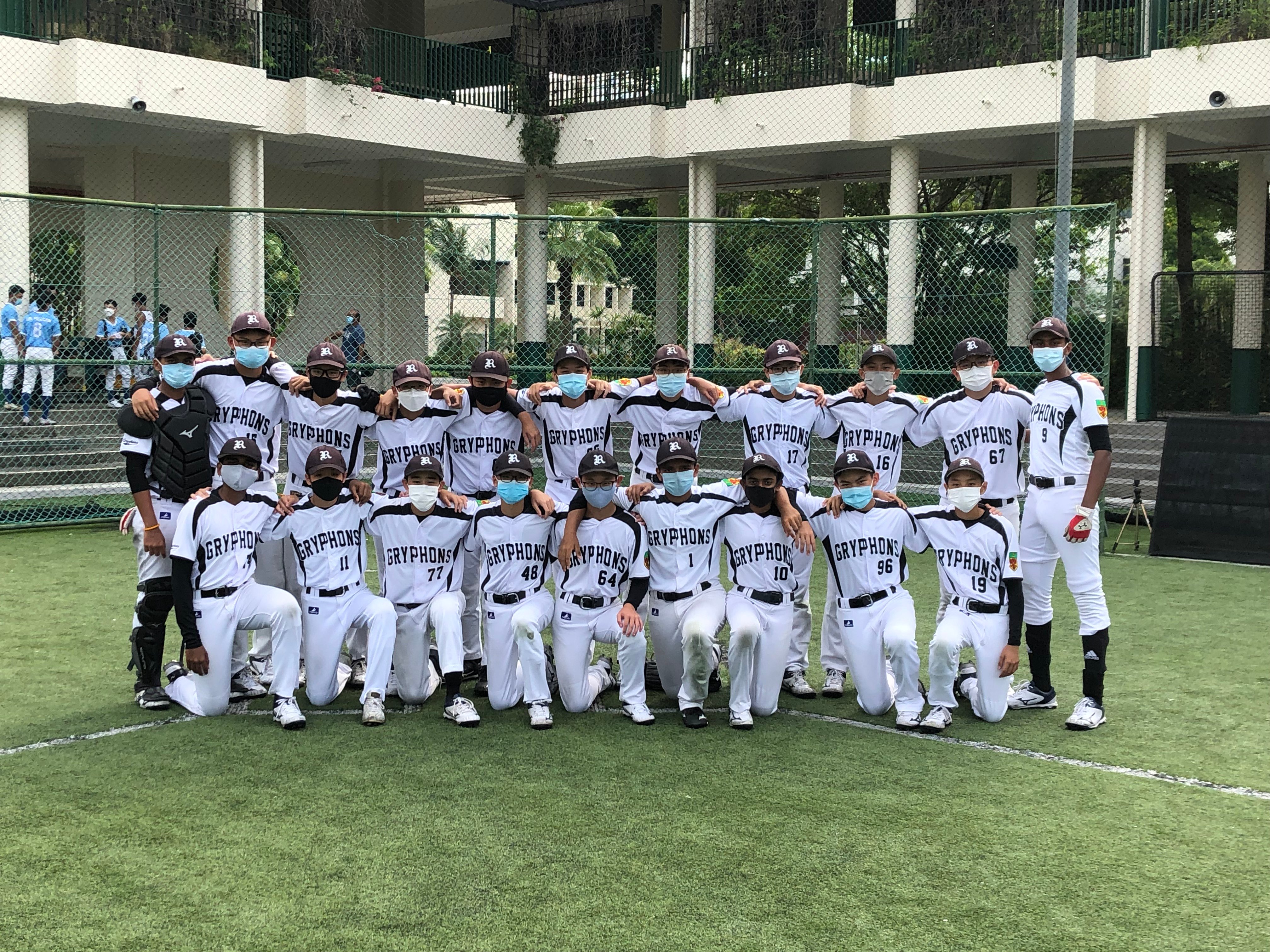 (The triumphant RI Boys after their 15-1 victory over Maris Stella High School. Photo Credit: Emaad Akhtar)
By Emaad Akhtar
Strength, flexibility, tactical astuteness, discipline. These are just a few of the many traits deemed essential for success in the sport of softball. But perhaps the most important of all, is attitude. Just witness Maris Stella High School's Luke Ang, who cuts a diminutive figure, in action.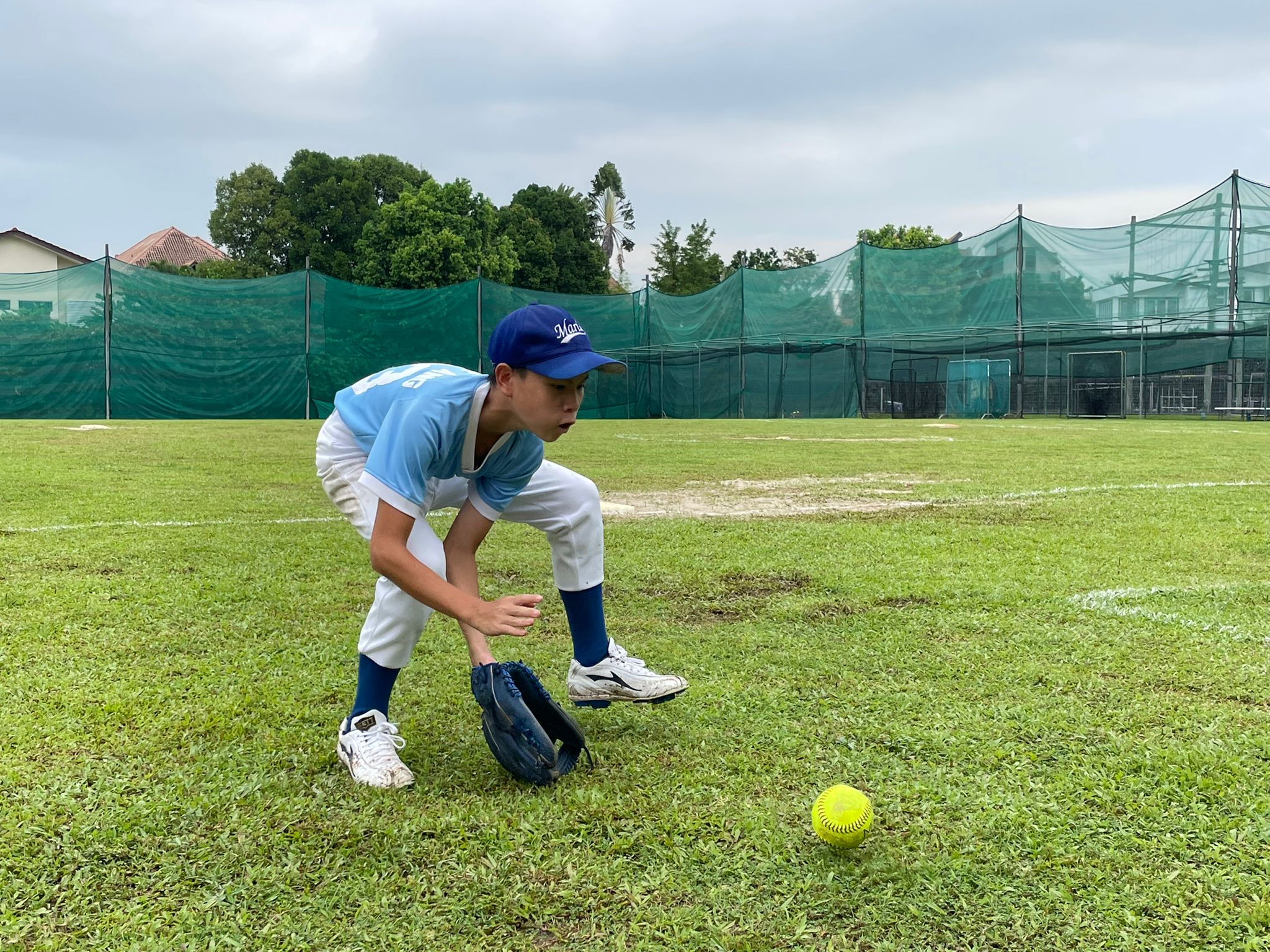 (Maris Stella High School's Luke Ang. Photo Credit : Maris Stella High School)
The 2nd base (player) was easily the smallest of all 20 players who took to the field on 5 April when Team Marist clashed against Raffles Institution (RI) in a B Division Boys Softball group match. Both sides having comfortably won their respective first preliminary games against River Valley High School.
It was Luke's largeness of heart however, that really captured the imagination of those watching from the sidelines. "Softball is not a game determined by size," said Nicholas Ong, Maris Stella's teacher-in-charge. "It is about the willingness and desire to do well. Luke is a daring player. When it comes to stopping the ball, he chases with all his might and puts his entire body behind the cause."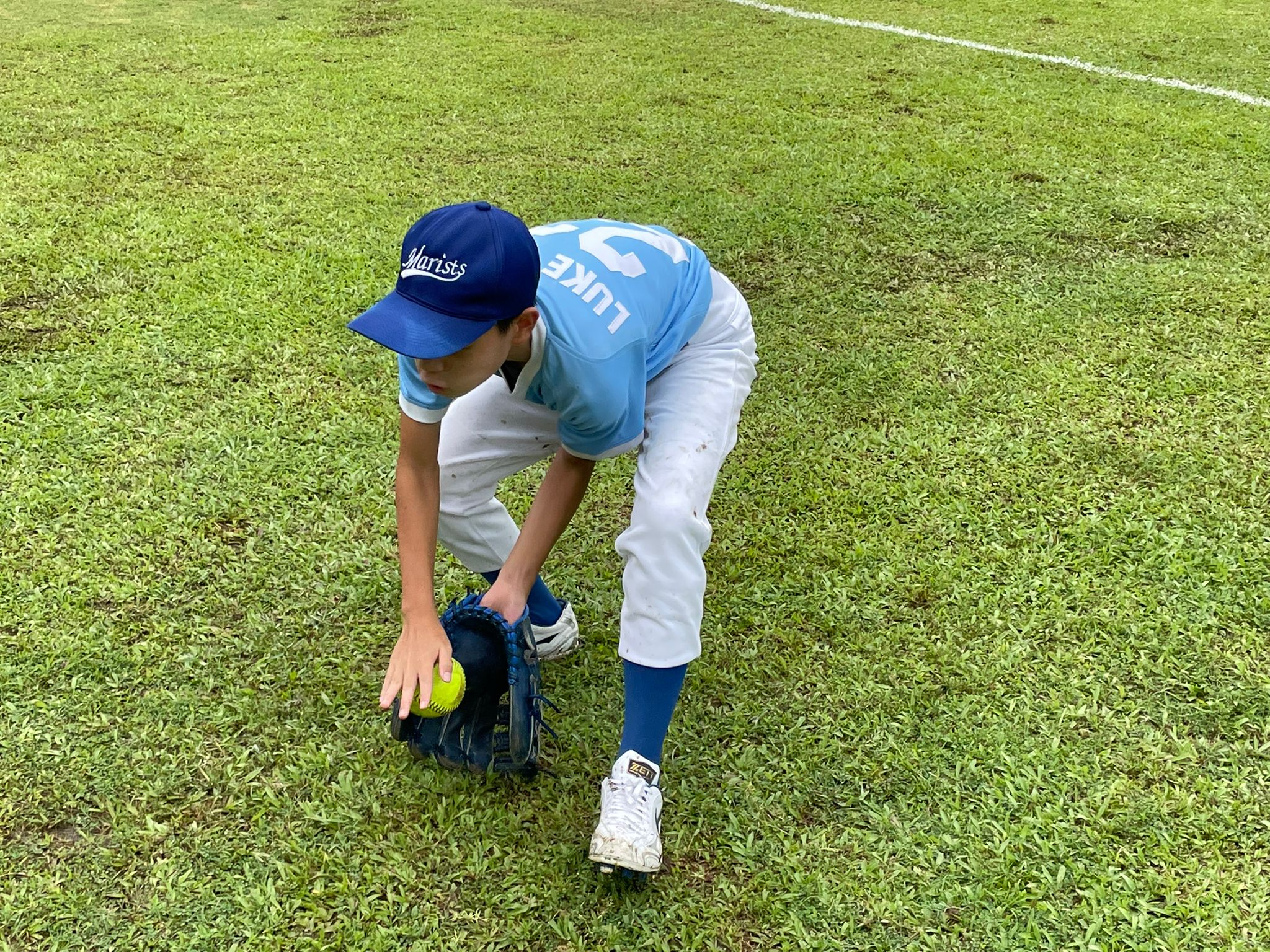 (Maris Stella High School's Luke Ang. Photo Credit : Maris Stella High School)
Luke's attitude epitomizes Maris Stella's softball journey through the decades. The sport has been played at the school since the late 1970s, and participants have learned to adapt, despite not having a field of their own to practice on. "We utilize different strategies - bunting, advancing the runner and contact hitting, instead of always try to hit the ball as far as possible," says Nicholas.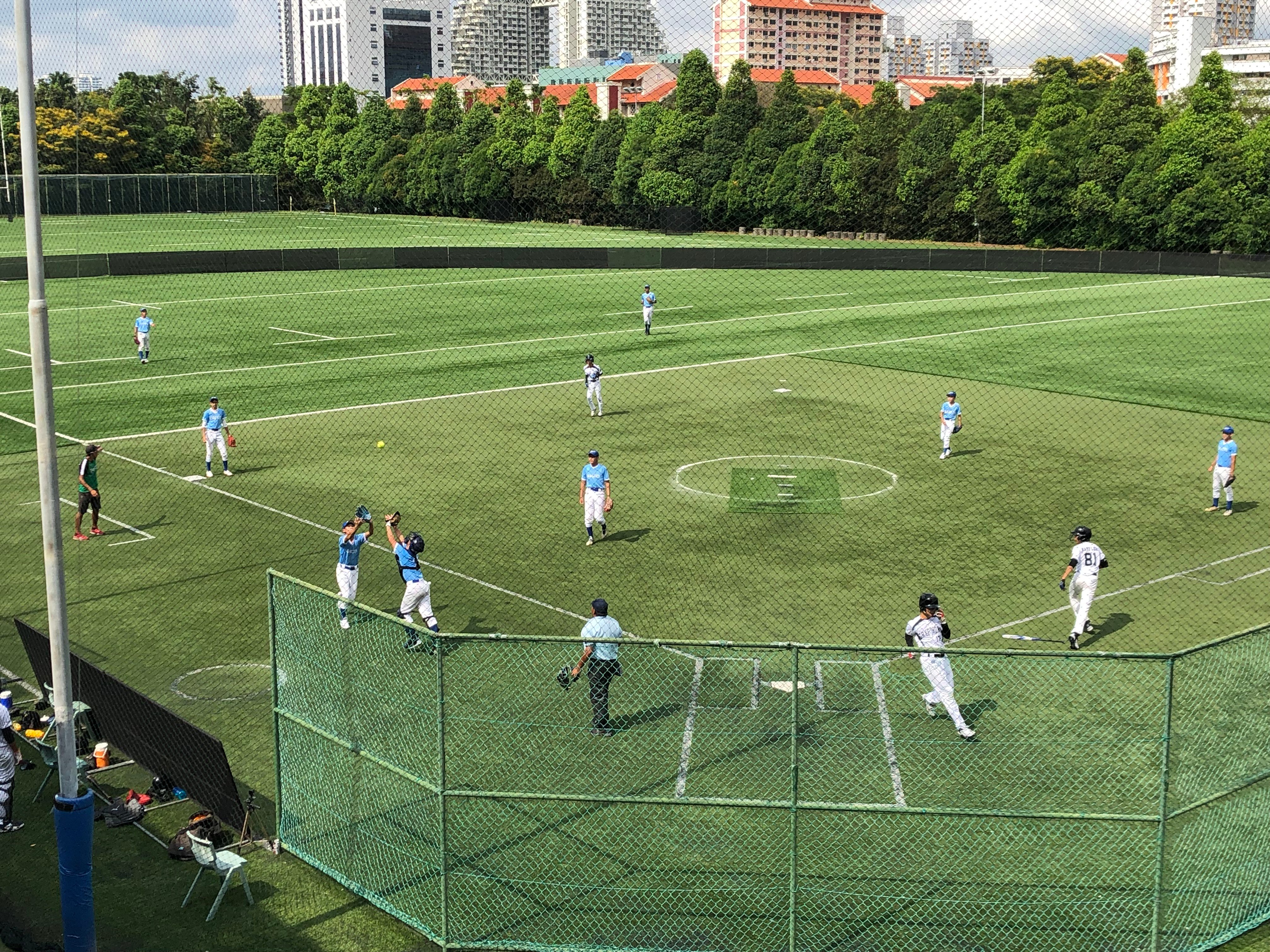 (2 Maris Stella High School teammates attempt to catch the ball in the foul territory. Photo Credit: Emaad Akhtar)
RI on the other hand, who began playing in the 1960s, possess some of the finest softball facilities in the country, replete with cages, a robust backstop and a lush green field with perfectly manicured grass.
"I remind the boys of how privileged they are and to be grateful, which spurs them on to want to do better," says Raffles Institution head coach Farhan Harahap, who himself represented the school's softball teams from 2002 to 2007.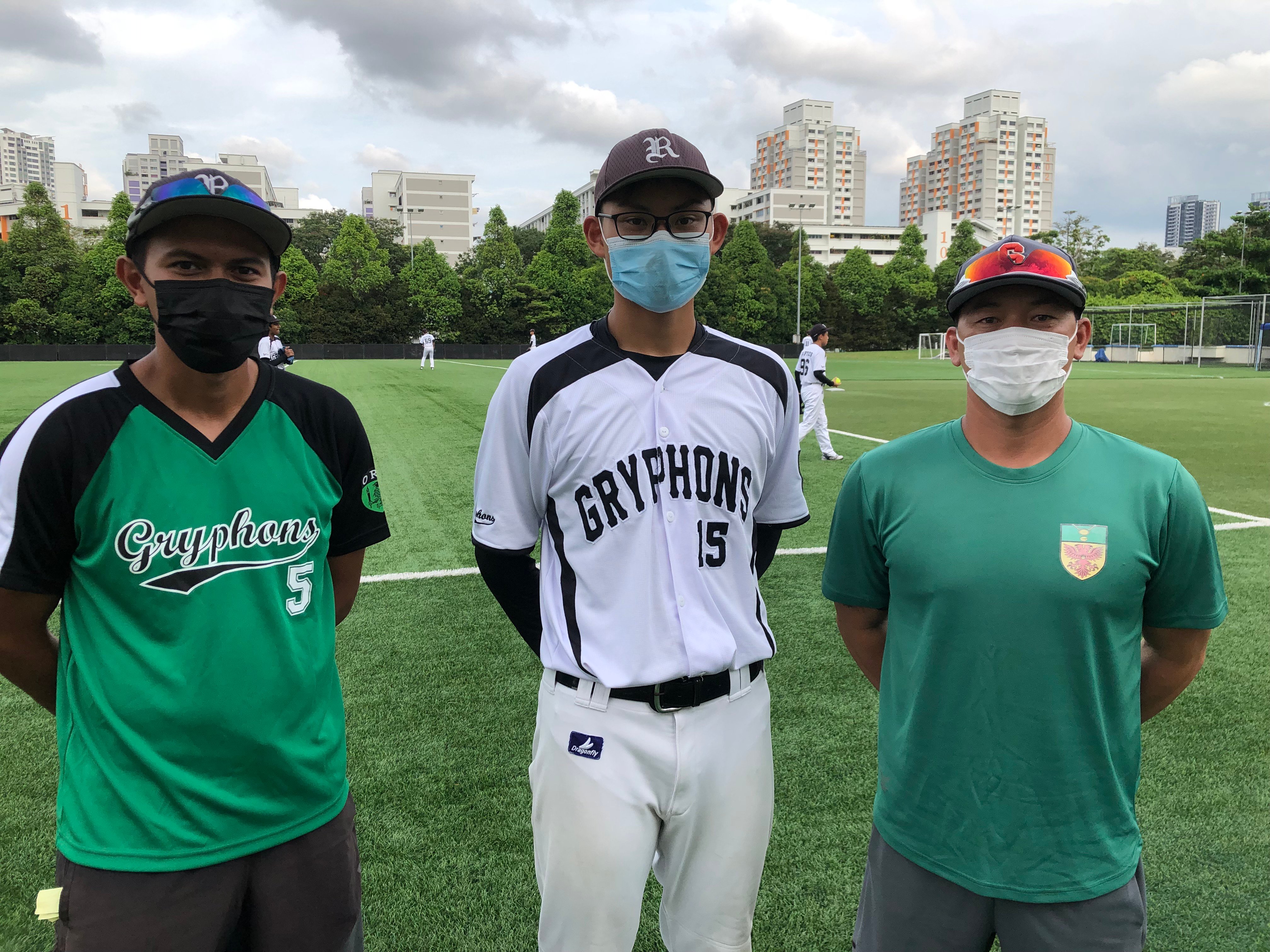 From Left: Farhan Harahap (Raffles Head Coach) with Looi Zi Jenn (Raffles pitcher) and William Mendoza (Raffles Pitching Coach). Photo Credit: Emaad Akhtar.
The Gryphons are fortunate to have Harahap, who also coaches the Singapore national softball teams, in their corner. But despite overseeing a comfortable 15-1 victory over their rivals, which sealed their berth in the quarter-final stage of the competition, Harahap doesn't like to put additional pressure on his boys.
"Tactically, from a game awareness perspective, we are behind what a typical B division side should be," he says. "The last time some of these boys played was in Secondary 1. But it is also important to remind the boys that your life does not depend on one tournament."
At the end of the day, both Nicholas and Harahap agree on one thing: that softball is all about building friendships and trust and embracing different nationalities, races and religions.

(Post-match Interview with Kaelen Ng - Captain, RI. Video Credit : Emaad Akhtar)
The Marists returned to action on Monday (11 Apr), as they succumbed to a 11-3 defeat at the hands of Catholic High School (Secondary). And favourites RI triumphed 11-1 over Montfort Secondary in the knockout round to reach the last 4! The Rafflesians will next meet St Gabriel's Secondary School on Wed 13 Apr, for the chance to reach the grand final. And the 2nd semis fixture will see Anglo-Chinese School (I), square off against Catholic High School.
(For all the news, post-match interview videos, stories, photos, fanzone details and much more from the 2022 National School Games, do visit our website : go.gov.sg/nationalschoolgames)