A Cut Above the Rest: The Art of Fencing guides NSG Athletes to National Glory
by ActiveSG Circle, on July 31, 2023
Stepping off the podium and heading straight into the next training session - this scenario is a frequent occurrence for many of our athletes, particularly the young representatives of Singapore on the international stage.
Today, our attention turns away from the conventional sporting powerhouses to a captivating European import that has captured the imagination and interest of numerous enthusiasts - Fencing. This sport has not only sparked the curiosity of aspiring Asian athletes but has also guided two National School Games champions to achieve a resplendent victory at the 32nd Southeast Asian Games.
Fencing, a distinctive blend of strategy, agility, precision, and unwavering mental strength, has its origins traced back to Europe in the 15th and 16th centuries (1400 – 1500 A.D.). During this time, civilians started carrying swords, particularly the rapier, using them to settle duels with honor and efficiency. As the years passed, the culture and traditions of fencing evolved, leading to significant changes, including the adoption of various weapons like the Foil, Epee, and Sabre, which replaced the cumbersome Rapier. Changes to the sport such as standardized rules for fencing, wire masks and electrical scoring systems slowly morphed the once deadly sport into the safer modern fencing we know today.
With its growing global popularity, Fencing swiftly found its way to Singapore, securing a place in the National School Games in 2011. The inaugural 2011 NSG Fencing championships, saw the likes of national fencers, Liane Wong and Lim Wei Hao, gracing the top of podiums.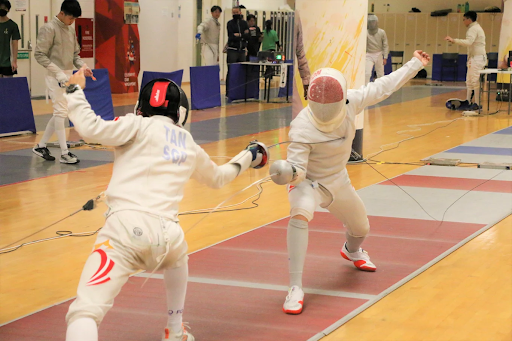 ( National School Games 2023 | Photo: Team Nila Content Producer, Anbumani Arivalagan )
The trend of national athletes standing atop the National School Games podium is not an uncommon occurrence. This year, we witnessed national fencers Samuel Robson and Elle Koh achieve remarkable success, securing victory in both the National School Games championship and clinching gold medals for Singapore at the 32nd SEA Games in Cambodia.
Samuel Robson, just 17 and still celebrating his dual victories at the National School Games 2023, bagged a gold medal at the 2023 Southeast Asian Games in the Men's Individual Foil event, outclassing his opponent with a comfortable lead of 15-3. Samuel's interest in fencing piqued when he was just seven, after watching one of the Pirate Of The Caribbean movies.
This passion enabled him to participate and triumph in numerous competitions across the globe. However, this victory didn't come without challenges. In addition to his national training, Samuel Robson dedicates considerable time to personal training. Moreover, he juggles these demanding athletic commitments with the academic responsibilities of being a Year Five student at Anglo-Chinese School (Independent).
Though Samuel's debut was a story for the ages, his triumph was not the only highlight for Team Singapore at the 2023 Southeast Asian Games. Elle Koh, the 15-year-old fencing prodigy, added another chapter to her already impressive SEA Games legacy. The young champion, who arrived at the SEA Games just weeks after winning a gold medal at the NSG Women's B Division Foil Finals 2023, managed to defend her crown and claim her second gold in the Women Individual Epee Final.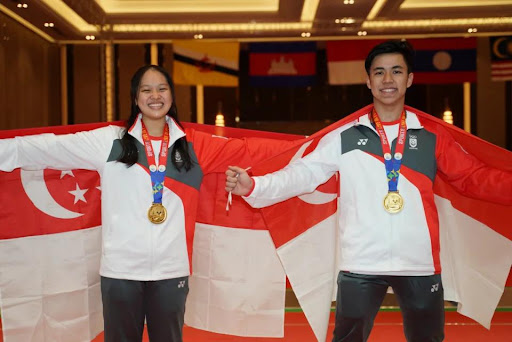 (Elle Koh and Samuel Robson after winning Gold at the 2023 SEA Games | Photo: Sport Singapore / Bryan Foo)
The Raffles Girls' School student has been actively involved in fencing for over a decade. Her interest in the sport stemmed from growing up around it, as she used to accompany her mother, Juliana Seow, who is now the president of Fencing Singapore, to coaching sessions. Inspired by the environment, she took up fencing at the tender age of 4. At age 11, Elle started competing and by age 13, was already determined to make it to the national Fencing team.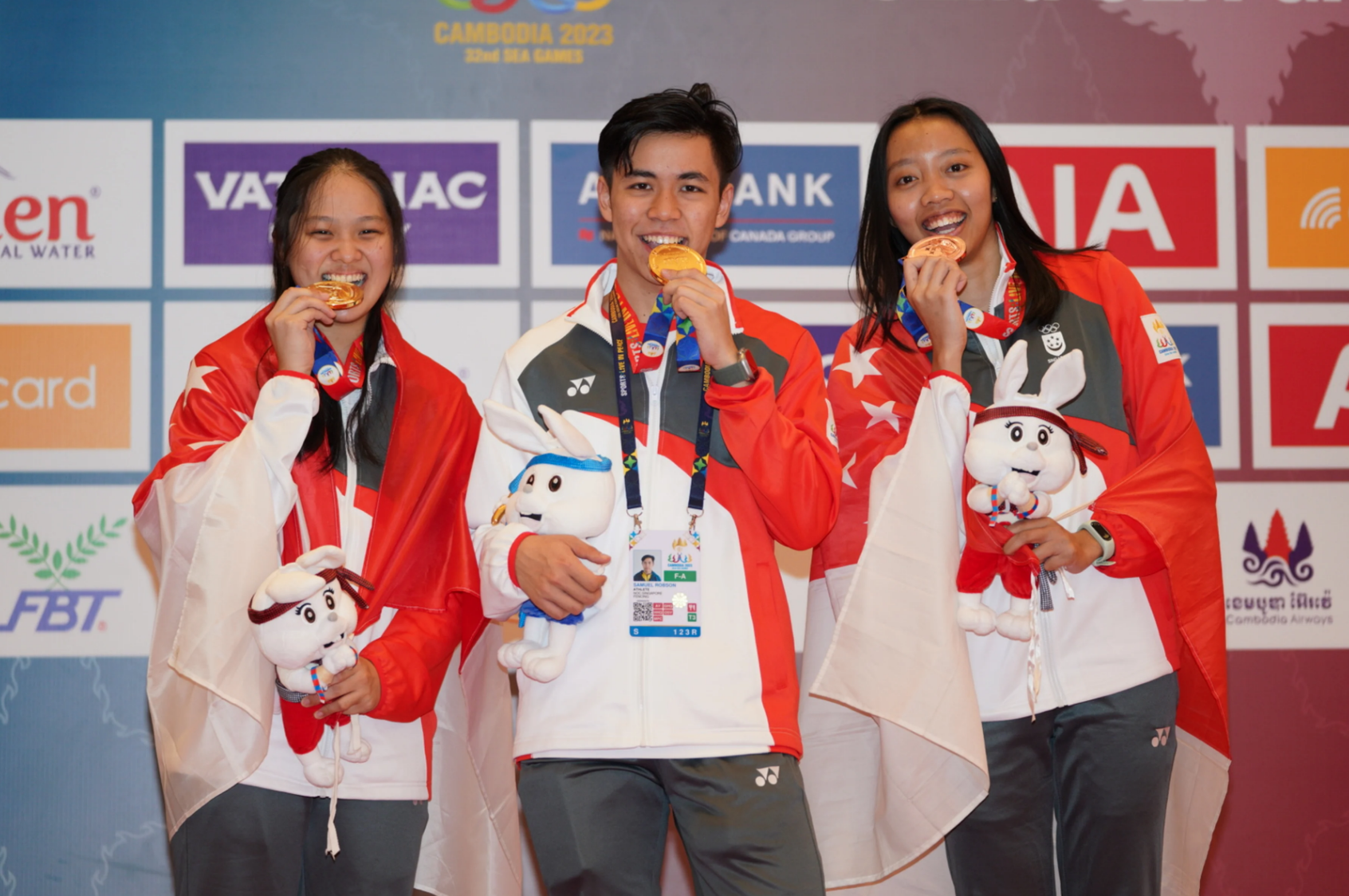 (Elle Koh and Samuel Robson after winning Gold at the 2023 SEA Games | Photo: Sport Singapore / Bryan Foo)
In a sport where physicality and experience often take precedence, the ascent of young athletes, Elle Koh and Samuel Robson, appears even more remarkable. Their recent victories serve as a testament to the impressive progress made by our young athletes, indicating they are on a path towards even greater accomplishments to come.
As we look towards the future, let us continue to nurture and empower our young talents through the National School Games. This ensures our student athletes the experience and exposure needed to reach new heights in their respective sports. With their determination and the nation's unwavering support, we can anticipate a bright and promising future for Singapore's sporting excellence on the world stage.
Celebrate youth sport with ActiveSG Circle's coverage of National School Games 2023 here
Watch more here
Read more here
Tell us what you think here
Cheer on the school teams and student athletes here
national school games 2023