Winning the National School Games (NSG) or reaching the national grand final is the pinnacle of the student-athlete's adolescence sporting journey. It takes something special to recreate the same moments years later as an adult coach.
Among the select few to do so is local tennis veteran Tan Xu Teng. In his youth, he was a national schools champion as a student-athlete at Raffles Institution (RI). Now as a coach, he has guided Nanyang Girls' High (NYGH) and, in this NSG season, Hwa Chong Institution (HCI) to the national finals.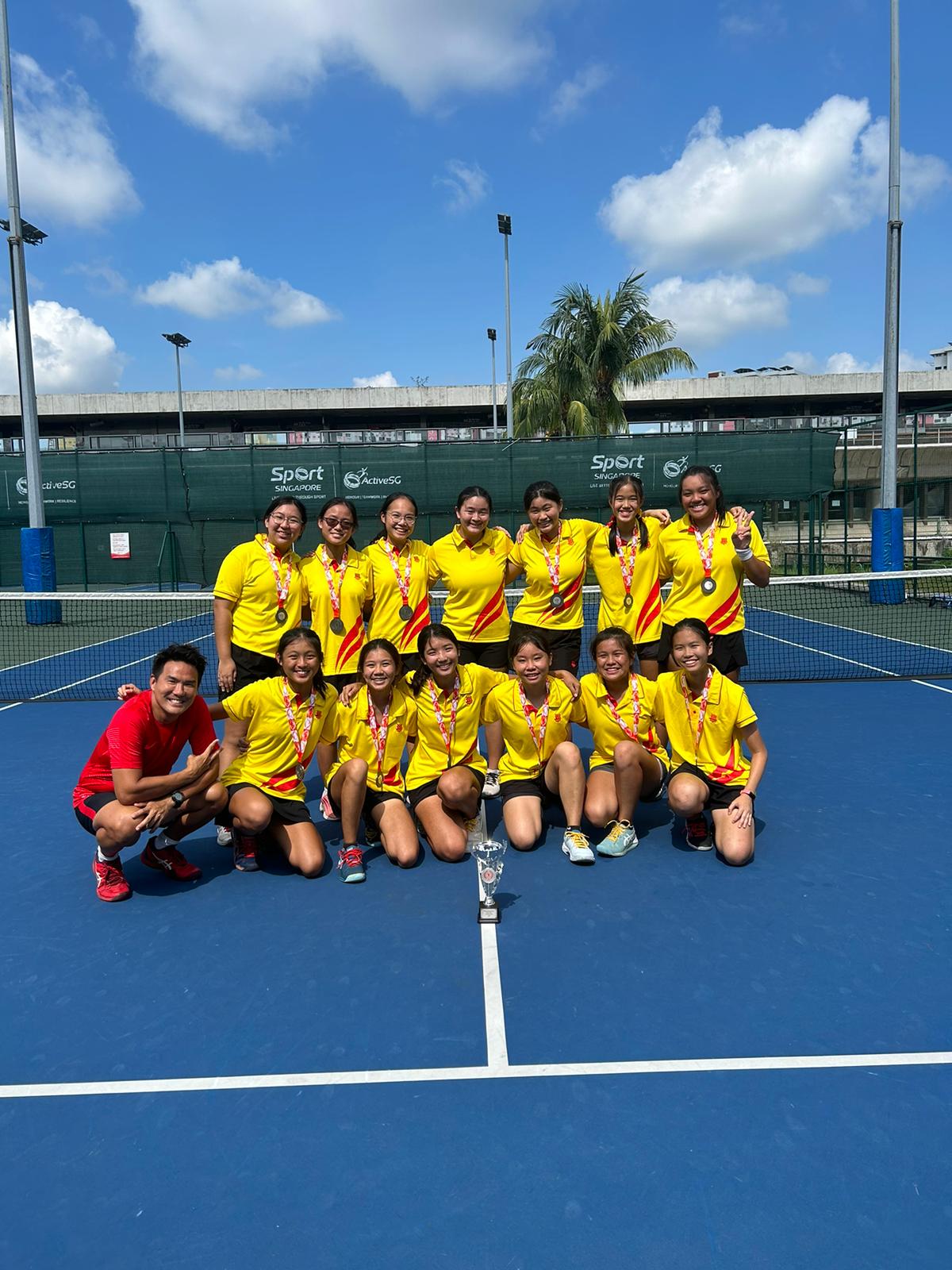 What makes him tick at the national schools' tennis scene as a player and coach in the face of intense pressure?
"Being able to handle pressure is a very crucial skill in tennis, especially when representing the school," he told ActiveSG Circle in an email interview.
"I shared with my players the need to remain calm and emotionally stable and just focus on the ball and the point in the present than all that is going on around with the other matches that are going on at the same time and their classmates and teachers and spectators and parents who are at the matches."
Having the intense adrenaline in pressure-cooker situations on court comes second nature to Xu Teng, who was first introduced to the sport by his tennis-loving father as a young boy.
It was after entering RI as a Secondary One student in 1993 when he had his baptism of fire at the NSG. As the tennis tournaments at school level only involve team events, he had to adjust his mentality and approach towards matches in these competitions.
"Before RI, tennis to me was always an individual sport and I was used to playing for myself," he recalled. "It was a very different experience and much more meaningful playing tennis as part of a team and representing the school.
"In team competition where there are dynamics of external pressure beyond oneself and spectators cheering from the sidelines, the outcome of many matches are not determined by tennis level but the amount of grit, fight and emotional and mental strength of the players."
Xu Teng's on-court excellence as an adolescent player saw him picked for the Combined Schools team that competed in the Singapore Tennis Association Inter-Club competition. In his secondary school and junior college years at RI, he also won individual Zonal and National Colours awards.
His most memorable moment as a school player came in his final year of junior college in 1998 where he led Raffles Junior College (now RI(JC)) to the 'A' Division boys' tennis championship.
It capped a remarkable period at RI where he established himself as an all-rounder and managed to shine in the sporting arena despite his intense academic commitments.
"I was Prefect, Hullett House Captain, and in Debates as well in my school days, but leading my team to victory over ACJC in my final year was a memory that cannot be topped," he said.
Those school moments eventually transcended into adulthood where some of his schoolmates became parents and presently send their children to his tennis academy TAG International.
Although Xu Teng has been coaching young aspirants since 2007, it was more than a decade before he would return to the school tennis scene – this time as a coach.
It came by chance in 2018 as a number of his NYGH players were under his individual tutelage when the opportunity to coach at school level came.
"I had a few private students who were in the NYGH team and they told me that the school was looking for a tennis coach," he said.
"I did not coach at any school before this and thought that this would be a good opportunity to try help them, since they had CCA on average 6 hours a week and so it would be ideal if I could help them during their training time in school."
Although NYGH is a national girls' school sports powerhouse, tennis was not one of the sports it excelled in. Prior to Xu Teng's entry as coach, the girls' tennis scene at NSG has been dominated by Raffles Girls' School and Methodist Girls' School in the past decade.
With prior experience as a school player, he worked on getting the NYGH girls to become a strong collective capable of reaching the latter stages of girls' team events.
"I knew it would mean a lot to the girls for NYGH to do well as at that time, they were not considered a tennis powerhouse," he continued.
"I had great memories while competing in NSG when I was still in school and I wanted these girls to have the same memorable experience.
"One of the key aspects I focused on was improving their fitness. I incorporated a lot of physical training such as climbing stairs, running around the school campus and wearing ankle weights. Many of them were good tennis players but the extra fitness training was what they needed to become even better."
Apart from the physical and technical training, Xu Teng worked on strategies so that his NYGH players could attain the best result possible during matches.
"At school level, reliability and fighting spirit are key qualities a player must possess," he explained. "A good coach must have the experience as a player and the eye and understanding of the qualities of all his players to deploy them effectively to fulfil the overall maximum potential of the team.
"We identified players who would represent us in doubles early and trained them individually to be good doubles players, and also synergistically with their partners to work on their tactics as a pair and their chemistry to foster their teamwork and friendship to fight for each other.
"We also identified key players from opposing schools each of our players would need to overtake should they meet them, and set goals and a comprehensive training program to develop them accordingly.
"A coach in his planning will deploy a player strategically to beat players the coach knows she can, while accepting that there are certain players that are going to be difficult for her to overcome, and all he asks for is to fight very hard and not give up."
An admirer of modern tennis legend Roger Federer, Xu Teng desires the players under his charge to emulate the multiple Grand Slam winner's technique and mentality.
"It has to be Roger Federer for the beauty of his serve, his one handed backhand and his large repertoire," he said.
"He dominated the game as the undisputed number one and even in his later years, he was still able to win major tournaments with his beautiful game and exceptional movement. He is such an inspiration and role model I aspire to be like to my students."
His training and the girls' dedication paid dividends as NYGH finished runners-up in the B Division final in the 2019 NSG campaign. After a coronavirus-interrupted 2020 season, they finished third for three successive years in the B Division.
The effectiveness of Xu Teng's coaching methods saw some of his NYGH tennis pupils request him to also continue coaching them when they entered HCI in junior college level. Under his charge, HCI finished runners-up in the A Division girls' tennis this year.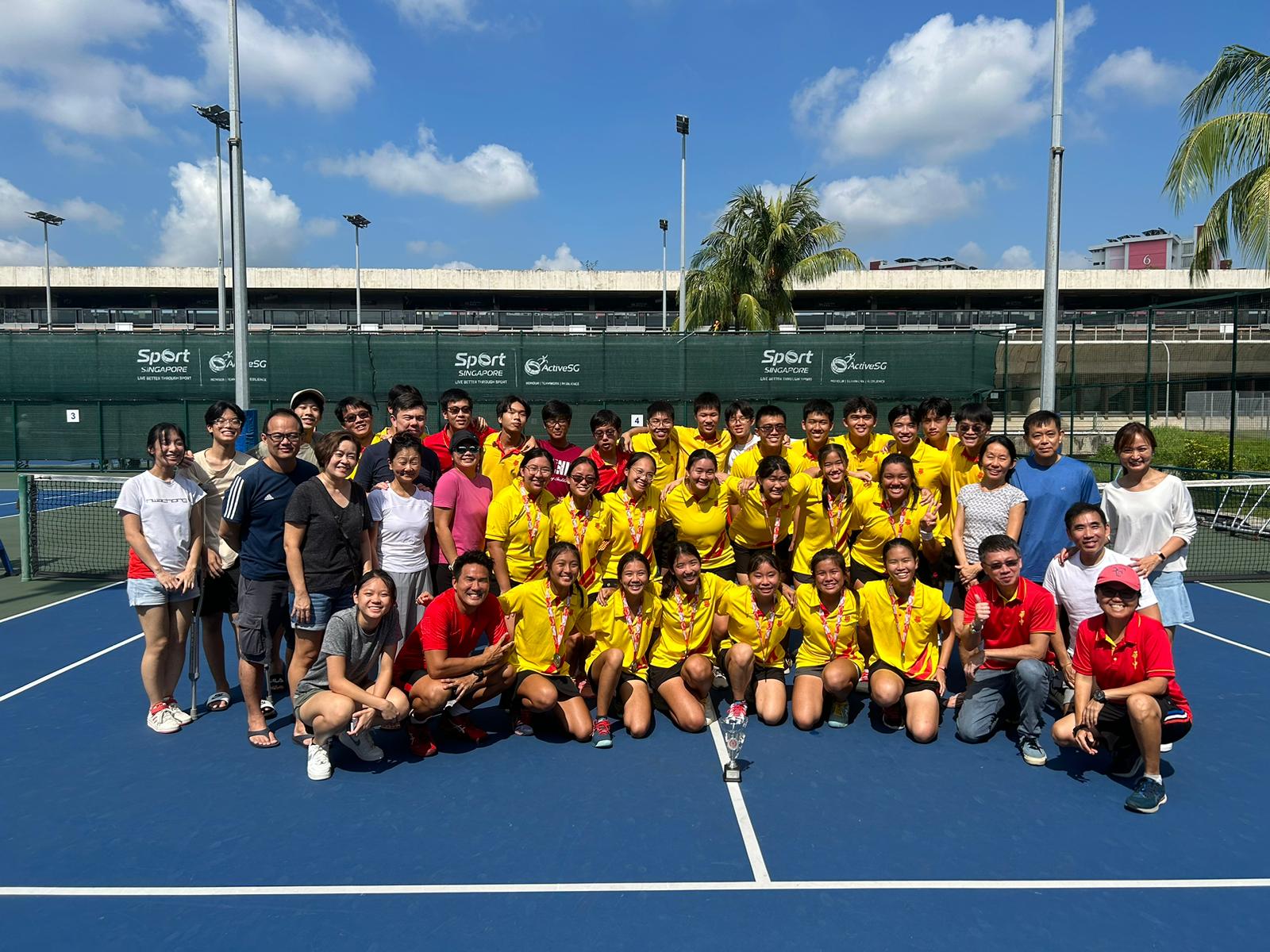 "It is fulfilling for all involved to see our players who play opponents who are on par with them in Secondary Two in the C Division and when they meet again in Secondary Four in the B Division, the scores are tilted all the way to our players," he explained.
"Ultimately it is not just about delivering the results, but shattering and proving to everyone – parents, the school administration, and the players themselves – that it is possible for them to improve tremendously even with school training. The girls experience this for themselves and ultimately this is the reason for the desire to continue the relationship into HCI."
Beyond breaking milestones for the schools under his charge, the legacy of his coaching extends beyond the court. Over the years, Xu Teng beams with pride at the friendships and connections made with them.
"There are too many moments on the courts over the years to mention, but I think what is most fuilfilling from those shared experiences and memories are seeing the girls grow from Secondary 1s to now entering university," he said.
"They still come back to visit me or we are still in contact, asking my thoughts or University faculties or career advice as they know I was a lawyer before.
"In fact, an NYGH player from my earliest batch is now working at the Academy while waiting to enter University in August. It is a mutual trust and respect that I always do my best for each of them and have their best interests at heart not just as a tennis player but also as a student and an individual."

Celebrate youth sport with ActiveSG Circle's coverage of National School Games 2023 here
Watch more here
Read more here
Tell us what you think here
Cheer on the school teams and student athletes here
national school games 2023