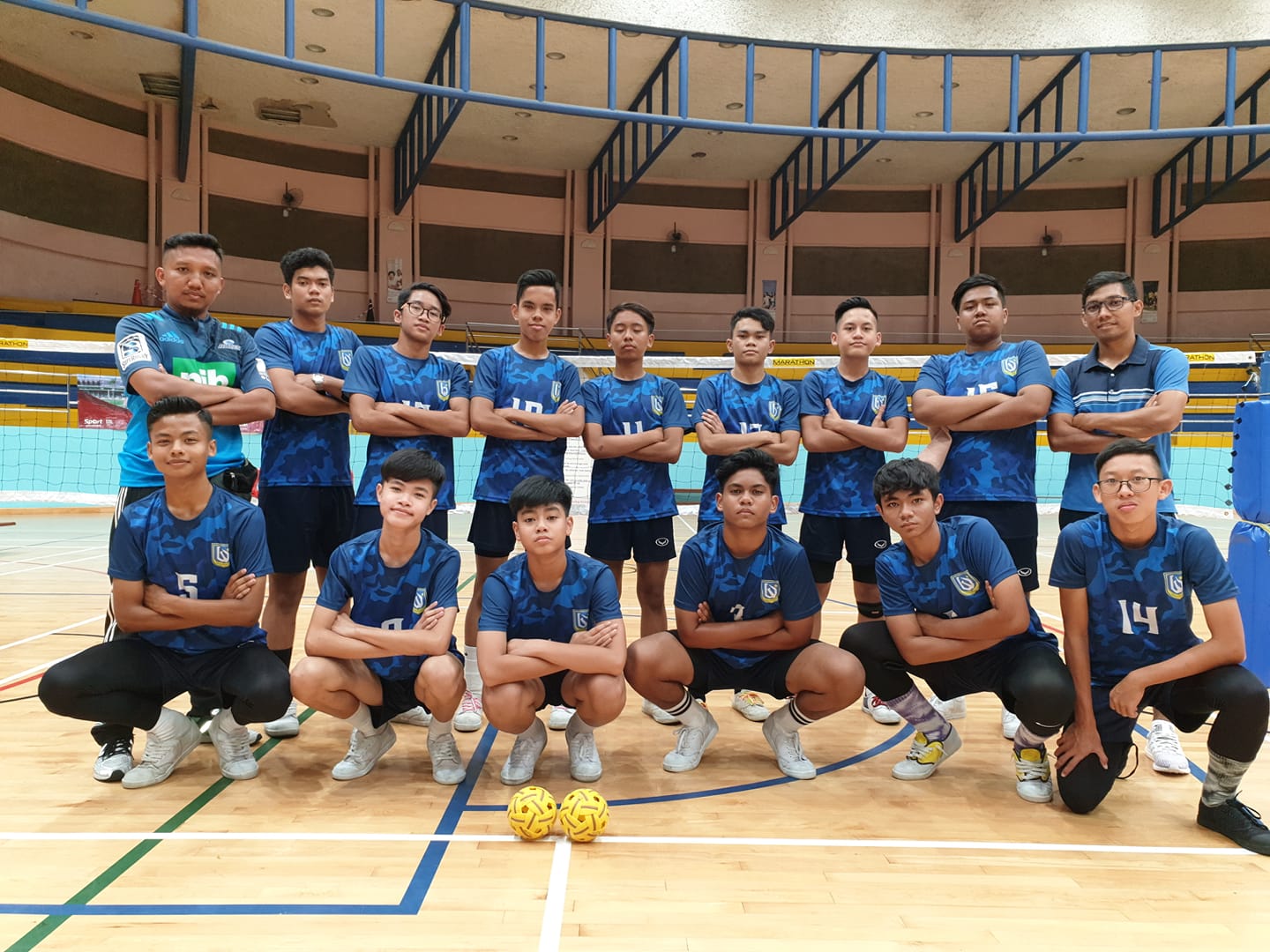 (2019 B Division Sepak Takraw Champions, Woodlands Secondary School. Photo Credit : Raj Kumar)
By Circle Editorial Team
Just 2 years ago in 2019, I had the privilege of doing match commentary on 7 sporting disciplines, LIVE on Toggle (renamed meWATCH) for the National School Games (NSG). This was for students competing in the B Division. Up to that point, I'd done Live match commentaries on football matches in the S.League, as well as a co-commentator on our Singapore national football team games. I'd even commentated on a 3-hour Beach Volleyball tournament on Channel 5, more than 15 years earlier. So even with all of that experience combined, the NSG proved to be arguably, the toughest and most challenging assignment in my commentary history!
It's a common notion that the NSG is "just a schools-based tournament" and not much to get excited about. Technically, it's not wrong to have that view as some might not have the necessary knowledge or the exposure, to totally understand the level of preparations, time and sacrifices made by students to train and get ready mentally and physically to compete in the annual NSG. On the flip side, you see the families of student-athletes across the island, showing support in several ways. Those include fetching their kids from school after training in the late afternoons/evenings, buying sports equipment/gear, sending their children overseas to train and compete etc.
All these duties/tasks are performed with the hope of kids raising their potential to aim for the highest goals possible. It also helps in their personal growth and development, bonding with team-mates and working together towards a common objective, for themselves and for their schools. Hence, the NSG is so much more than just a schools-based event, because it also serves as the basic foundation and competition platform for Singapore's future sports men and women!
(For the latest schedules on live streams, news updates and stories, do check out our official website, National School Games 2021)
Going back to 2019, my very first taste of doing match commentary for the NSG was the battle between St Andrew's Secondary and Anglo-Chinese School Independent. Leading up to that B Div Boys Final, only those 2 schools had shared the championship trophy for the previous 20 years. And St Andrew's were the defending champions. The Queenstown Stadium was packed with more than 1,000 supporters from both schools and even the 1-hour rain delay, did not dampen the spirits of the supporters and families who were present.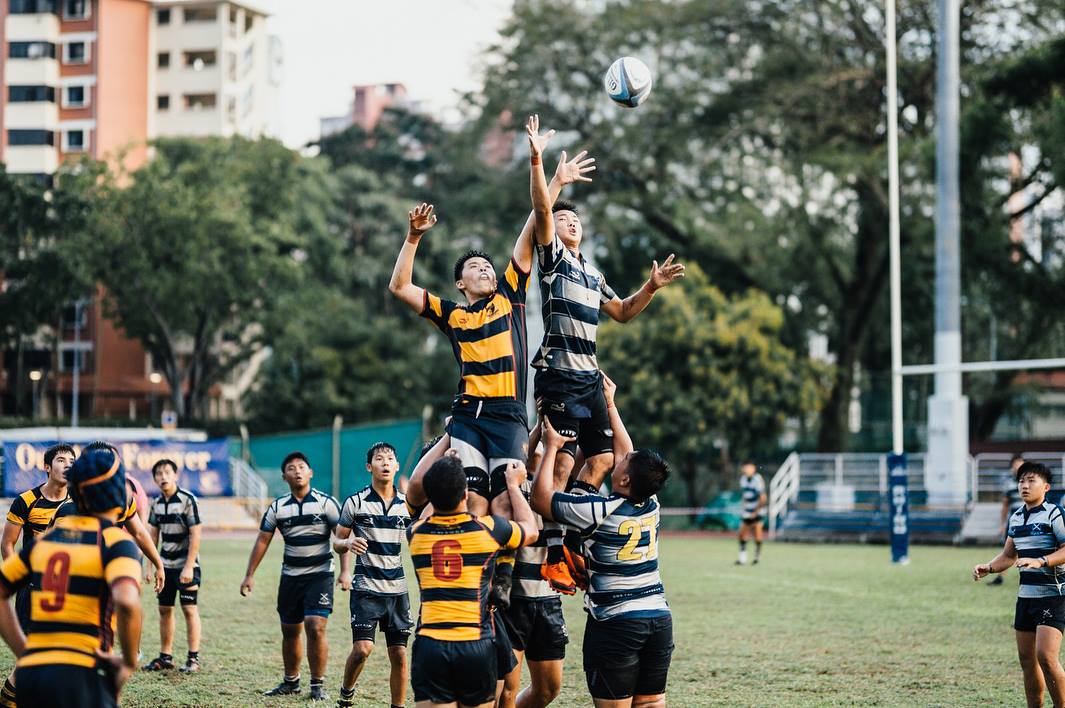 (Photo Credit : ACS Independent Online)
Having attended countless number of sports events over 2 decades of my sports reporting/broadcasting career, it was my first time "soaking in" the colourful atmosphere, watching the students doing their cheers and chants, waving their flags and displaying their banners of support etc. It reminded me of my own college days (in Yishun JC), when I went down to the Padang as part of the entire student cohort, to cheer on our team in the A Division Rugby Finals, against powerhouses St Andrews and Raffles Institution in 1989 and '90 respectively. It was a rare moment for our Principal to declare a Half-Day, and he encouraged us (more than 1,500 students) to travel from Yishun to the Padang and support our "Boys". And even though we lost in both finals, it was a celebration of sorts to see our neighbourhood school, competing against the best teams in the country, for the top prize. So watching the 2019 version first-hand, certainly brought back several fond memories of my own.
Over at Queenstown Stadium at half-time, it was ACS (I) with a 5-3 lead over the Saints. The match was packed with end-to-end action, complete with precise tackles, swift counter-attacks and some sound game strategies. And my challenge in the opening 30 minutes was getting the names of the 30 players correct, as the action was "fast and furious!" The players were competing at a high level of speed and that also kept the crowd thoroughly entertained. Thinking back, I still recall St Andrew's holding the lead at 13-5 with only 3 minutes to the final whistle. But the "never-surrender" attitude by the ACSians saw them produce a late rally when they scored a try with 60 seconds on the clock to bring the score to 10-13. They missed the conversion. But with chants of "ACS – The Best Is Yet To Be" reverberating around the stadium, the title contenders went on to reclaim their trophy, with another try, just mere seconds from the final whistle, deep into injury time. Final score was SASS 13-15 ACS (I). What a Final!!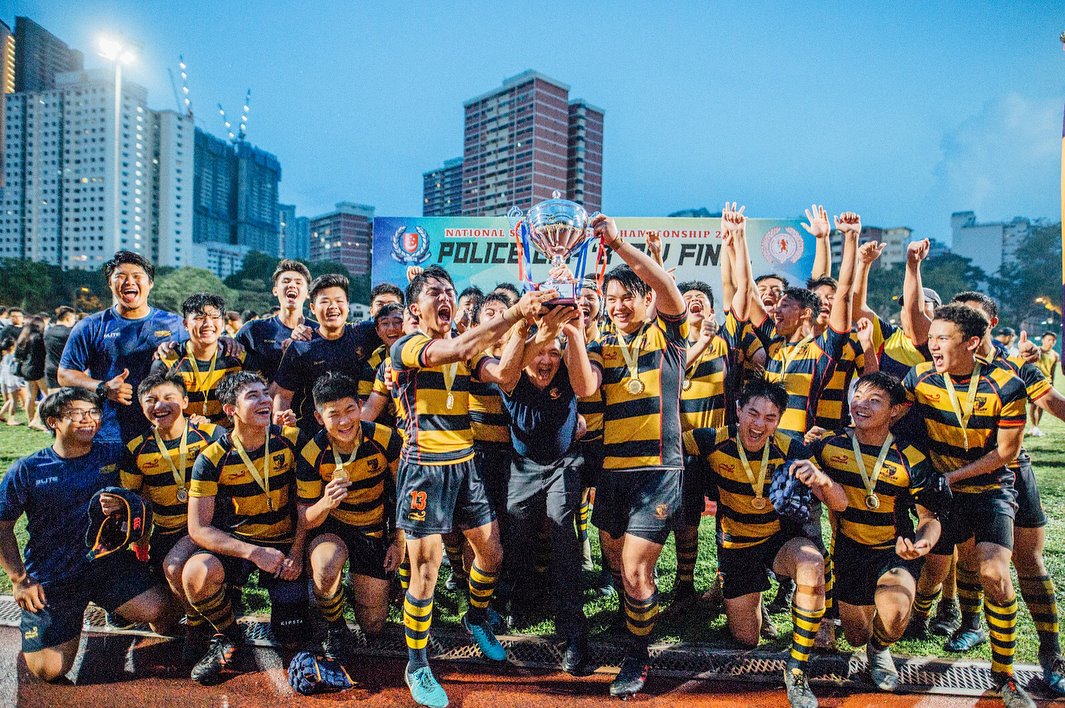 (Photo Credit : ACS Independent Online)
From Rugby to Sepak Takraw and it was the clash between Woodlands Sec School (my Alma Mater) and the 2018 finalists, Assumption Pathway School for the B Div title. Over at the Yio Chu Kang Sports Hall, supporters from 4 schools were in attendance to catch the fight for 3rd/4th placing as well as the grand final. It was the 4th finals appearance in 5 years for the Woodlanders as they were runner-ups from 2015 to 2017. A year later, they finished in 4th spot. And they came back with a new squad in 2019 and went on to triumph over APS across 3 Regus, for their very 1st championship title of that decade.
Over at Our Tampines Hub, it was a thrilling affair in the Floorball Finals for both Boys and Girls. It was Meridian Secondary vs Tanjong Katong Sec School for the Girls title. A year earlier, Meridian Sec finished 3rd while TKSS were crowned champions. Meanwhile after a tightly contested battle at OTH in 2019, the fulltime score was 3-3 as the match went into the dreaded penalty showdown. And it was Nur Qistina who scored to allow TKSS to retain their championship title. Qistina is currently with the national floorball team setup.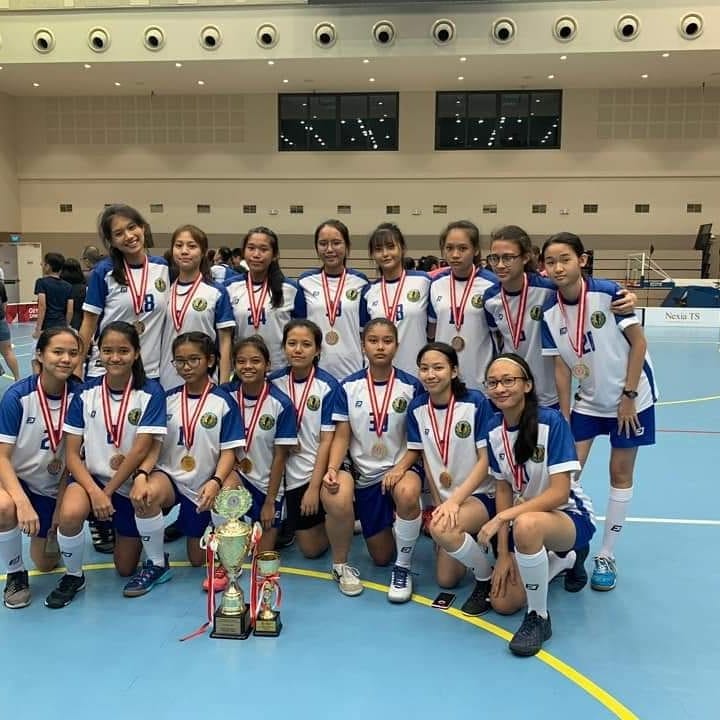 (2019 B Division Floorball Champions - TKSS)
I was also involved in watching and "calling the action" in Volleyball, Badminton, Football and Basketball. It was overall, a totally exciting eye-opener for the entire NSG campaign. The students demonstrated fearlessness in whichever sport they competed in and were truly fighting hard for honour and glory. For the winners, it's about bragging rights and fame. And in defeat, it's about learning from their mistakes, and getting back to training to prepare for the next NSG. More importantly, it was all about watching our future national stars in action and seeing the families, teachers, coaches and students, cheering in unison – a totally immersive experience for ALL 😊
The NSG began in 1959 and by 2019, a total of 60,000 students were competing across 29 sporting disciplines from Primary to Tertiary levels, across a period of 5-7 months (excluding the School Holidays) in that year. The School Games were cancelled a year ago due to Covid-19. But it's now back with 12 non-contact sports under SMM, with 12,000 students from more than 270 schools involved over the next 2 months. But with spectators and supporters barred from competition venues, you can still follow the Games through SportSG's comprehensive online coverage via our official website, https://go.gov.sg/nsg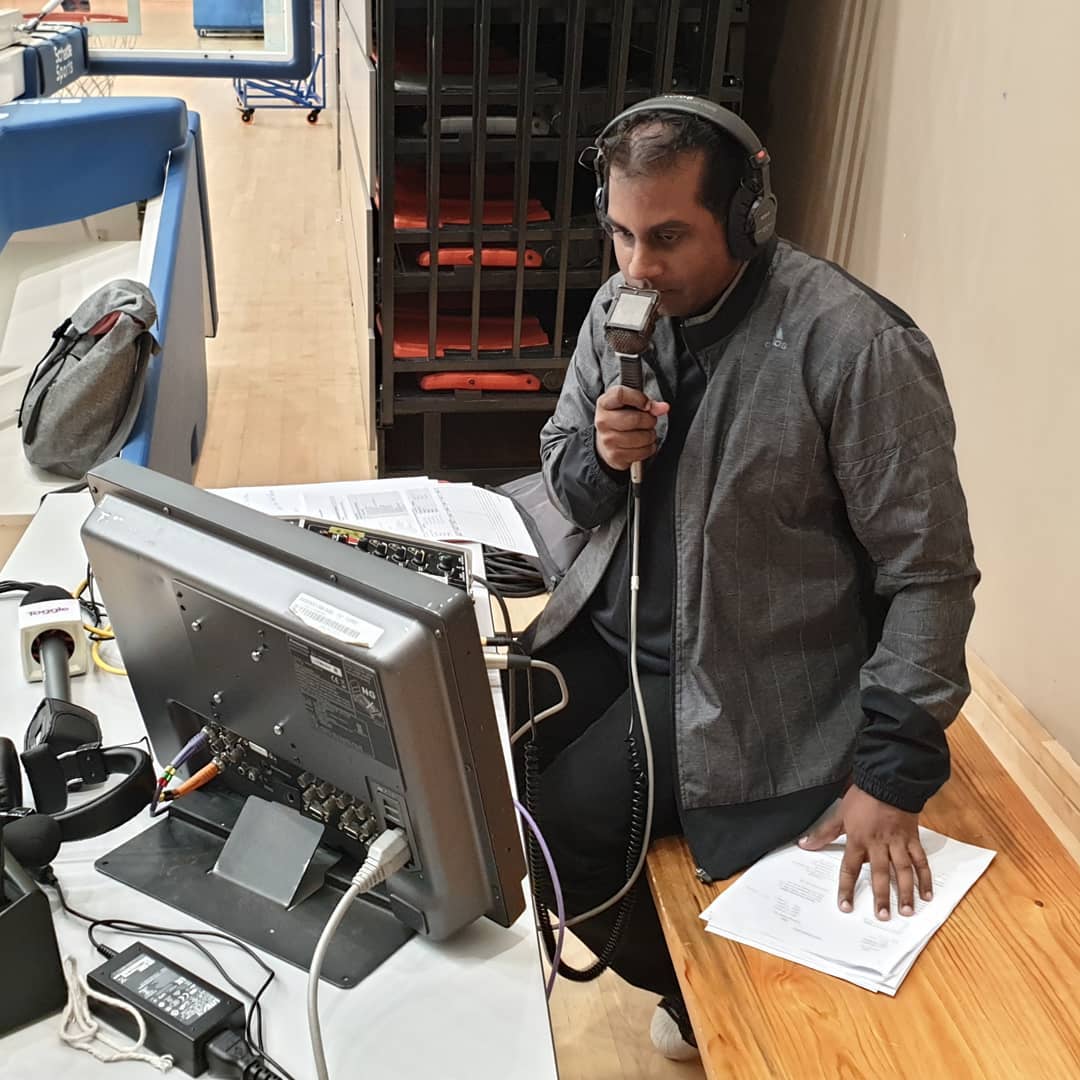 (Raj doing NSG match commentary for Floorball Finals at OTH)
Raj Kumar's been in Singapore's sports reporting and broadcasting scene since 1997. He was the former Sports Editor and Presenter on Power 98FM (SAFRA Radio) and 938LIVE (Mediacorp Radio). Over the years, he travelled to report on Team Singapore at the 2008 Beijing Olympics and 2012 Olympiad, excluding 4 SEA Games cities. As a familiar voice and face on Radio, TV and online sports, he has produced and hosted more than 600 talkshows and programmes.