NSG 13-time Gold medallist Elizabeth-Ann Tan : NSG has certainly helped to cultivate the values of hard work, perseverance and self-discipline in me
by Circle Stories, on April 3, 2021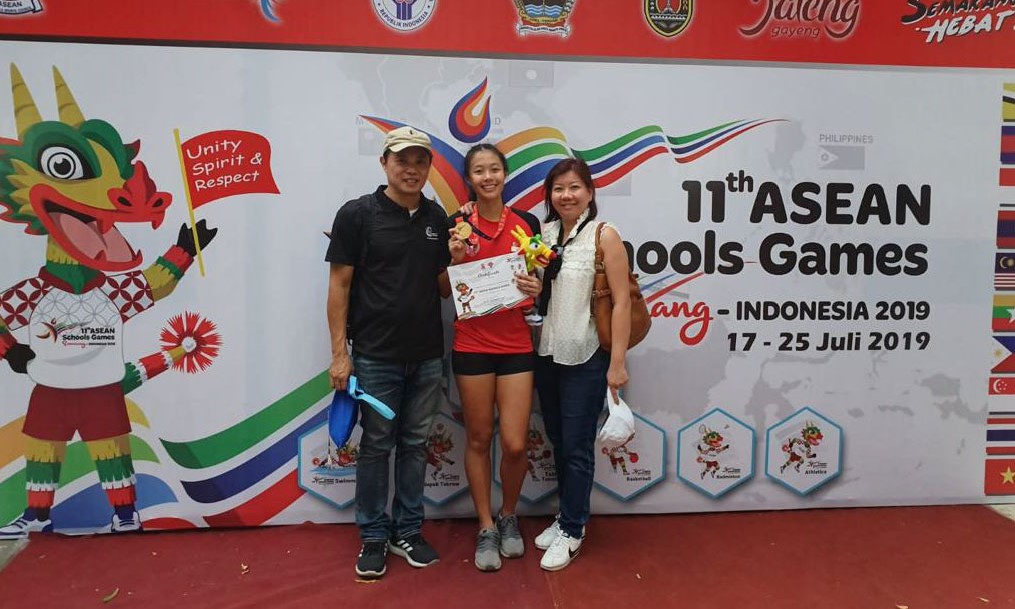 (Elizabeth-Ann Tan and her parents at 2019 ASEAN Schools Games)
By Circle Editorial Team
Over a period of 8 years, Elizabeth-Ann Tan rewrote the history books at the National School Games on several occasions. Not only did she haul in a whopping tally of 13 Gold medals, she also set 4 new Games records in the Sprint and Hurdles events respectively. Having dominated at the NSG, the national sprinter has since gone on to compete at the ASEAN Schools Games, the Asian Games and the Asian Championships. Currently studying in JC2 at Hwa Chong Institution, here's Elizabeth in an email interview with Circle News.
1)How did you prepare for the National School Games?
Other than training hard, when NSG is approaching I will control my diet more strictly and try to fuel my body with the right nutrients so that I can perform well in both trainings and competitions. On top of this, I will try to clock as many hours of sleep as possible, so that my body and muscles get sufficient rest to repair and recharge. Like any other participant in the NSG, I have to manage school work on top of the increased training load during the season. It was never easy to balance so many things on my plate, given the limited amount of time we have in a day. However, with self-discipline and prioritization, I managed to stay on track and clock at least 6 hours of sleep every day.
2) Which discipline/s were you competing in?
In 2019, I took part in the 100meters Sprint, 100m Hurdles, 4x100m and 4x400m relay races respectively.
(For the latest schedules on live streams, news updates and stories, do check out our official website, National School Games 2021)
3)Did you set a target to achieve before the start of competition?
Yes, my coach and I will always set goals at the start of every season. One goal we always set is to stay injury free.
4)Were you nervous to go race against the top runners from other schools?
Of course! The nerves will always be there. However, I will always tell myself to focus on my own race and stay on course.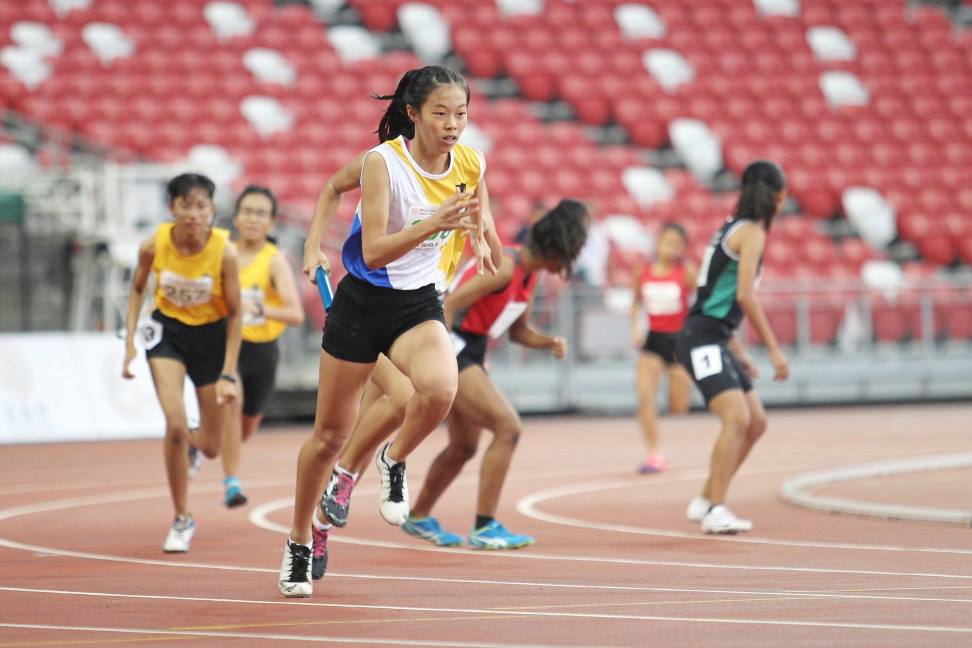 Elizabeth at the 2017 NSG 4x100m Finals - Photo by Nanyang Girls High (Facebook)
5)Do you remember, who your main opponents were in the 2019 NSG Finals?
The main opponent I had to fight with was myself. Going into the race, I knew that I was well-prepared and had the potential to clinch the gold medal. However, this could be achieved only if I execute my race well. The biggest thing that was preventing me from achieving this goal was the pressure that aroused from my own expectations. Hence, I had to battle against my nerves and distractions by telling myself to stay focused and block off everything else.
6)What did your Coach say to you before competing in the Final?Focus on your own race.
7)Do you perform a special ritual before embarking on a race?
I always say a little prayer before my race.
8)Tell us about the actual race where you went on to win the National 100m sprint in your age group/division in 2019?
Being the first to cross the finishing line, I was ecstatic and relieved at the same time. Hearing my schoolmates cheering excitedly on the stands, I felt so proud to have brought glory to my school! I turned to look at the screen and saw that I obtained a new Personal Best time (PB) and broke the B division 100m record! Thinking about the amount of hard work I put into that one race, the tremendous amount of support I received from my family, coaches and friends and the hardships I faced in this journey, a deep, overwhelming wave of emotions engulfed me.
9)Who did you first call after winning the title?
My dad! He called me to congratulate me and ensured that my muscles were in good condition for the next few races which were less than an hour later.
10)If there's 1 lesson/experience that you learnt from the Nat'l School Games, what would that be?
As the saying goes, "a dream does not become reality through magic; it takes sweat, determination and hard work". NSG has certainly helped to cultivate the values of hard work, perseverance and self-discipline in me. These are values that I carry with me to other aspects of my life like my academics.
11)Did the NSG help you continue your Athletics career and link up with Team Singapore?
Definitely! Through participating in the NSG, I was selected to represent Singapore schools in the ASEAN Schools Games and eventually joined Team Singapore to participate in the senior events like the Asian Games and Asian Athletics Championships.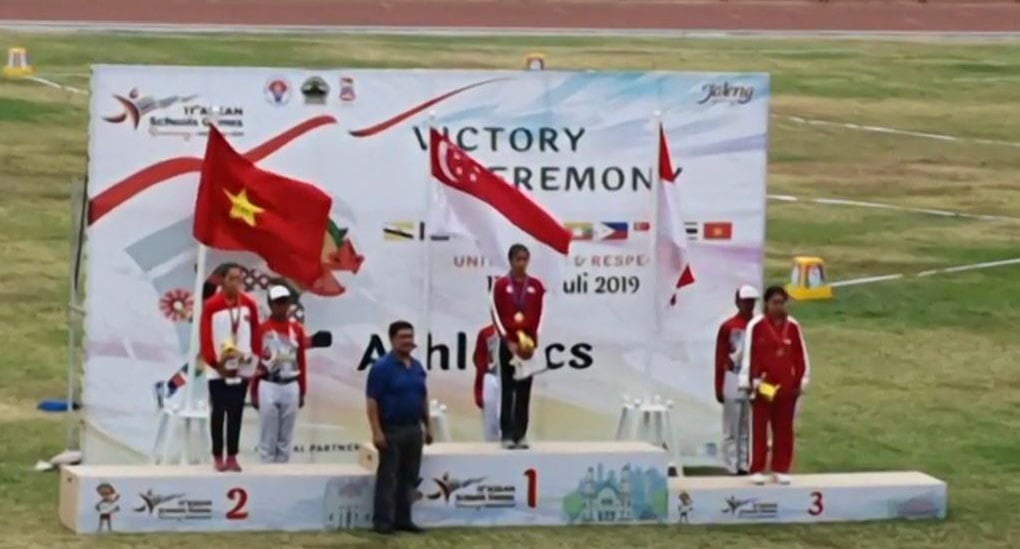 (Elizabeth won a Gold medal in the 100m Hurdles Final at the 2019 ASEAN Schools Games)
12)What advice would you like to share with the 2021 cohort of students competing in the NSG?
Aim high and stay focused!
2016 NSG:
100m Gold
80m Hurdles Gold (New Record)
4x100m Silver
4x400m Gold
2017 NSG:
100m Gold (New record)
80m Hurdles Gold
4x100m Gold
4x400m Gold
2018 NSG:
100m Silver
200m Gold
4x100m Gold
4x400m Gold
2019 NSG:
100m Gold (New record)
100m Hurdles Gold (New record)
4x100m Gold
4x400m Gold
Awards:
SSSC Best SportsGirl 2018, 2019
SSSC Colours Award (Distinction) 2016, 2017, 2020
Peter Lim Scholarship 2020
Related Events & Programmes