NSG A Div Sepak Takraw: Woodlands Sec show title intent in 3-0 series win over Northlight!
by Circle Stories, on April 5, 2021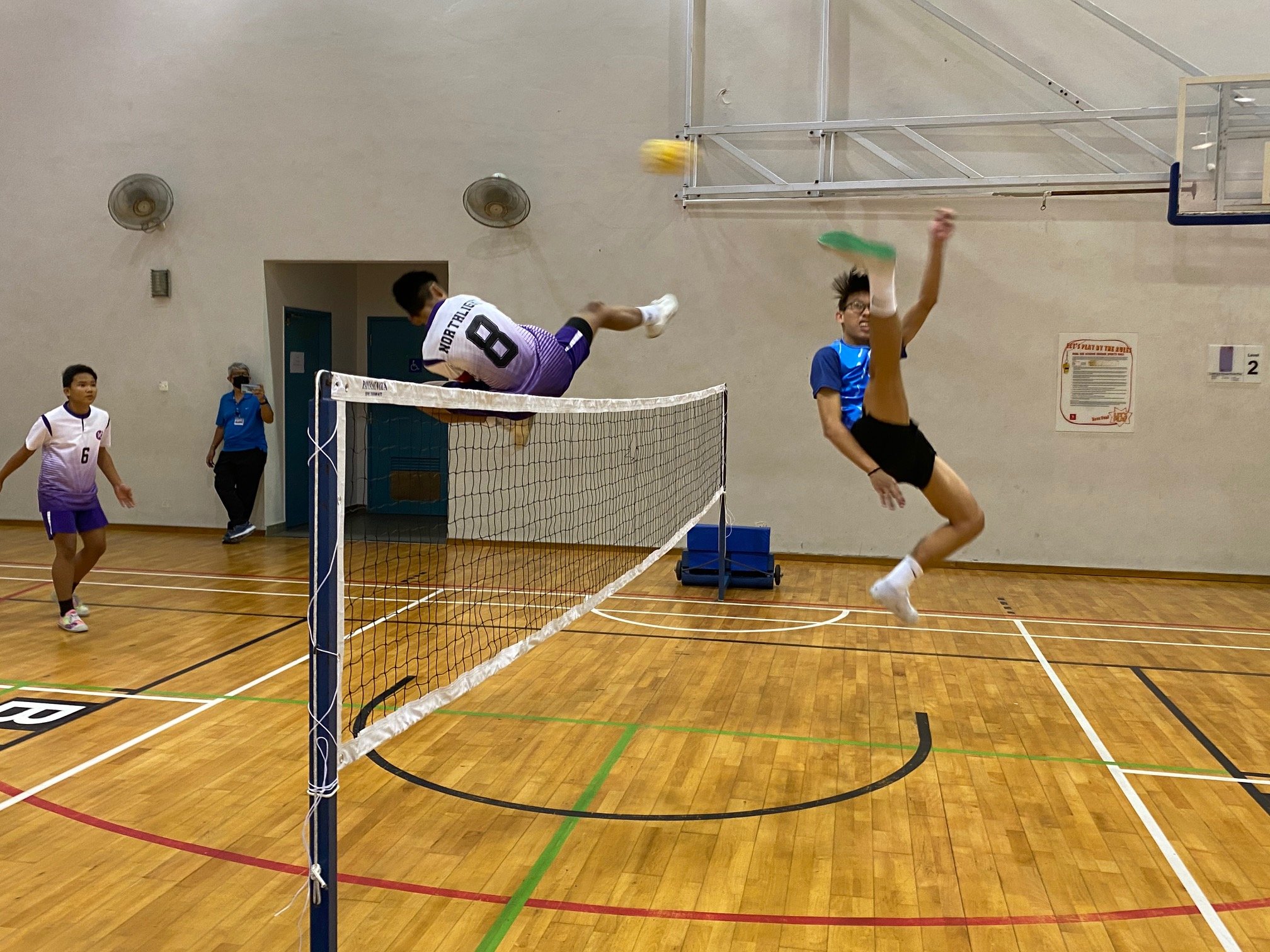 Woodlands Sec (Blue) vs Northlight / Photo Credit : Chia Han Keong
By Chia Han Keong
They had won the B Division boys' sepak takraw title in 2019, the last time the National School Games (NSG) was held. And after last year's COVID-enforced cancellation of the Games, the Woodlands Secondary School sepak takraw players are eager to continue their winning ways at this year's NSG A Division competition.
At Queensway Secondary School on Monday (5 April), they beat Northlight School 3-0 to maintain their 100-per-cent win record in Group A of the preliminary stage. They had earlier defeated Yuying Secondary School and Changkat Changi Secondary School, and can finish as group toppers, if they beat Queensway next week.
Muhammad Uzair, captain of Woodlands' second regu team, spoke about how winning the A Division title has been his team's main objective since the start of the competition. The 16-year-old added that he and his teammates will not be complacent and will continue to improve their team chemistry as they push on to the knockout stages.
(Muhd Uzair, Woodlands Sec School Interview by Chia Han Keong)
The heavy downpour just before the start of the competition had flooded the staircase landing leading up to Queensway's indoor courts, but it failed to dampen the high spirits of the various school sepak takraw teams slate to take part on Monday.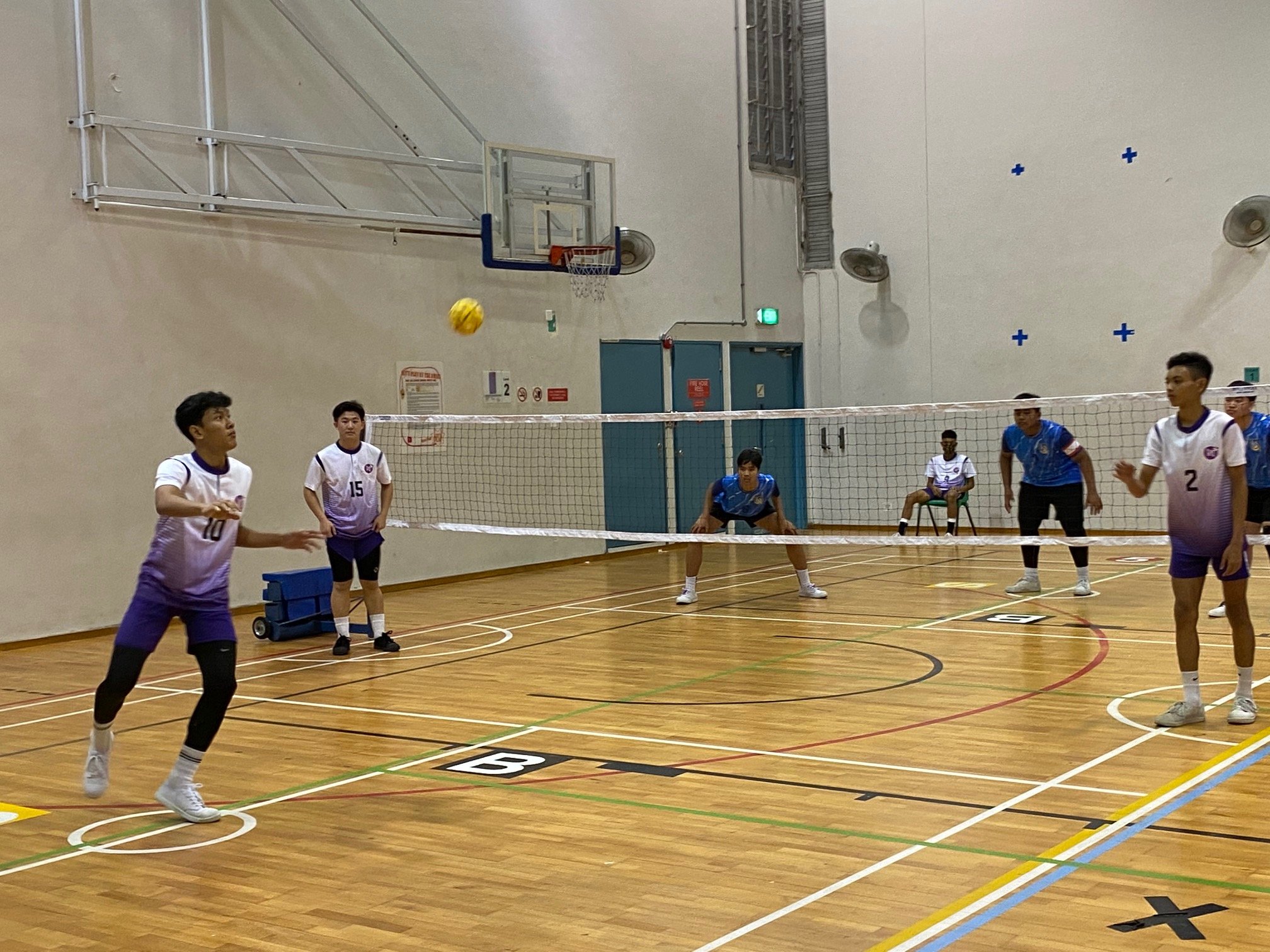 (Northlight Sec to Serve / Photo Credit : Chia Han Keong)
And while Northlight were the underdogs against Woodlands, they displayed a strong willingness to battle for every point in the three regus of the series. Nonetheless, Woodlands showed why they are one of the favourites for the A Division title with more polished skills and better team chemistry throughout.
The first regu featured Woodlands' Muhammad Taqi Fadzlien, Rayhan Ihsan Rahim and Mohammed Kabir Mohammed Noh against Northlight's Muhammad Rifqi Affian, Muhammad Airilyumin and Nathaniel Goh.
(Photo Credit : Chia Han Keong)
The Woodlands trio immediately stamped their authority with agile returns and blocks, bamboozling their Northlight rivals, who had no answer to the onslaught and quickly lost the first set 15-6.
It was a similar story in the second set, despite Northlight substituting Nathaniel with Reyxatrisno Sutrestno. Woodlands sped to a 7-1 advantage before Northlight cut the deficit to 7-11, yet there was no stopping Woodlands as they clinched the second set 15-9 to take the first regu.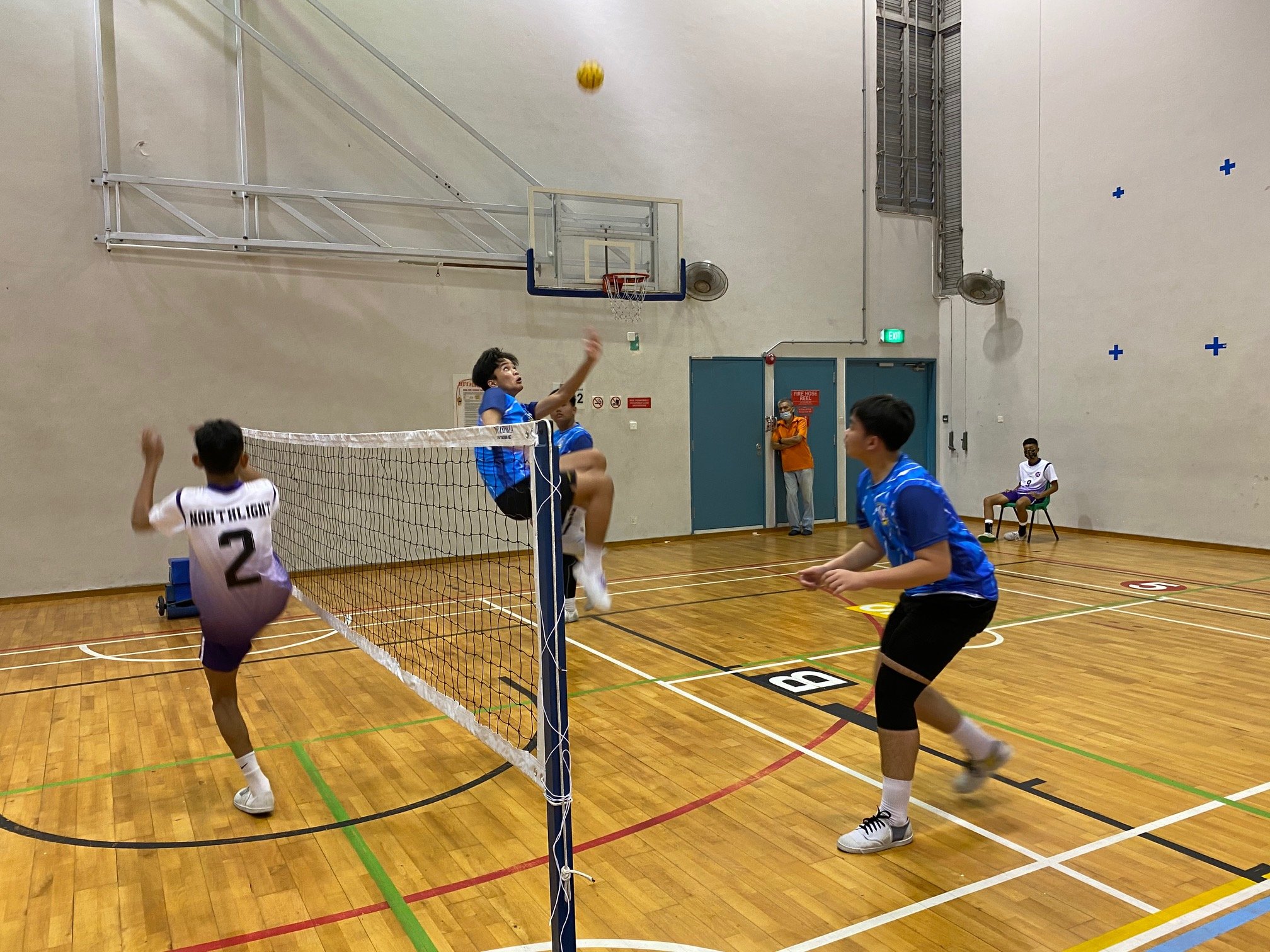 (Photo Credit : Chia Han Keong)
All eyes are thus on the second regu, and whether Northlight could somehow push the series to a decisive third regu. And those present at the courts were treated to a magnificent, finely-balanced battle between Woodlands' Muhammad Uzair, Aqil Amani Nasarudin and Chew Hong Lip, and Northlight's Muhammad Khairizz Izhar, Muhammad Saif Slamat and Mohammed Erdyween Shah.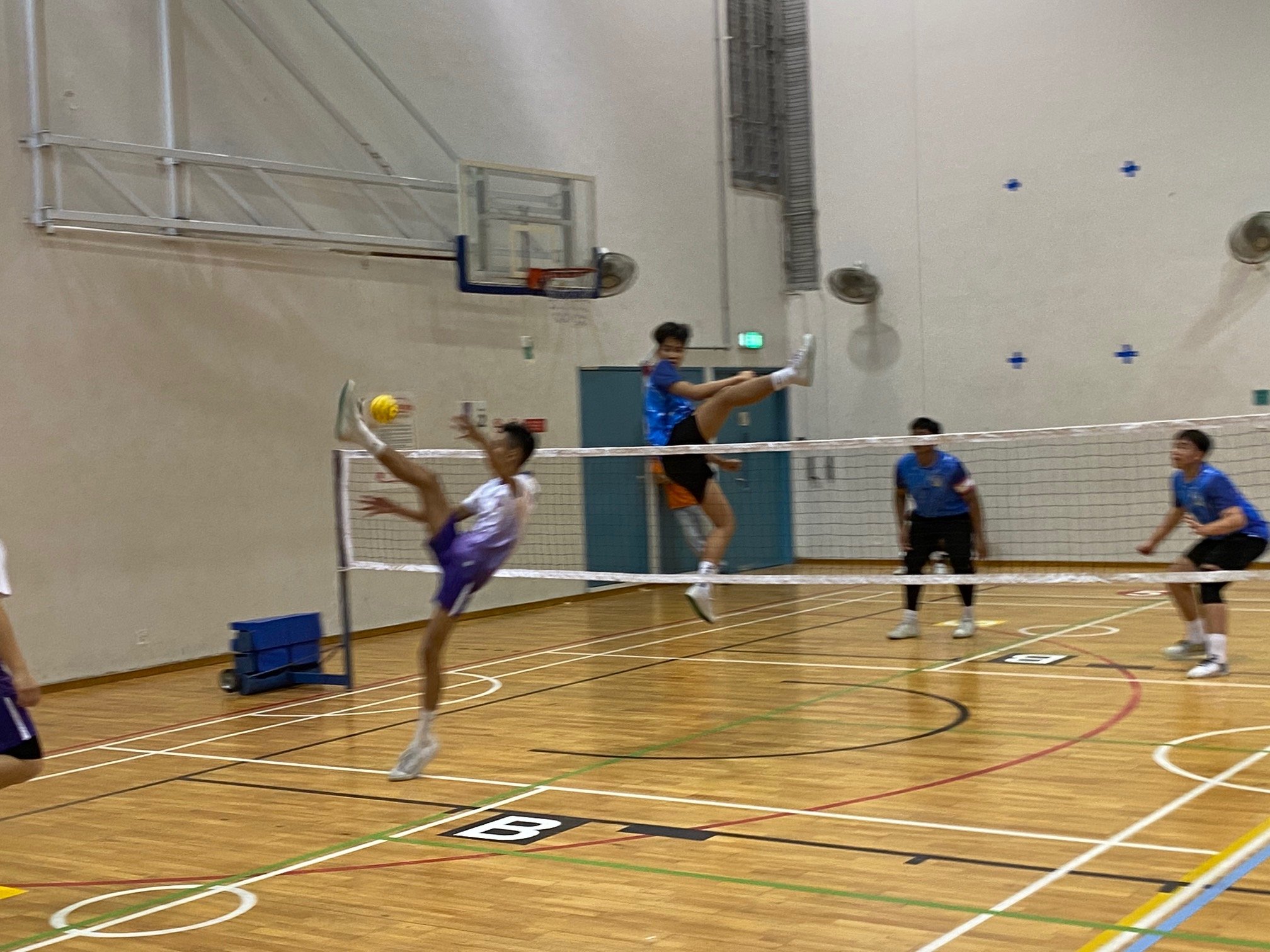 (Photo Credit : Chia Han Keong)
Back and forth they traded points in the first set, with neither side able to pull away substantially. Woodlands' 5-2 lead was wiped out at 10-10 as both schools cheered loudly for their teammates. Yet, not for the first time during this match-up, Woodlands showed far more poise than their rivals in clinching the important points, as they capitalised on Northlight errors to take the set 15-11.
To their credit, Northlight players did not let their heads hang low, and stepped up a gear in the second set. It was Woodlands' turn to become error-prone, with Northlight clawing their way to a 10-7 lead before the Woodlands coach called a timeout to sternly admonish his charges on their carelessness.
It was to no avail though, as Northlight continued their resurgence to take the second set 15-11. The indoor court was abuzz with excitement at Northlight taking the fight to Woodlands.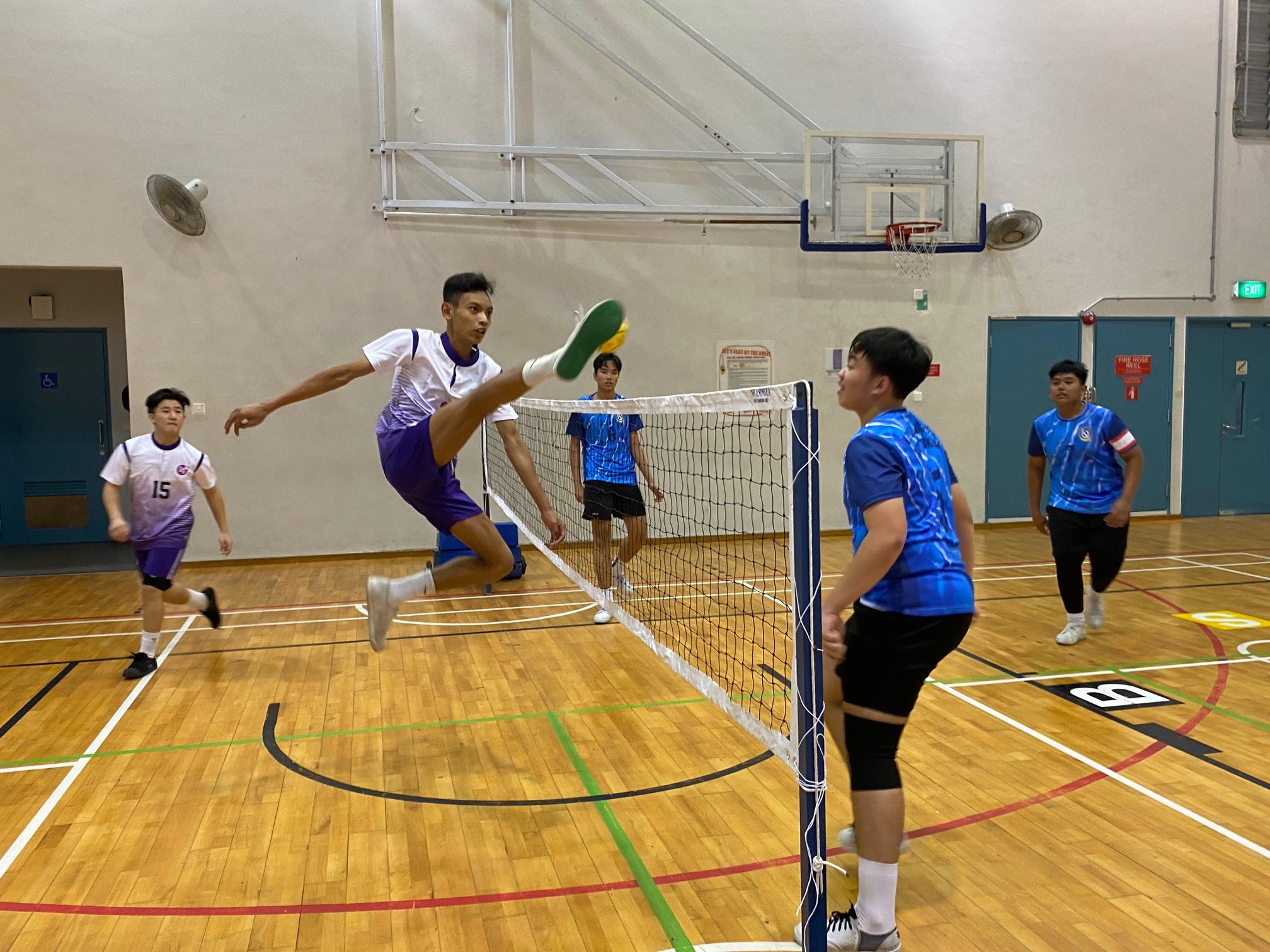 (Photo Credit : Chia Han Keong)
Yet, any hopes of a massive upset were quickly quashed, as the Woodlanders displayed the hallmark poise of champions in the third set in racing to a 4-0 lead and never relinquishing that advantage, even as Northlight tried valiantly to reduce the deficit. While they cut the lead to 9-11, Woodlands held on to win the third set 15-10 to the loud cheers of their teammates.
In the inconsequential third regu, Woodlands' Muhammad Azief Rashdyn, Muhammad Al Qusyairi, Aliff Qayyum Zainalabidin and substitute Muhammad Zakir Zulkarnain defeated Northlight's Muhammad Syazwan, Wan Haikal Shahrul and Muhammad Nor Hazman 15-11, 15-8.
This year's NSG, which started on 29 March and ends on 27 May, features 12 sports across the secondary-school A and B divisions, as well as the primary-school Senior division.
Chia Han Keong is a freelance journalist who has covered both Singapore and international sports extensively for the past 18 years. He was the sports editor of bilingual tabloid My Paper, and has also worked for The Straits Times and Yahoo News Singapore. He has covered four SEA Games (2009, 2011, 2013, 2019), two Asian Games (2010, 2014) as well as the 2008 Beijing Summer Olympics. He counts himself as a massive Liverpool, LA Lakers and Rafael Nadal fan.
Related Events & Programmes