NSG B Div Wushu: Kicks, flips and punches galore as wushu athletes dazzle with their pugilistic prowess
by Circle Stories, on April 14, 2021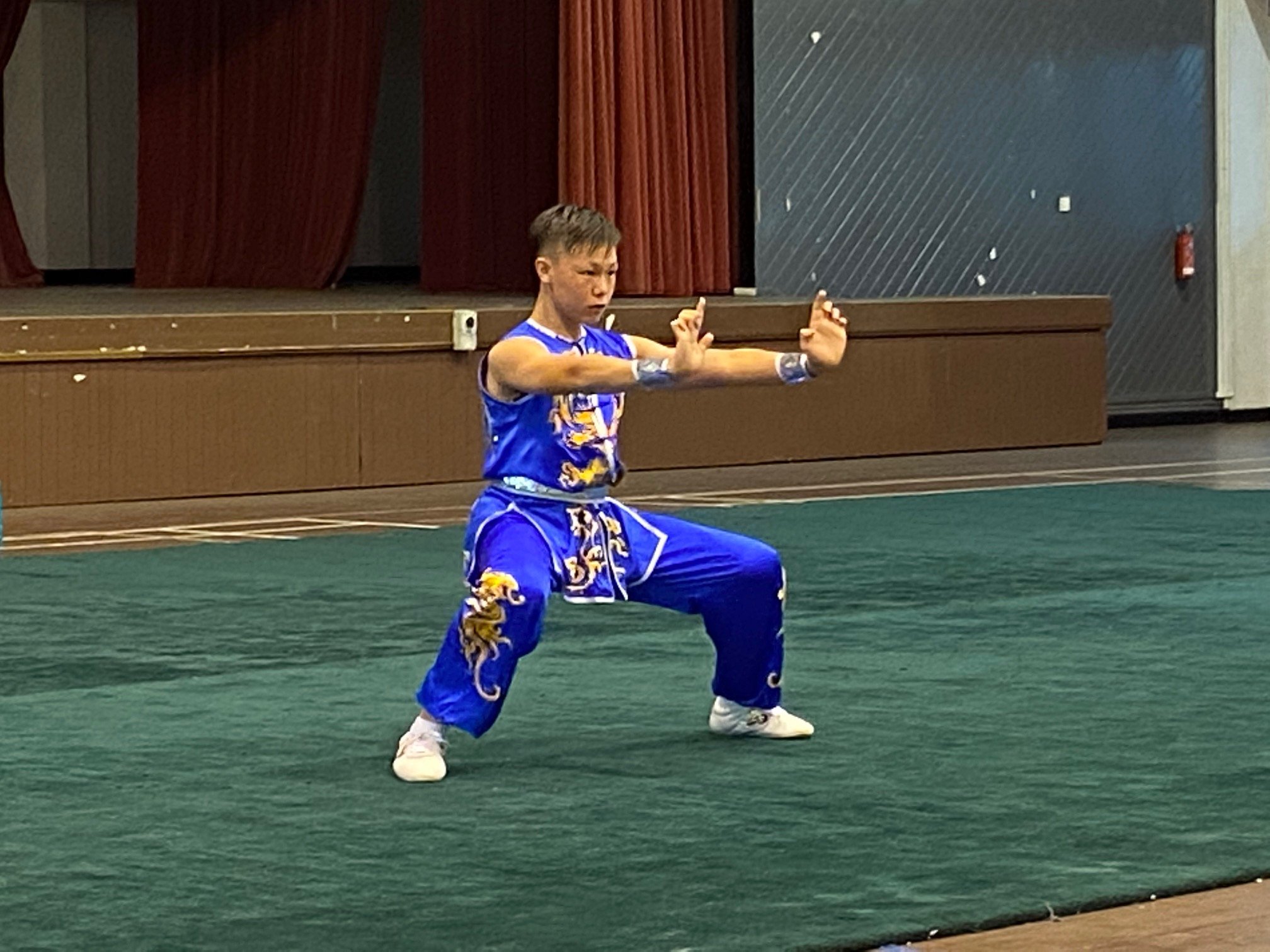 (Photo by Chia Han Keong)
By Chia Han Keong
Like actors going for auditions, athletes participating in the National School Games (NSG) B Division Wushu competition stepped into the cavernous indoor hall of the MOE Campus @ Mount Sinai on a rainy Thursday afternoon (15 April).
After being directed to one of the two performance areas, these young pugilists -- some of them toting swords, cudgels or spears as performance weapons -- held up their registration numbers to show the judges, took off their face masks, and then dived straight into their wushu routines.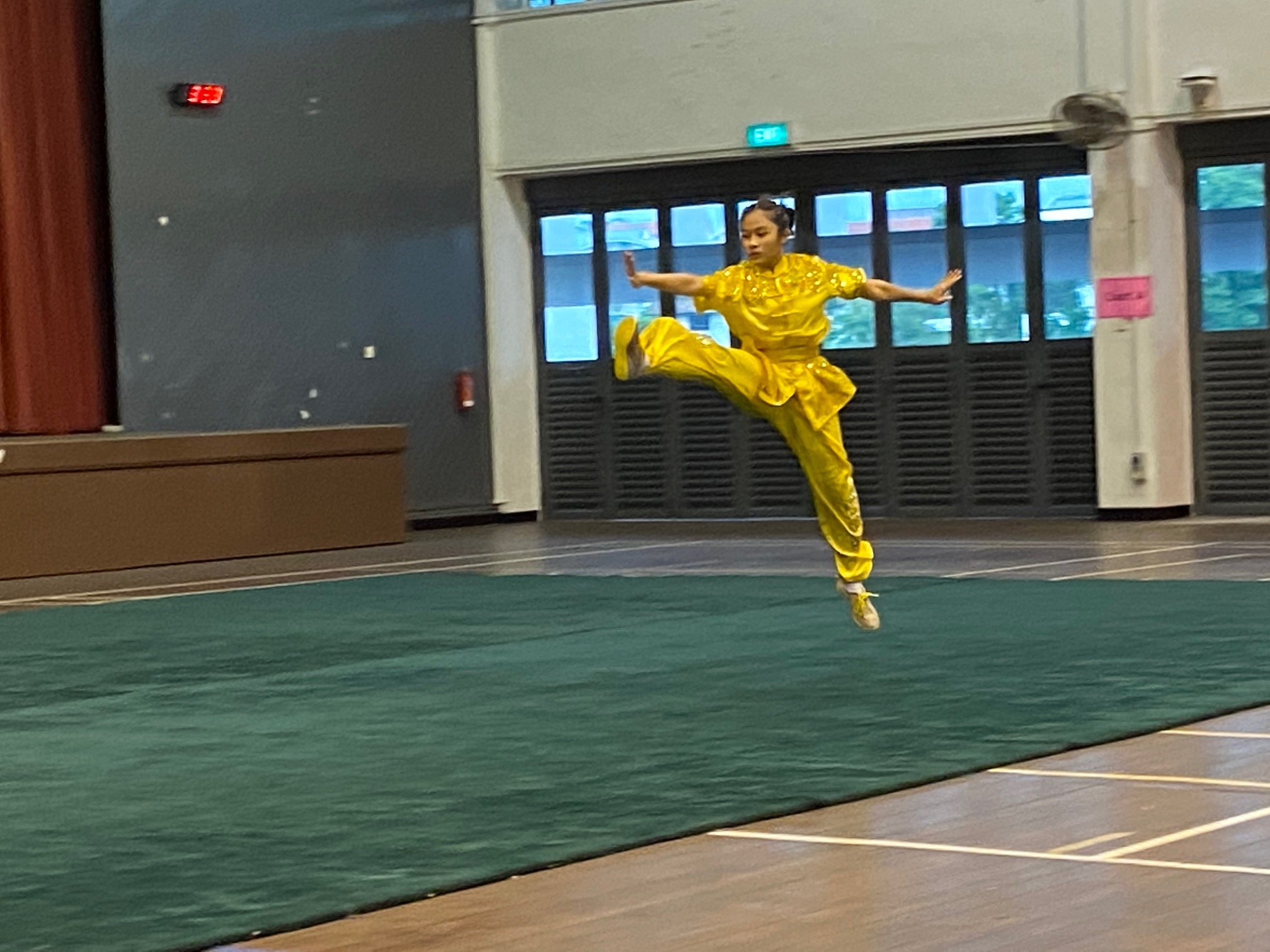 (Photo by Chia Han Keong)
For the next two to three minutes, the athletes -- from Victoria School, Ngee Ann Secondary and Temasek Secondary -- were a blur of punches, kicks, twirls and flips. The key was to show the essence of their wushu disciplines to the impassive judges, and years of arduous training boiled down to being impressive during those few minutes.
Which was why a few of their heads hung in crushing disappointment after they slipped or lost balance during their routines -- a basic error and a big no-no that would cost them precious points from the judges. There was no redo, no 2nd chances ; they knew they had blown their winning chances.
Still, one of the judges said during a break from the competition that this was one of the better batches of wushu student-athletes amid the ongoing weeks of the NSG competition.
Indeed, there were many high-quality performances throughout the afternoon, even though the martial arts exponents had no crowd to encourage them, due to the ongoing Covid-19 pandemic safe-distancing restrictions. They were taking part in the "taolu" category of wushu sport, which involves martial arts patterns, acrobatic movements and techniques incorporated into one routine.
And the best of the athletes were crisp in their actions, delivering each of their moves with aplomb and adding a few roars to accentuate their more aggressive kicks or punches.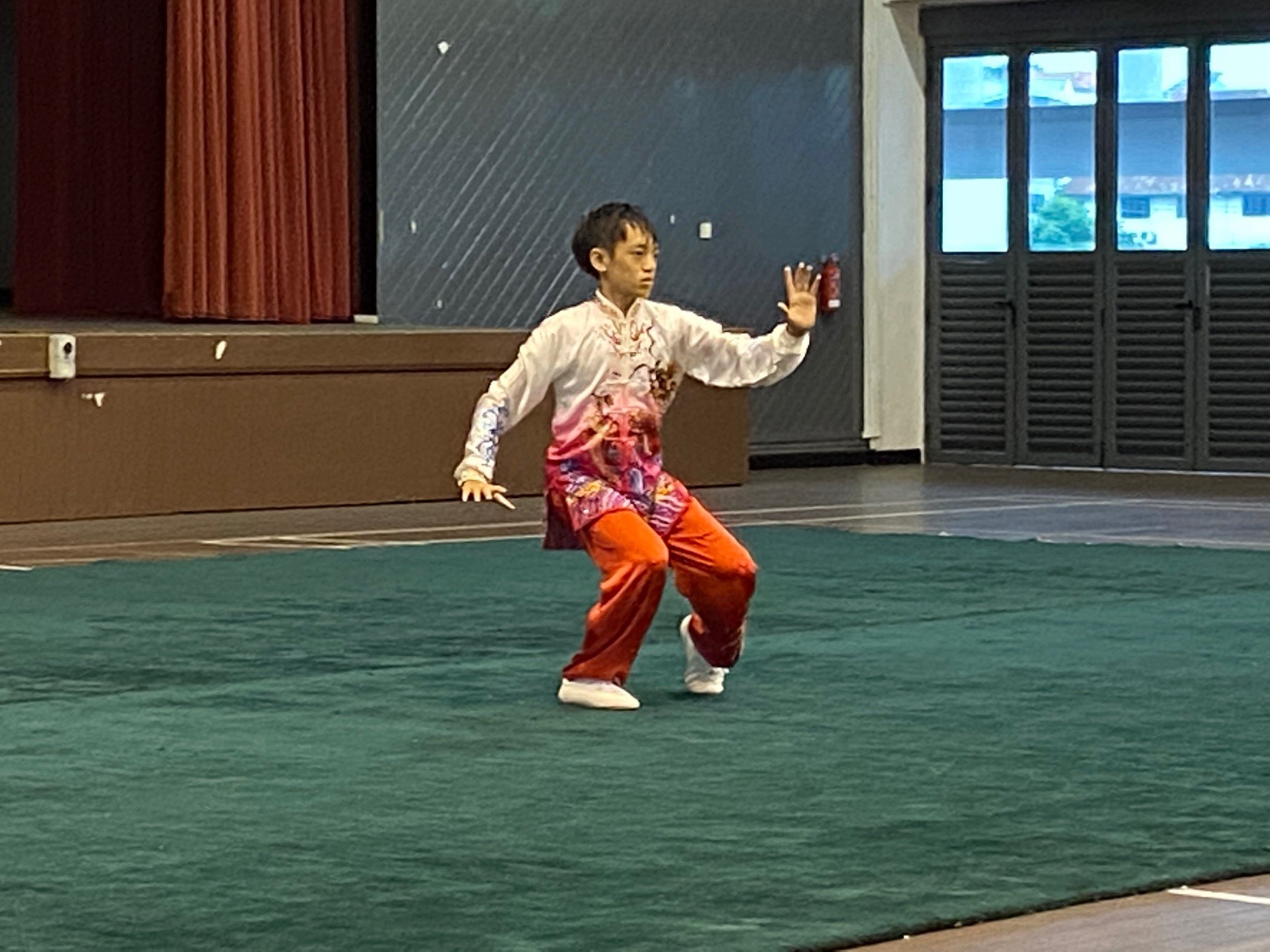 (Photo by Chia Han Keong)
Each of the three wushu disciplines has its unique characteristics. For those performing the nanquan discipline -- which originated from Southern China -- they focused on power, showcasing vigorous, athletic movements with low stances and extensive hand techniques. Kicks and jumps were rare in nanquan.
In contrast, athletes doing the changquan discipline are all about acrobatic kicks and jumps. This martial art style originated from Northern China, and uses large, extended, circular movements, with the athletes repeatedly leaping high to execute graceful but difficult twirls.
Finally, there is the taijiquan discipline, famous for its languid yet fluid movements that require good balance, flexibility and strength.
(Photo by Chai Han Keong)
Coupled with weapons, and the technical requirements demanded of the wushu exponents are raised, as they complement the three disciplines to form more patterns and movements for the athletes to execute.
For onlookers, it was a wondrous array of pugilistic movements that showcased the long, storied traditions of the various wushu disciplines. And the participants from the three schools generally did these routines justice by investing themselves fully, trying their best to inject grace and power in each move.
And while the overall results would not be ready until next month, when all the schools have completed the competition, the student-athletes found joy and satisfaction by finally being able to showcase their skills at the NSG. Even though there were only a handful of spectators (comprising their team-mates, trainers and competition rivals), it was good enough to not make or see their years of training go unappreciated.
Chia Han Keong is a freelance journalist who has covered both Singapore and international sports extensively for the past 18 years. He was the sports editor of bilingual tabloid My Paper, and has also worked for The Straits Times and Yahoo News Singapore. He has covered four SEA Games (2009, 2011, 2013, 2019), two Asian Games (2010, 2014) as well as the 2008 Beijing Summer Olympics. He counts himself as a massive Liverpool, LA Lakers and Rafael Nadal fan.
Related Events & Programmes