NSG B Division Boys' Tennis: Victoria stuns SJI 3-2 to reach first final in over a decade
by Circle Stories, on April 21, 2021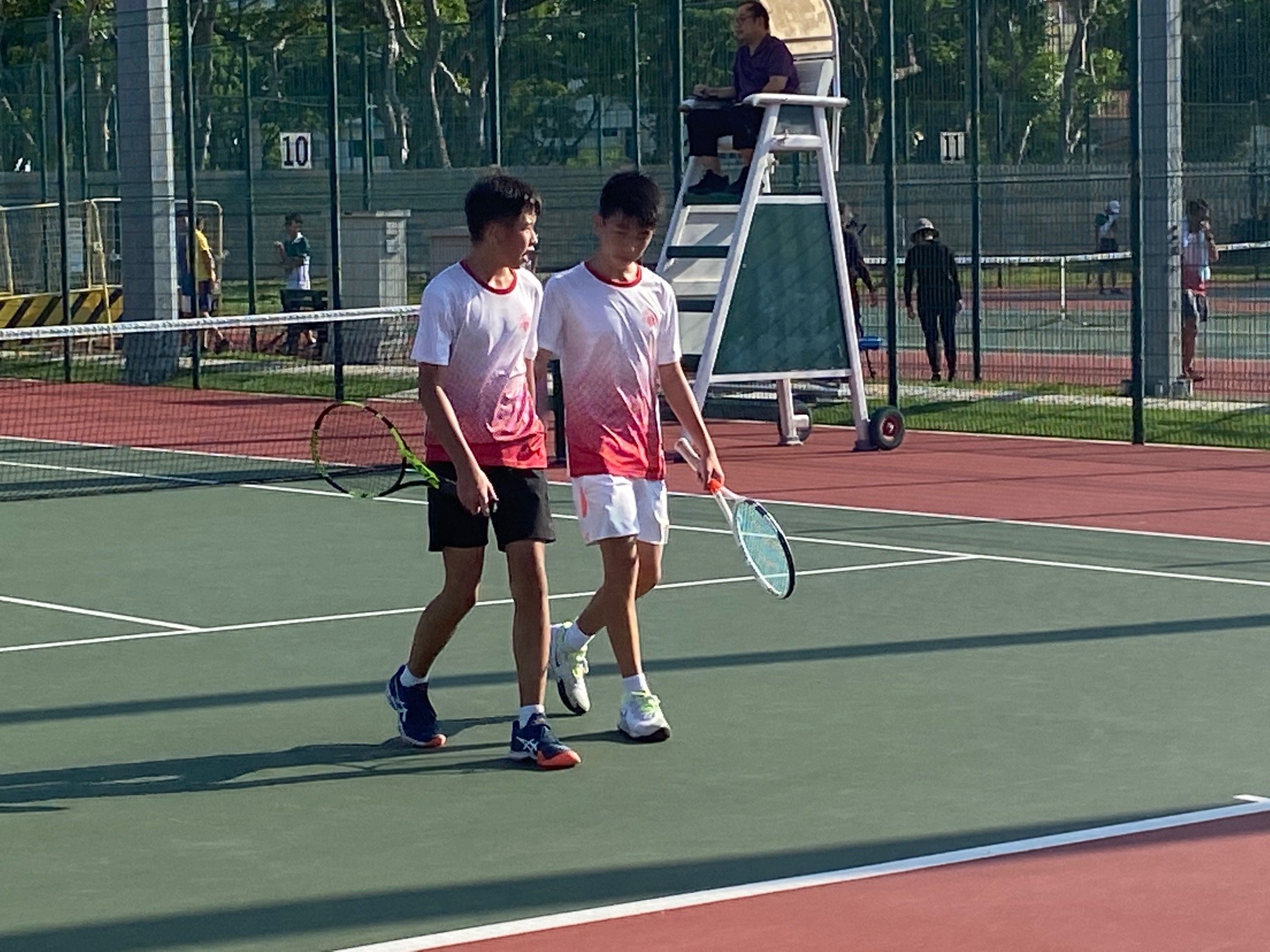 (Photo Credit of VS Doubles Team : Chia Han Keong)
By Chia Han Keong
They were the underdogs in their first trip to the National School Games (NSG) B Division Boys' tennis semi-finals in six years. Their opponents had defeated the defending champions Raffles Institution in the preliminary group stage.
Against the odds, Victoria School managed to pull off a sensational 3-2 series win over St Joseph's Institution (SJI) at the Kallang Tennis Centre on Wednesday (21 April) to reach their first B Division Boys' tennis final in over a decade.
(For the latest schedules on live streams, news updates and stories, do check out our official website, National School Games 2021)
There were smiles all around the Victoria team, as the teachers and coaches congratulated the sweat-drenched players for their battling efforts amid the sweltering morning sun. Meanwhile the SJI players sat despondently in their holding area, as their coach put in some encouraging words to lift them from the pain of defeat.
Victoria's third singles player Cho Tjeng Kwok, who earned what his coach viewed as the crucial point for the series victory, credited all his teammates' efforts in pulling off this memorable victory and hopes they can press on for an even tougher test in next Tuesday's final.
(Interview with Cho Tjeng Kwok by Chia Han Keong)
Coming in the semi-final, Victoria had qualified in second place in Group B, behind Anglo-Chinese School (Independent), with wins over Anglo-Chinese School (Barker Road), St Andrew's Secondary School and NUS High School. SJI, on the other hand, finished as winners of Group A, beating RI, Hwa Chong Institution and St Patrick's School.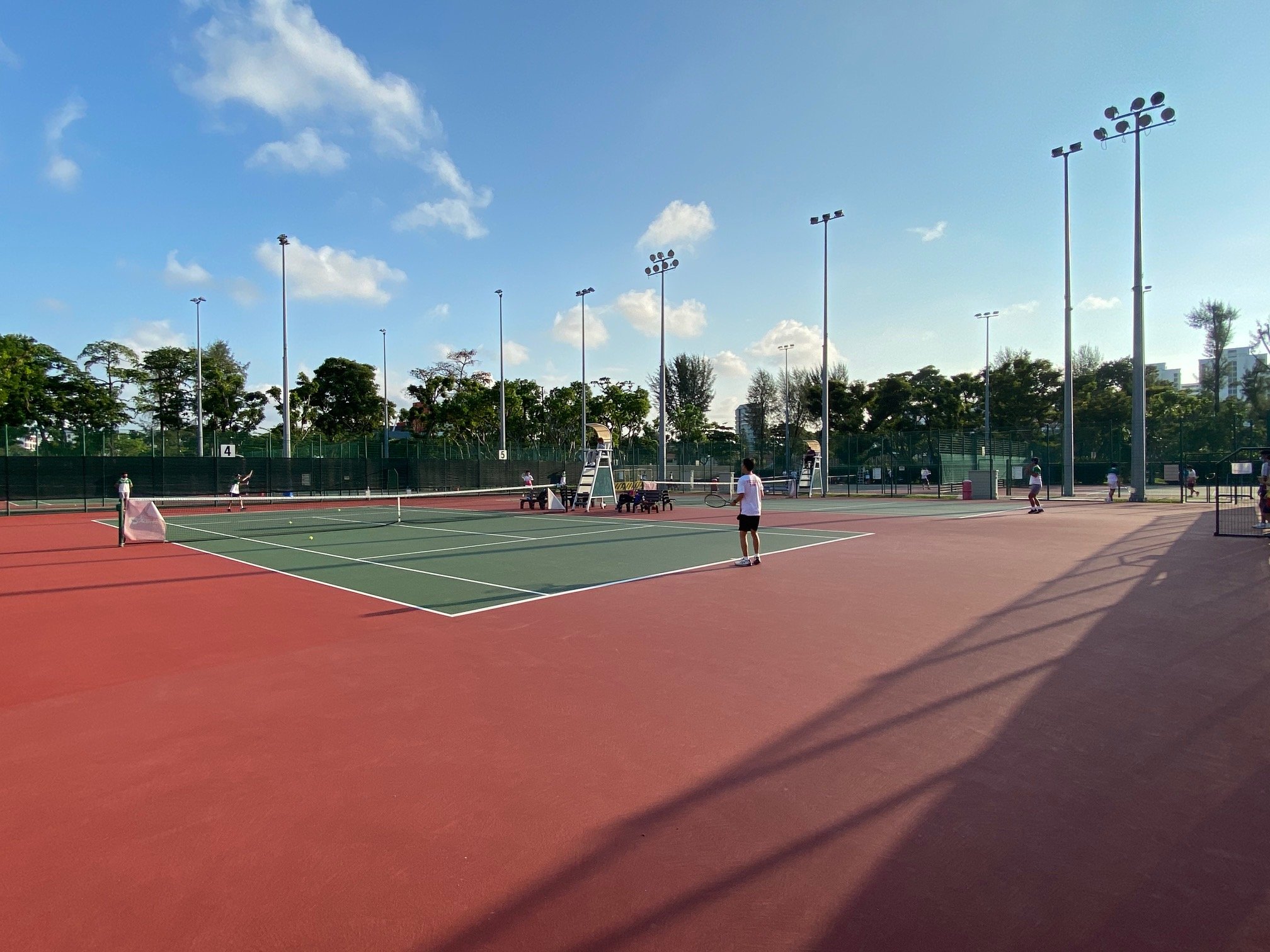 (Photo Credit : Chia Han Keong)
Despite the early-morning start, the weather was already punishing in its heat as the players took to the five courts at Kallang. Players were allowed longer breaks in between sets to get refreshments amid the hot sun.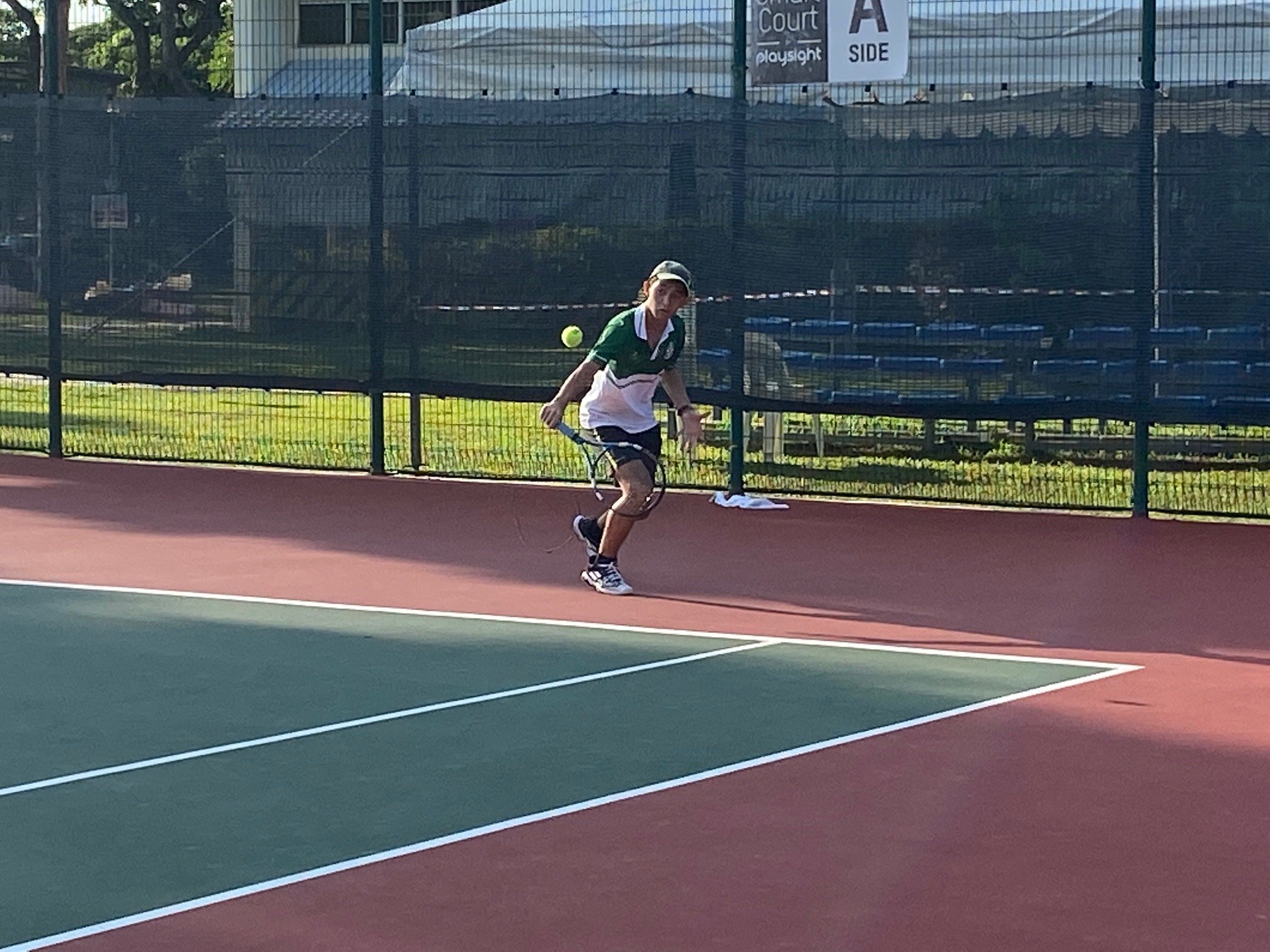 (Photo of SJI's Julien Christian by Chia Han Keong)
At the main Court 14, the first singles match featured Victoria's Jayden Ng against SJI's Julien Christian, and Julien proved to be a notch above Jayden, getting SJI the first point in a 6-3, 6-2 win.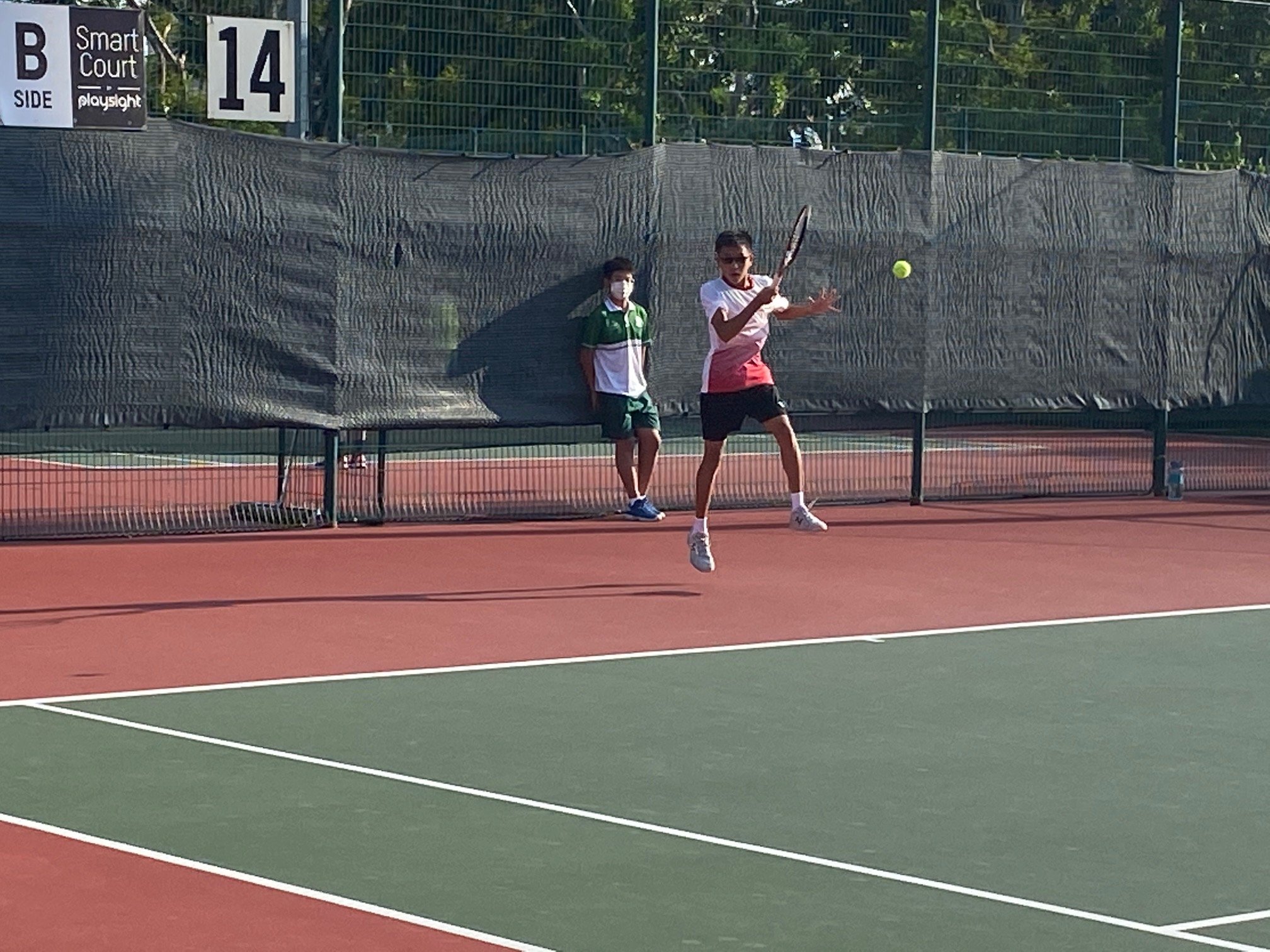 (Photo of VS' Jayden Ng by Chia Han Keong)
Over at the adjacent Courts 4 and 5, the two schools split a point each in the second singles and first doubles matches. Victoria's Reyes Ho had little problems in defeating SJI's Dylan Tan 6-3, 6-1 to level the series at 1-1, but SJI got another point on the board when their first doubles pair of David Yong and Salvador Joaquin took down Victoria's Kevin Chan and Zachary Chua 6-2, 6-1.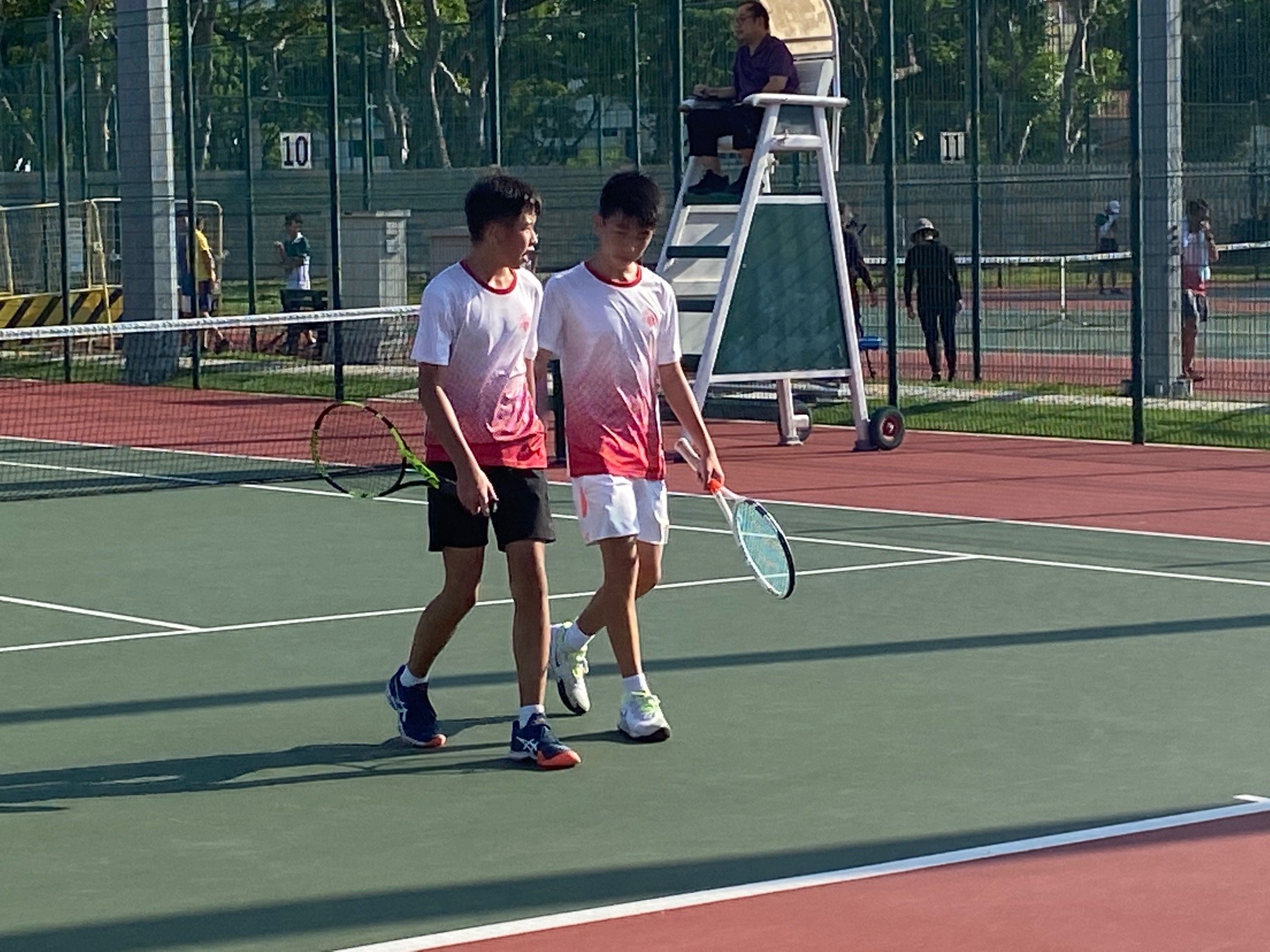 (Photo of Victoria's Kevin Chan & Zachary Chua by Chia Han Keong)
And so all eyes were on courts 10 and 11, the deepest courts inside the centre, where the third singles and second doubles matches were to be competed. Tjeng Kwok was coming up against SJI's Aidan Thng, who had been fancied to take the winning point for his school. But Tjeng Kwok battled superbly amid the heat, returning with accuracy and forcing Aidan into errors, pulling off a 6-3, 6-4 victory to draw Victoria level in the series at 2-2.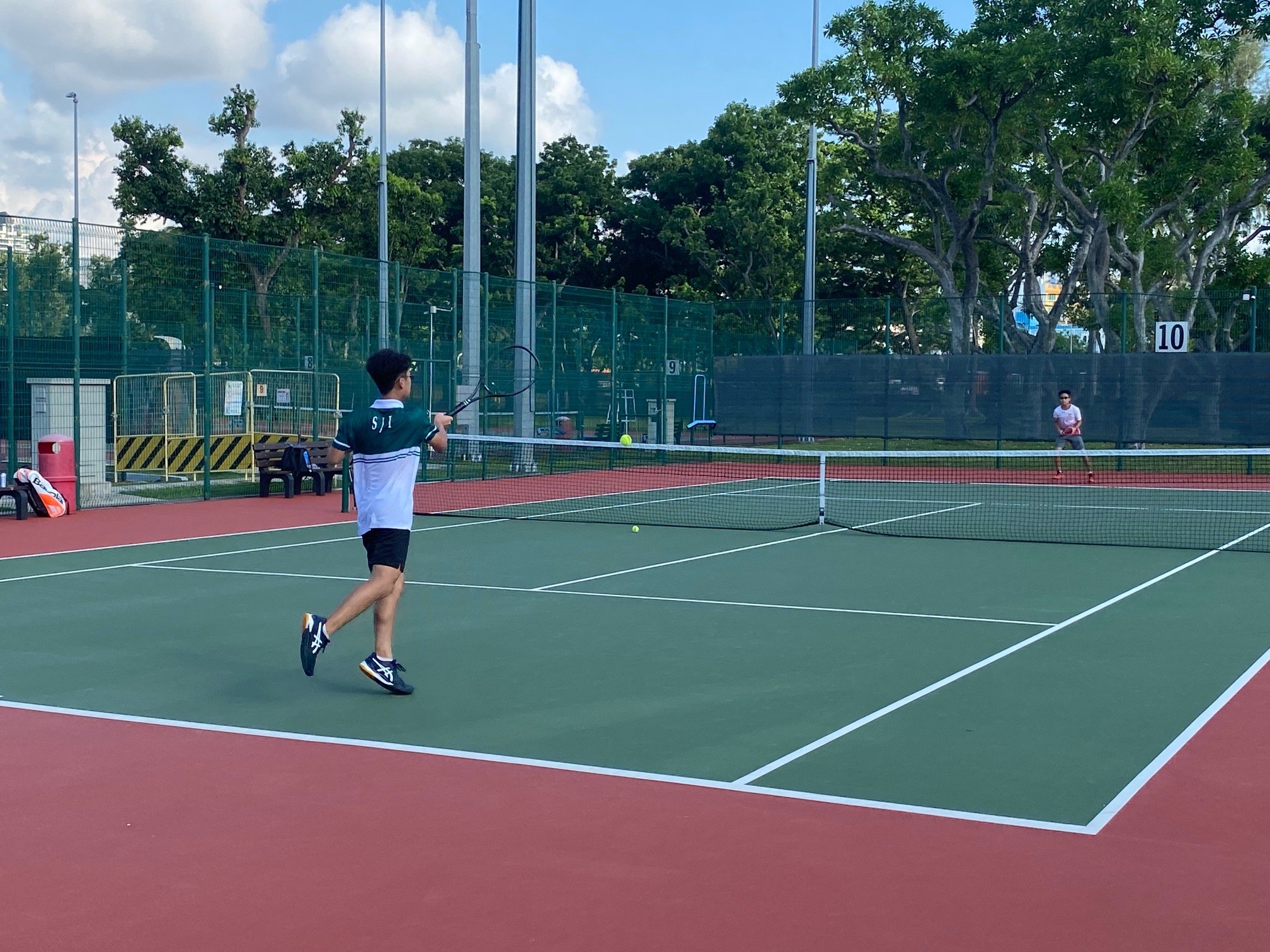 (Photo of 3rd Singles Match by Chia Han Keong)
When Tjeng returned to the holding area, he was greeted by grinning teammates, who were pleasantly surprised by his win. But soon, he was grimacing after suffering a bout of cramps, although he gamely accepted doing the post-match interview. And so it was left to the second doubles match to decide the series. It went the full three sets between Victoria's Aidan Raphael Keh and Leonard Yong and SJI's Bryan Leong and Alexander Wong.
This time it was the Victoria pair who were tipped for the win, but they were met with strong resistance from the SJI pair, who took the first set in a 7-6 tie-breaker. To the credit of the Victoria duo, they did not get rattled after going behind, and roared back to take the second set 6-1.
With all the other matches finished, the other players waited anxiously at their respective holding areas for news of the scoreline of the deciding third set. Then, cheers broke out at Victoria's holding area -- Aidan and Leonard had clinched the third set 6-4, gaining the all-important point for the series win.
As the Victoria team enjoyed the fruits of their hard-fought win -- a fast-food treat by their teachers from the nearby McDonald's -- the teachers assured them that the whole school will be notified of their feat in reaching the tennis final. But the celebration was muted among the players, as they know they will need to do it all over again, if they are to enjoy an even sweeter victory.
Chia Han Keong is a freelance journalist who has covered both Singapore and international sports extensively for the past 18 years. He was the sports editor of bilingual tabloid My Paper, and has also worked for The Straits Times and Yahoo News Singapore. He has covered four SEA Games (2009, 2011, 2013, 2019), two Asian Games (2010, 2014) as well as the 2008 Beijing Summer Olympics. He counts himself as a massive Liverpool, LA Lakers and Rafael Nadal fan.
Related Events & Programmes