NSG Badminton : Holy Innocents' Primary School edge out Fairfield Methodist Primary to finish 3rd!
by Circle Stories, on May 5, 2021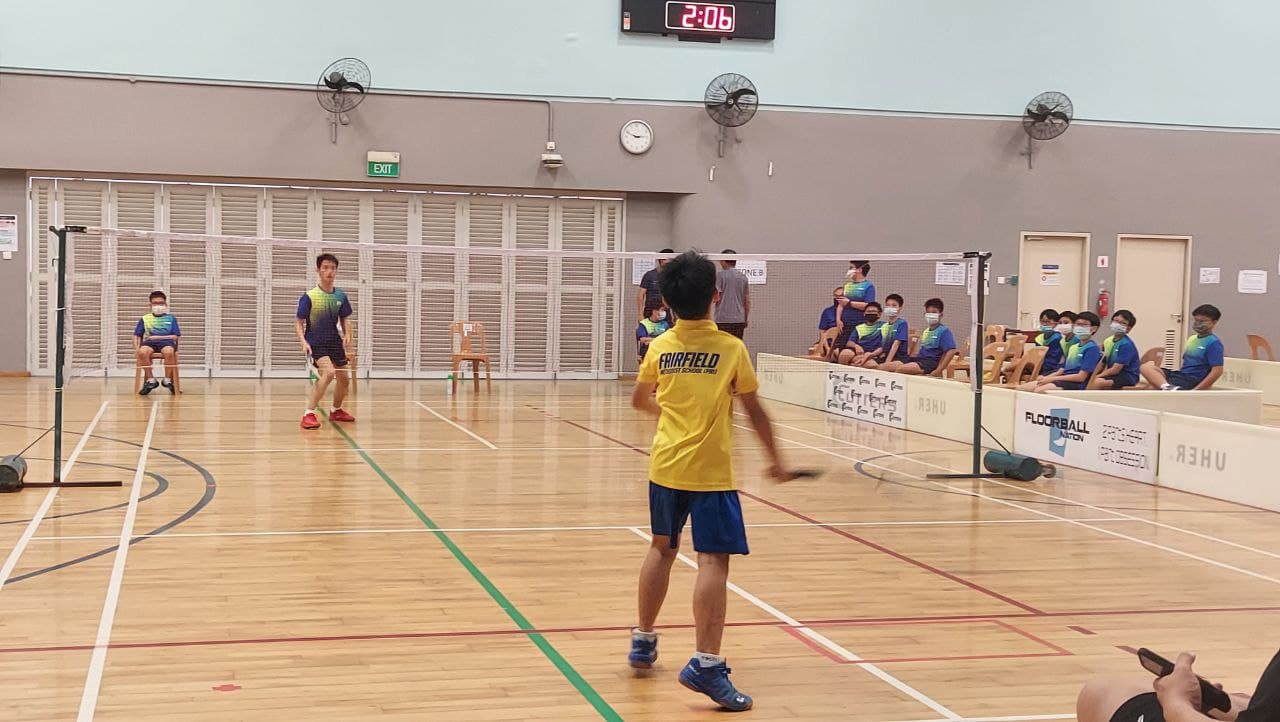 (Photo by Sherman Yong)
By Sherman Yong
The incessant sounds of chatter among the boys from both Holy Innocents' Primary School (HIPS) and Fairfield Methodist Primary School (FMPS) filled up the spacious Indoor Sports Hall of Hong Wen Primary School. Suffering defeats from their previous opponents in the South Zone semi-finals, both teams gathered together (on 5th May) to determine their final placing in the Senior Division of the 2021 National School Games. Yet, there seemed to be a glimmer of hope stemming from the FMPS team as they proudly planted their school flag beside their team benches. Will they prevail against their opponents from HIPS and secure their position as 2nd runner up in the competition? Or will the FMPS boys prove too much for HIPS players to handle?
(For the latest schedules on live streams, news updates and stories, do check out our official website, National School Games 2021)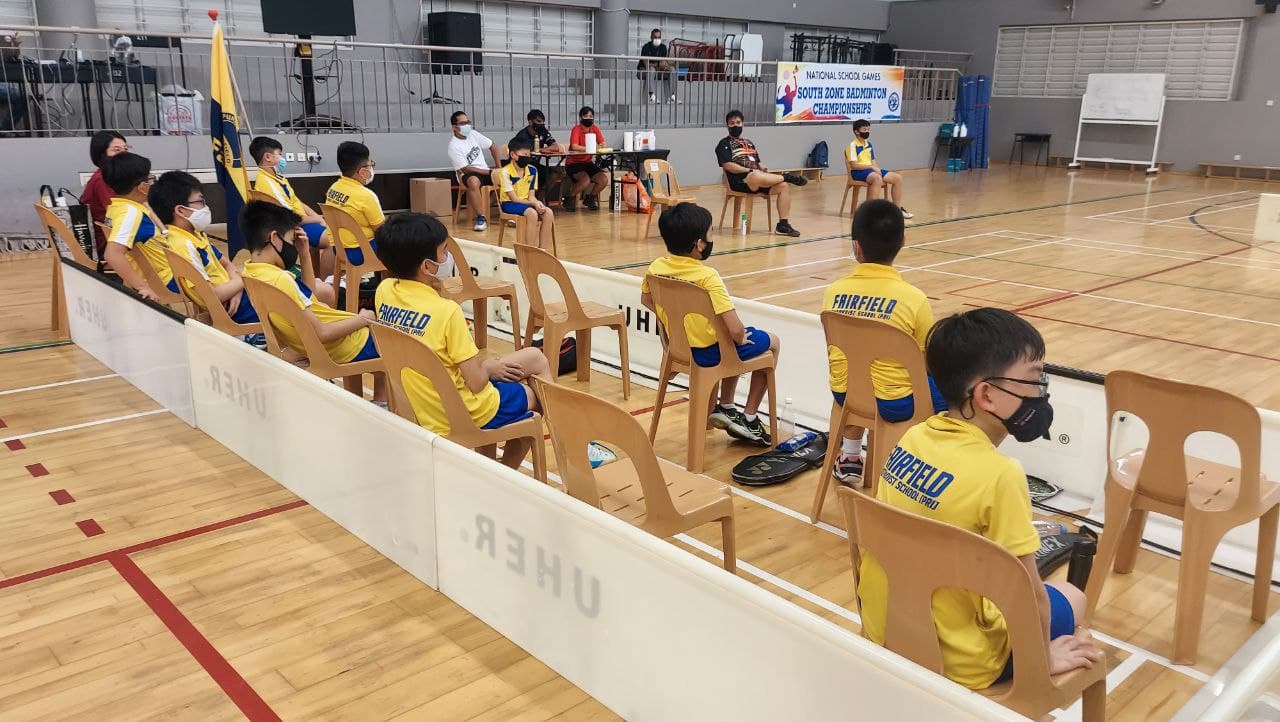 Fairfield Methodist players in their respective seats (Photo by Sherman Yong)
Starting off the first singles with a strong serve, Kendrick Lai from HIPS seemingly possessed the upper hand as he towered above his opponent Javier Chu in the matchup. However, Javier was unfazed by the physical disadvantage presented to him and hunkered down on his offensive. Soon enough, Javier proved to be the better player as he constantly outmanoeuvred Kendrick in their exchanges - forcing him to make costly mistakes that allowed Javier to triumph 21-10, 21-14.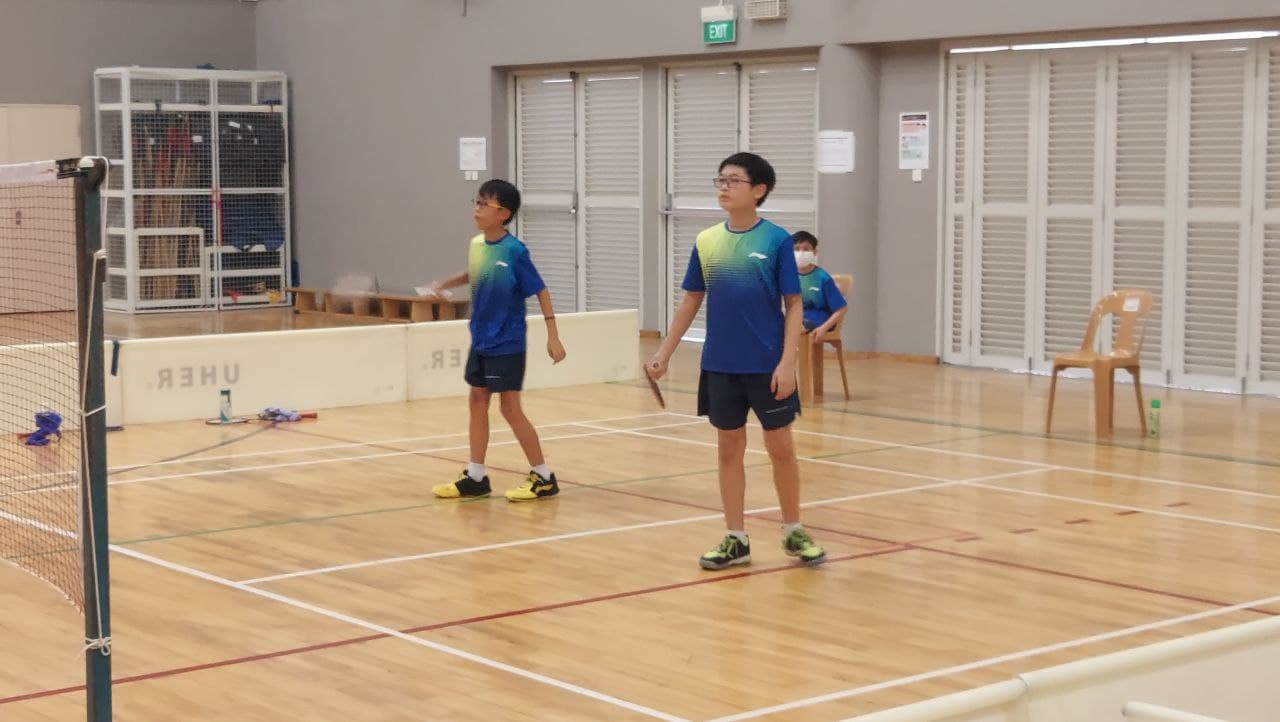 (Photo of Holy Innocents players Jaynen Wong and Nathaniel Goh by Sherman Yong)
Reeling from their initial losses, the follow-up doubles round saw the Holy Innocents' team standing their ground against the FMPS players. Refusing to concede further ground towards their opponents, HIPS players Jaynen Wong and Nathaniel Goh took up their positions in the court - exchanging flurries of smashes and returns with their opponents, Hu Yusheng and Zachary Wee. The HIPS duo eventually emerged victorious against their counterparts and avenged their Singles teammate by winning 21-14 in the first set.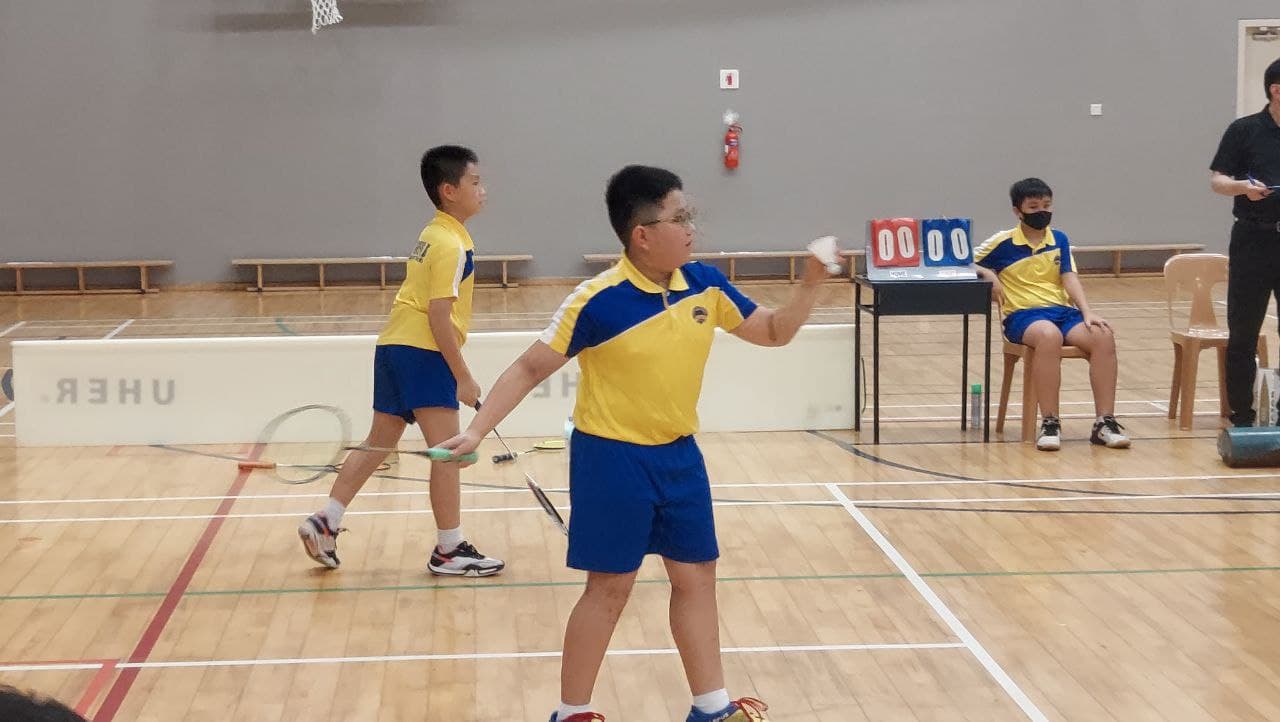 (Photo of Fairfield Methodist players Hu Yusheng and Zachary Wee by Sherman Yong)
Onto the 2nd set and while FMPS took the initial lead, a series of mistakes cost them dearly and allowed their opponents to catch up. This proved pivotal for Jaynen and Nathanial, as they capitalised on Fairfield players' momentary folly and secured their win with a 21-11 scoreline. Both schools are now on par with each other at 1-1, and neither team was willing to go down without a fight.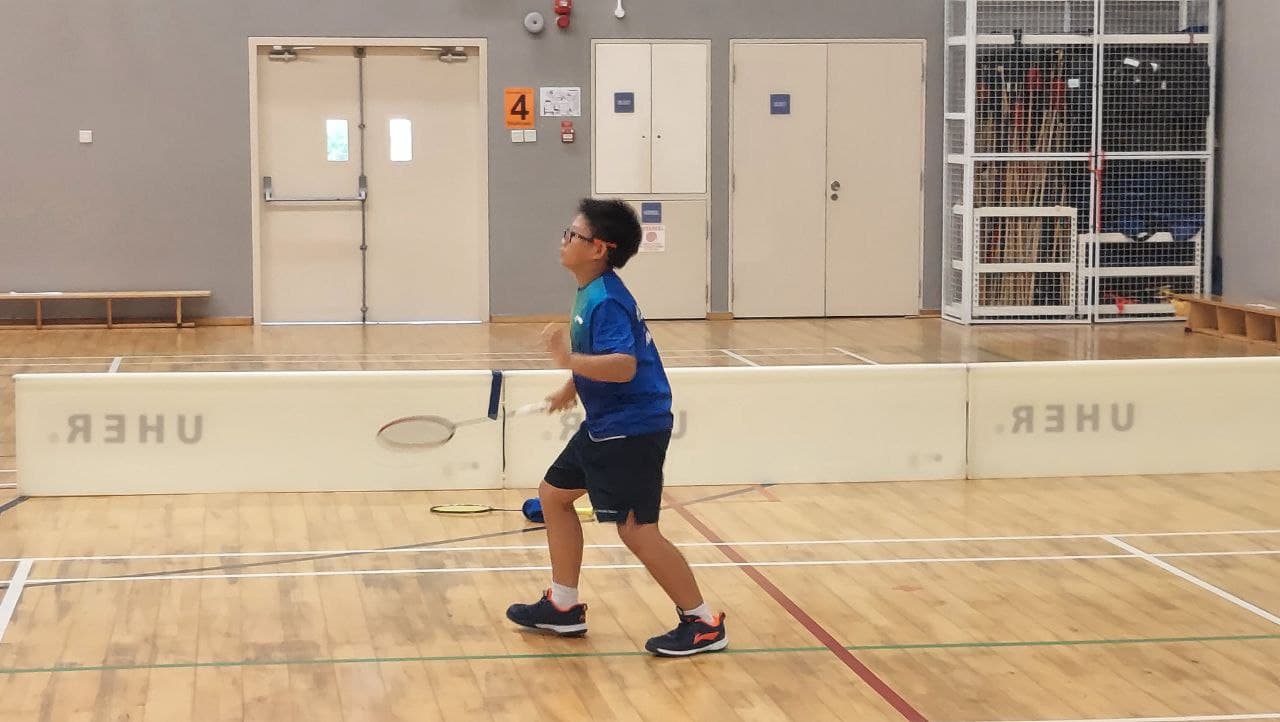 (Photo of HIPS Player Enzo Tan by Sherman Yong)
The 3rd match saw HIPS player Enzo Tan squaring off against Cayden Thong from Fairfield Methodist, as the former dominated the first set with calculated plays and methodical returns. Yet, Cayden proved himself as a tenacious opponent as well - constantly nipping at Enzo's heels. However, the HIPS player proved too cunning for Cayden to handle as he nabbed the first set 21-14.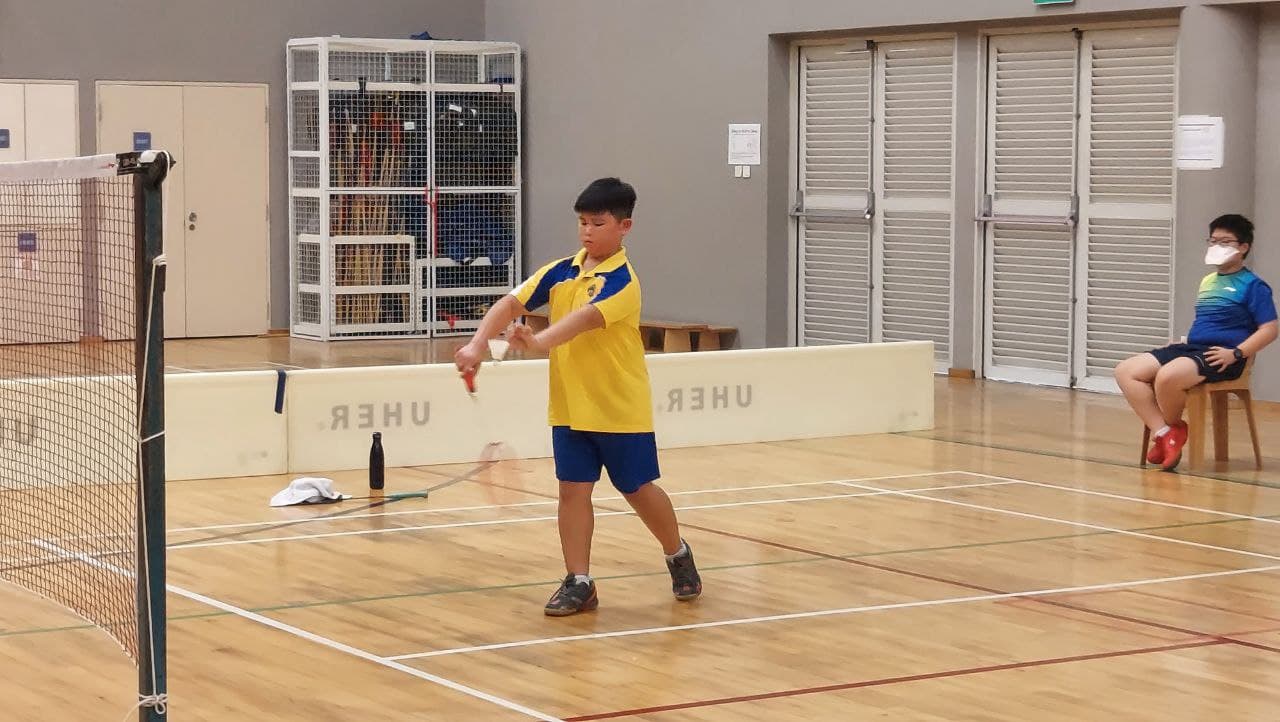 (Photo of Cayden Thong from Fairfield Methodist by Sherman Yong)
As the second set began, Cayden displayed greater tenacity and grit as he pulled ahead of his opponent in their initial exchanges. However, Enzo soon fell into a familiar tempo and began retaliating against Cayden's plays. Slowly but surely, the HIPS player clawed his way back into the set - eventually earning a closely fought victory against Cayden with a 21-19 scoreline.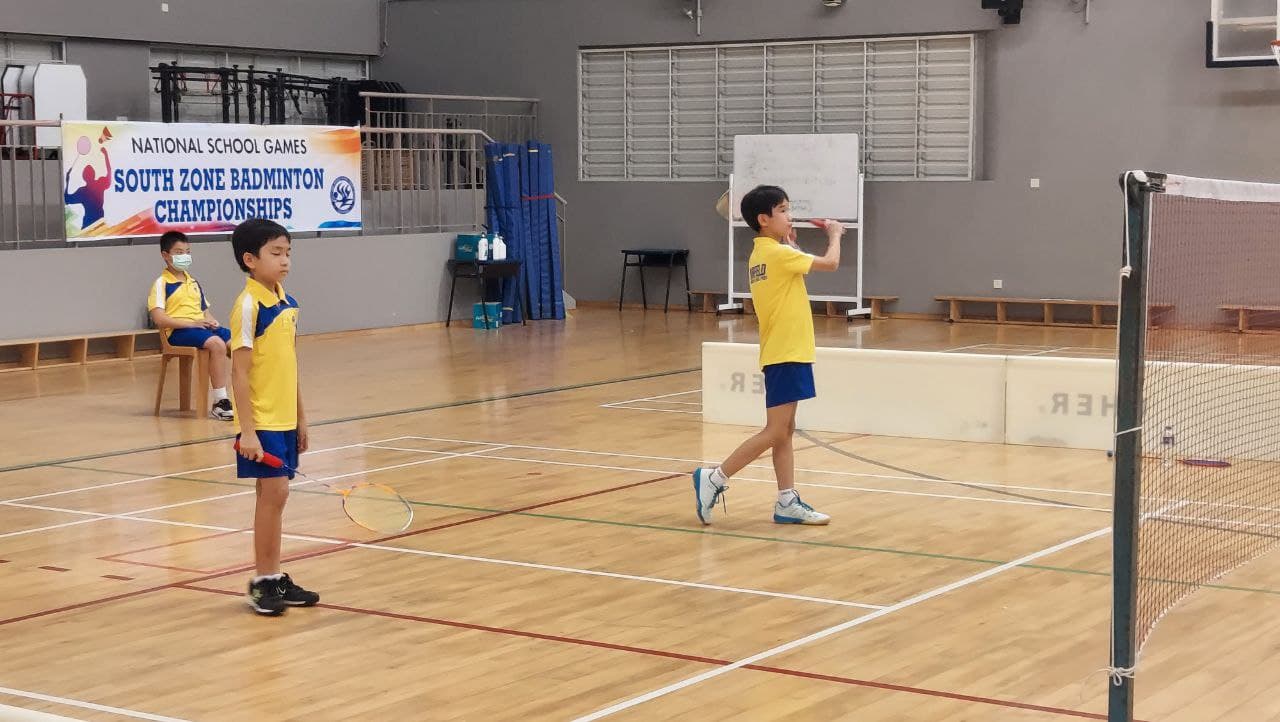 (Photo of Tan Yi Jie and Zaccheus Koh from Fairfield Methodist by Sherman Yong)
The tide once again shifted towards Holy Innocents' favour, but it was still too early to count the Fairfield Methodist players out yet. The 2nd doubles match soon proved to be an exciting spectacle for all, as both HIPS and FMPS duos exhibited commendable teamwork and coordination in their maneuvers that bedazzled onlookers. However, FMPS players Tan Yi Jie and Zaccheus Koh emerged as the better pair as they pulled ahead of their opponents, securing the first set with 21-16.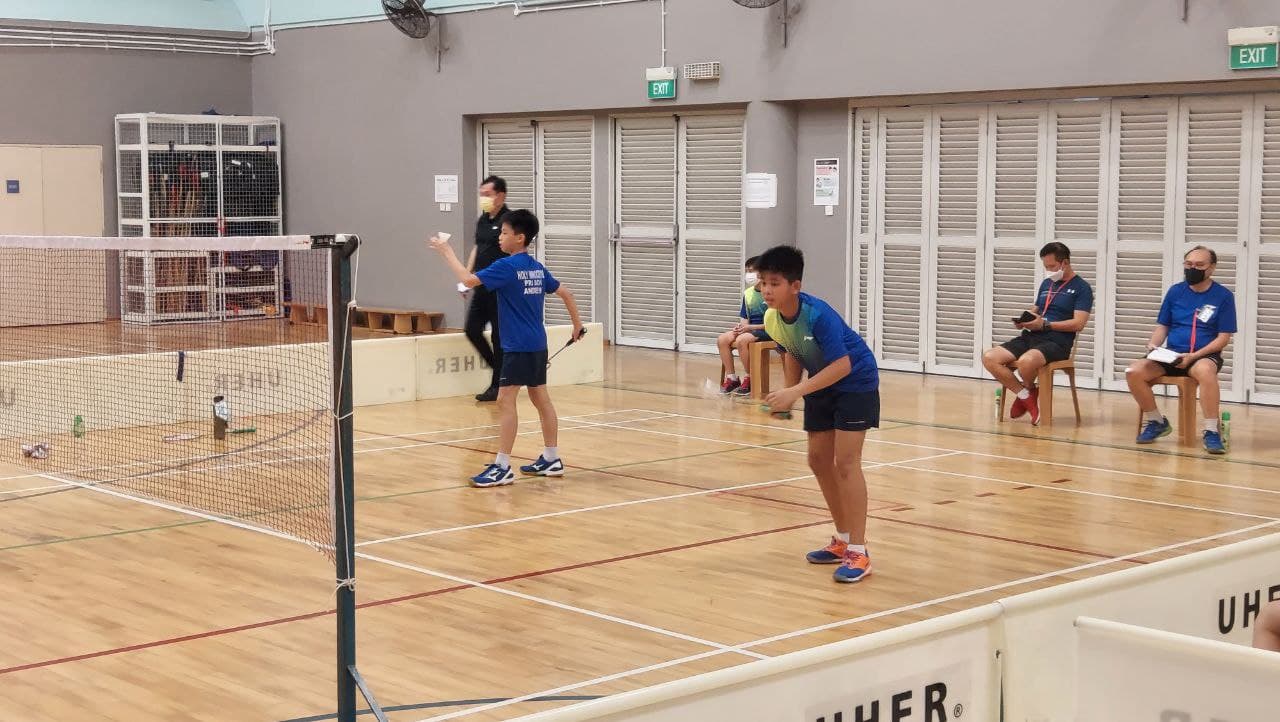 (Photo of Holy Innocents players Andrew Lau and Sim Hui Yao by Sherman Yong)
Having a better grasp of their opponents, the FMPS duo got down to work in their 2nd set - picking apart HIPS players Andrew Lau and Sim Hui Yao effortlessly. Visibly rattled, the HIPS players tried to regain their momentum but the FMPS duo denied any of such opportunities to them. Ultimately, the FMPS duo prevailed against their HIPS counterparts in the 2nd set with a 21-11 win.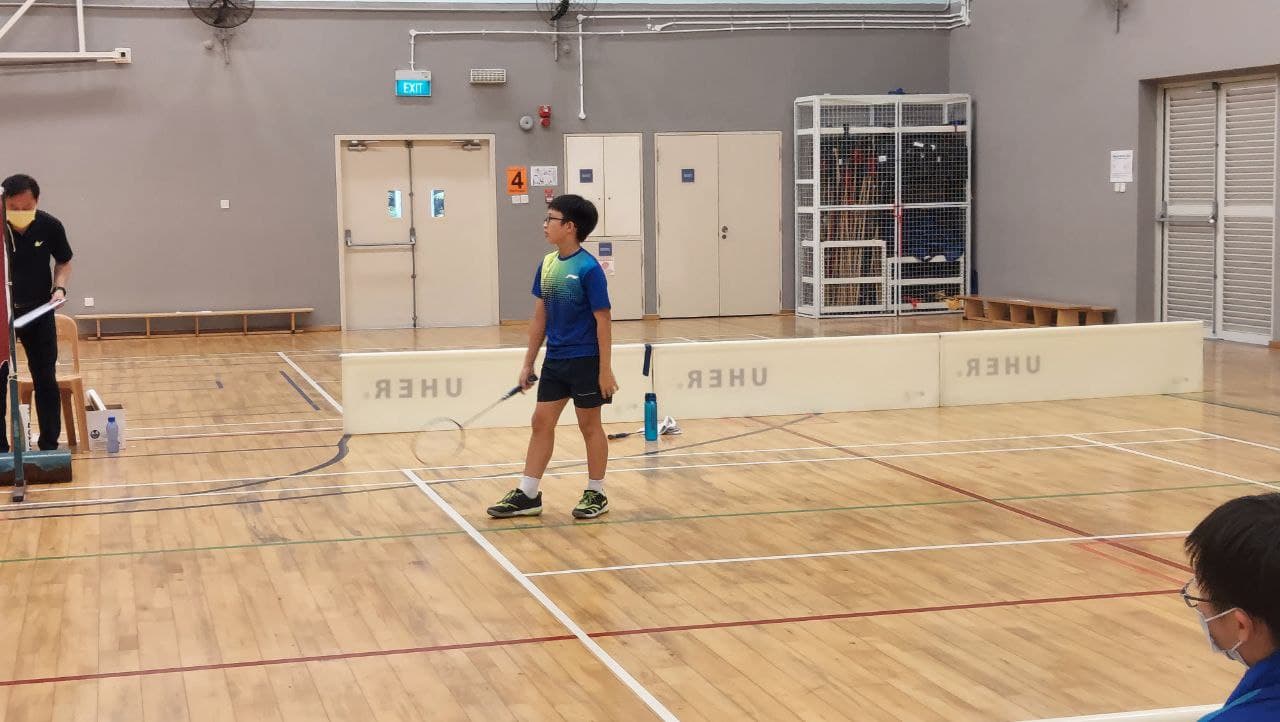 (Photo of Holy Innocents Timothy Khoo getting ready for the final round - by Sherman Yong)
All eyes now fell on the final contestants from each team, as HIPS Timothy Khoo and FMPS Evan Chua took up their respective positions in the final round. The stakes insurmountably high as the results from this final matchup would decide each team's placement within the Senior Division of NSG Badminton 2021. The final round kicked off to bouts of tense rallies between players from both teams as they refused to yield scores to the other easily. The tension in the air was also kicked up a notch as their teammates cheered them on, providing much-needed comfort for both players as well. However, HIPS' Timothy ultimately proved himself the better player as he pulled ahead of Evan Chua - securing the first set with 21-17.
Yet, FMPS Evan still had more aces in his sleeves and this quickly became apparent in their 2nd set. Moving up and down the court, FMPS' Evan was able to answer most, if not all, of Timothy's shots in the 2nd set that left the latter player astounded - denying the HIPS team of their victory with a 21-18 to FMPS.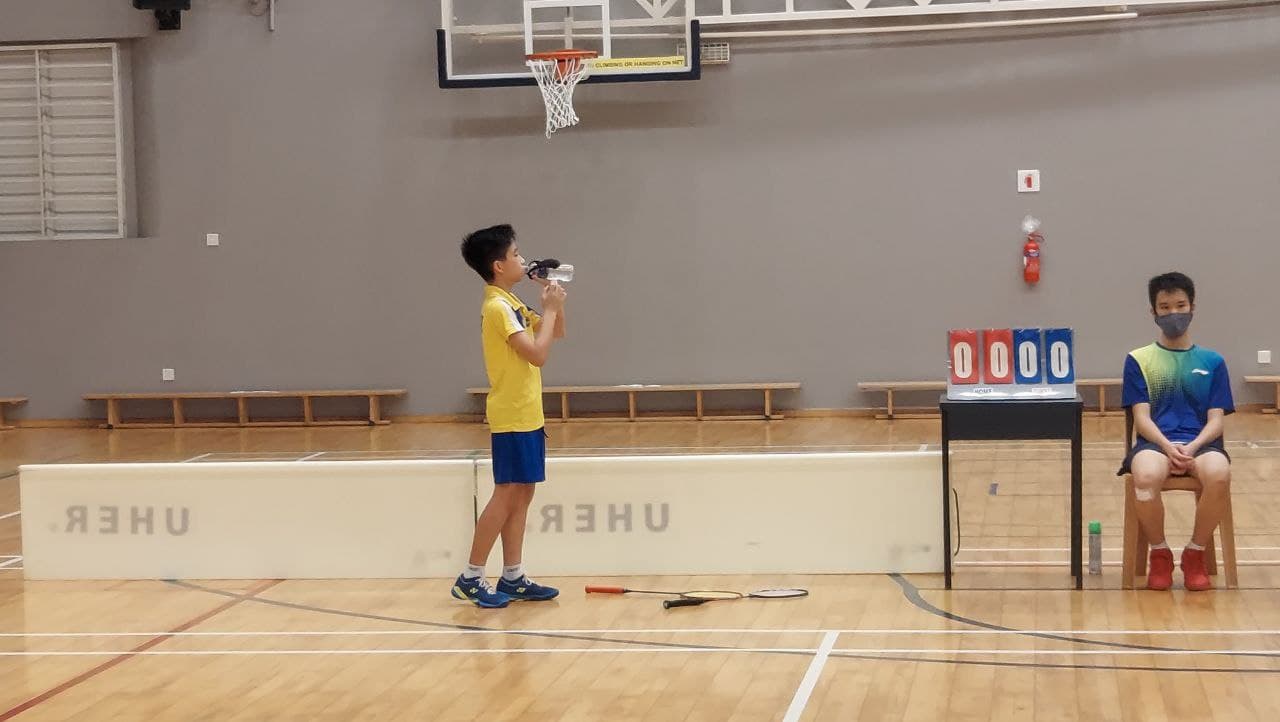 (Photo of Fairfield Methodist's Evan Chua by Sherman Yong)
Moving on to their last set, both players were now visibly tired from their earlier exchanges - panting heavily as they wiped sweats off their faces. Stamina now becomes a crucial factor for both as they faced each other off in their final set and HIPS' Timothy soon proved superior in this aspect. Able to spot the openings in Evan, Timothy inched his way towards victory as the former became increasingly tired out through the final set. With a final smash from Timothy, emerged victorious and HIPS secured their position as the 2nd runner up in the Senior Division for this year.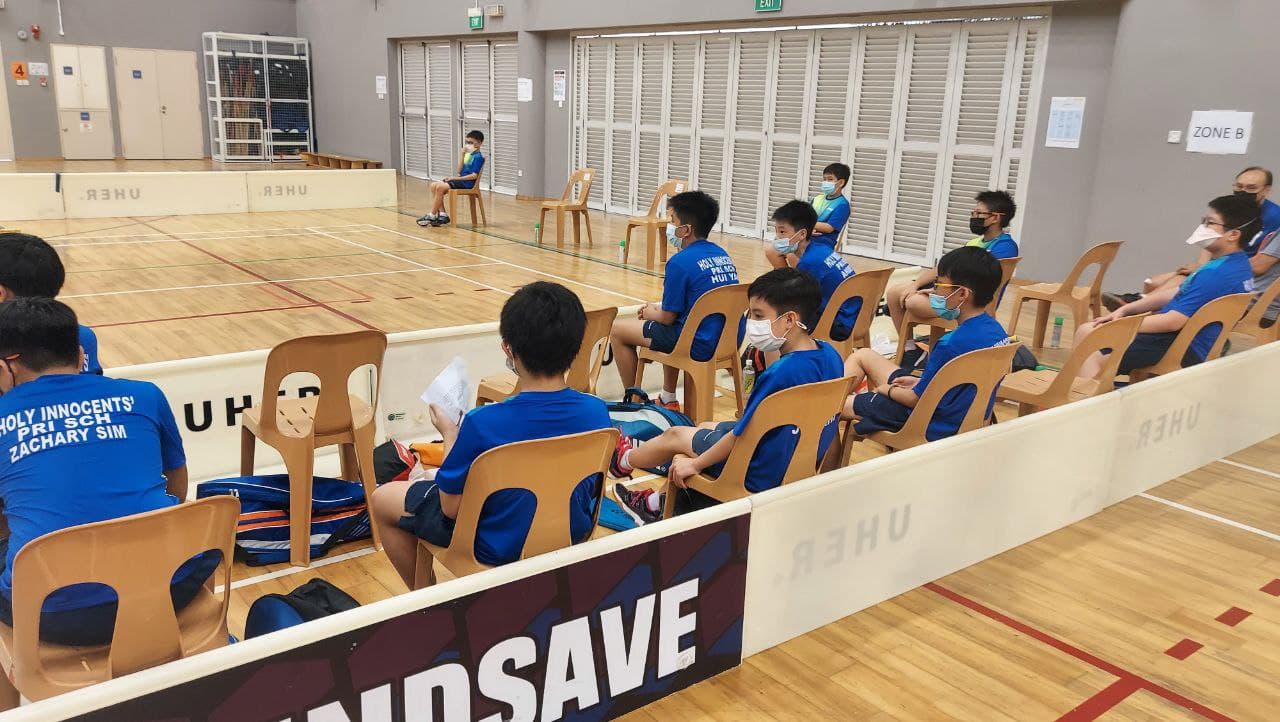 (Photo by Sherman Yong)
When approached for comments, the Fairfield Methodist coach, Mr Tan Meng Azmil, stated that he was extremely proud of his boys for putting up such an aggressive fight against their opponents from Holy Innocents. Moreover, he is heartened that NSG2021 was still able to proceed despite COVID-19 developments - giving his players a much-needed focus for their training in school. While they might have lost this round, Mr Tan hopes that his players will continue holding themselves to an excellent standard of sportsmanship in the future.
Simultaneously, Holy Innocents' coaches, Mr Teng Tan Lee Alex and Mr Lo Ching Andy, hope that their students treasured every moment they had on the court and continue to enjoy playing badminton to the fullest.
Sherman is currently in his final year at the National University of Singapore. He had occasionally dabbled in sports such as Handball and Touch Rugby during his freshman days, but unfortunately he wasn't very good at it. Apart from keeping up with sports news, Sherman likes to dance and listen to music during his free time. If he's not cooped up at home thinking of the next potential story to write, you'll most likely see him around in vacant car parks practicing his dance moves. For what purpose? He does not know.
Related Events & Programmes