NSG Badminton : Rosyth School wins back-to-back Boys' championship title!
by Circle Stories, on April 28, 2021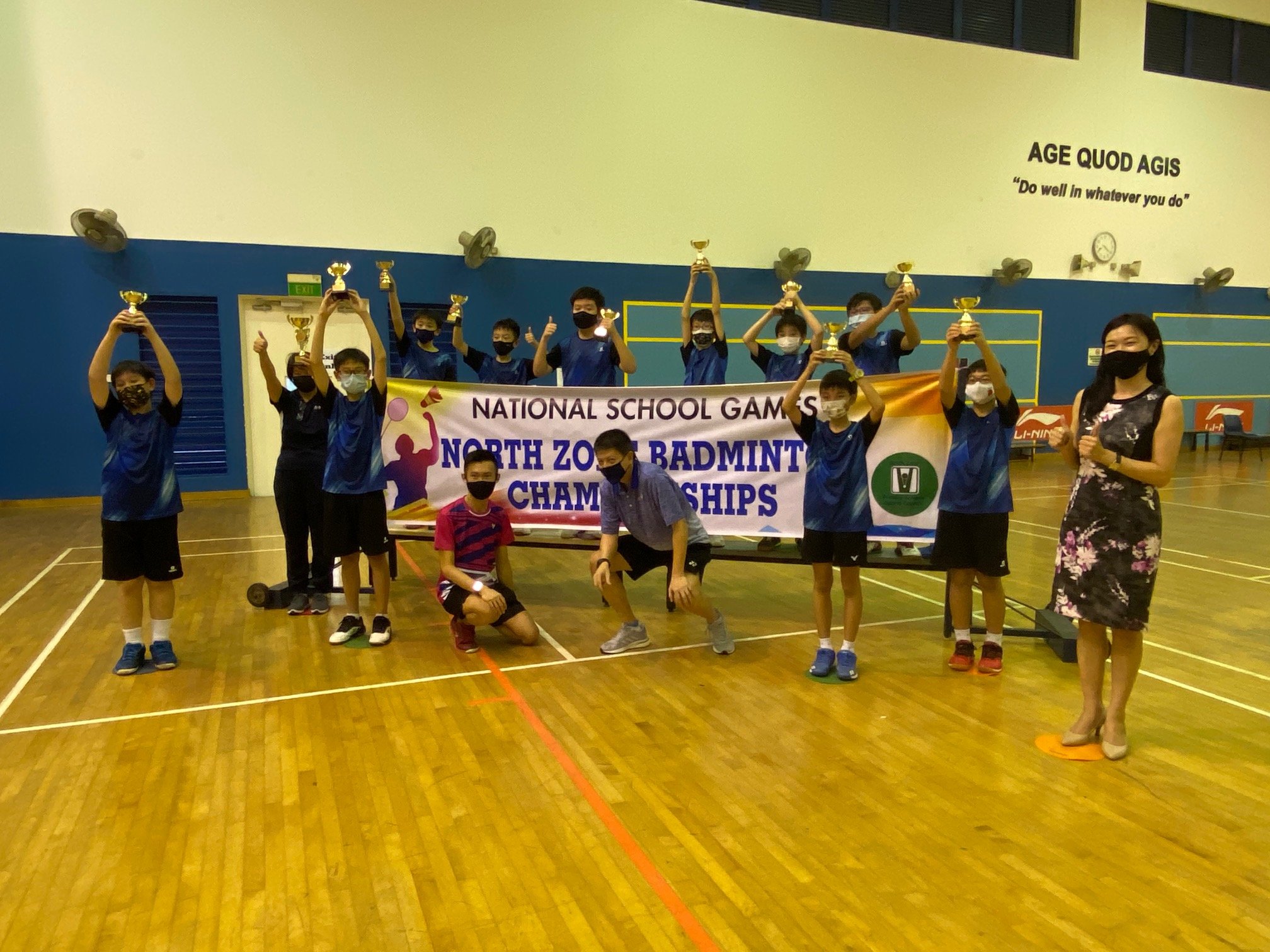 (Photo of Rosyth School by Chia Han Keong)
By Chia Han Keong
In 2019, Rosyth School were victorious in both the Junior and Senior Divisions, by clinching top spots in the North Zone. And yesterday, through three tense and tight sets, the second doubles pairs from Rosyth and Montfort Junior School traded shots in a bid to win the all-important point, to clinch the National School Games (NSG) Senior Division North Zone (NZ) Boys' badminton title.
In the end, the gallant Montfort pair - consisting of twin brothers Jonathan and Timothy Chuang - placed their final shot just inches wide, and the Rosyth duo of Ang Chee Yang and Jayrus Ang were so drained and exhausted that they could barely celebrate that they had won the match and the title for their school.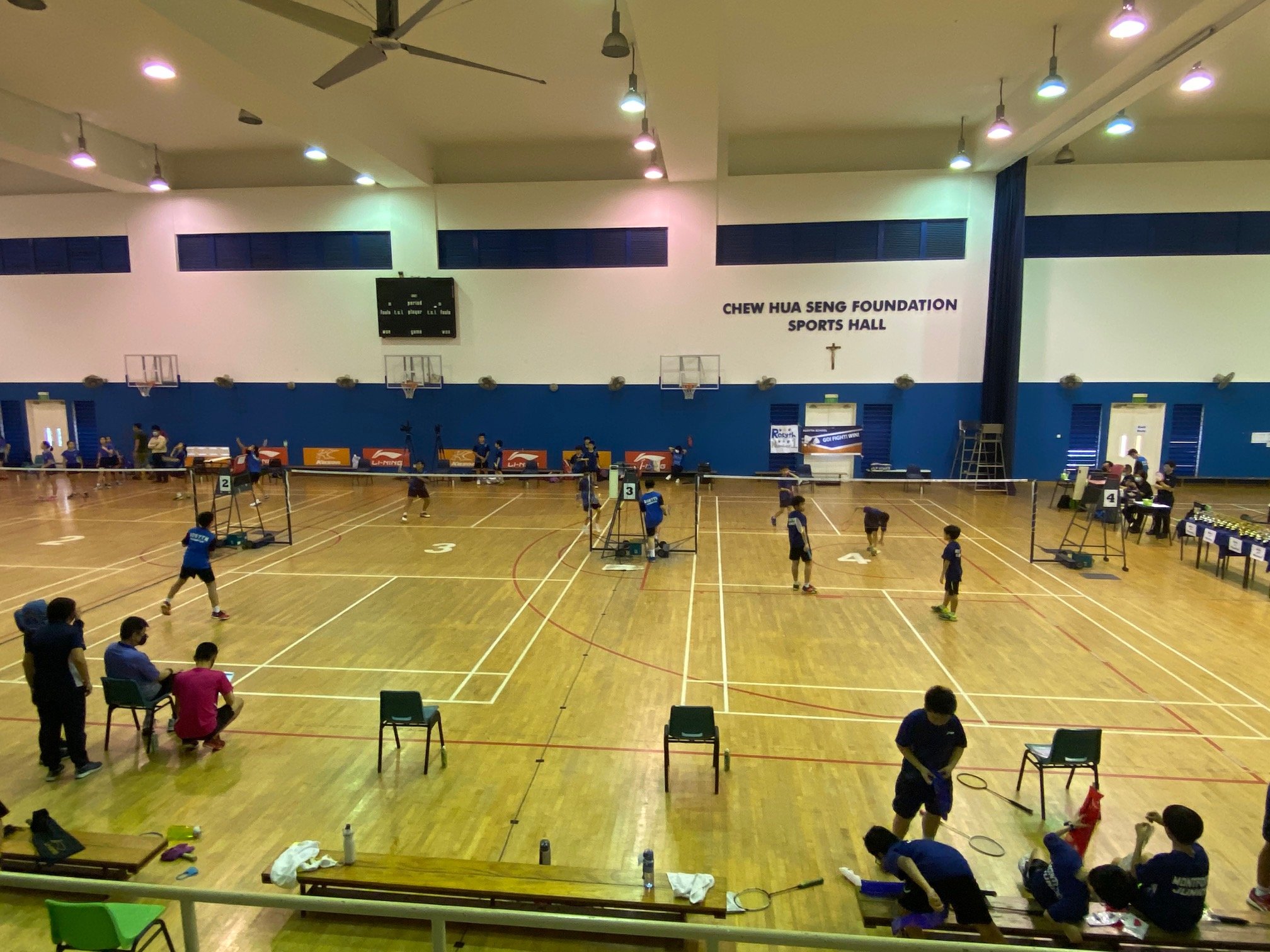 (Photo of Players warming up by Chia Han Keong)
Their nail-biting 20-22, 22-20, 21-18 triumph gave Rosyth a narrow 3-2 series win in the final at the Montfort Junior Sports Hall on Wednesday (28 April). It was a double victory for the school in the NZ competition, as their Girls' team also won their final against CHIJ St Nicholas Girls' School at the adjacent courts.
Their first doubles player Percival Ong spoke about how things went right for him and his teammates in the final, and what they've learnt from the entire NSG competition.
(For the latest schedules on live streams, news updates and stories, do check out our official website, National School Games 2021)
(Interview with Rosyth School's Percival Ong by Chia Han Keong)
Both schools finished top of their respective preliminary groups, but while Montfort easily defeated Mee Toh School 5-0 in the semis, Rosyth had to fight tooth and nail to edge out Nan Chiau Primary 3-2 to clinch their final berth.
With the final to be played at their "home ground", the Montfort players arrived earlier than their opponents to prepare themselves for the tough battles ahead. A few of their teachers also took the opportunity to drop by the sports hall and lend their support to their students.
When play began, it was evident that very little separated both sides. Despite their young age, all the participating shuttlers showed deft shot making and boundless willingness to chase every shot.
The first singles saw Rosyth's Caleb Wang coming up against Montfort's Sivakumar Harsha Vadhan. And Sivakumar proved to be a notch above his opponent, with plenty of inventive shot placement and incessant scampering across the court to retrieve shots. He also punctuated every point he won with a shrill roar, and controlled the match throughout to win 21-13, 21-19.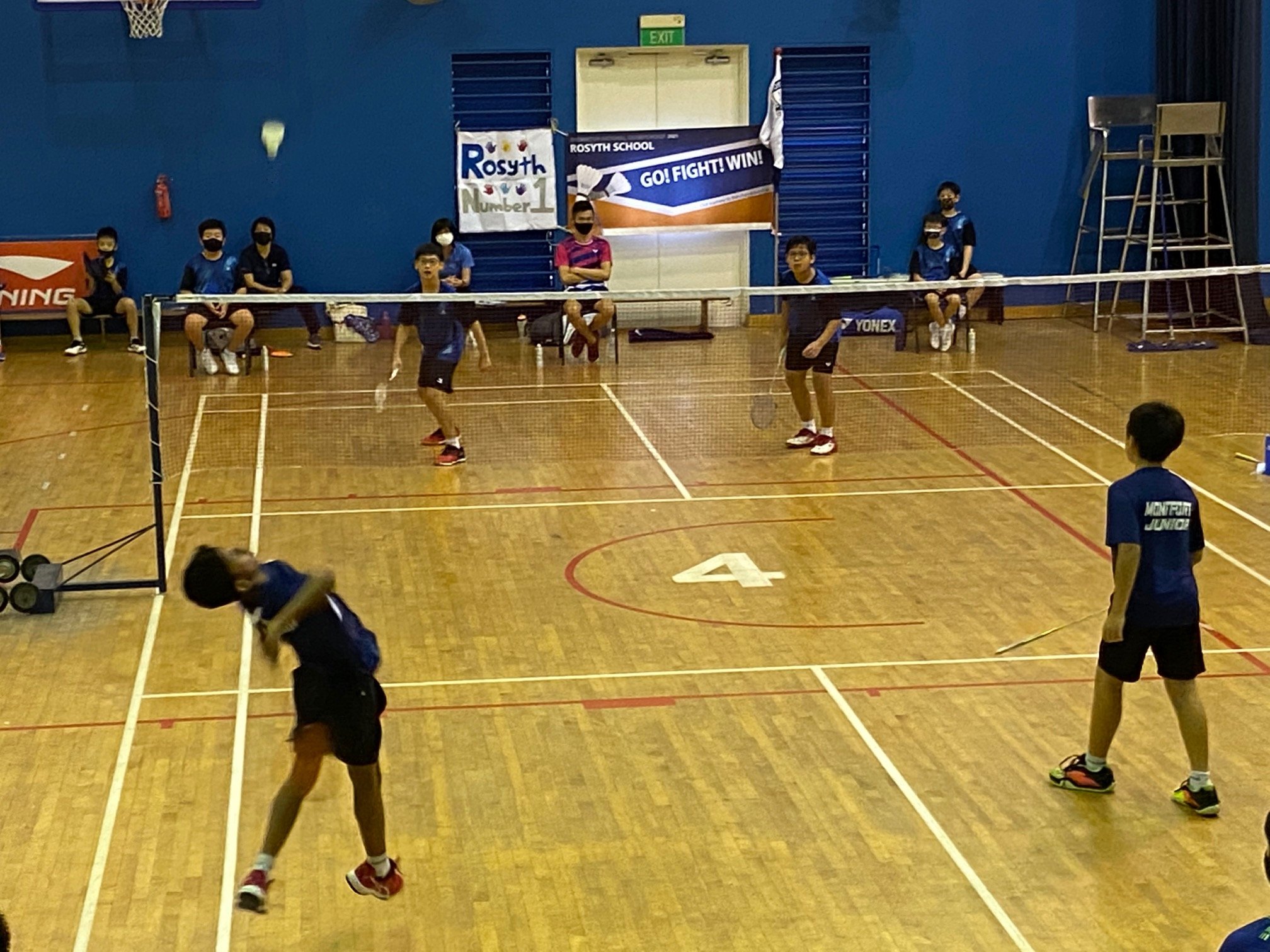 (Photo of 1st Doubles Pairs by Chia Han Keong)
On the adjacent court, however, it was Rosyth's first doubles pair of Percival and Gaius Lim who dominated Montfort's Sureshkumar Madhavi Siddharth and Chen Yu Han. They had little trouble wrapping their match 21-12, 21-14 to draw Rosyth level at 1-1 in the final series. And so the second singles and the second doubles players took to the courts at around the same time. The second singles tie featured two lanky and agile youngsters, Rosyth's Kayson Yong and Montfort's Tang Zee Fye, and it showcased some exciting rallies between the duo.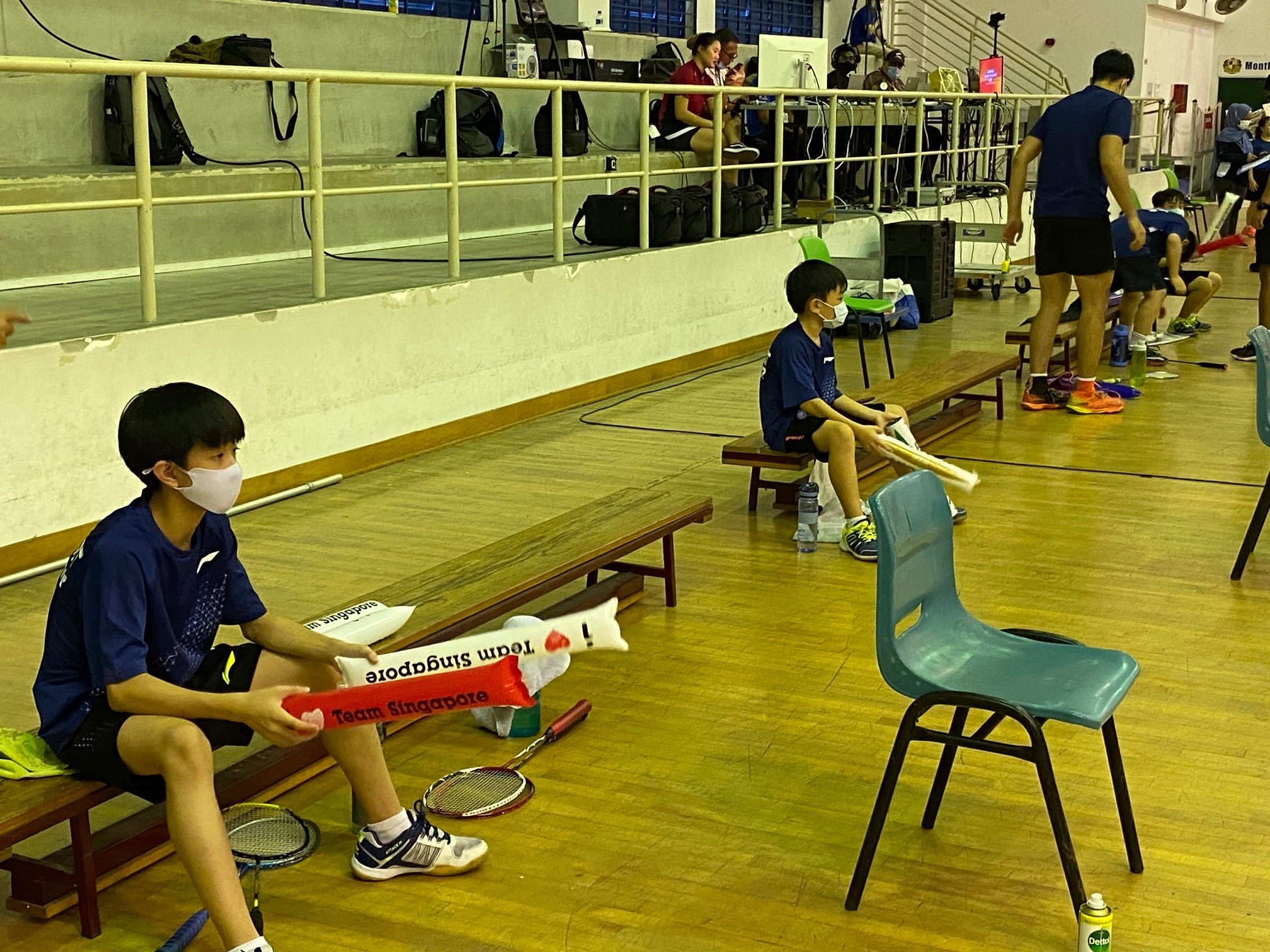 (Photo of students with clappers by Chia Han Keong)
During one point, both of them were diving at full stretches and somehow succeeding in retrieving their shots, and then getting up to continue their rally to the approval of the spectators, who were told not to shout due to Covid-19 safe-distancing measures, but still made plenty of noise with the clappers provided.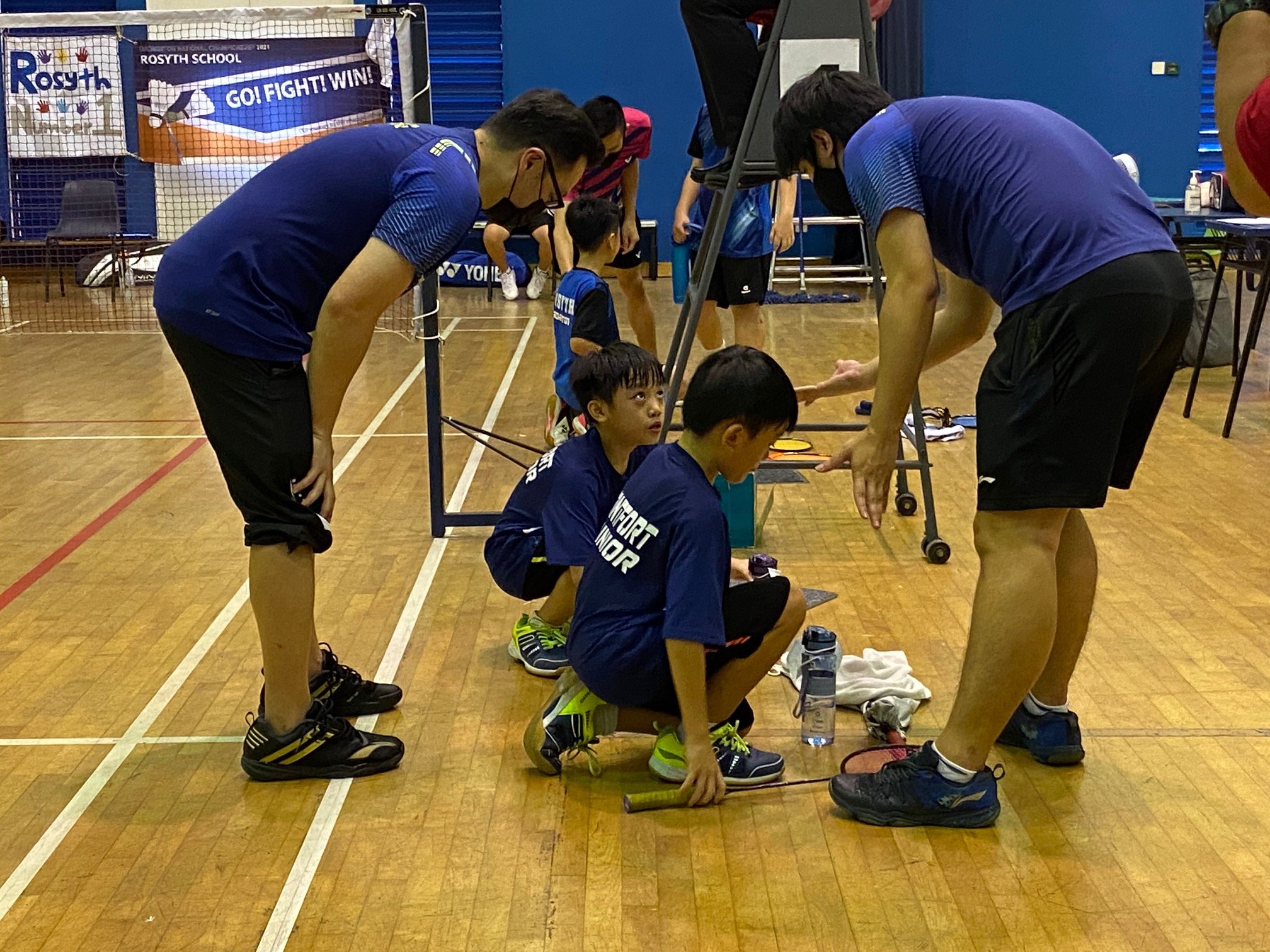 (Photo of Montfort twins, Jonathan and Timothy by Chia Han Keong)
In the end, it was Zee Fye who was the more composed player, as his consistent shot-making frustrated Kayson, and he eventually earned Montfort's second point by winning 21-19, 21-15. Meanwhile, all the attention among those in attendance turned to the second doubles match, where an enthralling battle was developing. The Montfort twins Jonathan and Timothy may well be the shortest among the players in the two final teams, but their diminutive stature belied some smart shot-making and gritty determination to fight for every point.
The Rosyth pair of Jayrus and Chee Yang, meanwhile, were also a whirlwind of ceaseless running, and were arguably the more composed pair as they were able to control the crucial points when it mattered. As their match see-sawed thrillingly, their coaches took every timeout opportunity to offer tactical advice and urge their charges to press on through their sweat-drenched tiredness.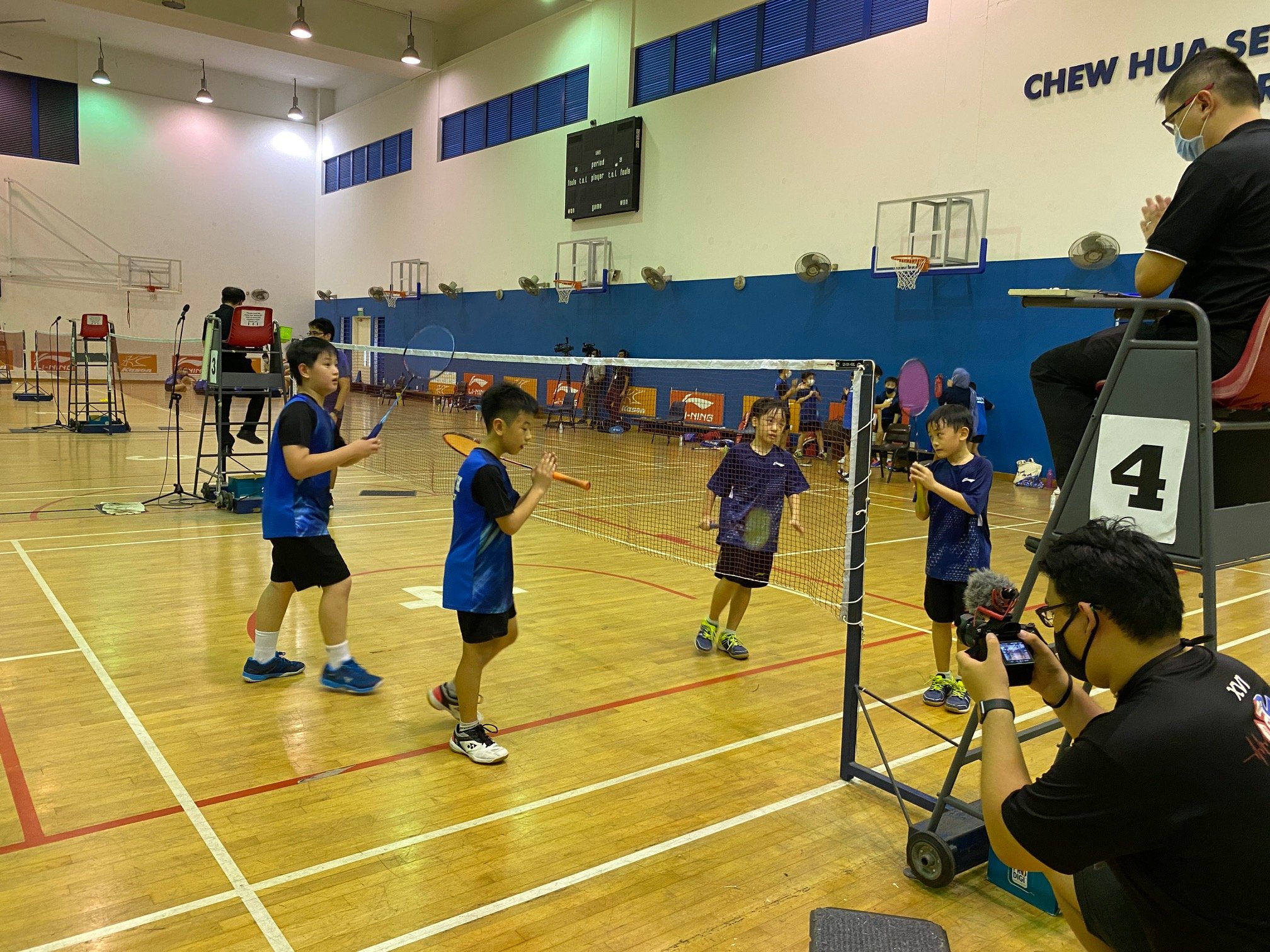 (Photo of 2nd Doubles by Chia Han Keong)
The third singles match however, began on the other court and Rosyth's Brandon Sewo wasted little time in defeating Montfort's Joshua Benjamin Chow 21-12, 21-10. That levelled the overall final score at 2-2 and setting up the second doubles match as the winner-takes-all tie. And it was the Rosyth duo who managed to hold their nerve in the end, withstanding a furious comeback by the Montfort twins in the third set to emerge triumphant.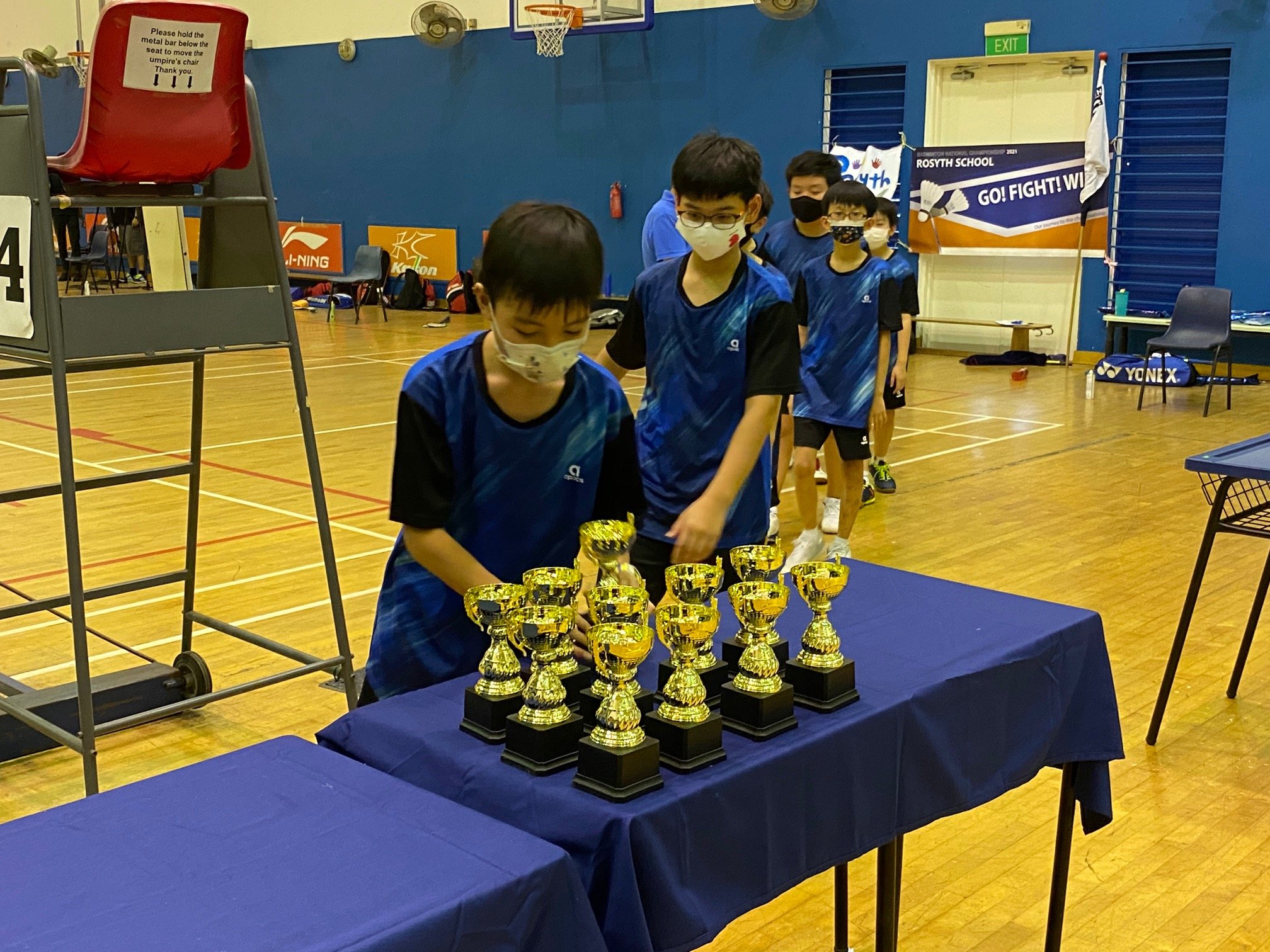 (Photo of Rosyth by Chia Han Keong)
Even though they were too fatigued to celebrate with hollers and screams, their teammates' appreciative grins and "fist-bumps" were enough reward for their superlative efforts.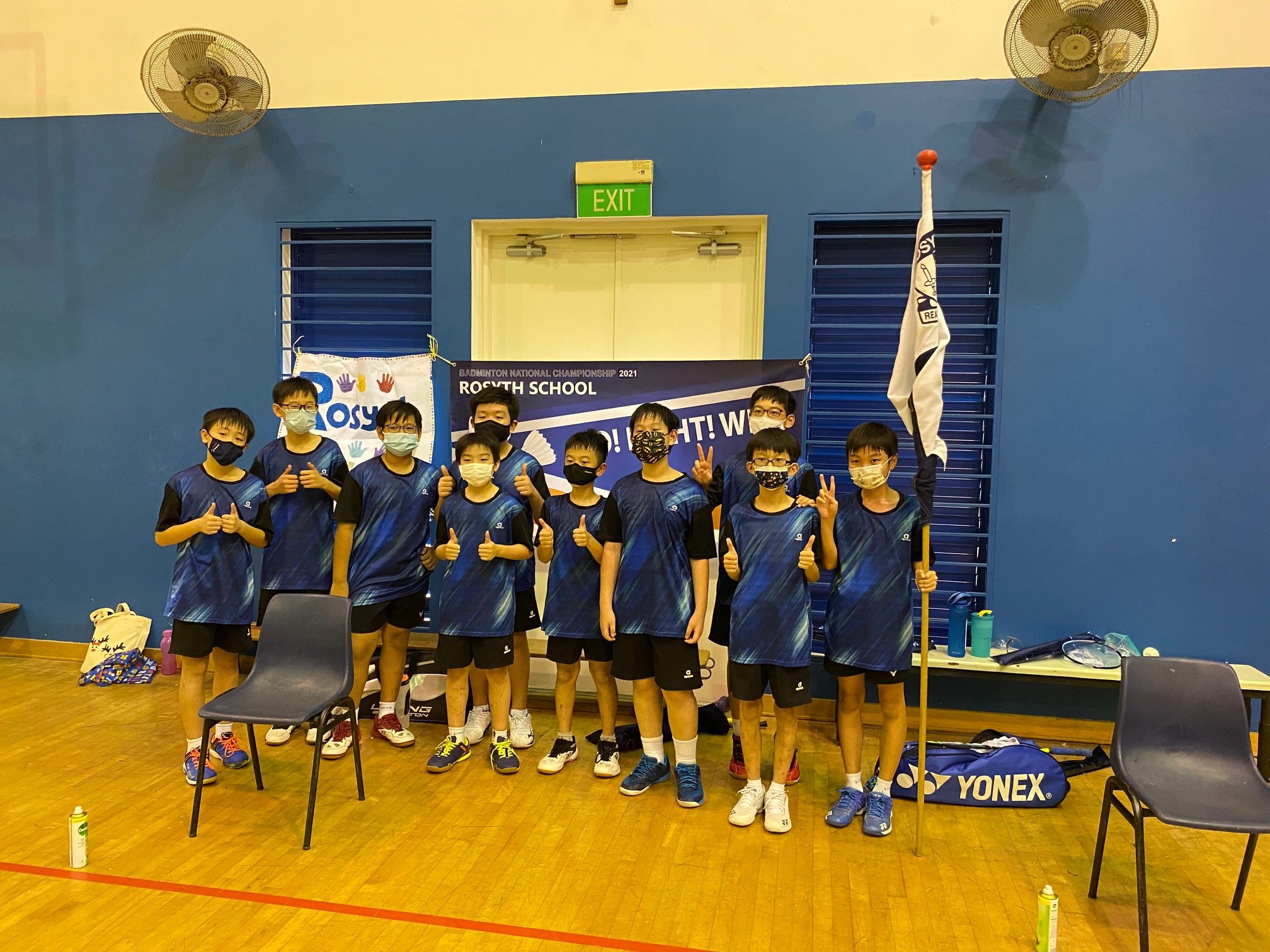 (Photo of Rosyth School by Chia Han Keong)
Chia Han Keong is a freelance journalist who has covered both Singapore and international sports extensively for the past 18 years. He was the sports editor of bilingual tabloid My Paper, and has also worked for The Straits Times and Yahoo News Singapore. He has covered four SEA Games (2009, 2011, 2013, 2019), two Asian Games (2010, 2014) as well as the 2008 Beijing Summer Olympics. He counts himself as a massive Liverpool, LA Lakers and Rafael Nadal fan.
Related Events & Programmes