NSG Rope Skipping : Youngsters deliver creative & exciting skills after months of hardwork and training!
by Circle Stories, on April 20, 2021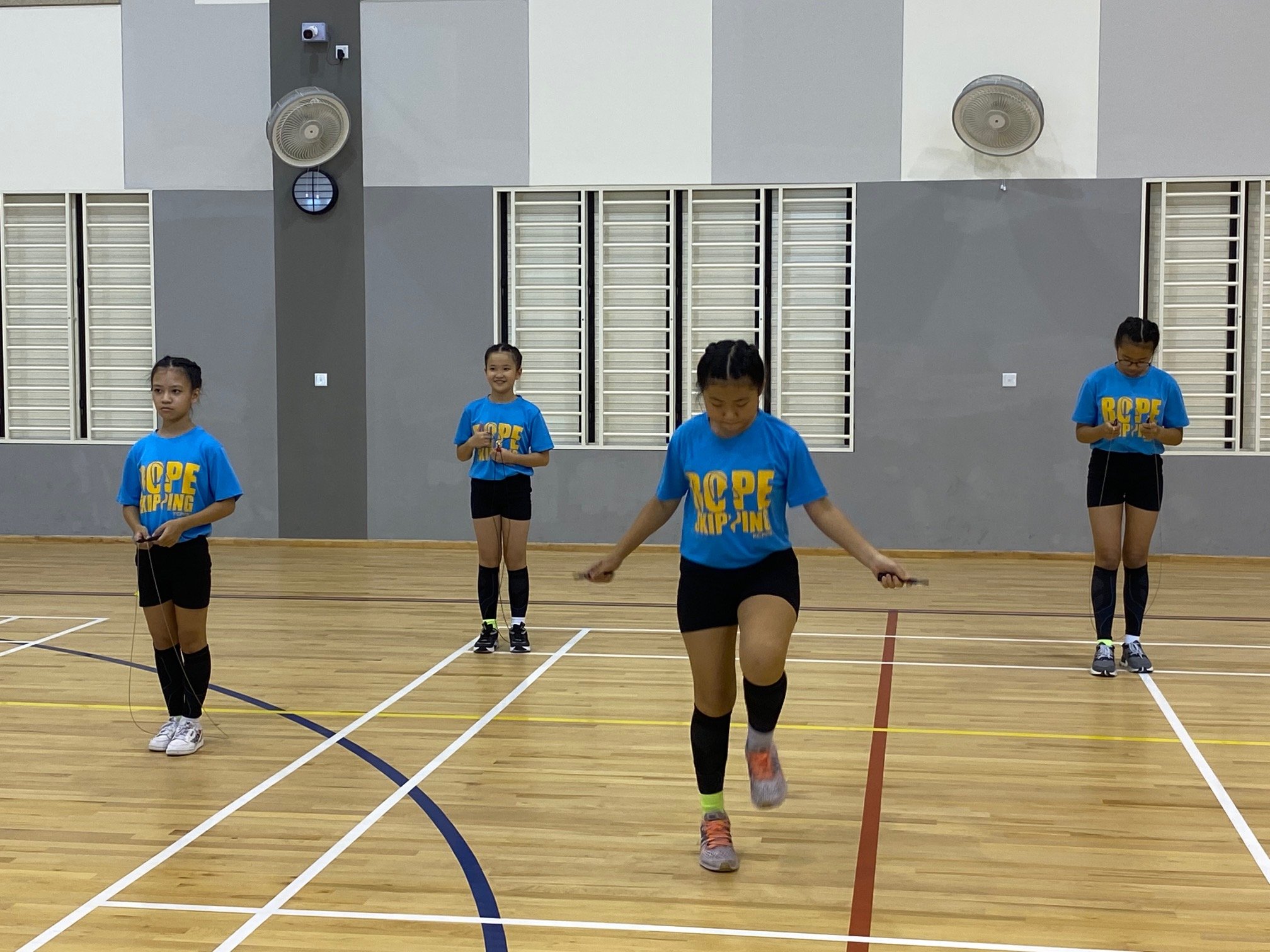 (Photo Credit : Chia Han Keong)
By Chia Han Keong
Twirling their skipping ropes so rapidly that the ropes were a near-invisible blur, students from Holy Innocents', Bendemeer and Kuo Chuan Presbyterian primary schools took part in the National School Games (NSG) Senior Division rope-skipping competition at Yangzheng Primary School on Tuesday (20 April).
Among the 12 sports at this year's Games, rope-skipping is the only sport exclusively competed by primary school students. Despite their young ages, these rope-skippers showcased nimble coordination between their hands and legs, deftly twirling their ropes as they try to skip as many times as possible in the speed category, or create as many skipping variations as they can in the creative category.
They also displayed plenty of perseverance, by not being rattled whenever they tripped on their ropes, but pressing on with their routines. Their performances duly earned appreciative applause from their teammates, coaches and teachers in charge.
The competition, which began last week, is divided into the two main categories -- speed and creative -- and individual or team events in each category.
(For the latest schedules on live streams, news updates and stories, do check out our official website, National School Games 2021)
(Photo Credit of Speed Event : Chia Han Keong)
In the individual speed events, participants have to skip as many times as possible within a 30-second period. The skippers were a picture of total focus before they started vigorously skipping, seeking to find a rhythm in clearing their ropes quickly.
Not all were successful -- some were frustrated as they repeatedly got caught in the snag of their own ropes. But all completed their 30-second "sprints" with little trouble; the better ones did it without tripping up even once.
Besides the straightforward speed events, there were also variations. For example, the Double Under event required the skippers to swing the rope twice for each jump, thus they needed to jump higher and swing faster -- easier said than done.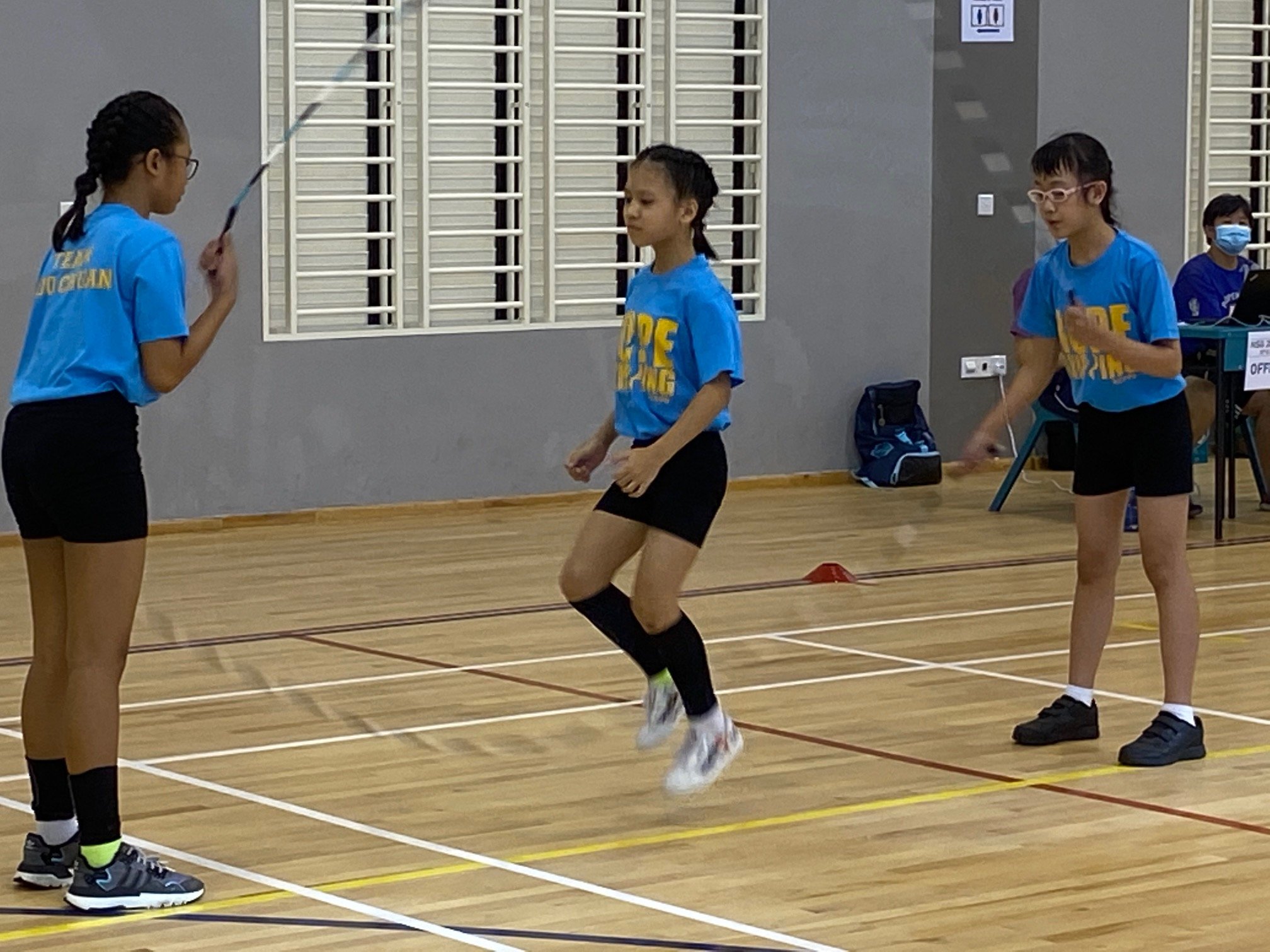 (Photo Credit by Chia Han Keong)
The was also the eye-catching Double Dutch event, where one participant will jump between two teammates swinging two ropes. The rope-swingers would be shouting out the rhythm of their twirls as the skipper deftly negotiated the two ropes. One girls' team from Kuo Chuan Presbyterian managed to complete the one-minute routine without tripping -- earning loud applause from all.
Finally, there was the Speed Relay, where four skippers take turns skipping as fast as possible for an accumulated total.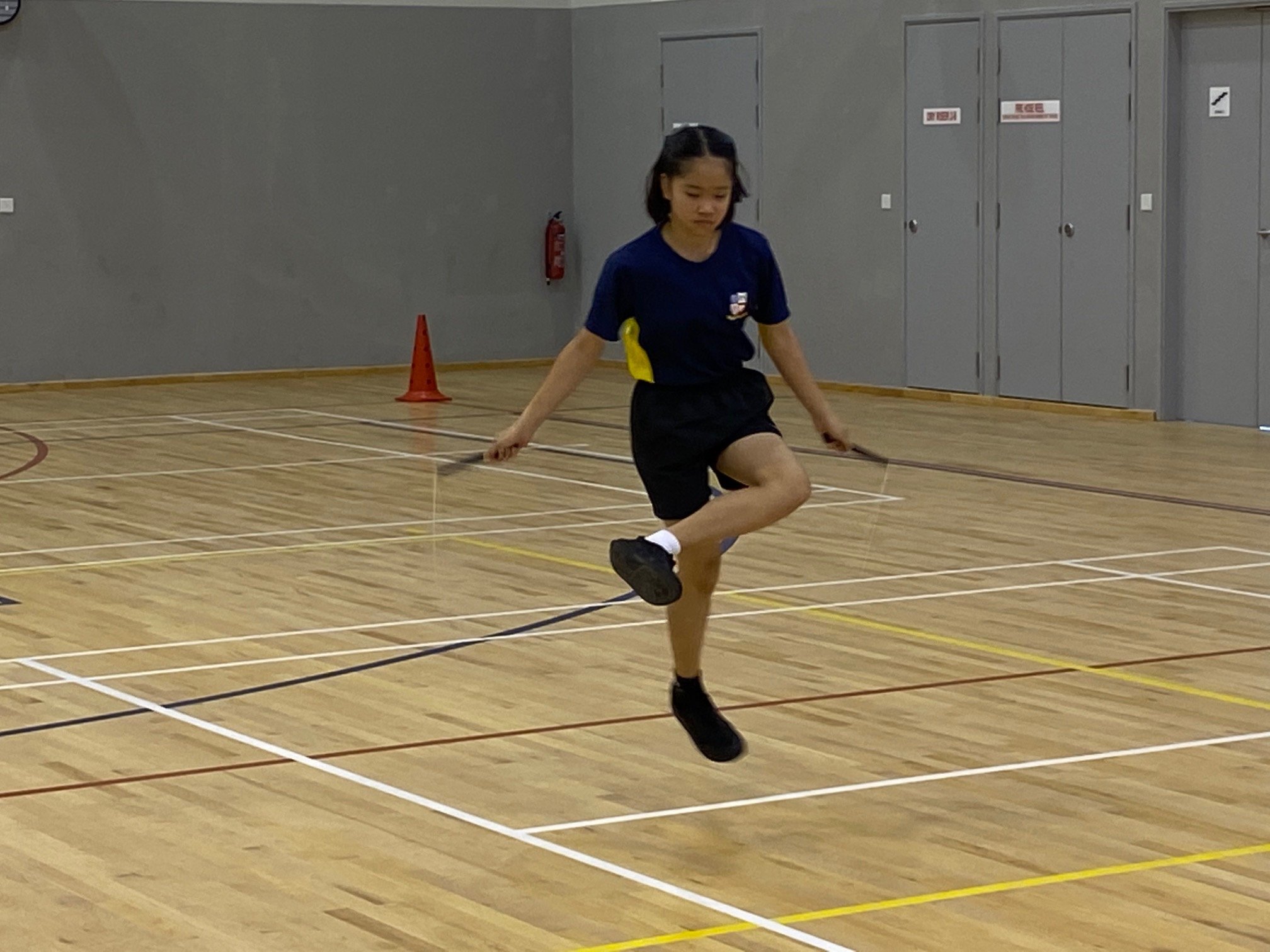 (Photo Credit of Creative Event : Chia Han Keong)
While the speed category was a test of agility, the creative category required competitors to perform skipping variations to the rhythm of backing music. While it allowed for improvisation, it was a tricky test for these young skippers, as many of the variations required a higher level of technical expertise.
Many of their routines, whether in the individual or double events, were stop-start affairs as the youngsters were caught by their ropes as they attempted tougher moves. Nonetheless, they deserved credit at least for trying intricate variations such as two-person skips.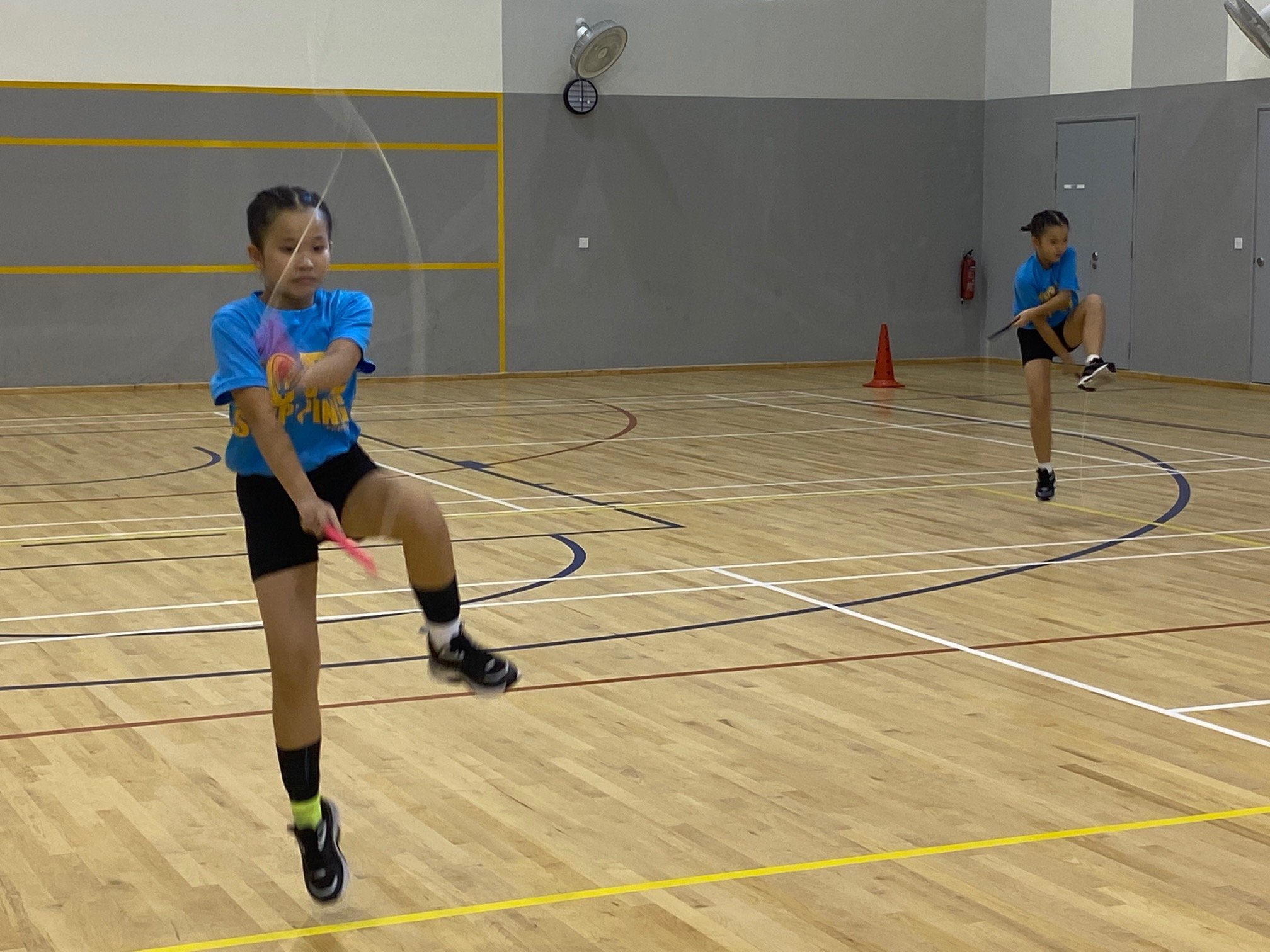 (Photo Credit by Chia Han Keong)
All the competition attempts were recorded on video, and judging for the various events will begin next week.
Bendemeer rope-skipper Tan Liyun said after the competition that she was happy with her school's performances and hopes that she and her teammates can break their personal-best marks in their respective events.
(Interview with Tan Liyun by by Chia Han Keong
Kuo Chuan Presbyterian coach Amanda Khoo paid tribute to her students' determination and passion in giving their best at the competition.
"Because of the fluid COVID-19 situation, we had only three weeks to prepare after receiving confirmation of the competition. Despite that, the kids were very easy to work with and very receptive. The school also helped a lot in organising extra training," she said.
"We want them to strive for their best, but we also have to encourage them along the way, remind them that it's about the process and not the outcome. I'm sure they have gained friendship and learnt discipline, teamwork as well as perseverance."
Chia Han Keong is a freelance journalist who has covered both Singapore and international sports extensively for the past 18 years. He was the sports editor of bilingual tabloid My Paper, and has also worked for The Straits Times and Yahoo News Singapore. He has covered four SEA Games (2009, 2011, 2013, 2019), two Asian Games (2010, 2014) as well as the 2008 Beijing Summer Olympics. He counts himself as a massive Liverpool, LA Lakers and Rafael Nadal fan.
Related Events & Programmes