NSG : Student-athletes take safe-distancing measures in their stride, as they adapt to a unique Games format
by Circle Stories, on May 11, 2021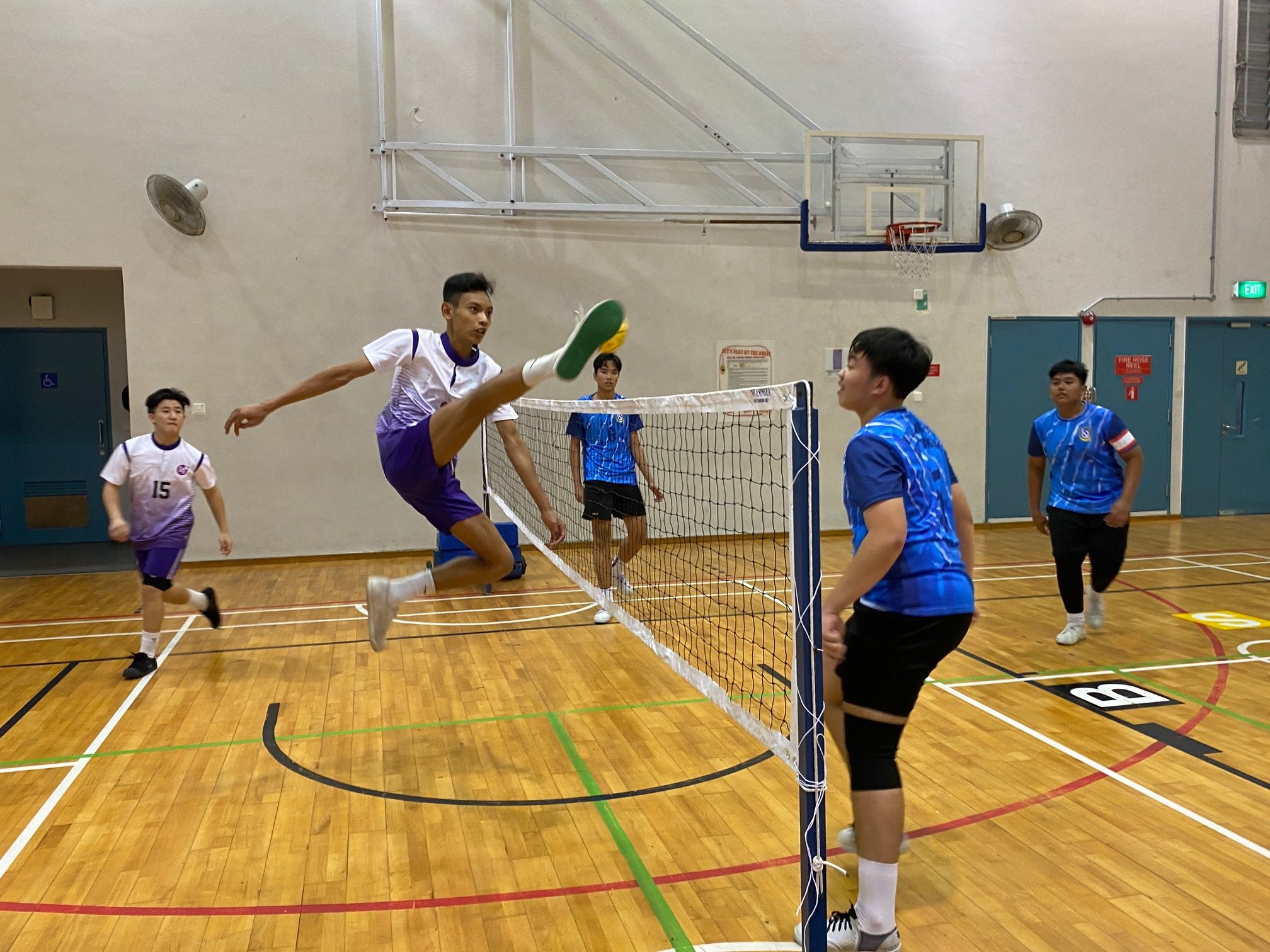 (Photo Credit : Chia Han Keong)
By Chia Han Keong
The year 2021 has seen a National Sports Games (NSG) unlike any of its past 61 annual editions. The ongoing COVID-19 pandemic meant that the health and safety of the participating student-athletes, teachers, coaches and officials had to be managed among the 12 sports that were being contested.
Whether it meant amending the rules of the game so that fewer athletes can interact with one another, or setting up the venues with the prerequisite safe-management measures (SMM), it all contributed to a unique atmosphere -- even if one excludes the fact that no spectators are allowed at the Games.
Yet, from the NSG's opening day in end-March until its current suspension due to the enhanced SMM implemented in Singapore, the student-athletes consistently shown good spirit to compete hard for their schools and not be unduly affected by the safety measures. They dutifully sat apart from their teammates with face masks on, and wiped their seats and shared equipment with disinfectants after use.
Having covered/reported on the NSG extensively for the past month and being physically at various school venues, what were the key SMM that each of the 12 sporting disciplines implemented, and how did the participants respond to them?
(To watch all previous live streamed matches, news updates and stories, do check out our official website, National School Games 2021)
Badminton/Table Tennis
Due to the high number of participating schools in these two popular racquet sports, the competitions were held only on zonal levels in the Senior and B Divisions. This is in order to manage the number of matches that the shuttlers and paddlers have to play respectively.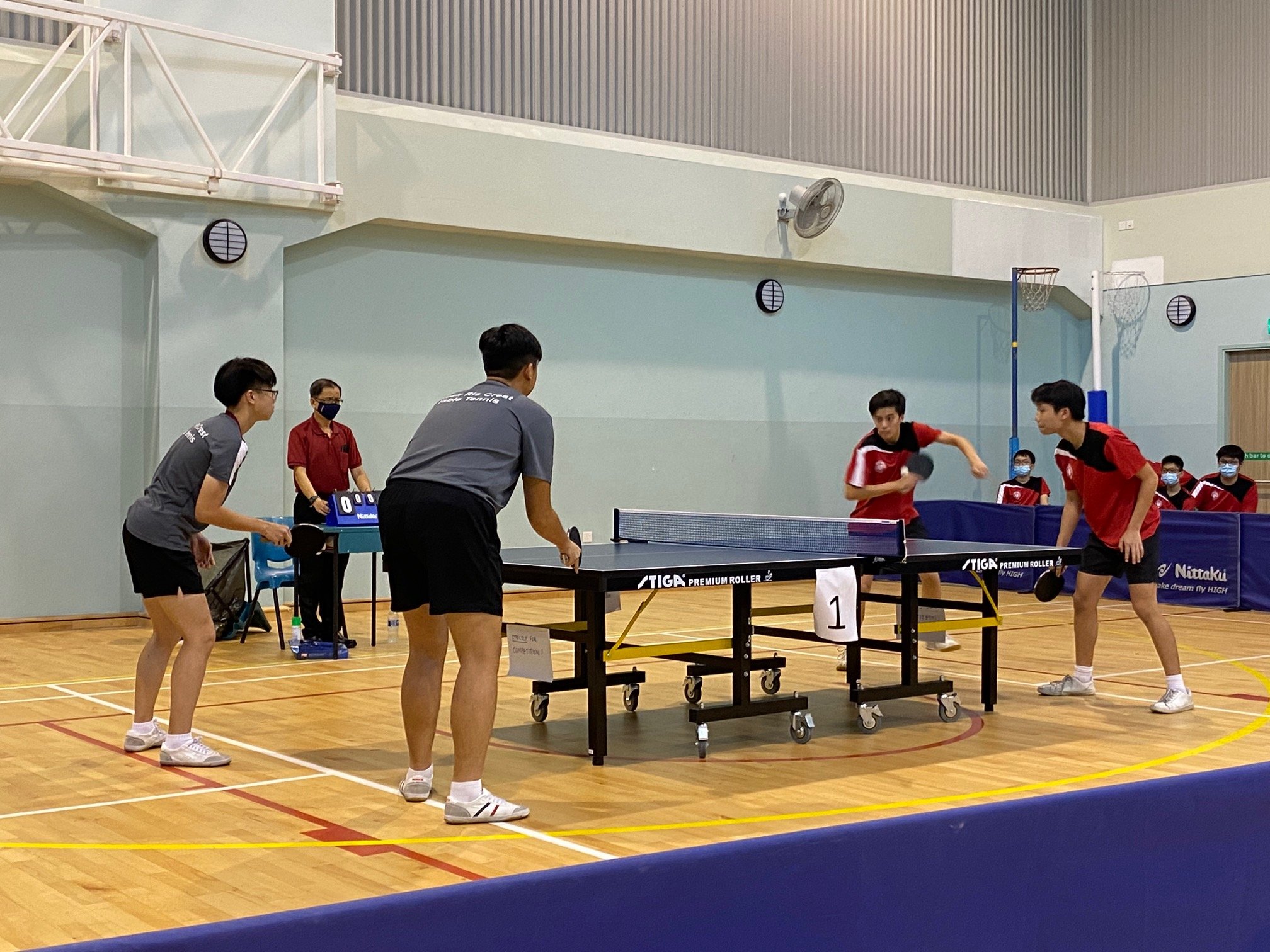 (Photo Credit : Chia Han Keong)
Each school team was assigned a holding area in the various indoor school halls, with chairs placed at a safe distance apart for the athletes to sit on. Those on the sidelines were advised not to cheer loudly for their teammates, but clapping was allowed. And as long as you were not competing on court, wearing a mask was mandatory.
Otherwise, the action on the court was thankfully unchanged, as there were at most four players on the court for doubles action -- well within the eight-person limit for safe distancing purposes. Without the need to adapt to new match rules, the players were able to perform at high levels throughout the badminton and table tennis competitions.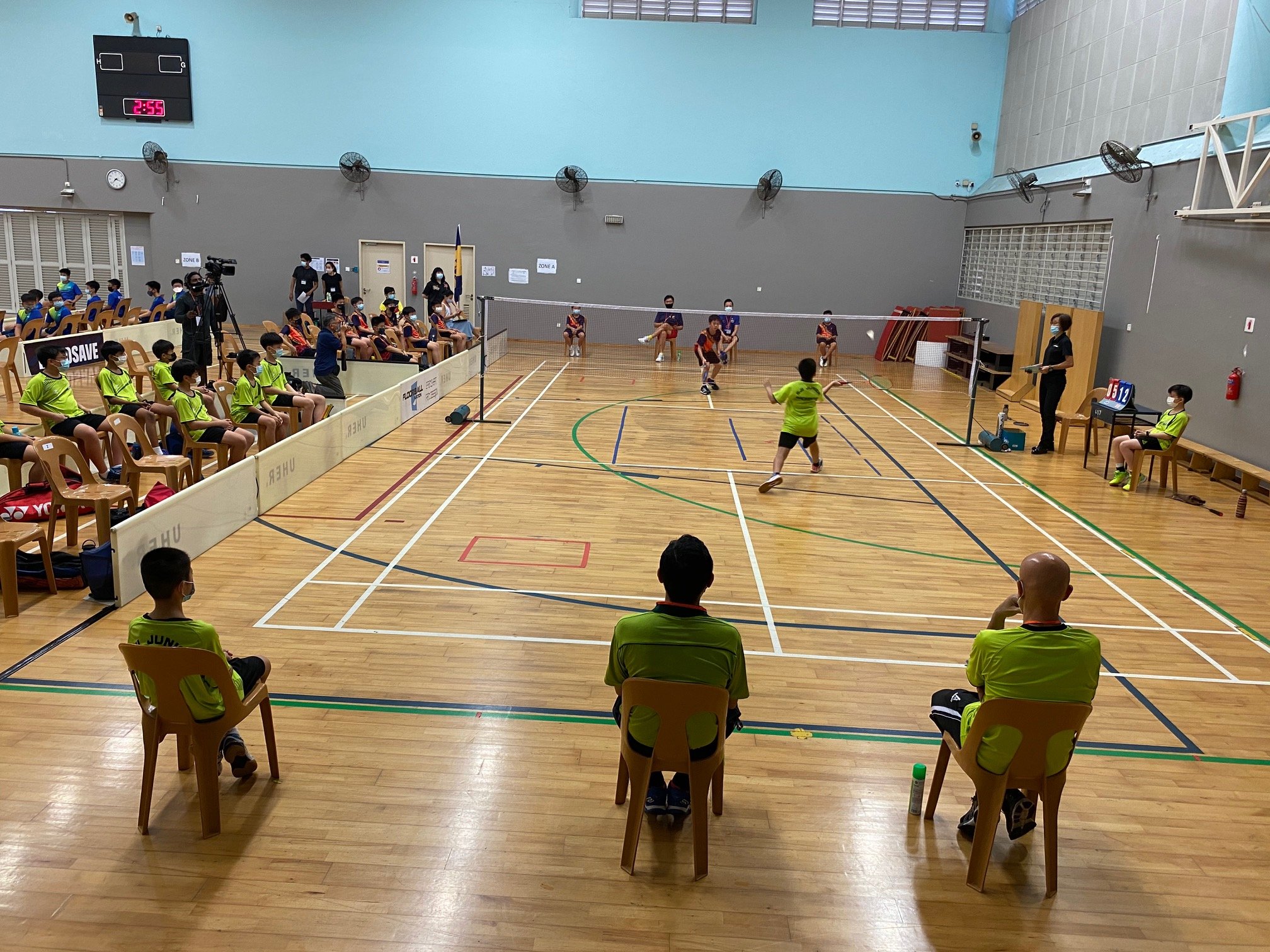 (Photo Credit : Chia Han Keong)
Volleyball
Like badminton and table tennis, the volleyball competitions were confined to only the zonal levels for this year's NSG, due to the large number of participating schools.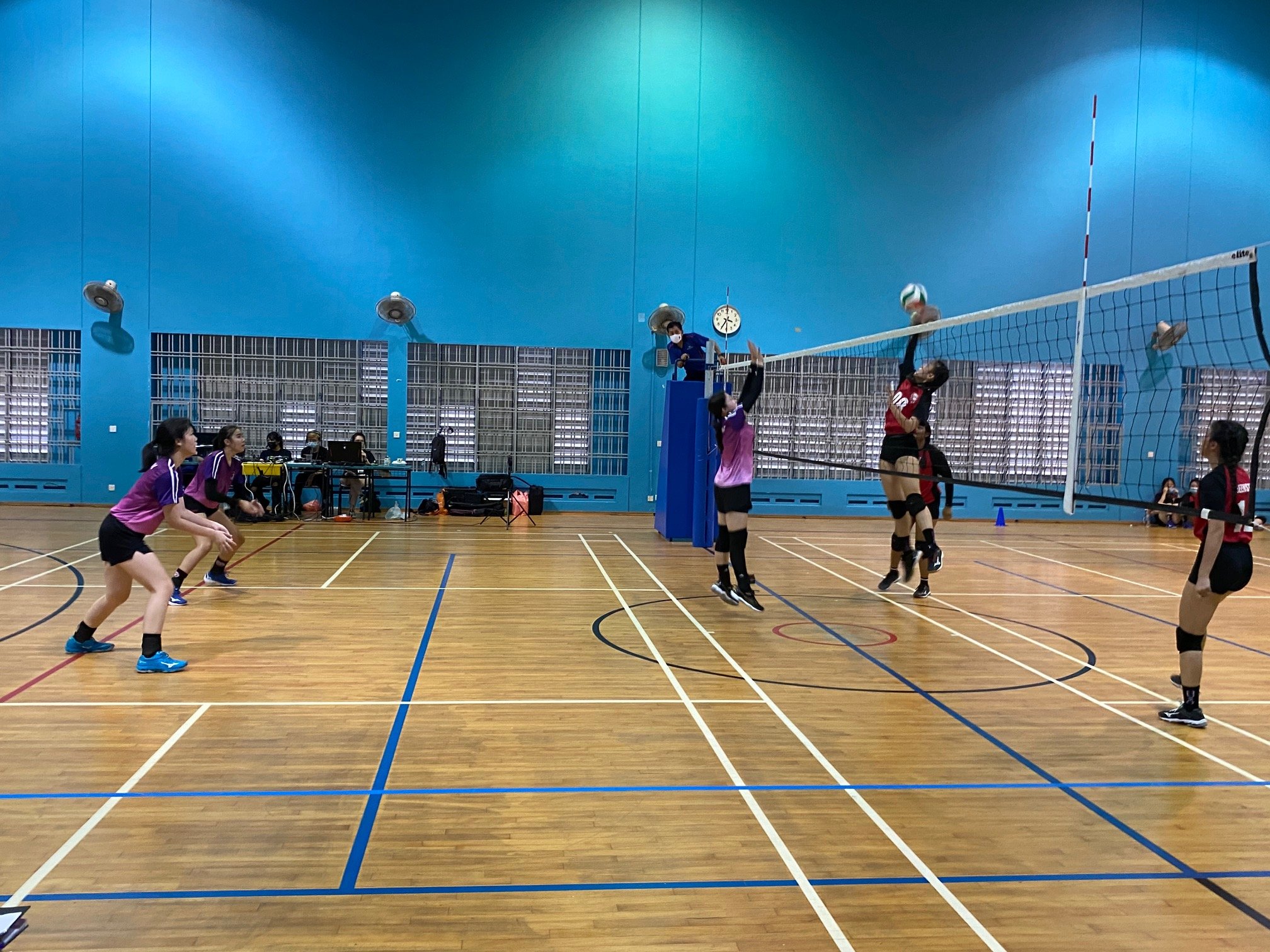 (Photo Credit : Chia Han Keong)
The usual playing format of volleyball requires six players per side. But due to SMM, the Ministry of Education (MOE) revamped the competition into a 3 v 3 competition - three players against three in a best-of-three sub-teams series, the first time this volleyball competition format was being implemented in the world!
This format meant that players were required to cover more ground to retrieve the live balls during defence. Offensive tactics were also tweaked and simplified for the trios on the court. While there were initial uncertainties, the players eventually got familiarised with the new format, and were combining well with their teammates by the time they were in the finals. Versatility was also key as players this time, had to rotate and play in different positions.
To make the 3 v 3 format even more appealing, all teams were playing for points, that would be calculated at the end of the round to determine places in the later stages. For eg, a 2-0 win in a sub-team, allows the school to secure four points, while the losing team picks up a point. And if the score was 2-1, the winning side sealed three points while the other school picked up two. This points-based format was to encourage and ensure all teams competed fully in all 3 sub-teams (matches) in each tie (fixture)
Sepak takraw
As it was already a three-versus-three competition in each of the regus, sepak takraw did not have to amend its traditional format to accommodate the safe-management measures.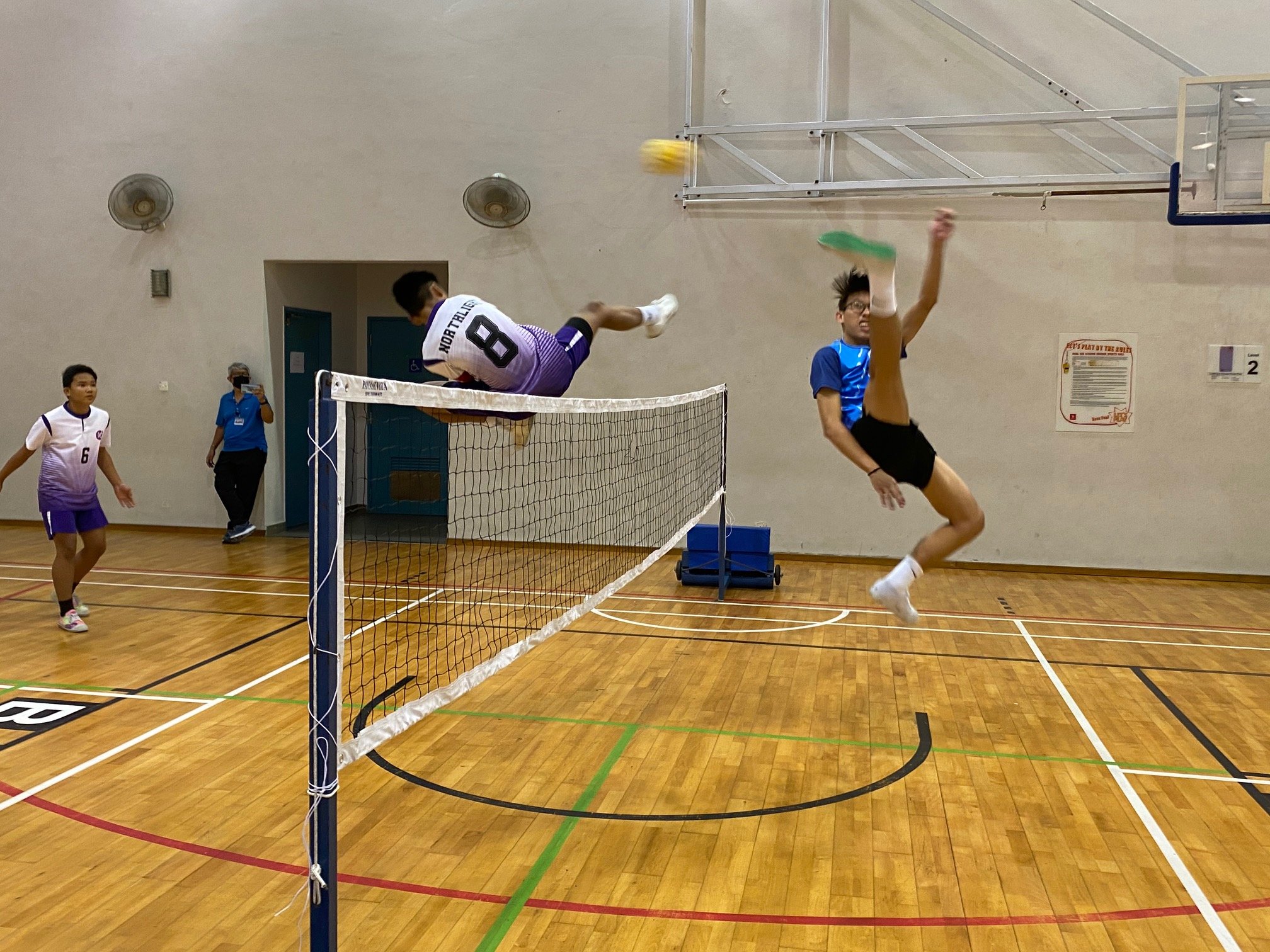 (Photo Credit : Chia Han Keong)
Being in their familiar format, the players were able to be comfortable enough to perform all their acrobatic flips and kicks, as their teammates maintained their social distancing while waiting for their turn to play in the best-of-three-regus format. The 2021 NSG also saw the debut of new teams in the B Division. They include football powerhouse Meridian Secondary together with Marsiling Secondary (finished in 4th place overall).
Taekwondo (Poomsae)
With contact sports not allowed in the NSG, taekwondo (TKD) could not be contested in its "kyorugi" sparring format between two athletes. Instead, only the "poomsae" format was being contested - athletes performing pre-arranged sequences of martial techniques, to be judged by TKD experts.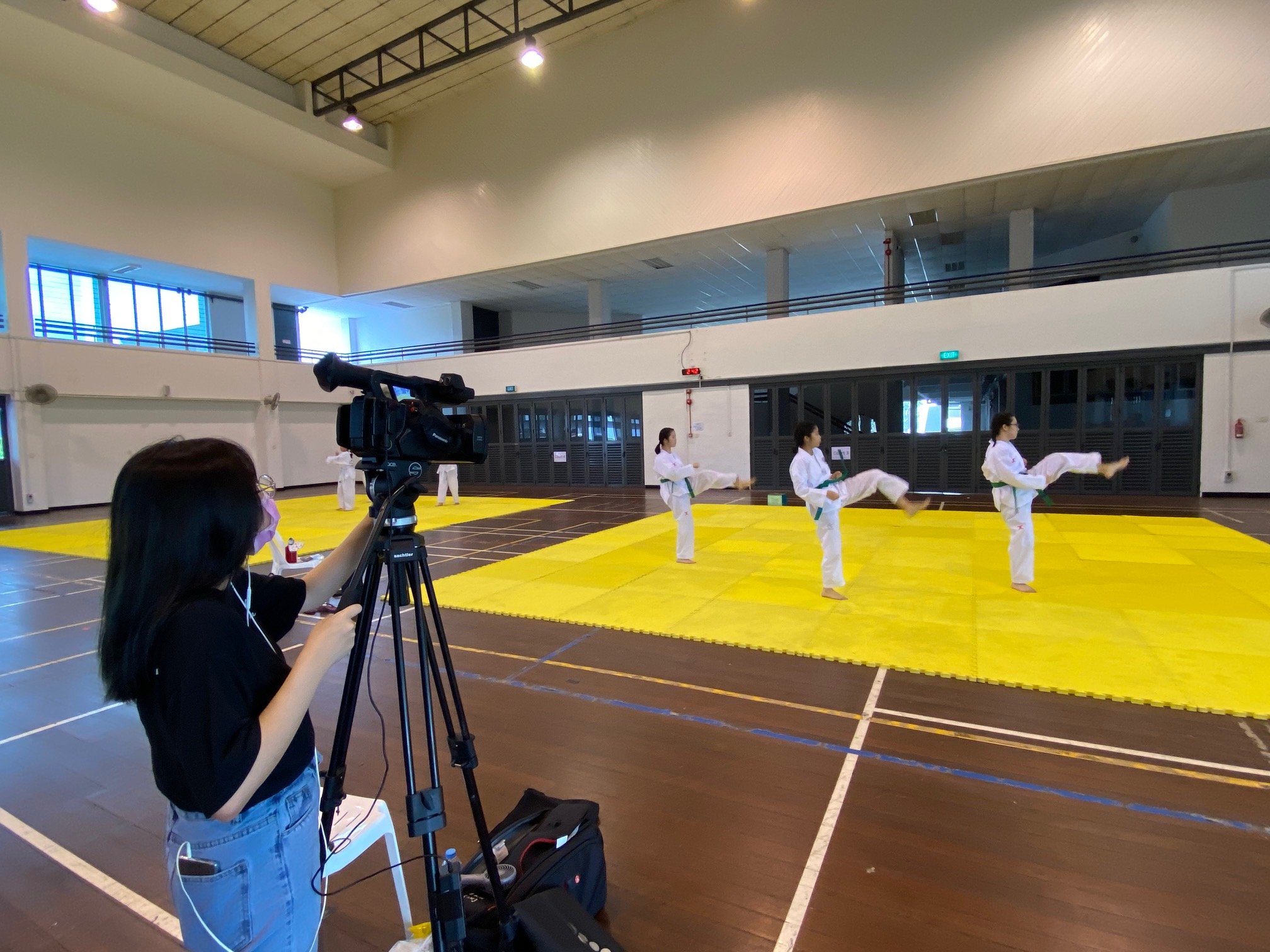 (Photo Credit : Chia Han Keong)
During the competition at the former Eunoia JC campus (in Mt Sinai, MOE), only one athlete or one team is allowed to execute the routines on each performance mat at any one time. They were led into the venue's indoor hall before taking their face masks off to do their routines, before exiting via a different door after they were done. The performances were recorded via video cameras for judging purposes.
Wushu
Similar to taekwondo's "poomsae" format, Wushu athletes are judged by how well they perform their martial techniques in their respective routines - whether it is with their bare hands or with weapons such as swords, spears and cudgels.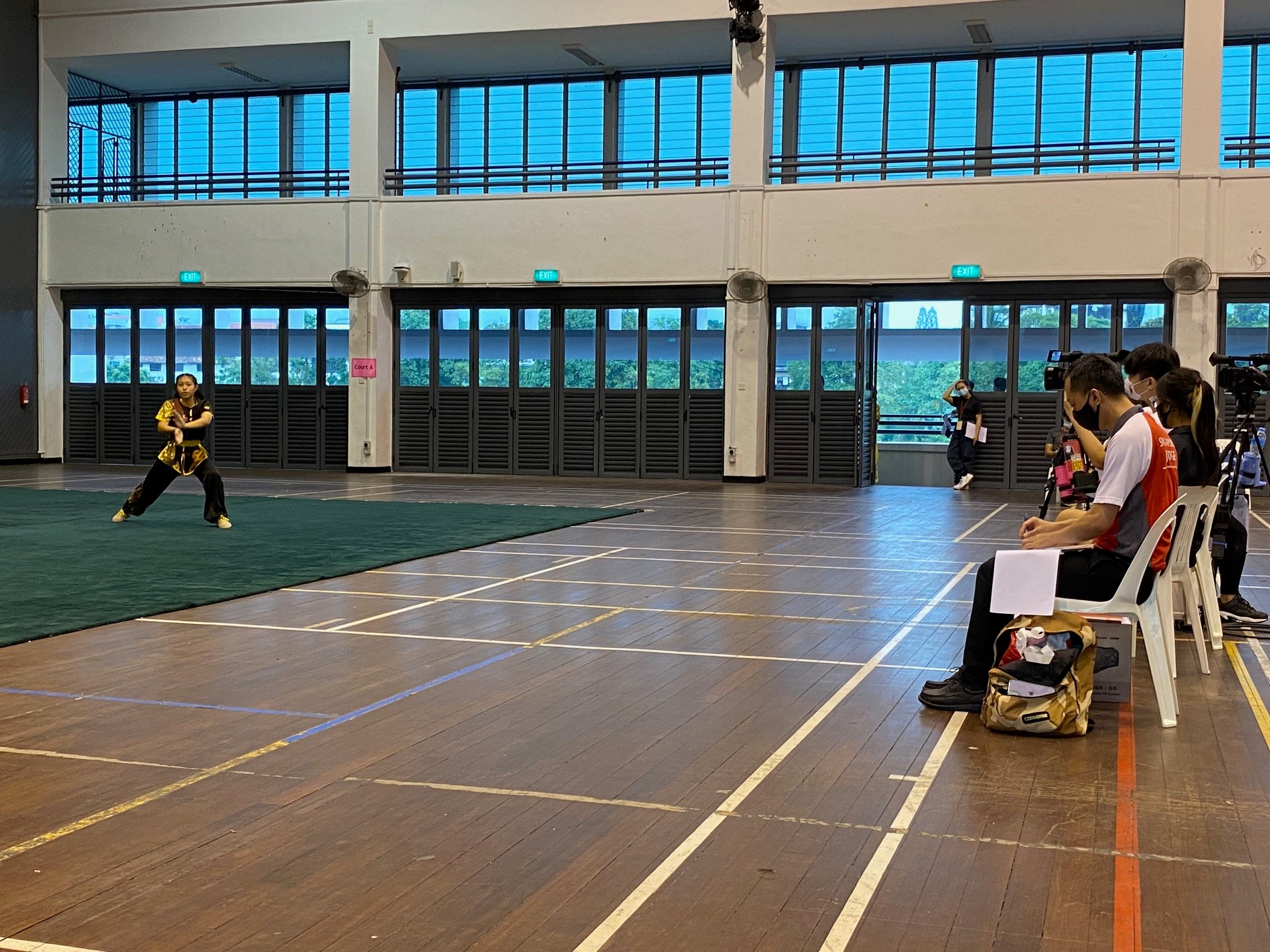 (Photo Credit : Chia Han Keong)
To ensure safe distancing, wushu athletes at this year's NSG were also led into the indoor hall before taking off their face masks to perform their strenuous routines on the performance mats. After their performances, they exited via a different door to ensure that social distancing was maintained. Their performances were filmed as judges would discuss and announce results in late May.
Rope-skipping
This sport was contested only in the Primary School Senior Division, with each participating school given a specific time slot for all their athletes to perform their skipping routines. Chairs and equipment were wiped with disinfectant after each school had completed its scheduled routines.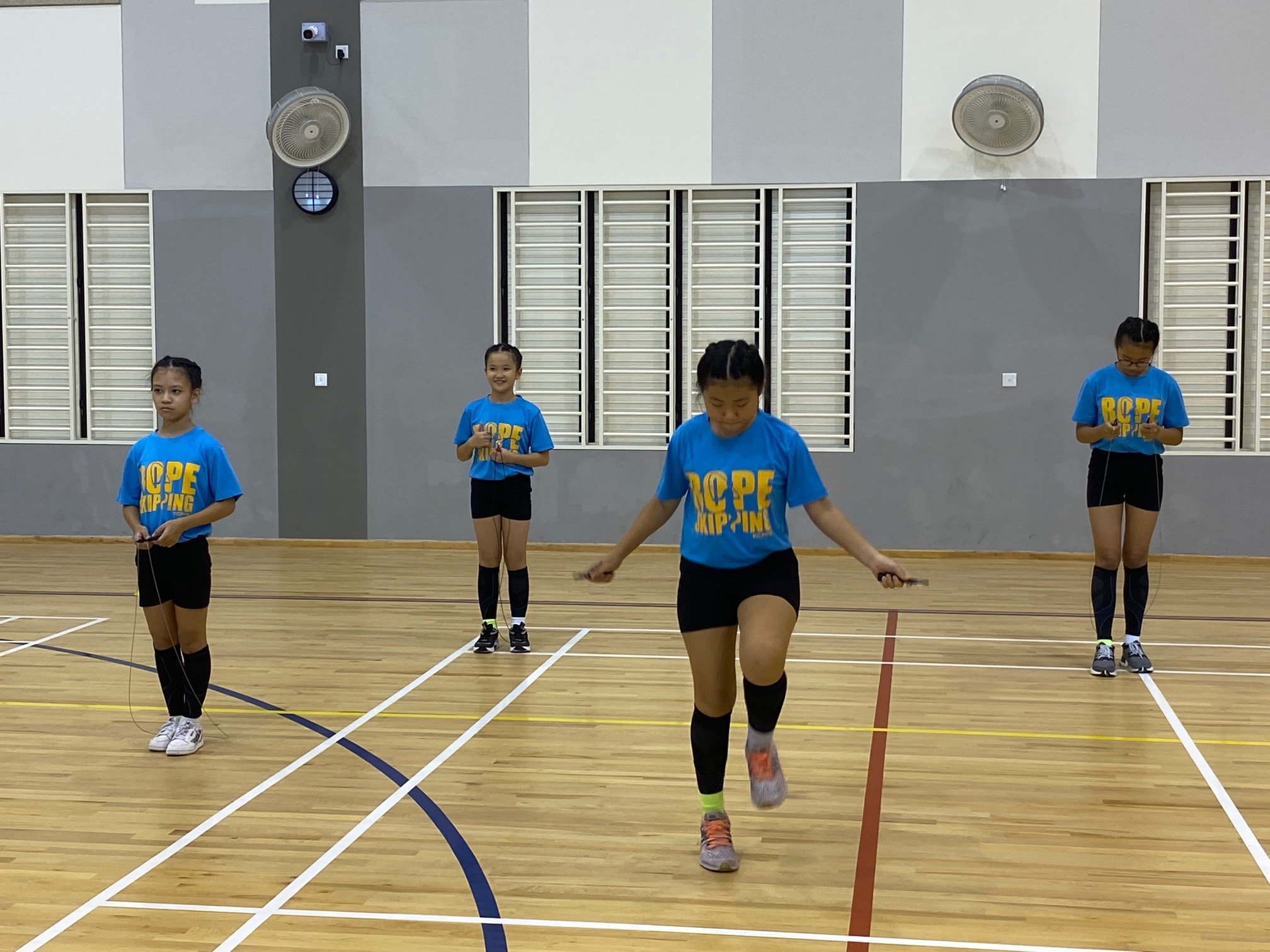 (Photo Credit : Chia Han Keong)
Similar to TKD, the student-athletes' routines were recorded by video cameras for future judging purposes, with the winners being announced to their schools only after the judging had been completed.
Gymnastics
Being a largely individual performance sport, gymnastics was able to hold most of its competitions in its artistic, rhythmic and trampoline disciplines. The key was to marshal the participating schools to perform at the stipulated time slots.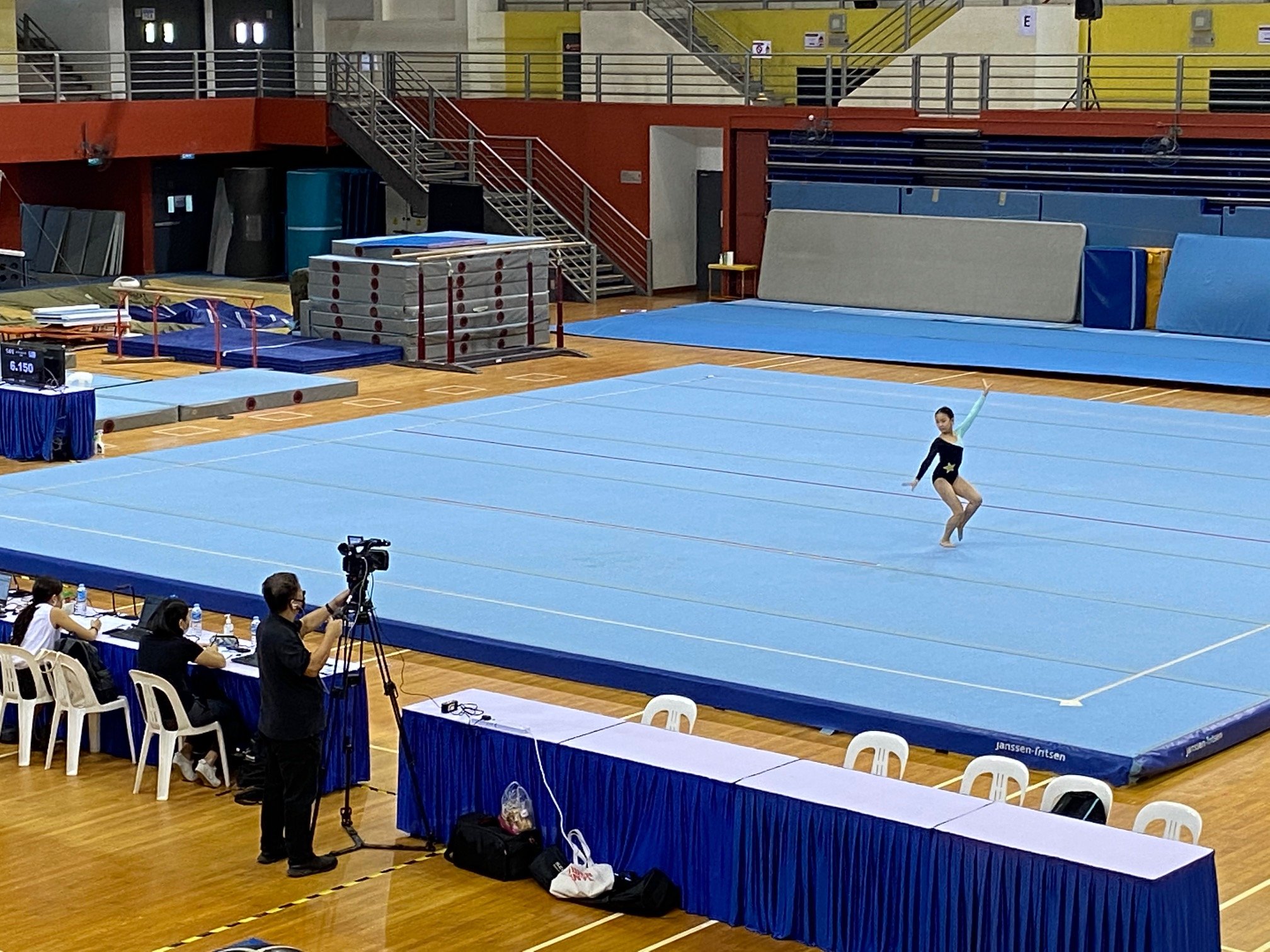 (Photo Credit : Chia Han Keong)
Each school team was given a corner of the Bishan Indoor Sports Hall as its holding area, and the gymnasts rotated through the various apparatuses to perform their routines. A row of judges were present to tabulate the scores, although the final results were announced only after all the schools had completed their performances.
Tennis
School teams were placed in different holding areas for safe distancing at the Kallang Squash And Tennis Centre. Matches were played on separate courts as much as possible.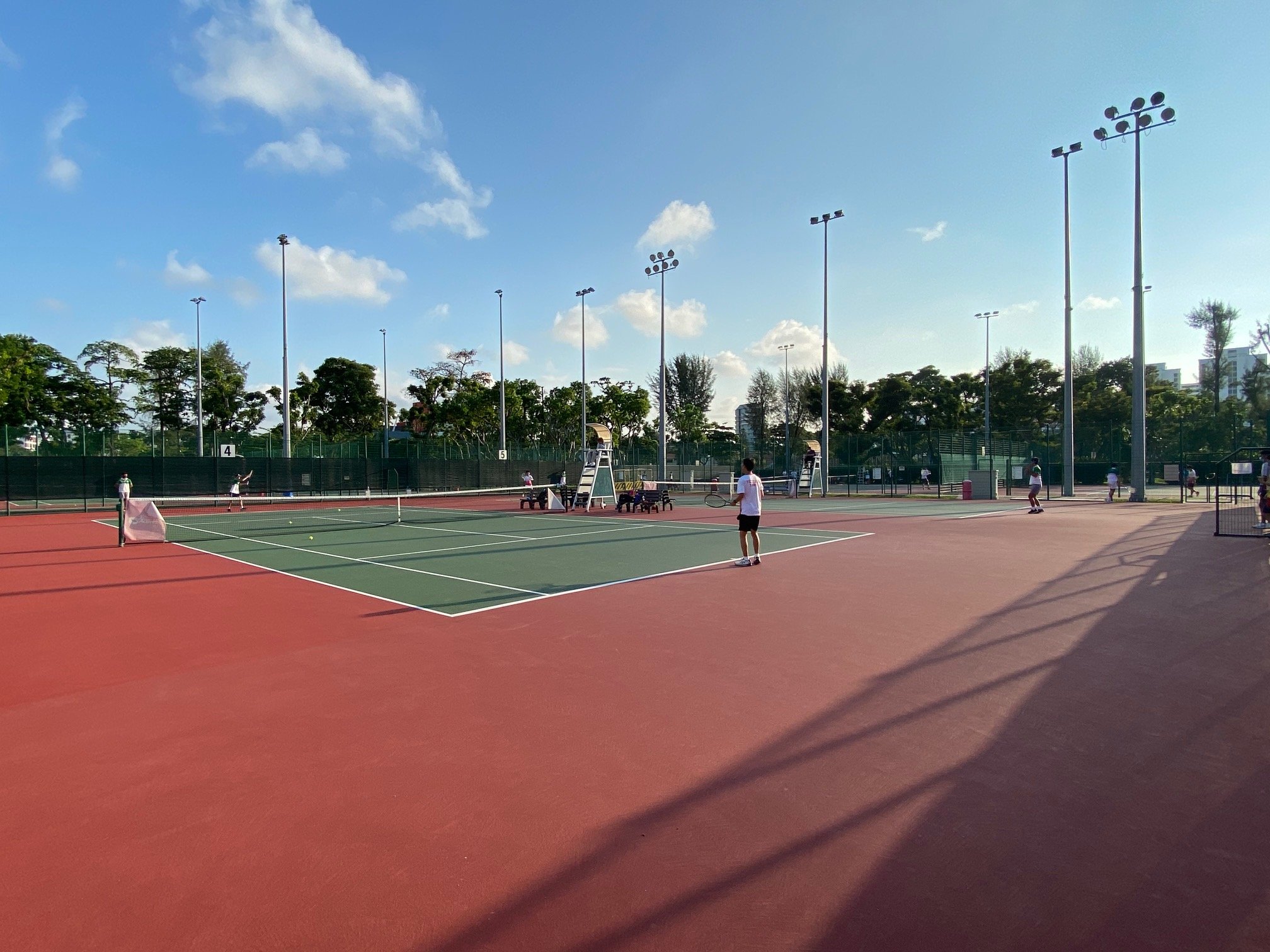 (Photo Credit : Chia Han Keong)
Due to strict SMM, the number of players, umpires, line judges and media personnel in each court was managed by the organisers. But despite the inability at certain times to be seated at the Grandstand to watch, the athletes and team-mates maintained a positive attitude throughout the competition.
Shooting
Transparent plastic barricades were set up at every shooting lane at the SAFRA Indoor Air Weapon Range (Yishun), while school teams were separated by a couple of unused lanes during the shooting competitions.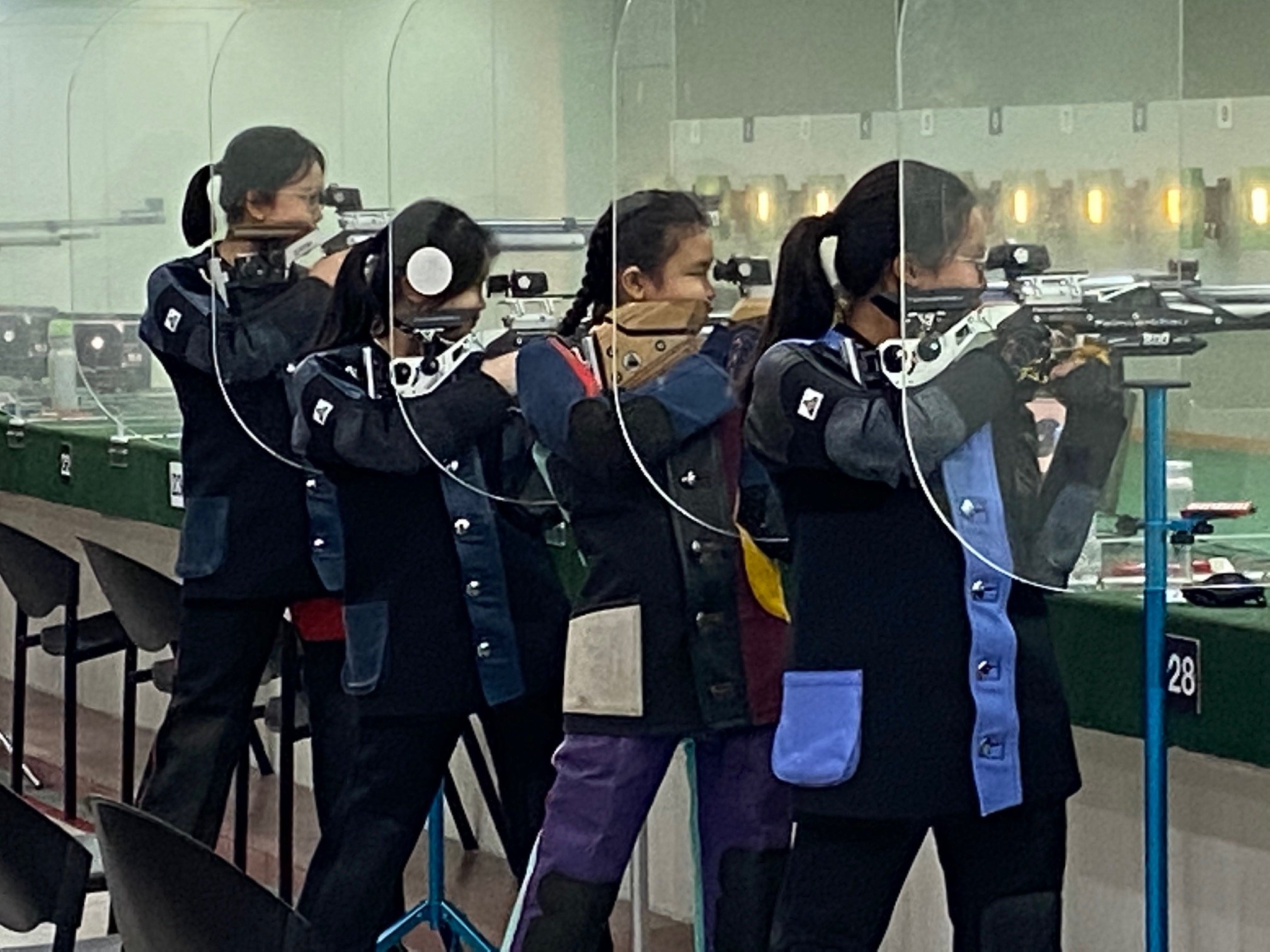 (Photo Credit : Chia Han Keong)
Schools were also given specific time slots to their shooters to compete, and the overall results were tabulated and announced after all schools had completed the competition.
Bowling
Bowling was the first sport to hold its finals during the NSG, as schools competed at designated lanes at the Temasek Club along Rifle Range Road. Bowlers had to wear their face masks at all times, while each team of two participants were allowed to bowl only on one lane and cannot cross lanes.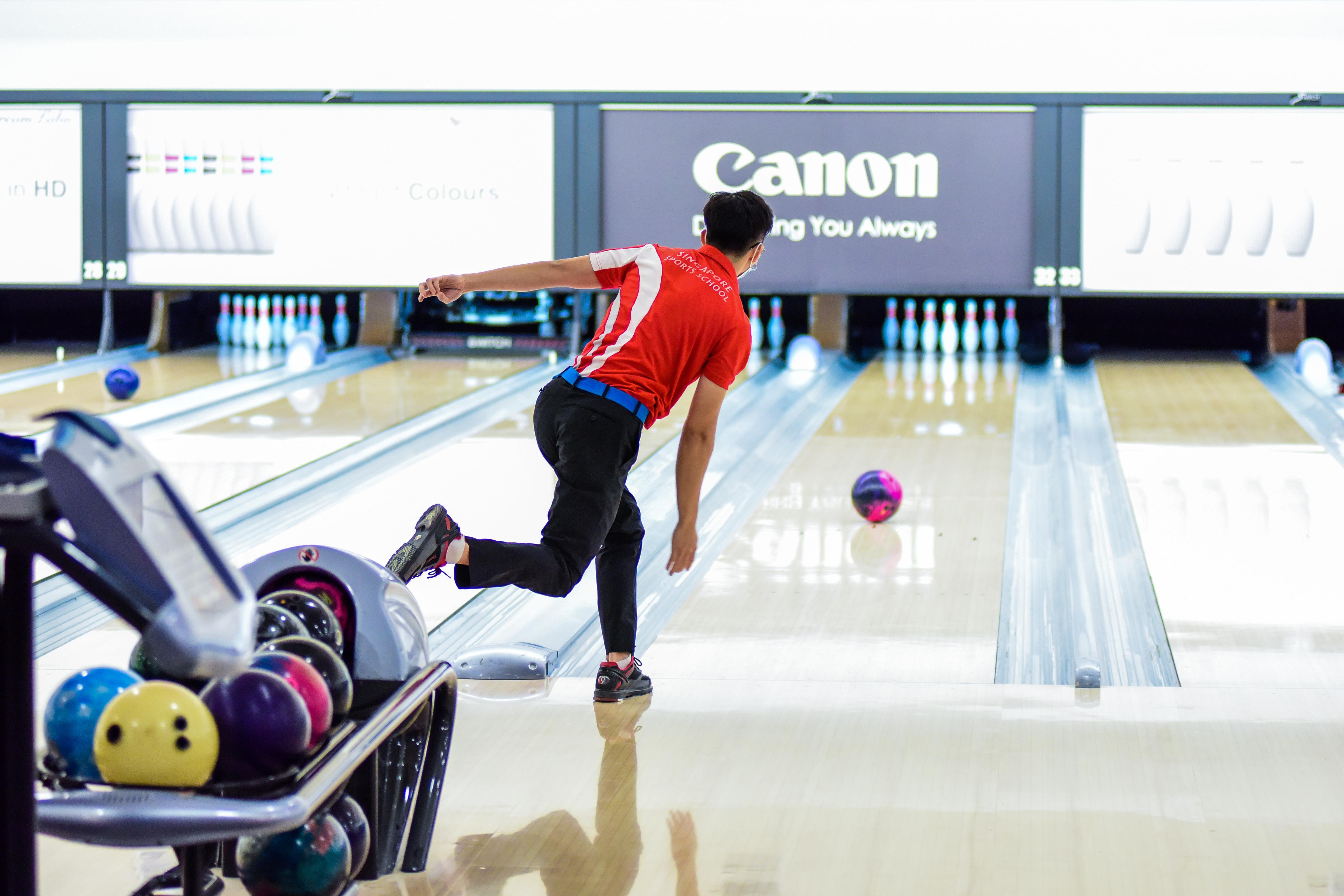 Golf
Golf had the advantage of being played outdoors in a wide-open golf course at Laguna National Golf And Country Club. Besides the regular safe-management measures of wearing masks and keeping a safe distance among the participants, student-golfers competed in groups of four at different tee-off times to ensure they were spaced out along the golf course.
All in all, it's been a truly unique experience covering the 2021 NSG. The SMM in place from the minute you first step into a school's competition venue, to the actual organisation of the various sports events, are certainly steps taken by MOE and Hosting Schools - should be applauded for their extensive planning and efforts taken, to ensure all parties remain safe at all times.
Additional reporting by Raj Kumar
Chia Han Keong is a freelance journalist who has covered both Singapore and international sports extensively for the past 18 years. He was the sports editor of bilingual tabloid My Paper, and has also worked for The Straits Times and Yahoo News Singapore. He has covered four SEA Games (2009, 2011, 2013, 2019), two Asian Games (2010, 2014) as well as the 2008 Beijing Summer Olympics. He counts himself as a massive Liverpool, LA Lakers and Rafael Nadal fan.
Related Events & Programmes