NSG Table Tennis : Hwa Chong Institution's Girls' team extend their unbeaten streak to 5 matches!
by Circle Stories, on May 4, 2021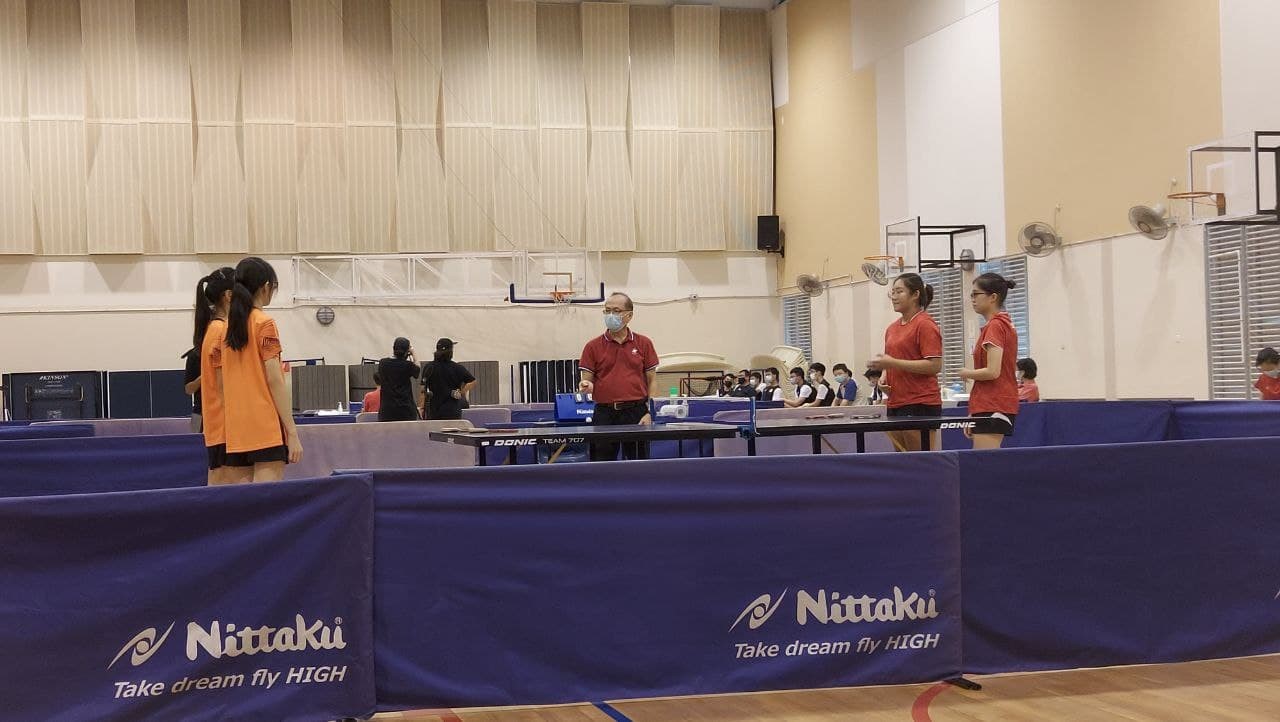 1st Doubles Round in the Quarter-Finals with Anderson-Serangoon Junior College (left) facing off against Hwa Chong Institution (Photo by Sherman Yong)
By Sherman Yong
Emerging from their respective preliminary groupings, the Girls table tennis teams from both Hwa Chong Institution (HCI) and Anderson-Serangoon Junior College (ASRJC) faced off against each other on Tuesday (5 May). There were palpable levels of excitement within the Indoor Sports Hall of Nan Chiau High School - where the quarter-finals was held - as both teams stole glances at the other prior to their matches. Voices of apprehension could be heard as players from both sides recognised former teammates and rivals from their secondary school days. And as the clock ticked down to their showdown, both teams hurriedly discussed their strategies and tuned into the briefings of their coaches.
Kicking off the QF tie, Hui Yee from ASRJC squared off against Eloise Tan from HCI in the first singles. Testing each other out, players from both teams exchanged bouts of backhands and returns in the initial sets - contributing to an even fight as both players attempted to gain the upper hand. Eventually, Eloise pulls ahead with a series of quick smashes that left Hui Yee dazzled. Their first round concluded with a decisive victory with 11-5 to Eloise from HCI.
Garnering herself together, Hui Yee attempted to refocus for the subsequent rounds. Yet, Eloise refused to grant any space and clamps down on the offense. The first singles concluded with a resounding victory for the HCI team as Eloise scored 11-6 and 11-3 to wrap up the match 3-0.
(For the latest schedules on live streams, news updates and stories, do check out our official website, National School Games 2021)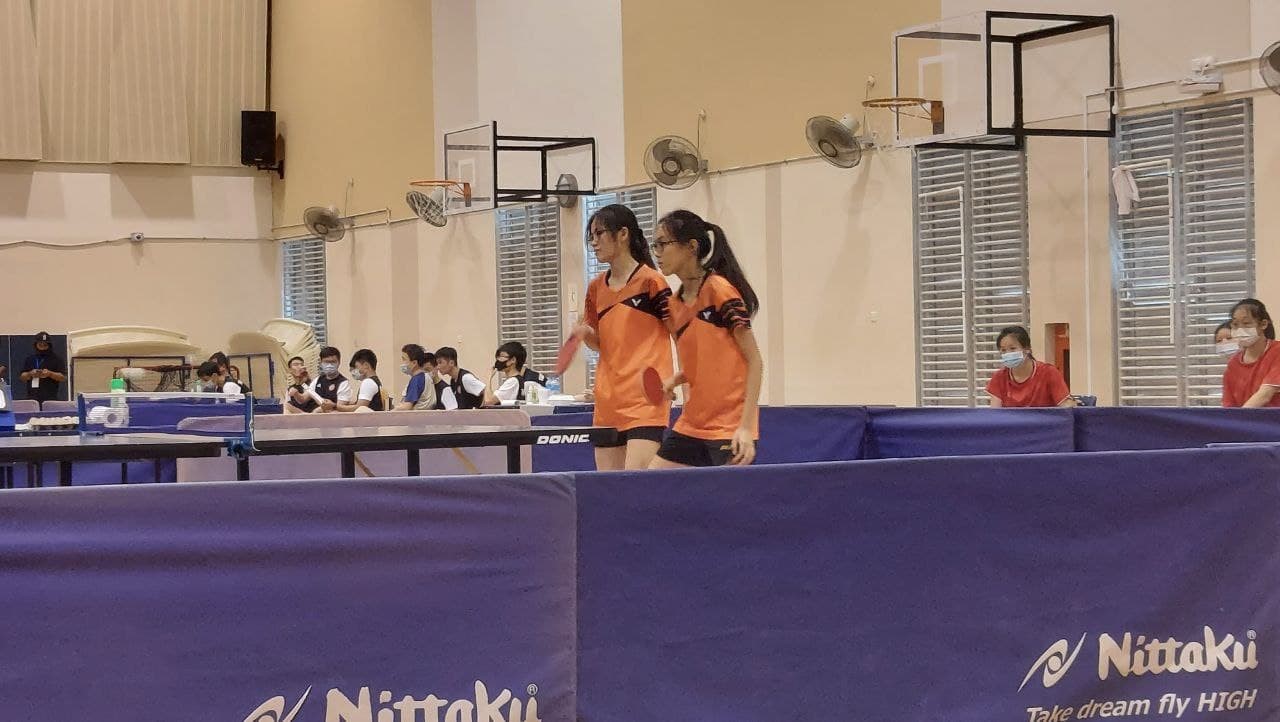 (Yeng Theng and Kathy from ASRJC during the 1st Doubles match. Photo by Sherman Yong)
Following up on Eloise's victory, HCI doubled-down on their momentum to secure their margin against ASRJC. Yet, the players from ASRJC was determined to fight tooth-and-nail for every possible point against their rivals. The first doubles match saw Ng Yi Hsuan and Cheng Luxia from HCI standing off against Yeng Theng and Kathy from ASRJC. Distinctly different from the prior Singles set, this match saw the ASRJC players gaining a significant head start against the Hwa Chong duos at the start - replying all of HCI's shots with grace and composure.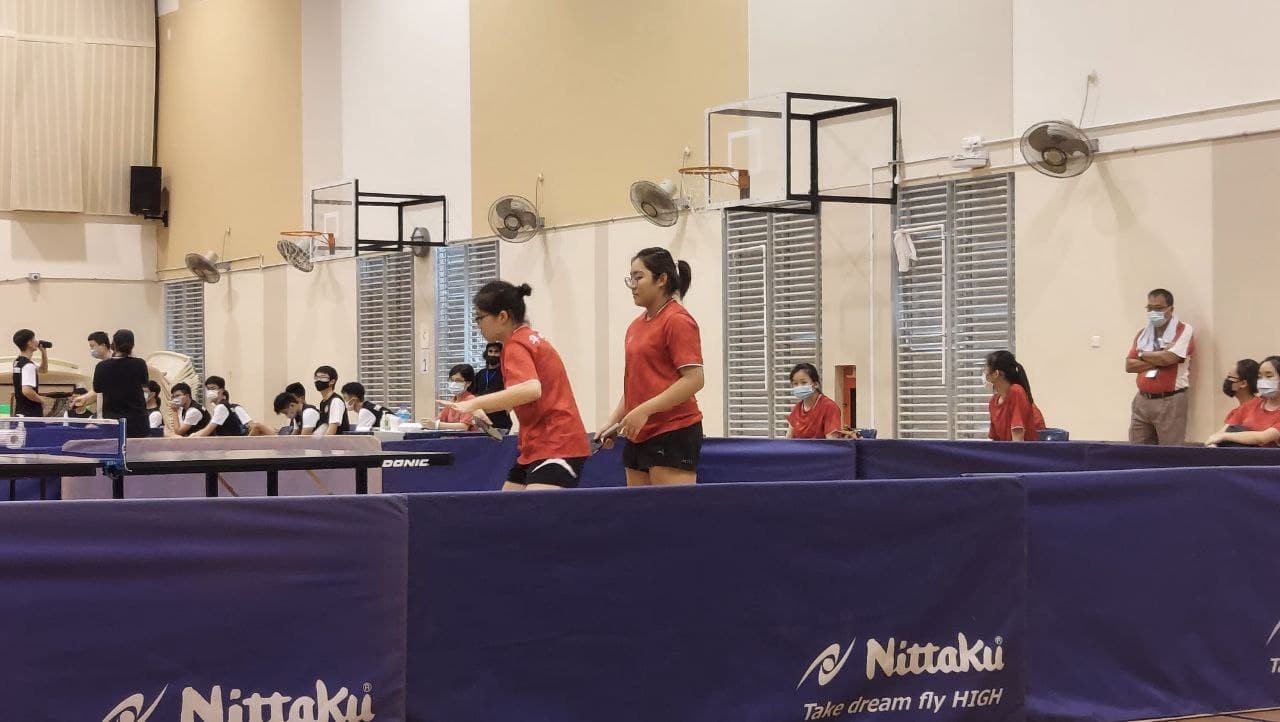 (Ng Yi Hsuan and Cheng Luxia from HCI. Photo by Sherman Yong)
The HCI players however, remained calm despite their initial losses and soon fell into a steady tempo with their defensive tactical play. Panicked returns were now replaced with confident smashes by the Hwa Chong players as they began picking the ASRJC duo apart. Mounting a successful comeback, the HCI girls further extended their domination with the final scores, 11-6, 11-9 and 11-5.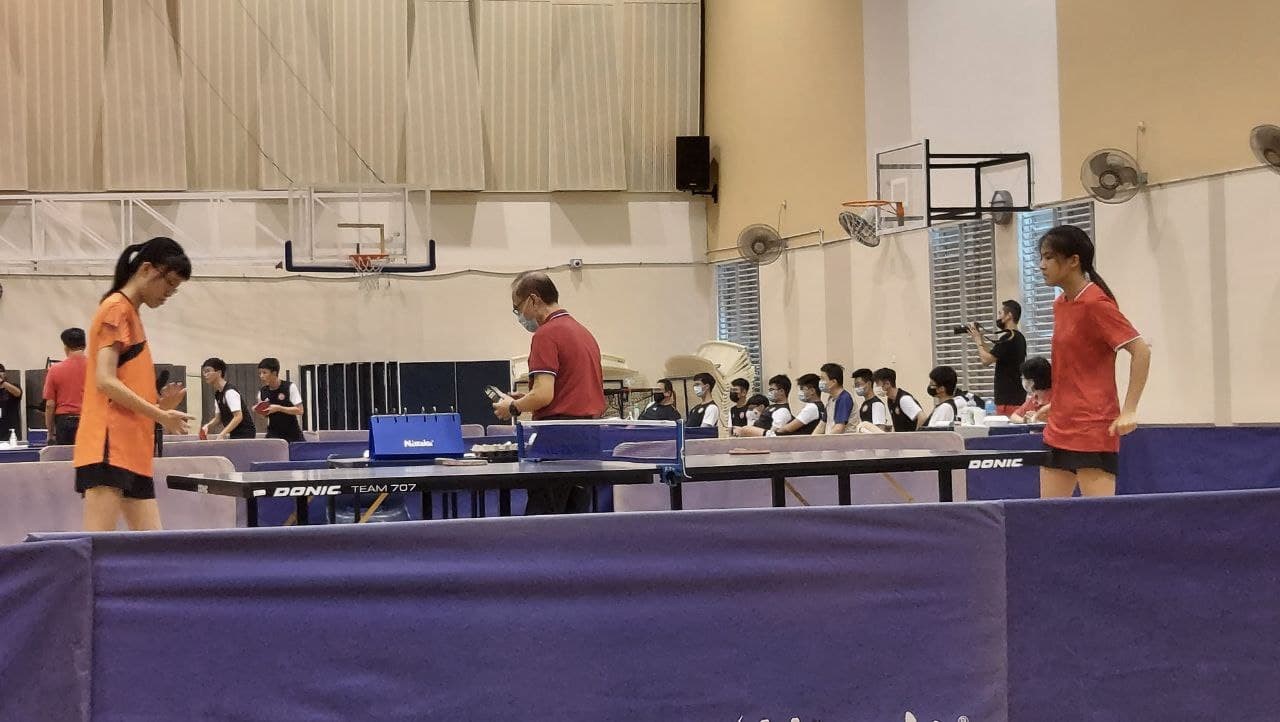 (ASRJC's Yien Sien squaring off against HCI's Sun Zihan in the 2nd Singles. Photo by Sherman Yong)
With a 2-0 overall lead by HCI, the pressure fell upon ASRJC's Yien Sian as she battled against HCI's Sun Zihan in the 2nd singles match. However, the Hwa Chong teenager proved just too much for Yien Sien to handle as she skillfully controlled the pacing of the game - making quick work of Yien Sien within their exchanges. And that allowed HCI to run away with a 11-3 , 11-2 and 11-2 victory.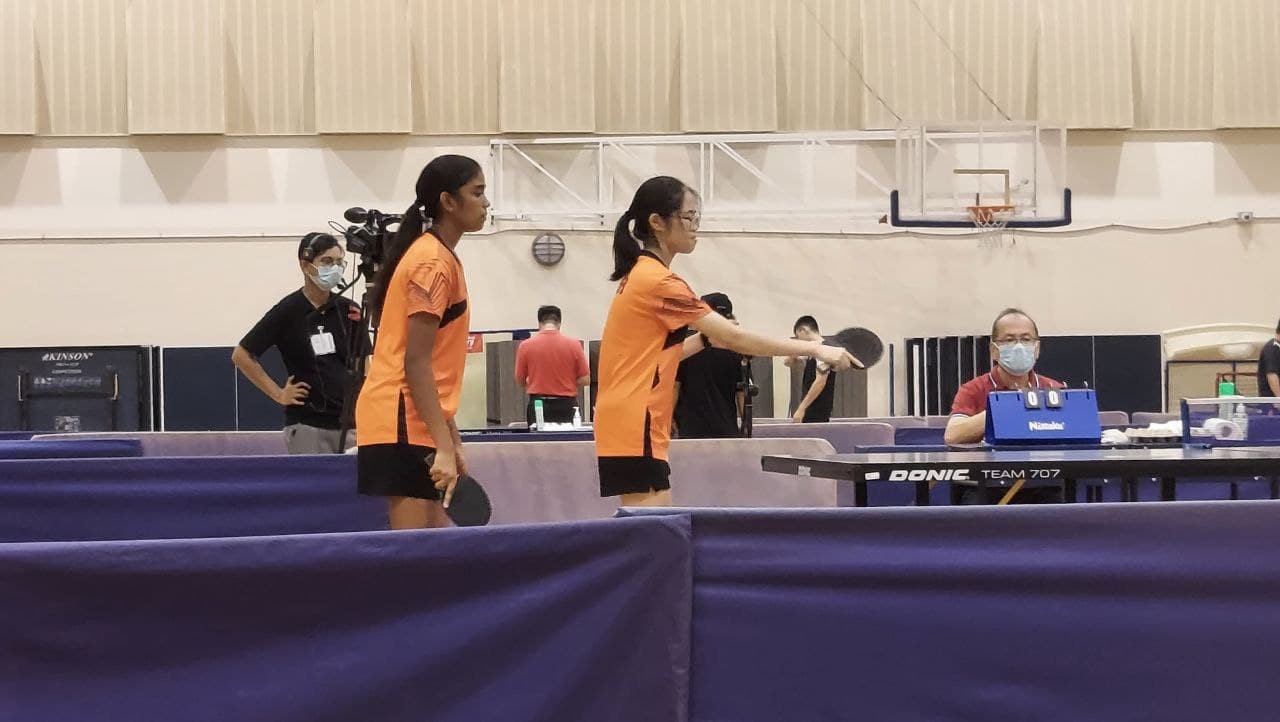 (Harini and Zi Ying from ASRJC against HCI during the 2nd Doubles. Photo by Sherman Yong)
Despite their 0-3 defeat, ASRJC still showed commendable courage and sportsmanship towards their opponents from HCI. ASRJC players Harini and Zi Ying went on to confront Glenda Teo and Yang Chenxi from HCI in their 2nd doubles matchup. This proved to be an exciting match, as the ASRJC duo established an initial lead against their opponents with practiced teamwork and determination. Yet, the HCI players were able to re-organize their defenses quickly and evened out their initial setbacks - leading to a hard-fought, but well-earned victory against the ASRJC duo with 11-8, 11-5 and 11-3 scores respectively.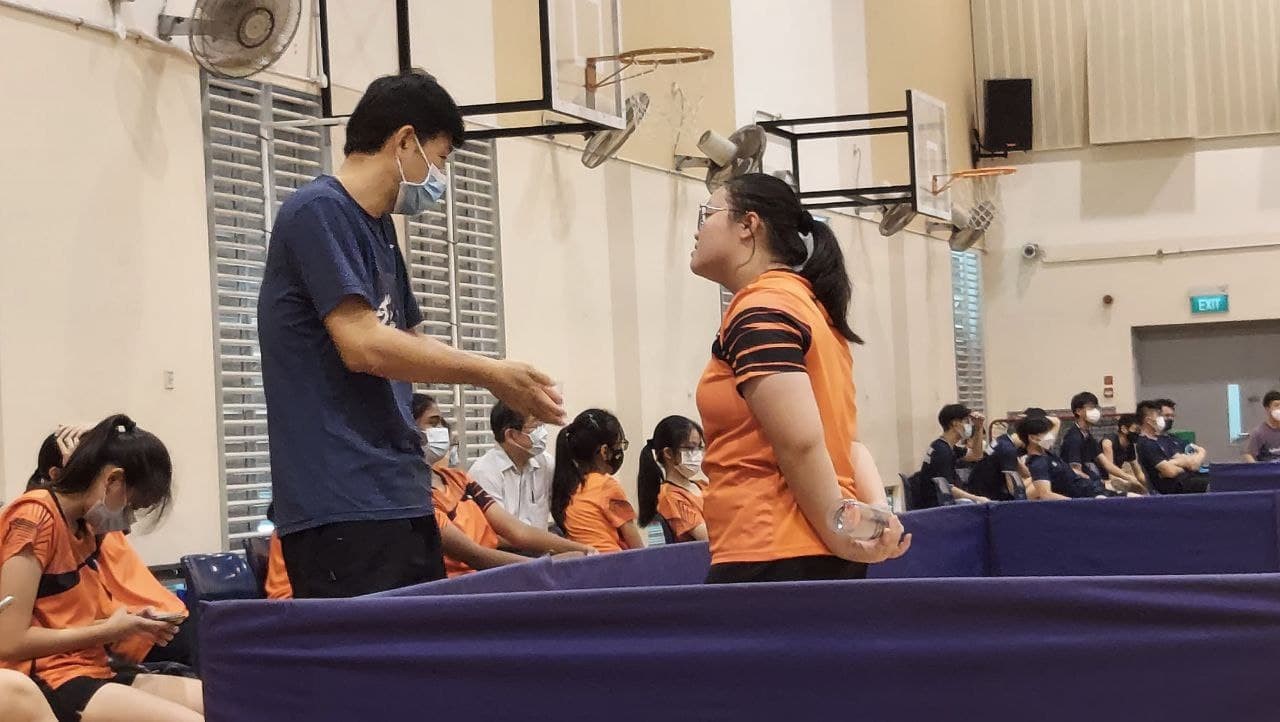 (ASRJC's coach having a pep-talk with Kai Lin in between the final match. Photo by Sherman Yong)
Leading 4-0 overall and already secured 2 points for the win, HCI was represented by Sera Ang in the 3rd Singles match. And it was on the shoulders of Kai Lin to prevent her college from going down in a clean sweep. But while the ASRJC player proved herself to be a worthy opponent with an even match initially, the promise to deny HCI from a clean victory, soon dwindled as Sera mustered together a counter-offensive that placed her ahead significantly. The tables soon turned against Kai Lin as she found herself pressured constantly with consecutive smashes from Sera. Unable to keep up with HCI's unrelenting barrage of assault, the ASRJC player soon concedes defeat to her opponent with an 11-3, 11-2 and 11-3 in the final matchup.
When approached for comments on the ASRJC's performance thus far, Mr Lau Haw Ping (Teacher-in-charge for ASRJC) replied that 2021 has been an eventful year for them regardless of their results. Particularly, ASRJC's table tennis team is grateful that NSG 2021 is happening despite COVID-19 developments. Simultaneously, he hopes that the school's players will treasure every moment that they have on the court and enjoy themselves throughout NSG 2021.


Kudos to the players from both HCI and ASRJC. It was a good match with displays of sportsmanship and skills during the quarter-finals, and we look forward to more to come! HCI, with the victory over ASRJC, also means that they've not dropped a single set in all 5 matches of this year's campaign.
Sherman is currently in his final year at the National University of Singapore. He had occasionally dabbled in sports such as Handball and Touch Rugby during his freshman days, but unfortunately he wasn't very good at it. Apart from keeping up with sports news, Sherman likes to dance and listen to music during his free time. If he's not cooped up at home thinking of the next potential story to write, you'll most likely see him around in vacant car parks practicing his dance moves. For what purpose? He does not know.