NSG Taekwondo : Punches, kicks and shouts as TKD athletes perform their best routines on camera!
by Circle Stories, on May 4, 2021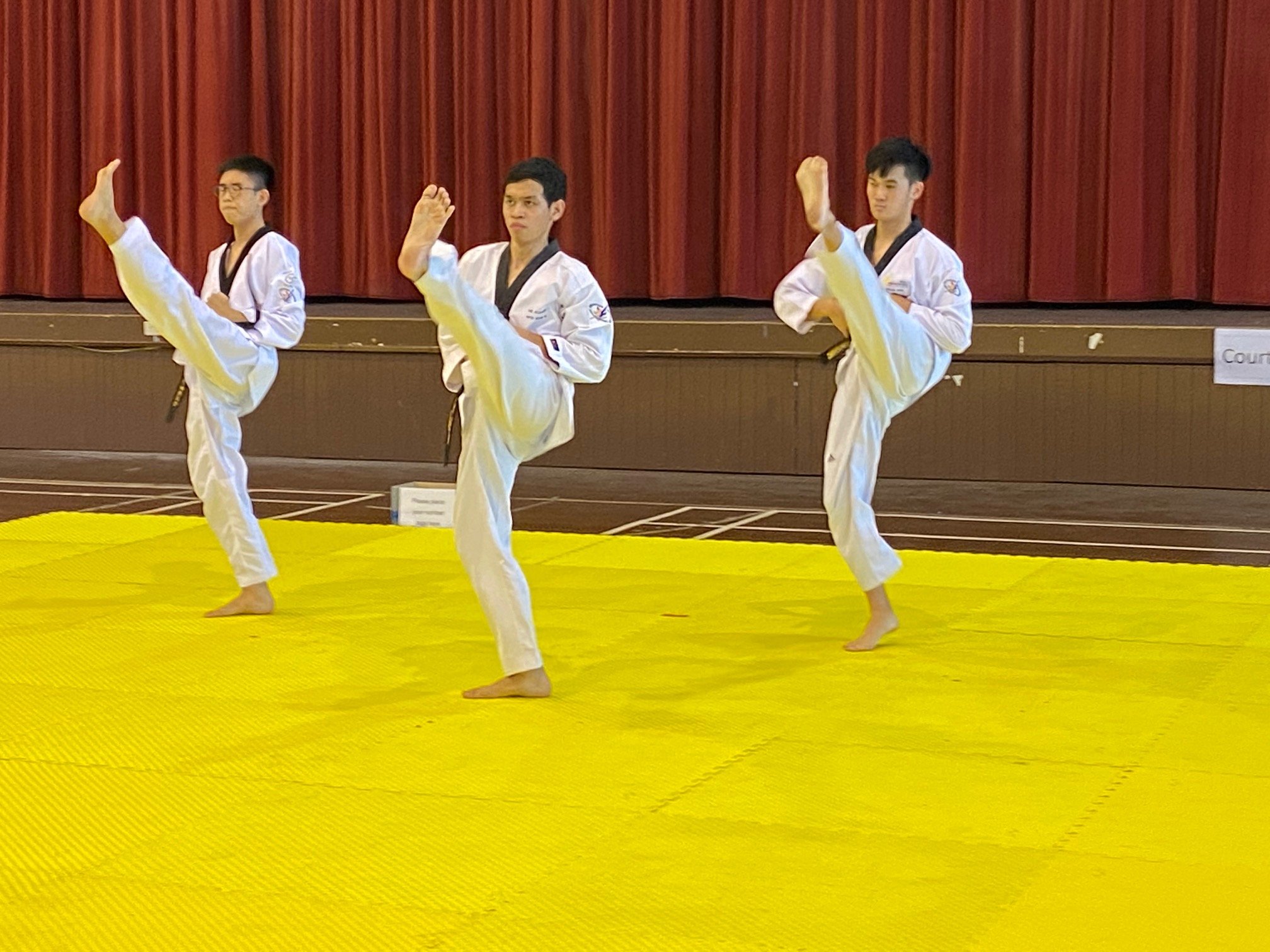 (Photo by Chia Han Keong)
By Chia Han Keong
The usually-deserted former campus of Raffles Junior College along Ghim Moh Road was a bustle of activity on Tuesday (4 May), with loud roars from the indoor hall occasionally piercing the quietness of the area.
This was because the campus is the venue for the National School Games (NSG) Taekwondo (TKD) competition since last week, and each participating school was given an allotted schedule for their student-athletes to perform their "poomsae" routines - a prearranged sequence of martial techniques for each colour of the taekwondo belt.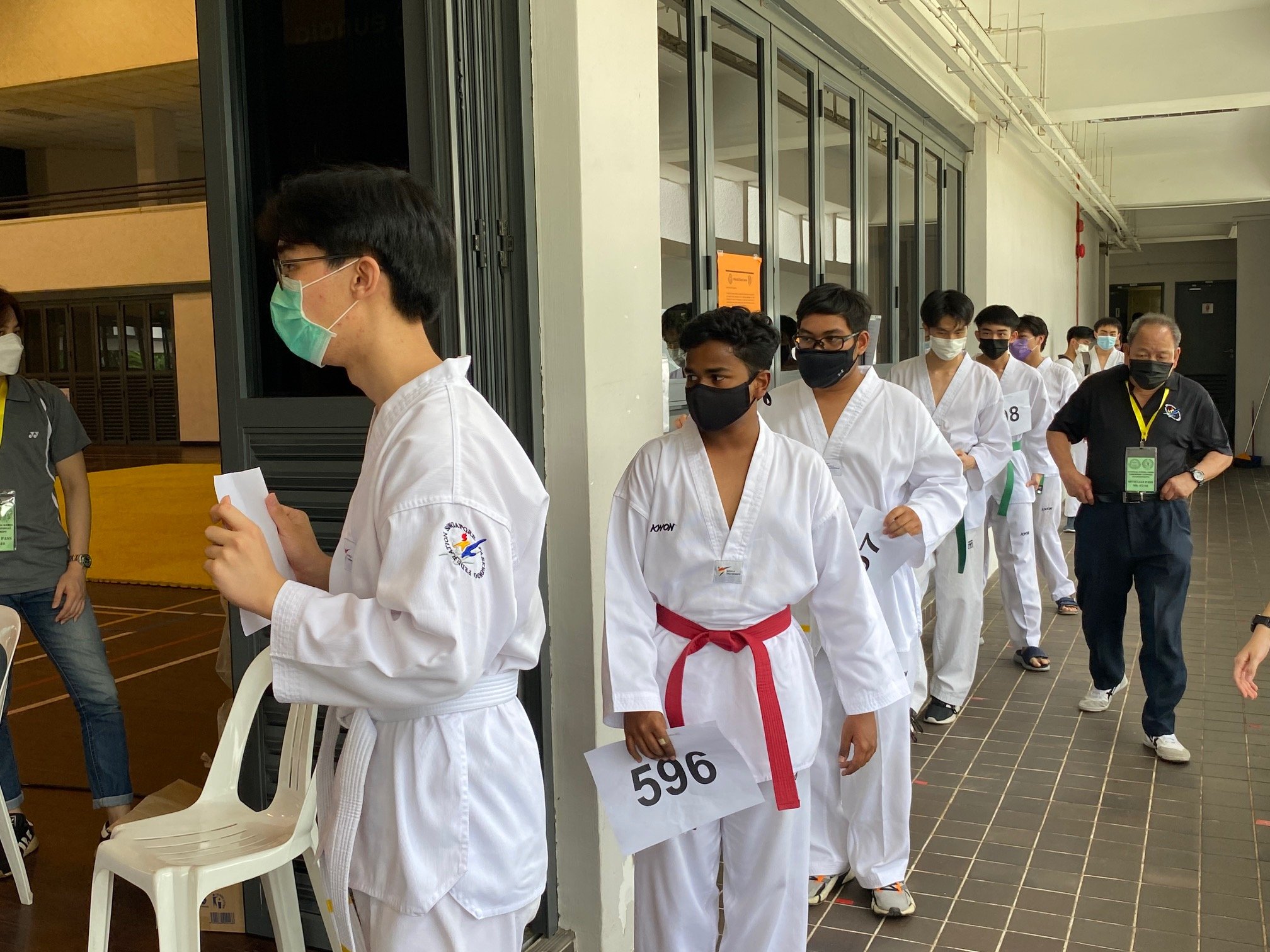 (Photo by Chia Han Keong)
On Tuesday's 1pm time slot, it was for four A Division teams: Catholic JC, Jurong Pioneer JC, Victoria JC and Yishun Innova JC. The athletes, clad in their white taekwondo gear, queued up with their number tags outside the hall, as they nervously waited for their turn to perform their routines. One unfortunate student suffered a bout of dizziness and breathlessness, and had to be tended to by the on-site medics.
(For the latest schedules on live streams, news updates and stories, do check out our official website, National School Games 2021)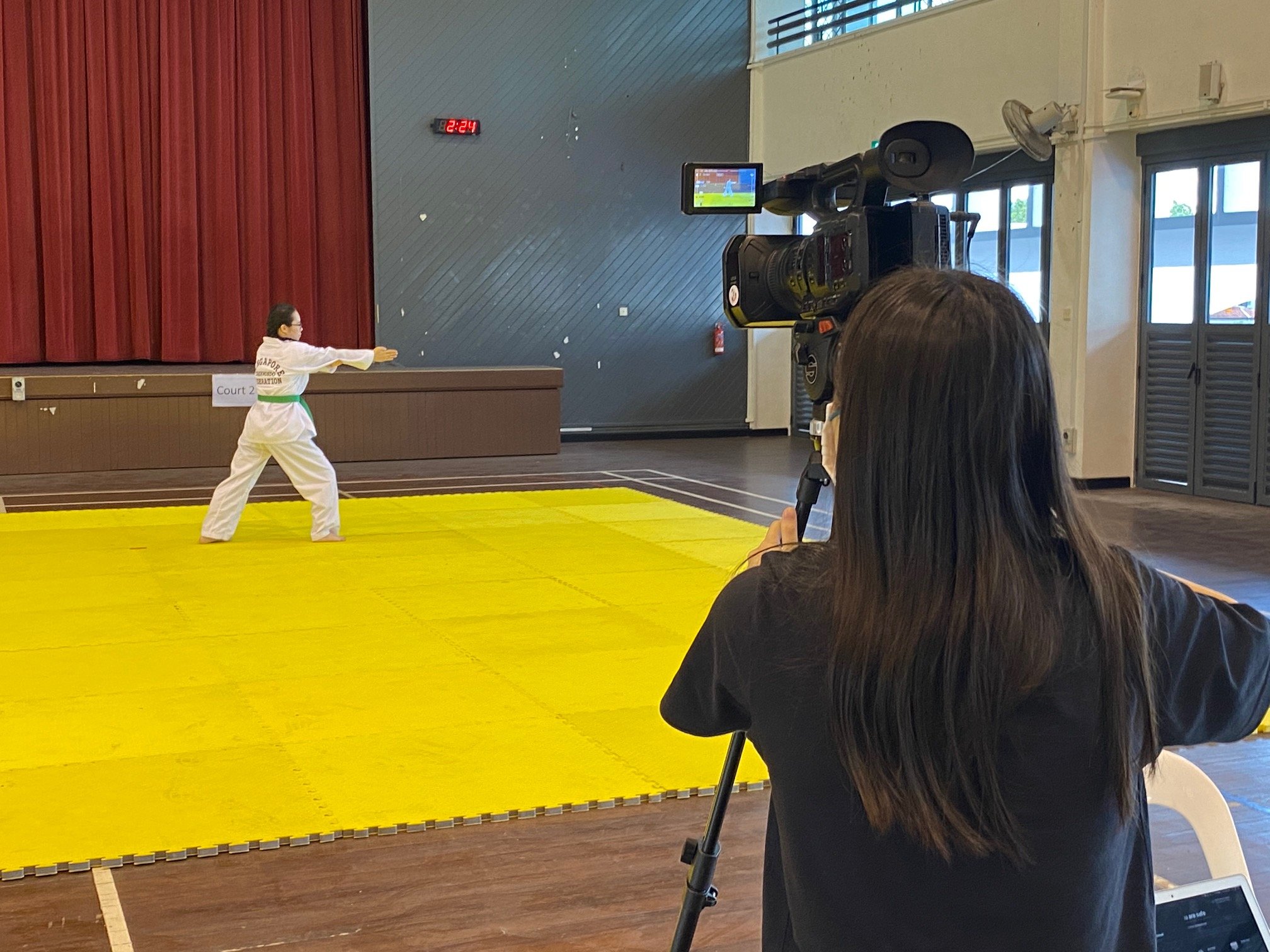 (Photo by Chia Han Keong)
With four performance mats laid out in the hall, the young athletes were allowed to enter in groups of four, each occupying a mat while video cameras would record their routines for the judges to rate at a later date. And after they took their traditional bows, TKD instructors gave the cue for them to begin their routines. These athletes proceeded to perform punches, kicks and blocks, occasionally punctuating their routines with loud guttural roars. The routines seemed second nature to these youngsters; most of them completed their complicated routines without much trouble, although one of them did fumble her routine and had to restart.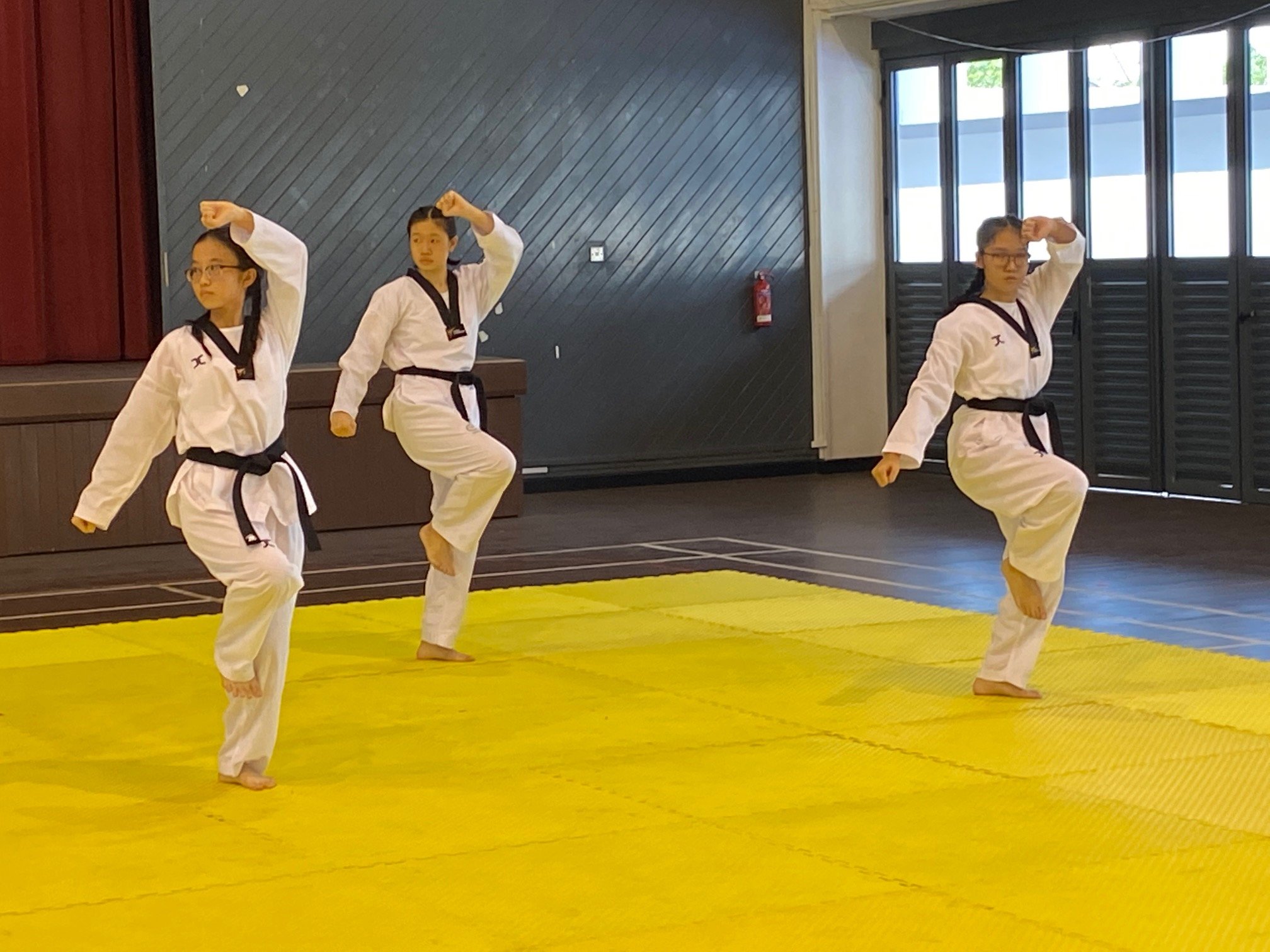 (Photo by Chia Han Keong)
As the competition was split into different categories according to the athletes' belt level, the routines got more complicated and demanding for the higher-ranked taekwondo exponent. For the lowest white-belt level, the punches and kicks were basic, and the routine was short. Meanwhile, for those with black belts, the routines required them to demonstrate jumping kicks, intricate arm blocks and deft balancing on one leg -- techniques that can only be honed through years of training.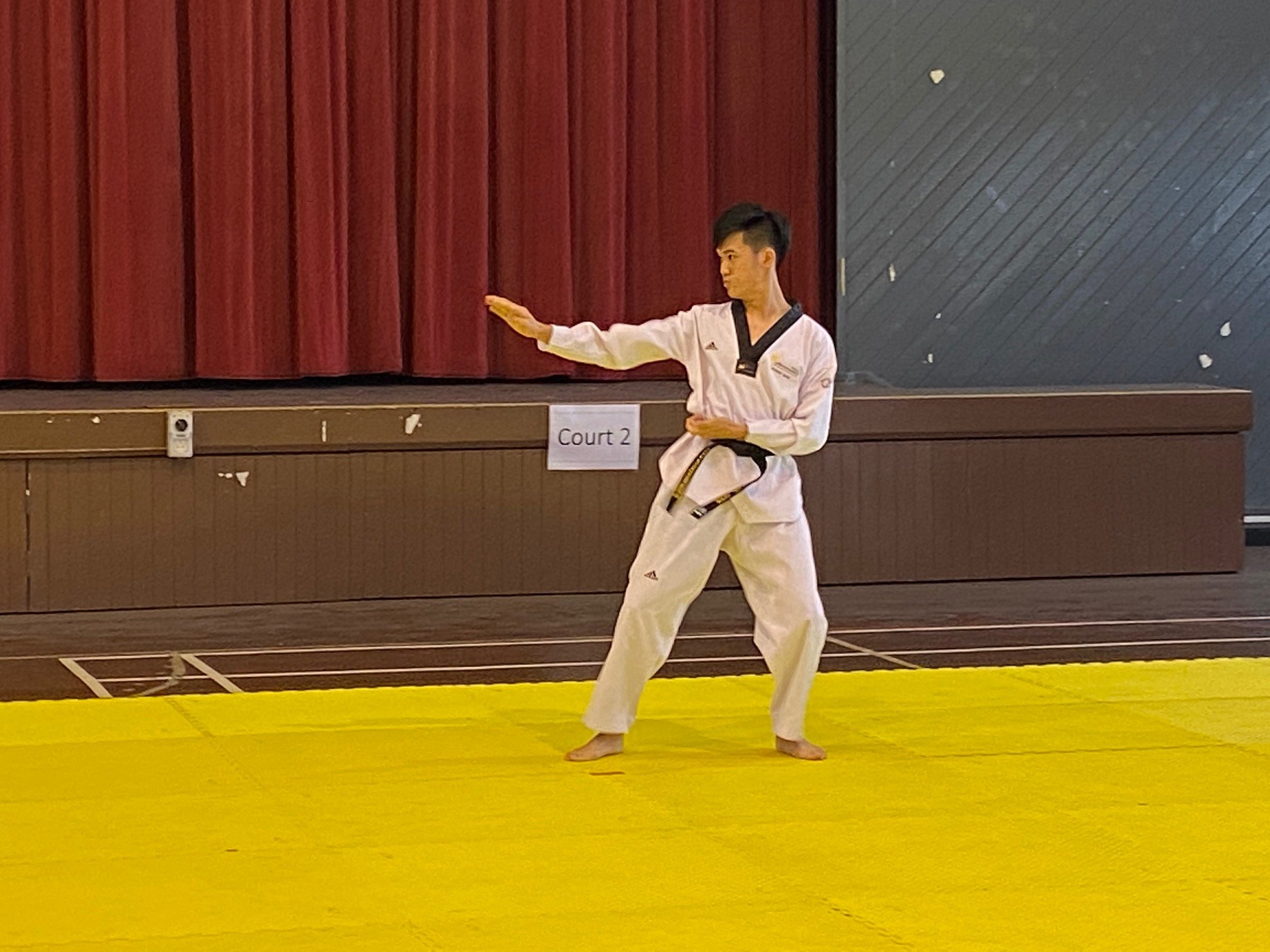 (Photo by Chia Han Keong)
Even among those white-belt exponents, the key was to perform each routine with gusto and accuracy. With their school coaches watching anxiously on the side of the courts, the athletes tried to execute crisp punches and aggressive kicks. Those who could do so while maintaining their balance and poise would earn approving looks from their coaches.
Besides the individual categories, there were also corresponding team competitions for trios. Essentially, the teams would perform the same poomsae routine, with the added requirement that they have to perform in sync with one another.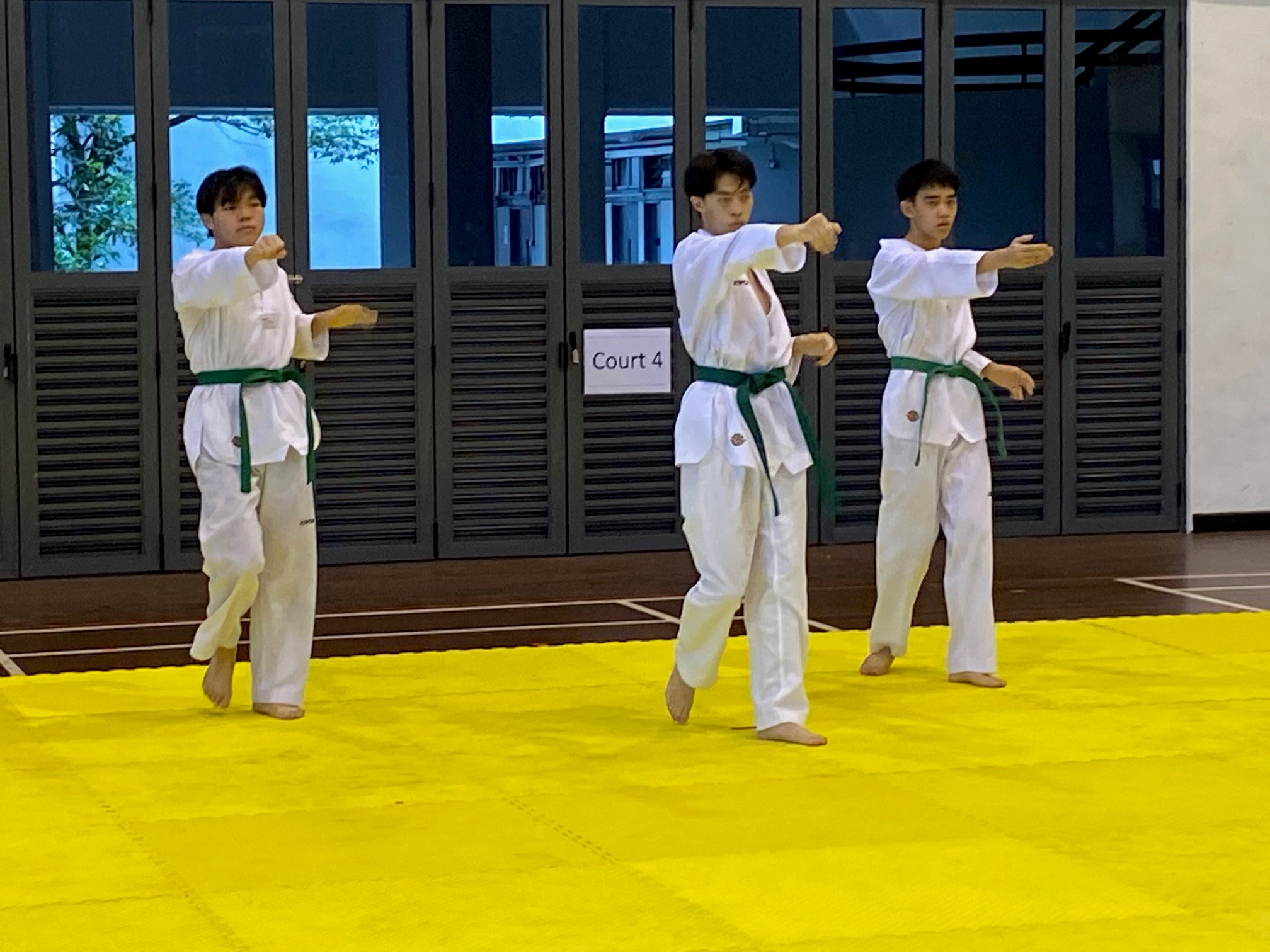 (Photo by Chia Han Keong)
This meant each team needing to find a rhythm to their routine for all three participants to perform. Some teams did this immaculately -- all three athletes punched and kicked in unison, wowing the handful of onlookers and officials in the venue. Others were less coordinated, and one team even had a member leaving the performance area before being given the all-clear to do so.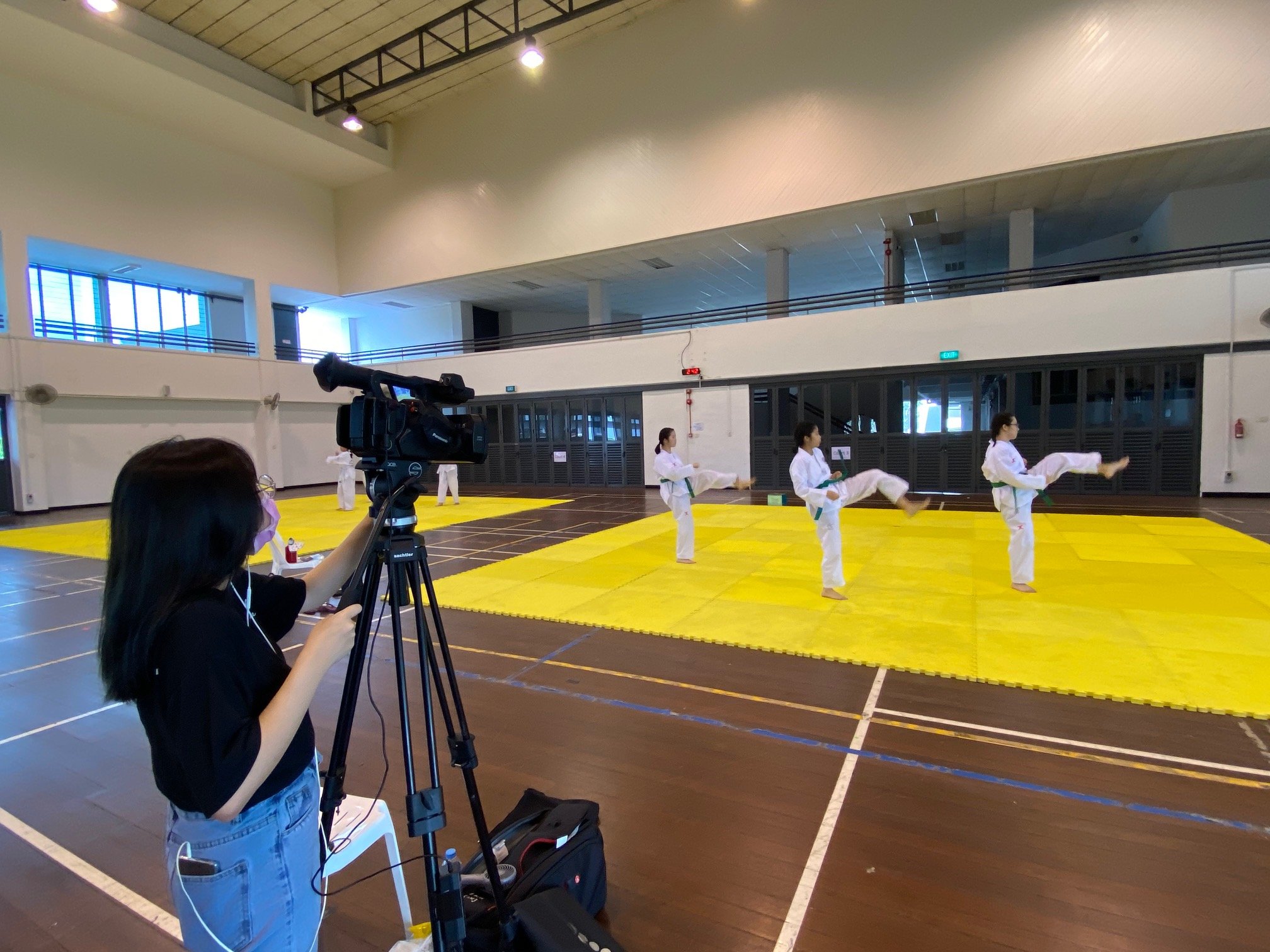 (Photo by Chia Han Keong)
Still, all the student-athletes tried their very best to perform their most eye-catching routines for the video cameras. Even the ailing student insisted on trying to perform her routine, before being advised by the officials and coaches to prioritise her health and rest. While the results would not be announced after all the schools have completed their events, it has nonetheless been a memorable afternoon for these young taekwondo enthusiasts, as they got to apply what they have trained for years for a competitive undertaking where they could bring honour and trophies to their schools.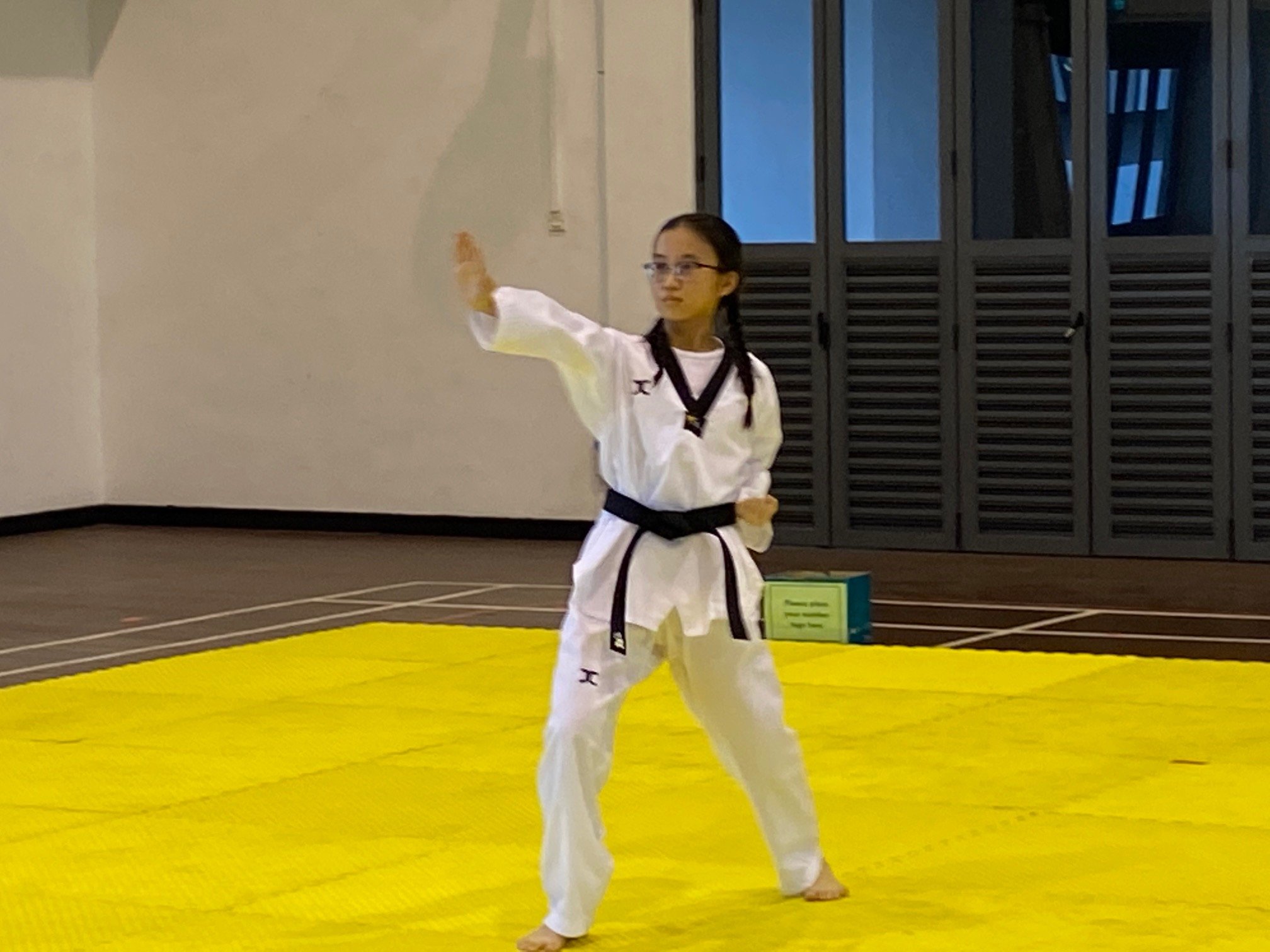 (Photo by Chia Han Keong)
Chia Han Keong is a freelance journalist who has covered both Singapore and international sports extensively for the past 18 years. He was the sports editor of bilingual tabloid My Paper, and has also worked for The Straits Times and Yahoo News Singapore. He has covered four SEA Games (2009, 2011, 2013, 2019), two Asian Games (2010, 2014) as well as the 2008 Beijing Summer Olympics. He counts himself as a massive Liverpool, LA Lakers and Rafael Nadal fan.
Related Events & Programmes