Positive signs despite No Olympic 'A' cuts at Liberty Insurance 51st SNAG Major Games Qualifier
by Circle Stories, on March 21, 2021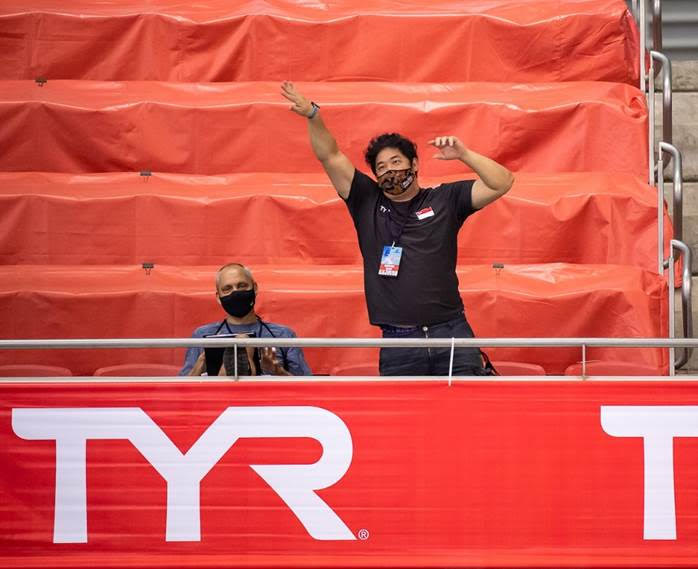 Stephan Widmer (National Head Coach and Performance Director) and Gary Tan (National Training Centre Head Coach) during the Liberty Insurance 51st SNAG Major Games Qualifier. (Photo: Andy Chua/SSA)
21 March 2021- The Liberty Insurance 51st SNAG Major Games Qualifier concluded on Sunday evening at the OCBC Aquatic Centre, but Singapore's swimmers were unable to meet the Olympic "A" Cut marks in their respective events at the end of the five-day meet.
Jonathan Tan, Teong Tzen Wei, Mikkel Lee all met the Olympic Games 'B" cut in the Men's 50m Freestyle, along with Pang Sheng Jun in the Men's 200m Individual Medley (IM).
National record holder Tan, 19, of AquaTech Swimming (ATS), touched the wall first in a time of 22.41s in the Men's 50m Freestyle, with Mikkel Lee of Chinese Swimming Club (CSC) close behind in 22.62s, and 2017 SEA Games Champion Teong Tzen Wei, also of ATS, third in 22.66s. Tan, Lee and Teong also sealed their places in the year-end SEA Games in Hanoi.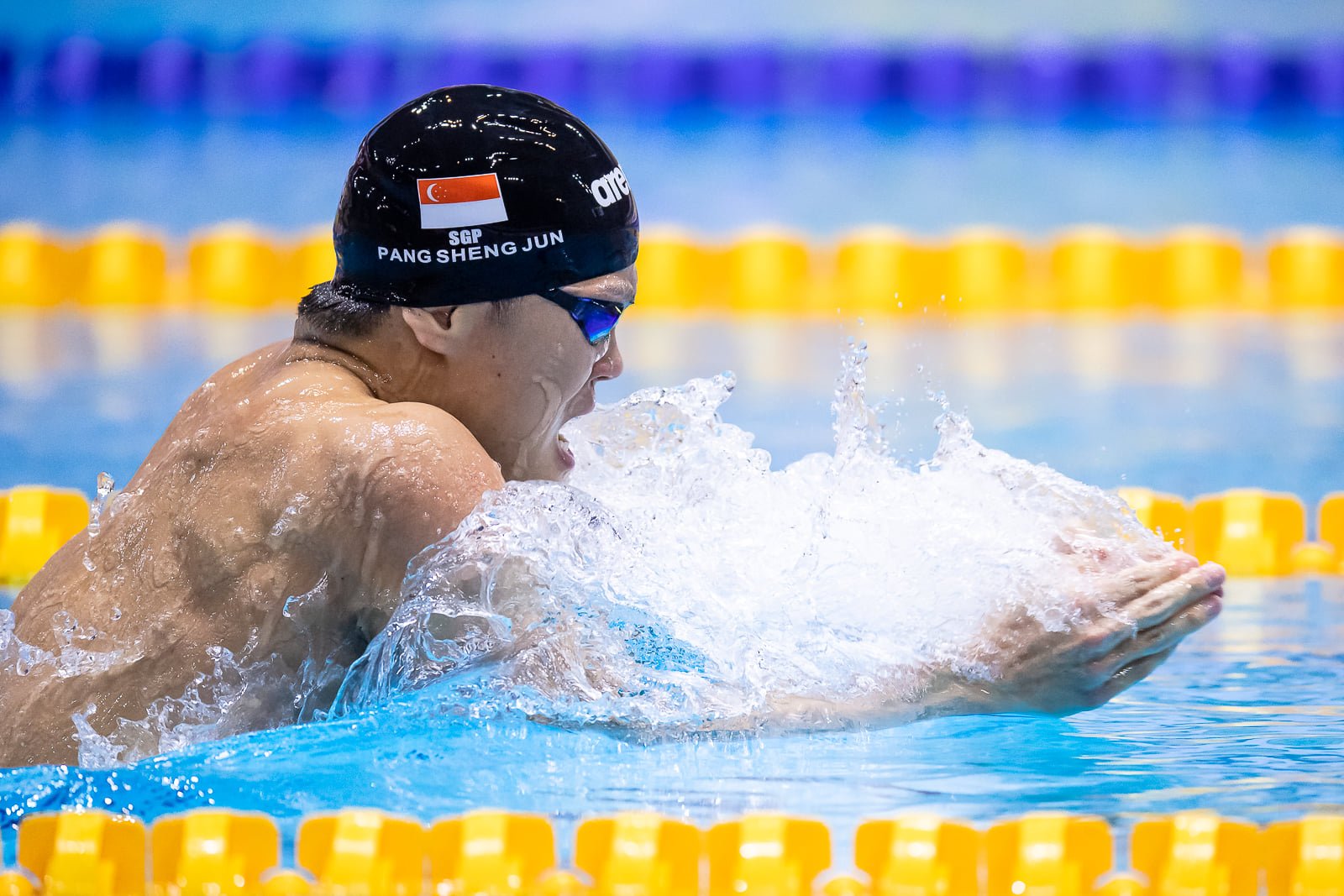 (Pang Sheng Jun Photo Credit : Singapore Swimming Association)

In the Men's 200m IM, ATS' Pang put on an impressive swim, clocking 2:02.68s to put him on the flight to Hanoi, and meet the "B" cut for the Olympic Games. The 29-year-old was 0.02s faster than second placed Maximillian Ang from Aquatic Masters Swim Club (AMSC), who clocked 2:04.24s. Bradley Tan, also of ATS, finished third in 2:08.13s.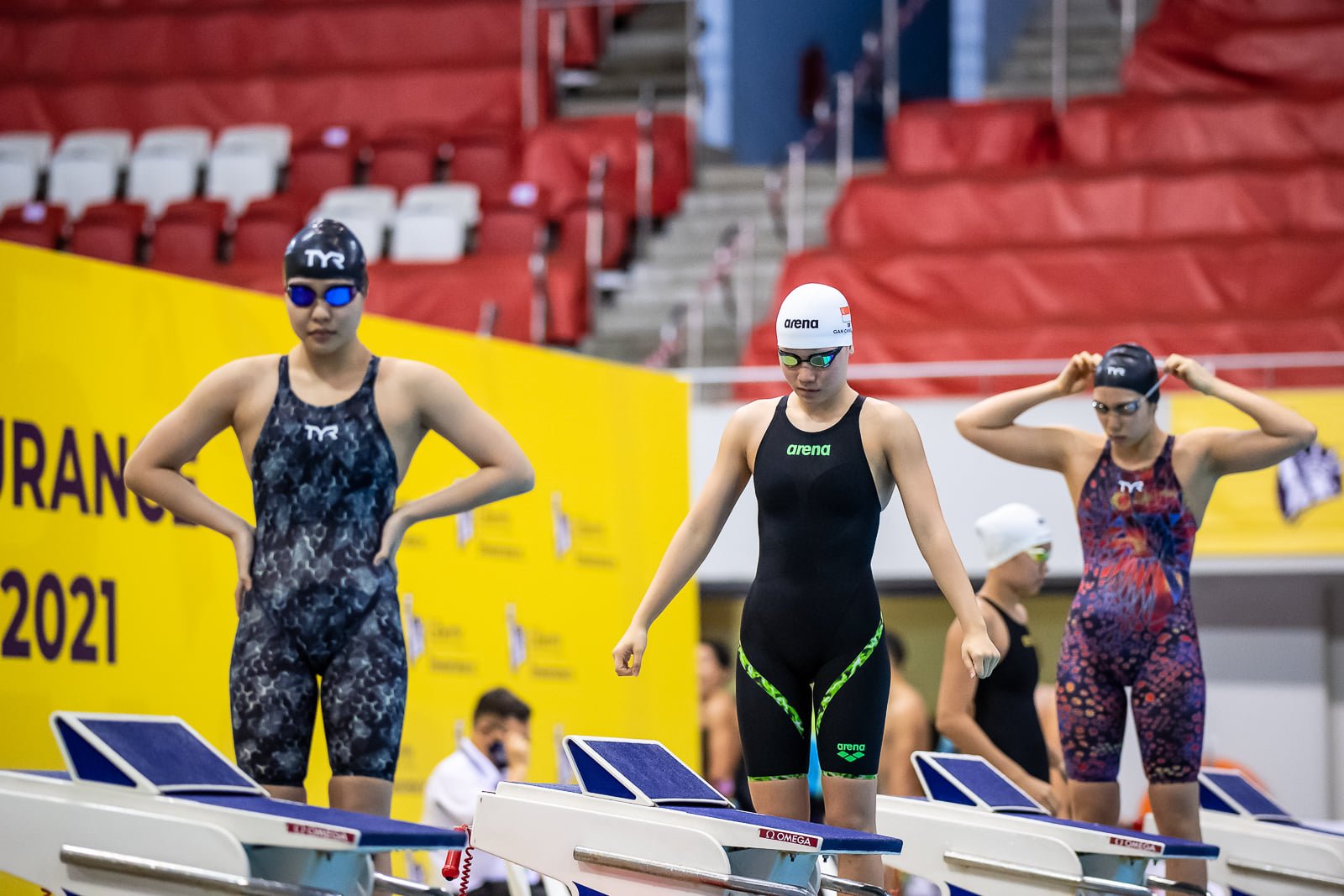 Gan Ching Hwee (White Cap) - Photo by S'pore Swimming Assn
Also sealing her place in Hanoi was Swimfast Aquatic Club's (SAC) Gan Ching Hwee. The 19-year-old rising star led from start to finish in the Women's 1500m Freestyle final, touching home first in a time of 16:49.56s. Chantal Liew of Singapore Swimming Club (SSC) was second in 17:32.82s, and Paloma Cervera of NEXUS International School was third in 17:41.32s. Ching Hwee's time was also enough for an Olympic Games 'B' Cut.
Summing up the meet, Stephan Widmer, National Head Coach and Performance Director, said, "The last five days for everyone, it was somewhat back to racing. It wasn't easy, and with the different rules, no crowd out there, for some athletes it was normal, for some even easier, for some even harder, not having the crowd out there supporting them in different ways."
He further added, "At this meet, the goals we had were to get some athletes to swim 'A' cuts and we didn't achieve that. There were some knocking on the doors, we had heaps of 'B' cuts again but there was not really a whole lot out there. One very positive thing is that for 100m freestyle, we have a new 'B' cut with Christie Chue, so we right now still rank high enough to potentially get an invitation for the relays there. We certainly have to go back to the books with the coaches, to analyze what happened."
Coach Widmer also stated, "Some of the highlights would be Maximillian Ang with the new national record for 200M breaststroke, Christie took it to another level with the 100m freestyle, she focused a bit more on that and took a few new strides forward there. Gan Ching Hwee had a solid swim with the 1500m free but just fell a little bit short of that 'A' cut, so she will have another chance in June with SNSC. Jonathan Tan and Teong Tzen Wei had solid swims in, but fell a little bit short of that 'A' cut. We are certainly going to have a much closer look at those results, see what training is about but sometimes not just about training but also the execution. I think some athletes were still a bit rusty about stepping on the blocks, they were fit and ready to go but could not perform under the pressure and expectations of them. We still need to add some valuable lessons to that."
National Training Centre (NTC) Head Coach, Gary Tan, also echoed Stephan's thoughts. He said, "We have to go back to the drawing board and re-assess what we did and try to make the best out of the situation to fine tune things towards June. I think we want as much as possible for as many people to qualify for the Olympics. We have come through a very tough season especially since September, but I am not going to make any excuses for this meet - We have not performed up to our own expectations as coaches and I think it's time for us to go back and do a re-assessment of what we need to do to try and better the situation."
When asked if the current circumstances with the COVID-19 pandemic was in any way related to being unable to achieve any Olympic Games 'A' cuts, Stephan concluded, "I don't want to give excuses because that's just the rule of the game. We had water and we could still train enough. I am not saying it was an easy game but that was the game we had to learn to play very quickly and that is how coaching is. That goes for the athletes as well and we need to be able to adapt to that. There are a lot of other nations that had least expected situations and I think for Singapore, with the government, everything was dealt quite well, and we could get back to work quite early. Credit to the government that they allowed us to train at OCBC Aquatic Centre, even the top swimmers from the clubs could come in here and train very early. We had access to resources and time to spend here, it was not easy but it's never easy".
Due to COVID-19 restrictions put in place by the Singapore authorities, this year's Liberty Insurance 51st SNAG (Major Games Qualifiers) was a scaled down event, featuring only the top 48 invited swimmers per gender per event for all 50m, 100m and 200m events, and the top 24 invited swimmers per gender per event for all 400m, 800m and 1500m events.
With the event a closed-door event, races from both the Junior Invitational and Major Games Qualifiers were streamed live on the Liberty Insurance Singapore website at www.libertyinsurance.com.sg/libertysnag51.
To create additional excitement, a daily zoom fan engagement party was hosted for fans tuning in on zoom. Full results of the event can be found in the link above.
Media Release prepared by Daniel Tan / Singapore Swimming Association
Follow us on Telegram for more news and updates.