ROAR : Football Legends of Singapore - For Future Generations to Remember!
by Circle, on October 13, 2022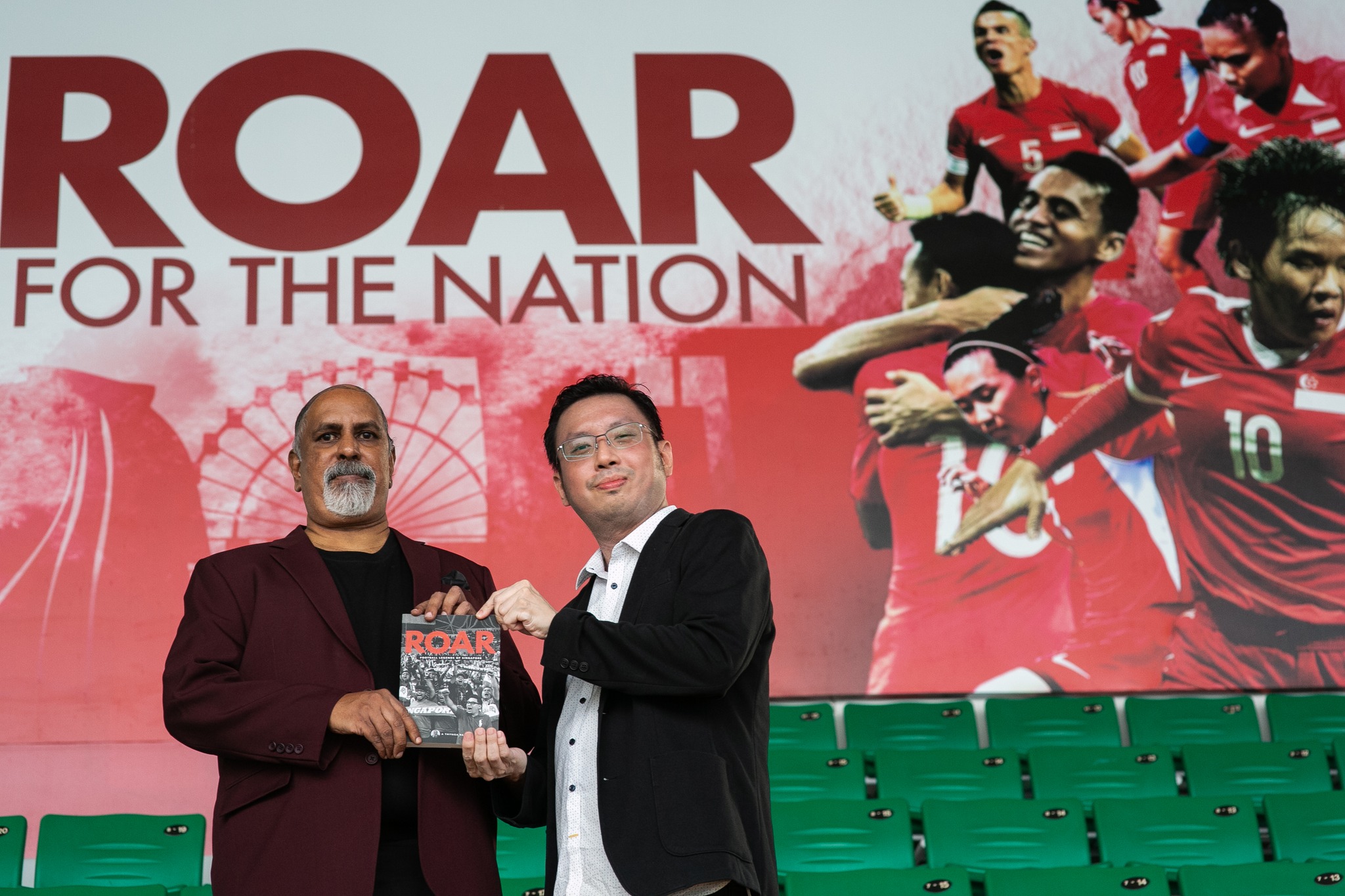 Author A.Thiyaga Raju and Gary Koh posing with a copy of "ROAR: Football Legends of Singapore" at the book launch at Jalan Besar Stadium on 31 August 2022. Photo Credit : Wee Teck Hian, Pagesetters Services
"ROAR: Football Legends of Singapore" is a book written by football fan A. Thiyaga Raju and hailed as a tribute to 100 years of football history in the Republic. It was officially launched at the Jalan Besar Stadium on 31 Aug 2022, in the presence of football legends from Singapore and Malaysia, including the media and more than 1,000 fans in attendance for the friendly match between the former stars.
It's been more than 6 weeks since the book launch. Published by Pagesetters Services, they're now looking forward to taking the books to schools and organisations and will plan for another print run at an appropriate time.
For more details following the book launch at end-August, ActiveSG Circle caught up with Thiyaga and ROAR's editor Gary Koh on their 1st month anniversary (2 weeks ago).
Q : With other books released on Singapore's football scene in the past 20 years, how does ROAR stand apart from the rest?
Gary Koh : One major difference is that the book went through a rigorous editorial process, which was a luxury that some of the other books did not have, as they were self-published and did not have a publisher.
ROAR is unique in that it provides a comprehensive coverage of local football history from various themes in over a century, from the Malaysia Cup and international tournaments to women's football and the schools football scene, which is covered in the Youth Development chapter. This has never previously been done under one roof and spanning through several generations of footballers over the decades in other books on local football.
On my end, the reading of this book has provided intrigue and debate - in a positive and interesting way - for those who have read thus far. For instance, my close friend has remarked on why P. N. Sivaji was not featured more for his rebound ability from relegation in 1992, to reaching the Malaysia Cup final and winning the SEA Games bronze year in the following year (1993) as Singapore's head coach.
Q : As a sports journalist, where does ROAR feature in your list of accomplishments in your career?
Gary : I am personally grateful to and credit the team for making ROAR happen. This ranks as my biggest accomplishment. From the feedback and encouragement from my friends, they all remarked that it is not easy to write a book. ROAR has eclipsed all the previous notable articles I have written in my sports journalism journey, thus it is at this moment the highlight. It has also brought my personal standing to a new level, although this is only just the beginning.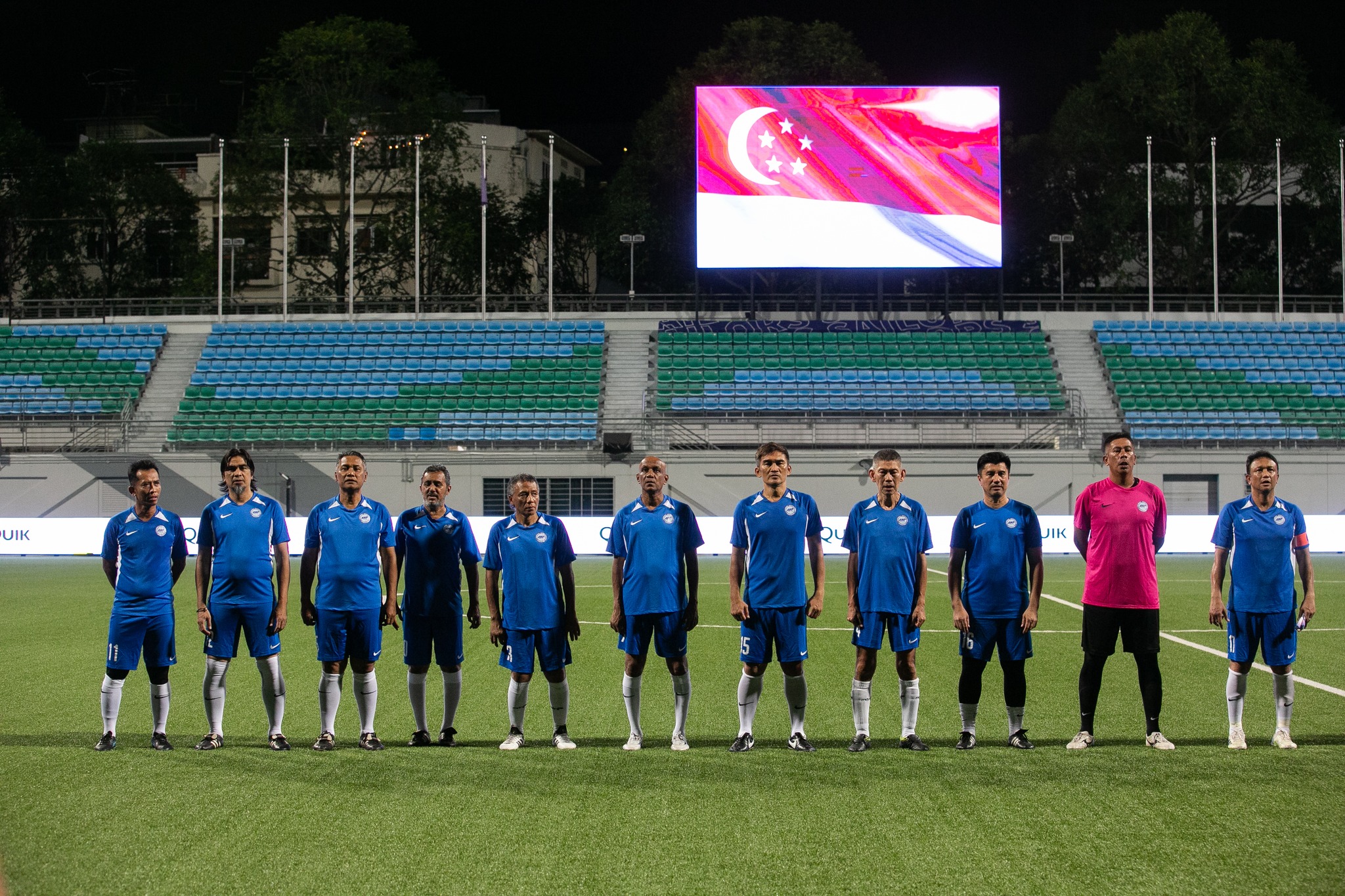 Singapore Ex-internationals before kickoff on 31 Aug 2022. Photo Credit : Wee Teck Hian, Pagesetters Services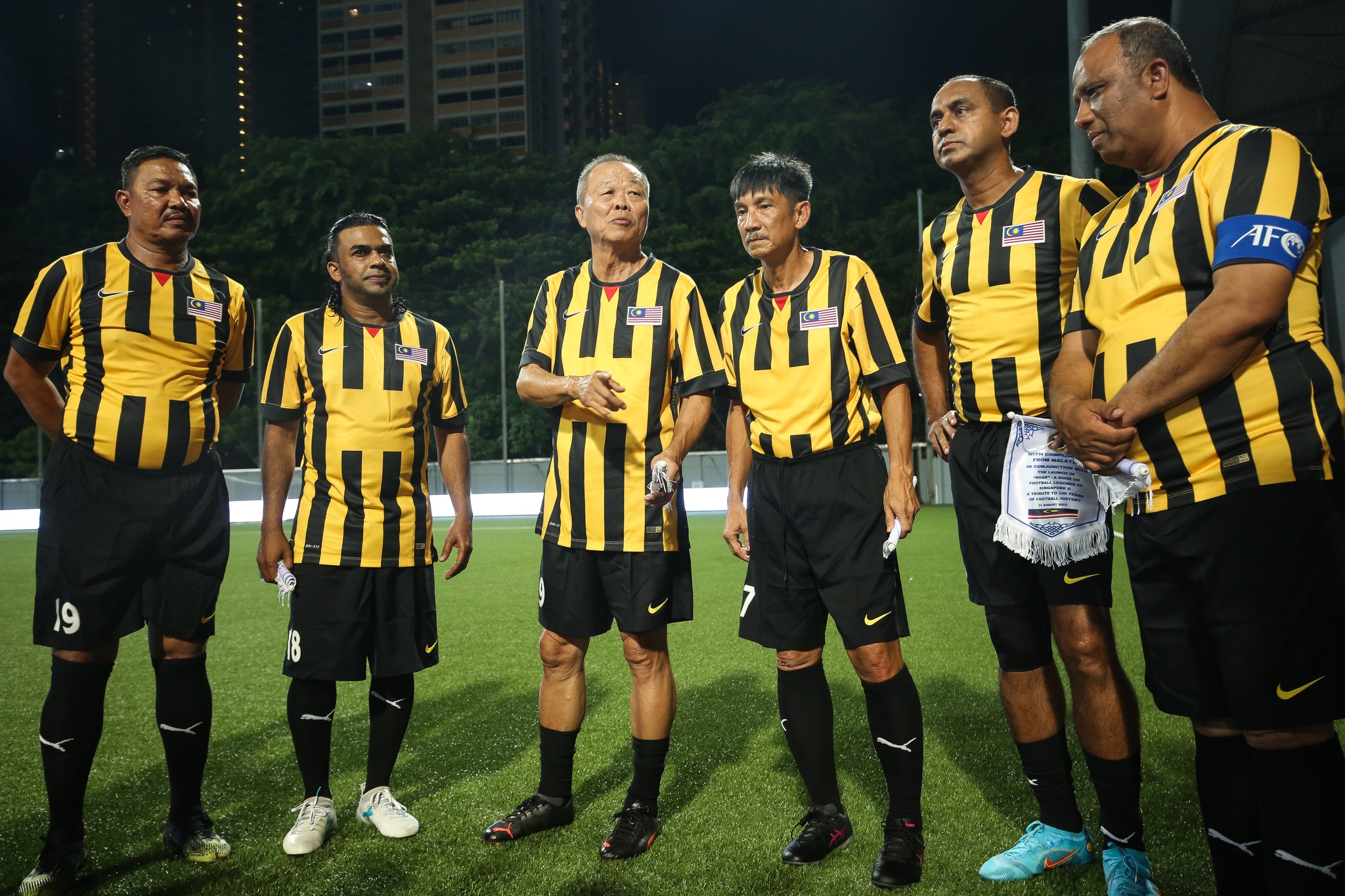 Malaysia Ex-internationals including Datuk Soh Chin Ann (3rd from Left) and Dollah Salleh (1st from Right) before kickoff on 31 Aug 2022. Photo Credit : Wee Teck Hian, Pagesetters Services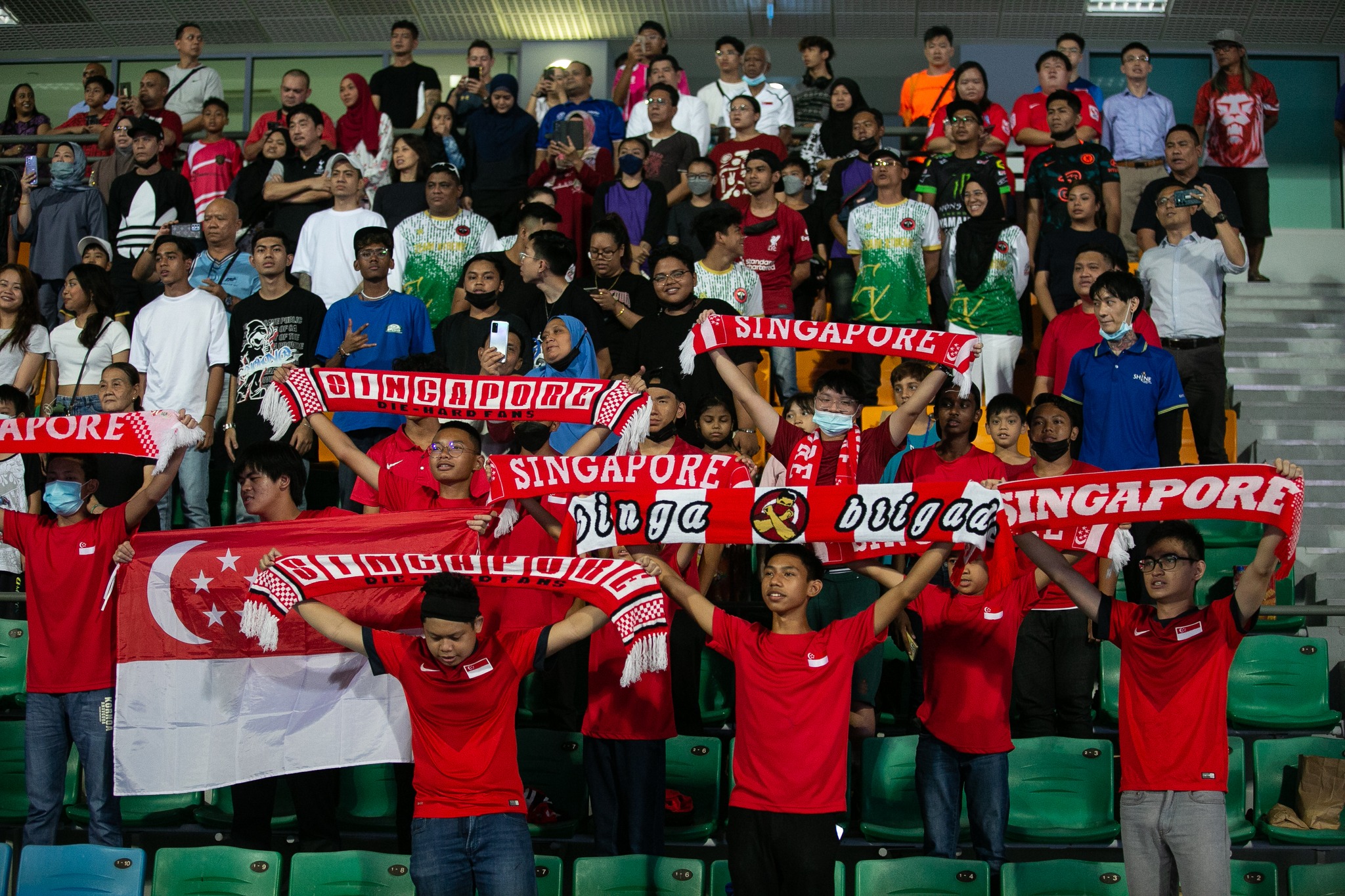 A section of the 1,000-odd fans who attended ROAR's launch on 31 Aug. Photo Credit : Wee Teck Hian, Pagesetters Services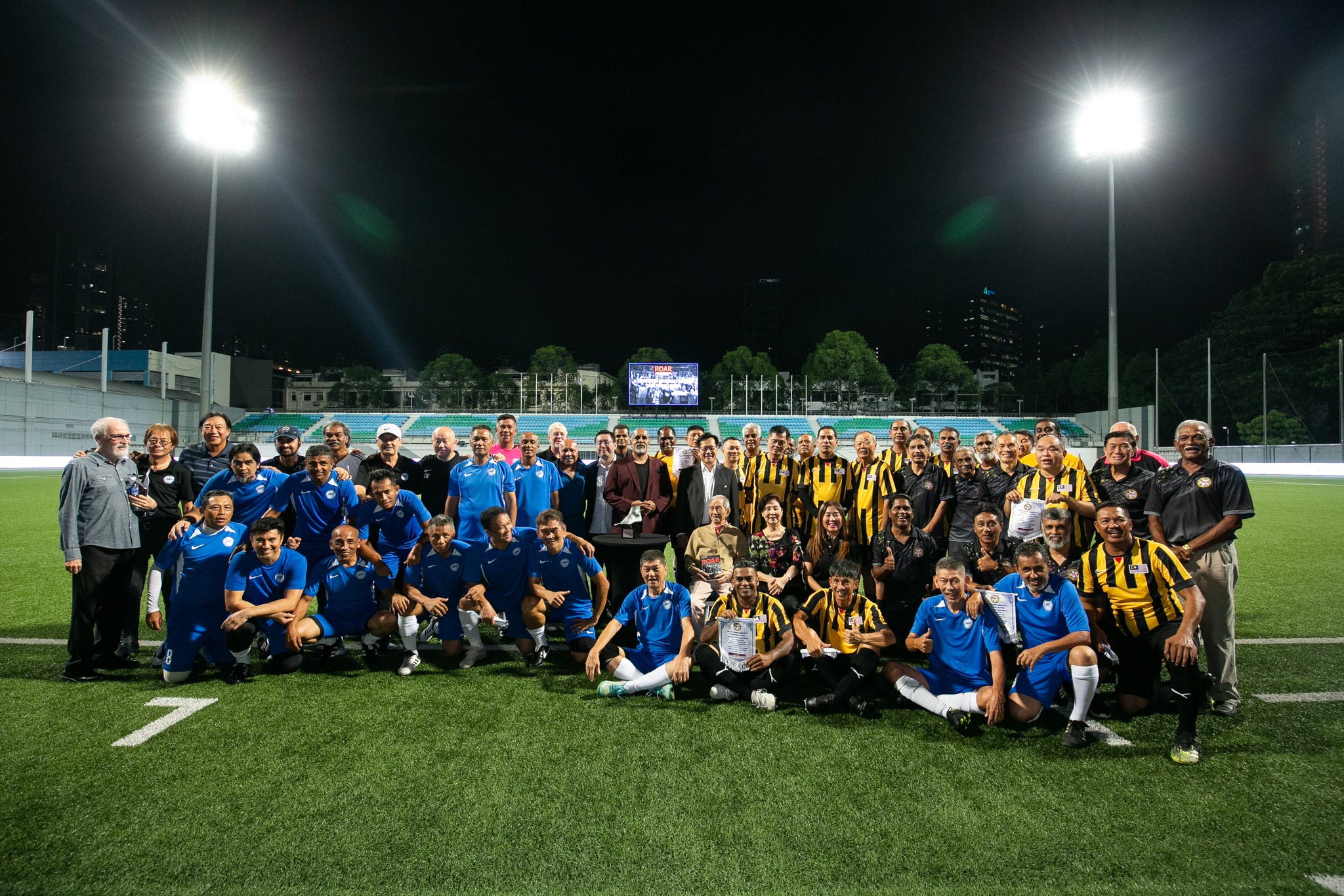 Singapore and Malaysia ex-internationals, organisers, officials etc after the friendly match. Photo Credit : Wee Teck Hian, Pagesetters Services
Q : Besides the initial release on 31st Aug at Jalan Besar Stadium, do you have any plans to do a few appearances at our regional libraries or schools, to talk and share more about Singapore football?
Gary : The publisher is welcoming invites from libraries and schools to bring the author, editor and footballers into conversation with members of the public, as well as school students and athletes. Brilliant if they are able to furnish appearance fees for the author, editor and footballers, to complement our efforts to support their livelihood.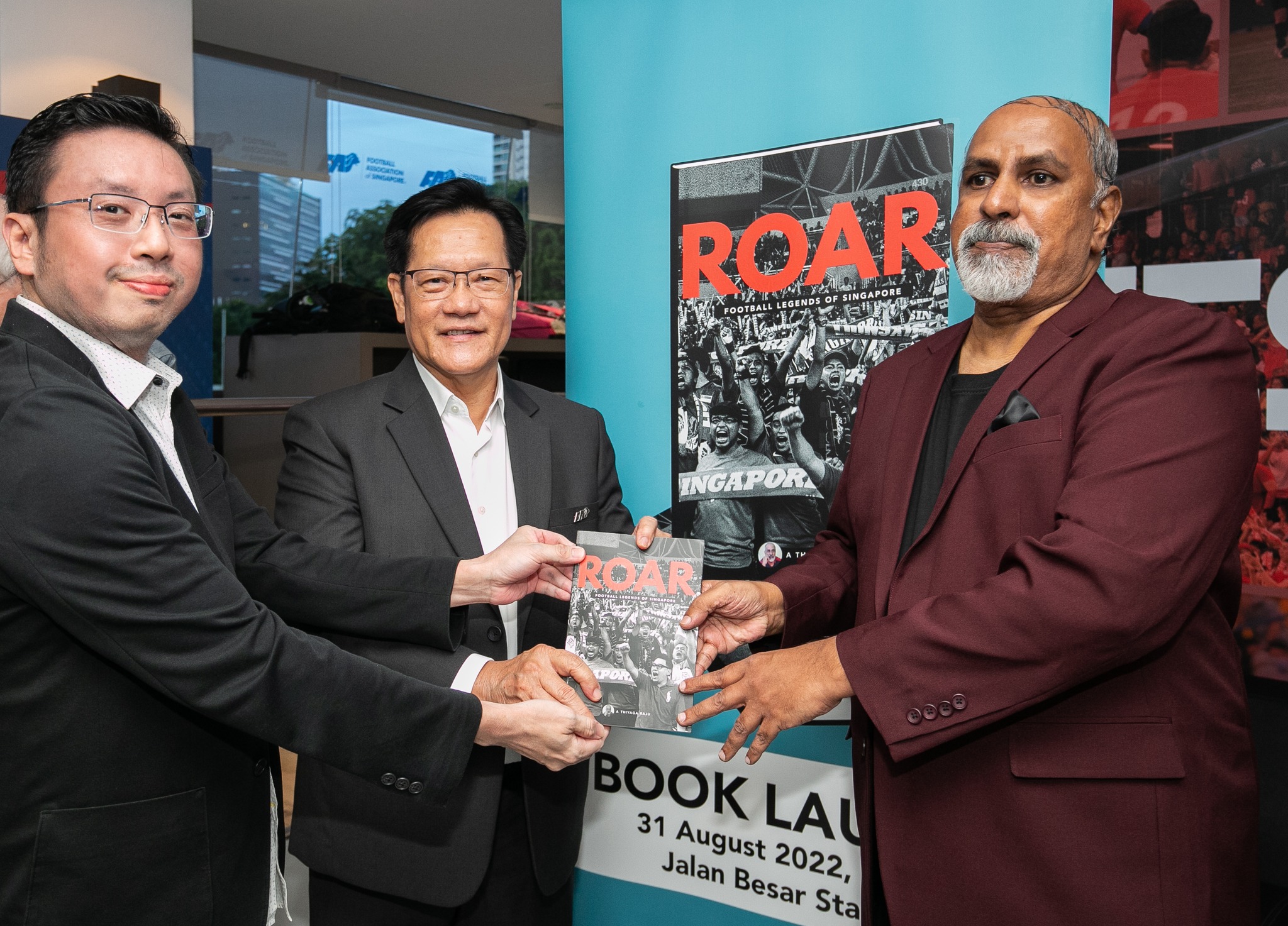 From L to R : Gary Koh, FAS President Mr Lim Kia Tong and Thiyaga Raju. Photo Credit : Wee Teck Hian, Pagesetters Services
Q : Football Association of Singapore President Mr Lim Kia Tong passed away unexpectedly on 14 Sep. What do you remember most about him and his support of ROAR?
Thiyaga Raju : We are grateful for his support and endorsement of the ROAR project, and also for gracing the successful book launch as the host on 31 August. Behind his role as FAS President was a man who was privately passionate about football as a fan.

Lim Kia Tong was my hero. He was a kind and thoughtful person. He could make every person feel like they were the most important person in the world. I am beyond grateful for everything Kia Tong had done for me on a personal level. While it's tragic to think about him leaving us too soon, he left behind a lifetime of memories particularly for me that I can cherish for the rest of my life. His warmth, kindness and dry sense of humour will certainly be missed. (See Annex for the full message on the late Mr Lim by Thiyaga)
Q : Who's your favorite Singaporean football of all time and why is he your favourite?
Thiyaga : My heroes : Fandi Ahmad and V. Sundram Moorthy. I've known Fandi personally since 1978 and Sundram from 1991 onwards. In my books, they're the perfect role models for Singapore football. Both legends in their own rights - humble and down-to-earth. Both gave me their full backing ever since I started working on this book.

Fandi and Sundram continue to keep in touch with me through phone calls and Whatsapp messages from Kuantan and Laos respectively. They are the true sons of Singapore football!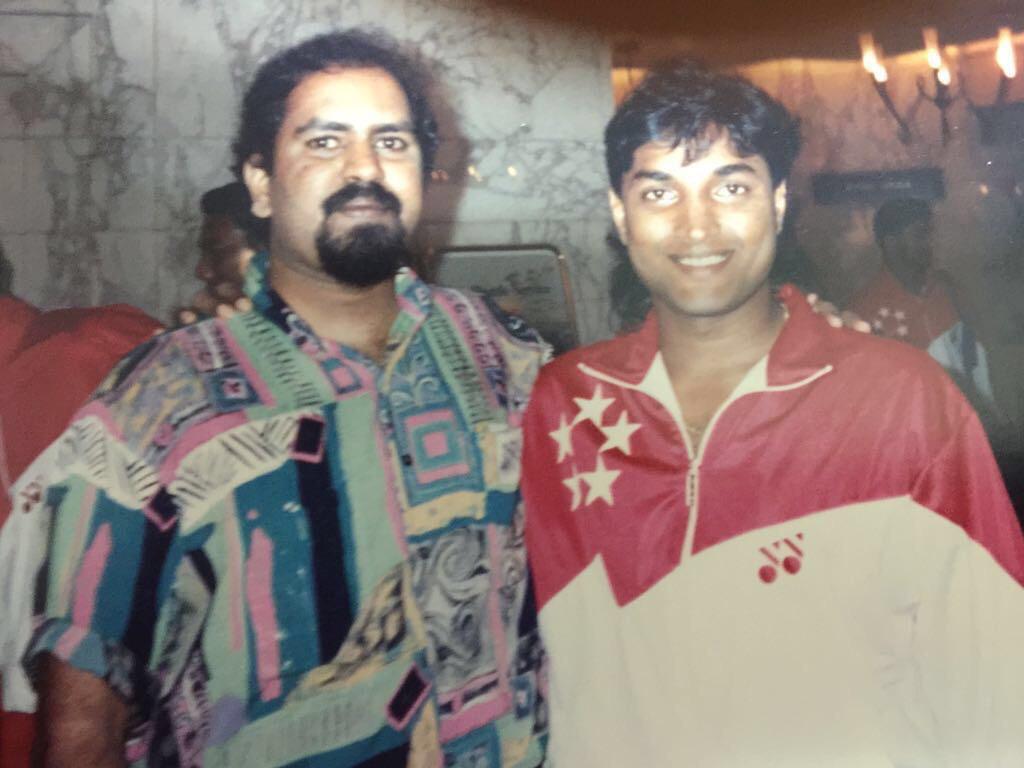 Thiyaga and Sundram in the 1990s. Photo Credit : Thiyaga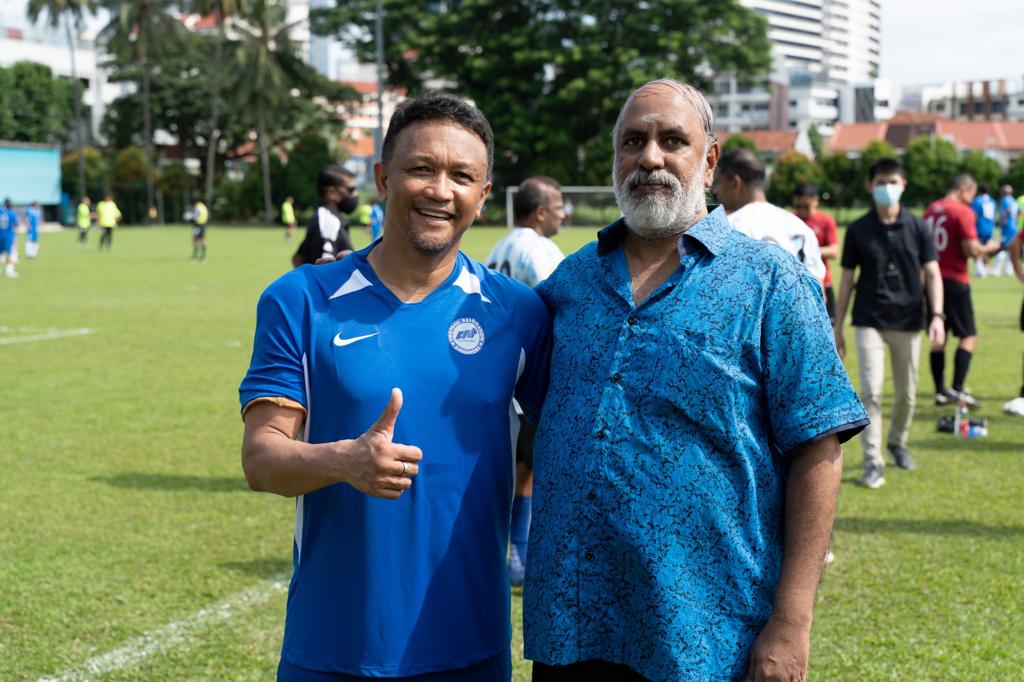 Thiyaga with Fandi in 2022. Photo Credit : Thiyaga
Besides the highlight of watching the Singapore vs Malaysian veterans compete on 31 Aug at ROAR's launch, there was a pre-match segment which was one for the history books. Former Singapore international Chia Boon Leong was recognised for his starring role in the Malaya Cup days of the 1940s -50s. And at ROAR's launch, a plaster cast of the left foot of the 97-year-old former Singapore player nicknamed "Twinkletoes", was unveiled before kickoff. Nick Aplin, (Deputy Director, Sport Heritage, Sport Singapore), was involved with the unveiling of Boon Leong's foot cast and some fact-checking input for ROAR before the launch.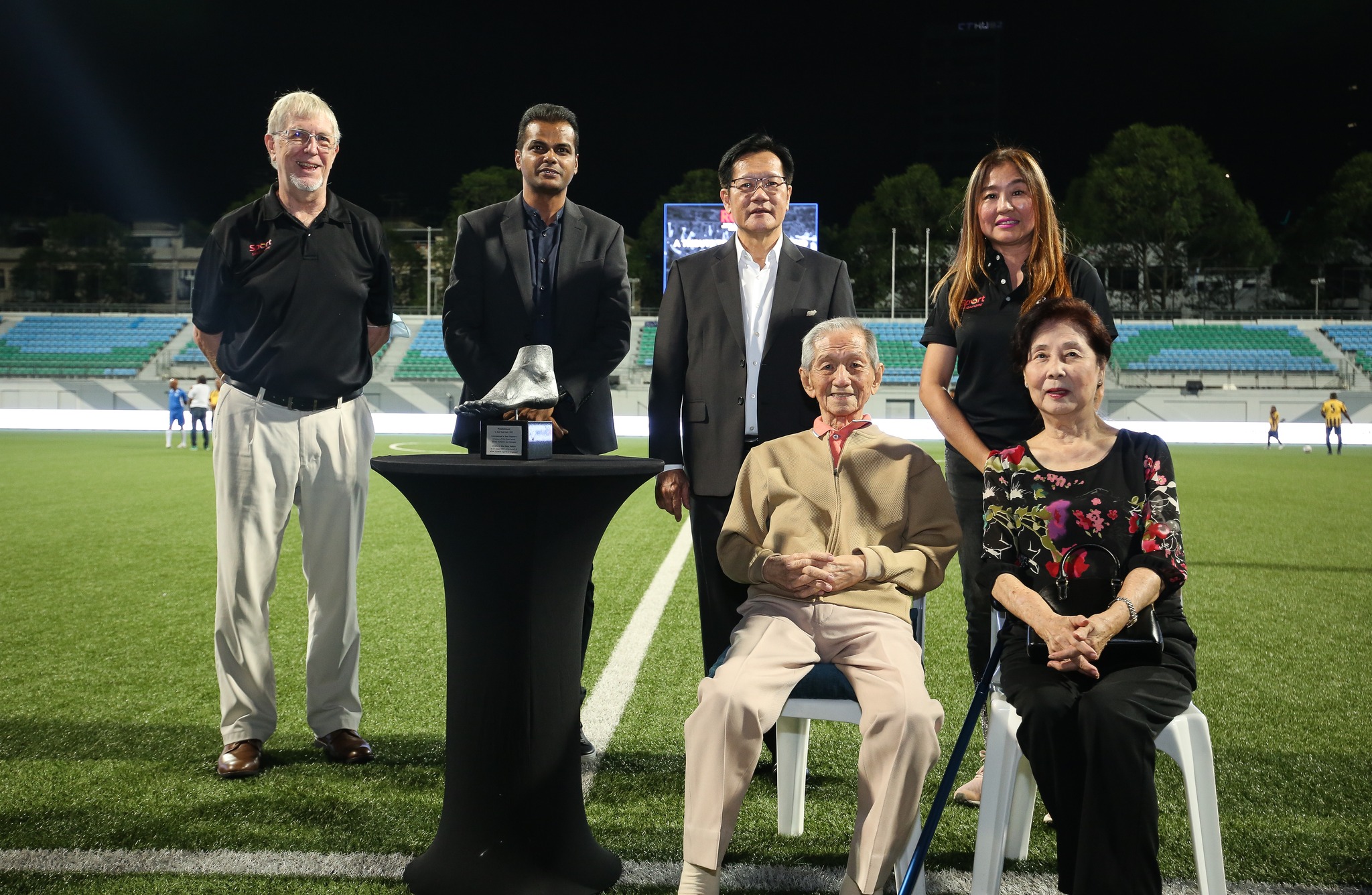 At the unveiling of the footcast sculpture of Olympian footballer Chia Boon Leong (seated front left with his wife). Back row from left, Dr. Nick Aplin, Deputy Director of Sport Heritage, Sport Singapore, Football Association of Singapore (FAS) general secretary Yazeen Buhari, FAS President Lim Kia Tong & Teresa Teo Guttensohn, Assistant Director of Sport Heritage, Sport Singapore. Photo Credit : Wee Teck Hian, Pagesetters Services
Q : What's your opinion of ROAR in light of other SG-football related books that were released in the last 2 decades or so?
Nick Aplin : I was privileged to see a pre-launch copy and I was very impressed by the coverage of local football history. The passion involved in compiling this book was immediately clear. I view ROAR as a must read contribution to the sports literature. There have been few books to cast such a wide net and inform the devotee of the foundation of football.
Q : Which is your most favourite period of the Malaysia Cup days and why?
Nick : The Malaya Cup (1921-1967) is more interesting than the Malaysia Cup (1967—1994). Specifically, because it has been largely disregarded as a period of relative dominance. There are still many discoveries to be made – players, matches, controversies etc. In addition, the pre-War period highlights forgotten passion for the game demonstrated by fans and supporters.
The Anson Road Stadium was a true magnet for thousands of fans. The Singapore team featured in every final (1921-1941). The early 1950s represent the most successful post-war period of competition for Singapore (7 appearances in the 7 finals 1950 – 1956) with four victories (1950, 51, 52 & 55).
"ROAR: Football Legends of Singapore" is now available in Kinokuniya (Takashimaya and Bugis Junction outlets) at $26.75.
Annex :

Click here for Thiyaga's full message on the late FAS President, Mr Lim Kia Tong.