TeamSG's Lynelle Lim : My goal has always to win a tennis medal at a Major Games for Singapore!
by Circle Stories, on May 16, 2022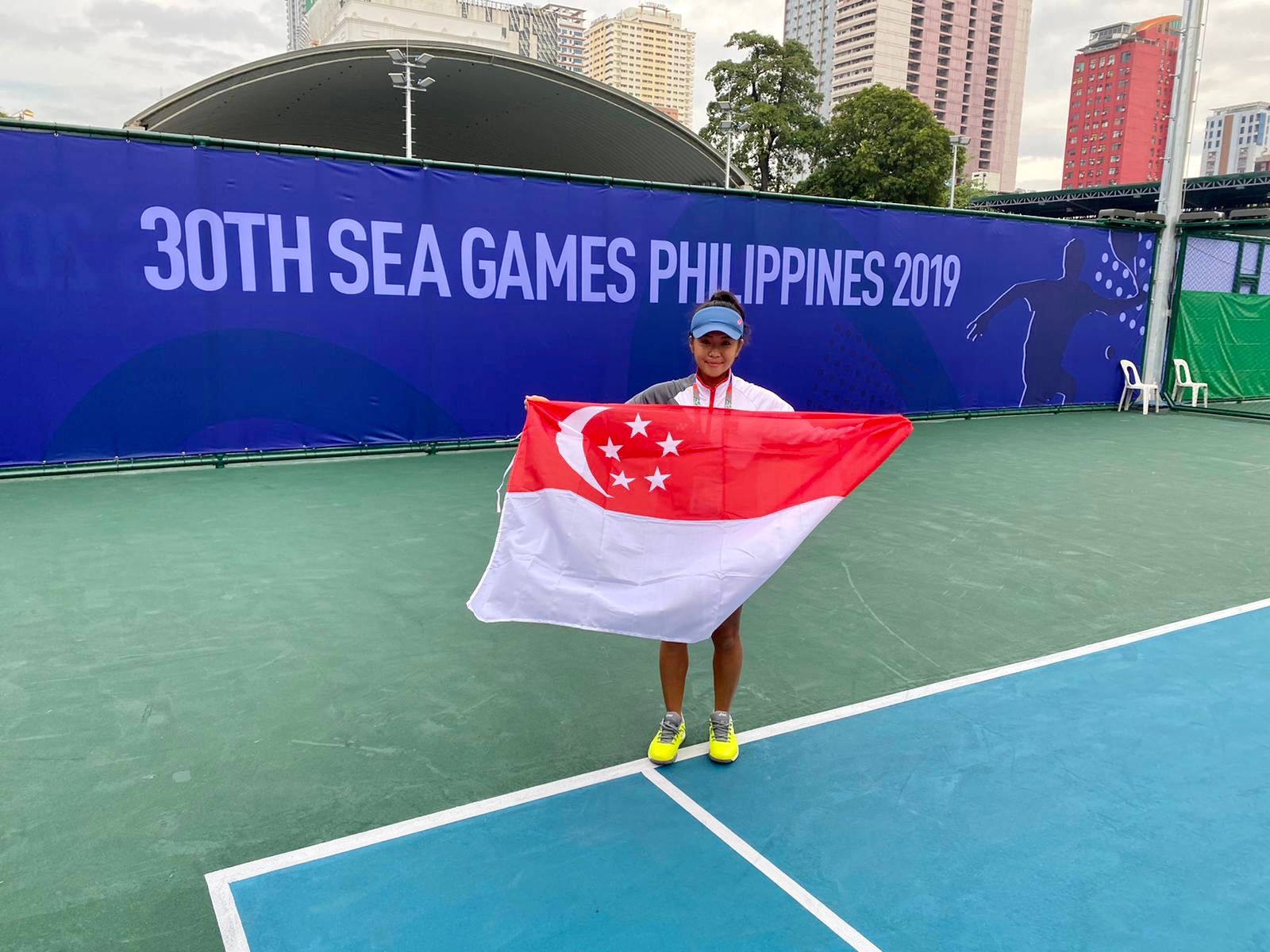 (TeamSG's Lynelle Lim competed at the Manila 2019 SEA Games. Photo Credit : Lynelle)
By Raj Kumar
It's been just short of 4 months since Team Singapore tennis player Lynelle Lim, embarked on a fulltime scholarship at James Madison University (JMU) in the United States.
The 20 year old travelled to Harrisonburg, Virginia to begin her freshman year at JMU. And according to Lynelle, their business school is ranked in the top 20 among public institutions and No. 41 among all business schools in the United States. The school itself is ranked #3 in Regional Universities South. Lynelle is currently majoring in Business Management.
Meanwhile, Lynelle competed at the 2019 SEA Games in Philippines at the age of 18, while obtaining a career high WTA Singles ranking of #824. And today (17 May) in Hanoi, she's the sole representative for Team Singapore, when the Tennis Singles campaign gets underway at the 31st SEA Games.
Well, SportSG caught up with the 20 year a few days ago via an email interview, to get up to speed on his playing career etc.
1)With just days to go before the start of the Games, how are you feeling?
Lynelle : It's always a different feeling when you are playing for your country, but I am feeling more excited than nervous! I am just happy to be back in Singapore after having to endure some cold weather and hardships in the US, so it's really nice to be home. I am very thankful that I am given the opportunity to participate in the SEA Games once again and I am looking forward to give my best effort.
2)Are you at all, nervous that you're our only Tennis athlete to be competing in Hanoi?
Lynelle : Yes definitely. I am also going to miss having the support of the team, just like what we had at the 2019 SEA Games in Manila. Having a team makes a big difference and it adds to the experience. There aren't many team events in tennis and this is a rare opportunity to experience team spirit, but I'll have to put that aside and focus on my job which is to leave it all out on the court. I would like to thank SNOC, SportSG, SSI & STA for this golden opportunity.
3)Your 1st SEA Games was 3 years ago in Manila. How did you fare then, and what did you learn on your Games debut?
Lynelle : My first experience was kind of overwhelming even though I was well prepared - I played well against an experienced player. But perhaps my lack of experience did not allow me to take advantage of certain opportunities that came along in the match which caused me to fail to extend my lead in either set. It was my first time experiencing playing in front of such a big crowd and I was playing against the local favourite (the 2017 silver medallist) but it was a great experience and I have grown a lot as person and as a player since then.
In the Women's Doubles event, I played with Charmaine and we were in contention for the bronze medal, even though it was only our first time playing together. We played against a tricky Vietnamese pair who had a lot of experience playing doubles together and had defeated a strong pair from the Philippines in the previous round. Charmaine and I were in the lead throughout most of the match but we did not manage to convert the match in our favour and we lost narrowly, in the matter of a few points. We came very close to a medal but that match made me certain that I will be able to get a medal sooner or later in the future.
4)Was it tough for you to train in the last 2 years of the pandemic?
Lynelle : Yes, it was an extremely tough 2 years with all the uncertainties and restrictions. It completely broke down my routine which made it more difficult to stay motivated, especially with the suspension of the tournament calendar.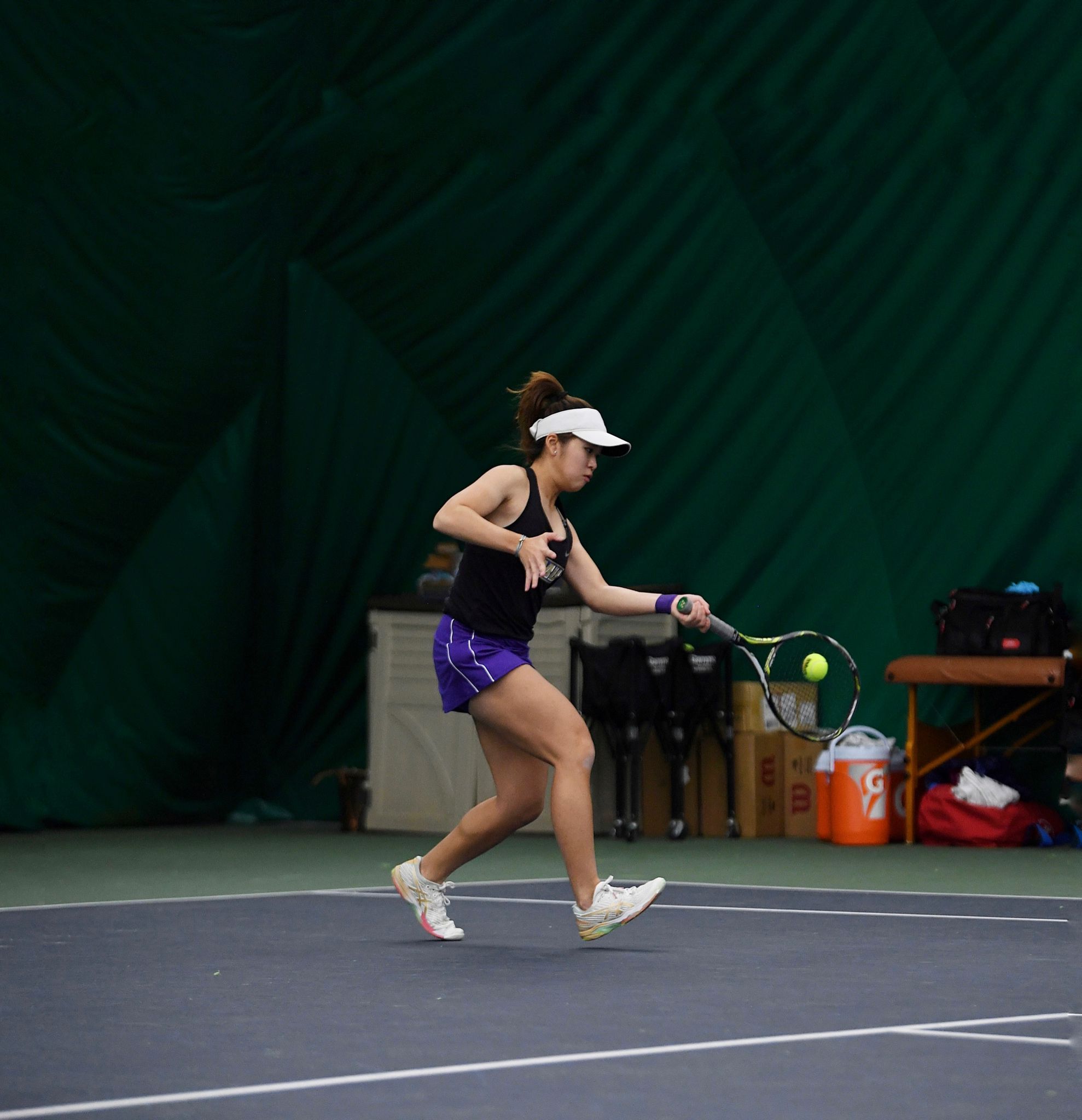 (TeamSG's Lynelle Lim at training. Photo Credit : Lynelle)
5)What was the biggest lesson that you learnt from training during the pandemic?
Lynelle : That you can do many little things to improve yourself. Despite the pandemic, I was able to get fitter which gave me a chance to not feel like I've completely lost all rhythm when I got back on court. Something my coach told me awhile back and has stuck with me since is that "what you do for yourself, no one else can do for you".
6)What was the single most life lesson that you learnt during the pandemic?
Lynelle : I really missed being out on court, training and competing which is something a lot of us took for granted as it had become a daily routine for some of us, just like how people go to work / school.
7)You've been in the US over the last 4 months. How is your University life academically?
Lynelle : I just finished my first semester and my last exam today! I did pretty well overall in my first semester and I think I managed to adapt well to a proper academic environment, transitioning from a home based learning system, as well as the fact that I have not been to a physical school in 9 years.
8) And from the tennis standpoint, what have you been up to at your Uni?
Lynelle : Joining in the spring was not easy as I had to jump into things without being given much time to prepare, which was a lot to take in and that made it more challenging to fit in. It was also a tough transition from playing in 30ish degree Celsius to temperatures below 0 degree Celsius so I had to change up my game style to adapt to the conditions.

One small thing that made a pretty big difference and I instantly played better was changing my strings and the tension of it. And a highlight from the tennis standpoint this semester, would be my match against this British player from Furman University (ranked #25 in America). I was 7-5 5-4 up when Furman clinched the victory, therefore my match was unfinished. But I played at a very good level and I would say that it was probably the best match I've played since Covid happened - that match was huge a confident booster for me. To sum up my semester & season, it was a growing experience and I am proud of myself for adapting and overcoming many obstacles. For now, I am just looking forward to make a big impact on court the next semester.
9) Do you know who your likely opponent will be in the 1st round in Hanoi and is it a straight knockout format at the SEA Games?
Lynelle : I won't know my opponent until the 14th and it is purely based on the luck of the draw. But I am sure everyone who is playing in the tournament will be of a certain calibre and I am excited to pitch my skills against them! I do know some of those players and how they play but there are also some new names and faces so that's exciting. My individual event will be right after the team event so that gives me a chance to scout the players. And yes, it is a straight knockout.
10)What's your target to achieve in Hanoi and what's next for you in 2022?
Lynelle : My target to achieve is to basically come back with some hardware! Jokes aside, the goal has always been to win a medal for Singapore and I will be happy with any colour of a medal. The close loss in the 2019 medal match sparked an ambition in me that's still burning till today.
After returning from the Games, I'll work on my game and physique so that I can enter my new academic year in the US better prepared because there are new girls coming on the team so the competition will be fierce.
For the latest Team Singapore coverage and news, follow Team Singapore on their social media channels (Facebook, Instagram, TikTok) or visit the official Team Singapore website.