TeamSG's Shuttlers maintain fitness through other sporting activities, outside of badminton!
by Circle Stories, on July 10, 2022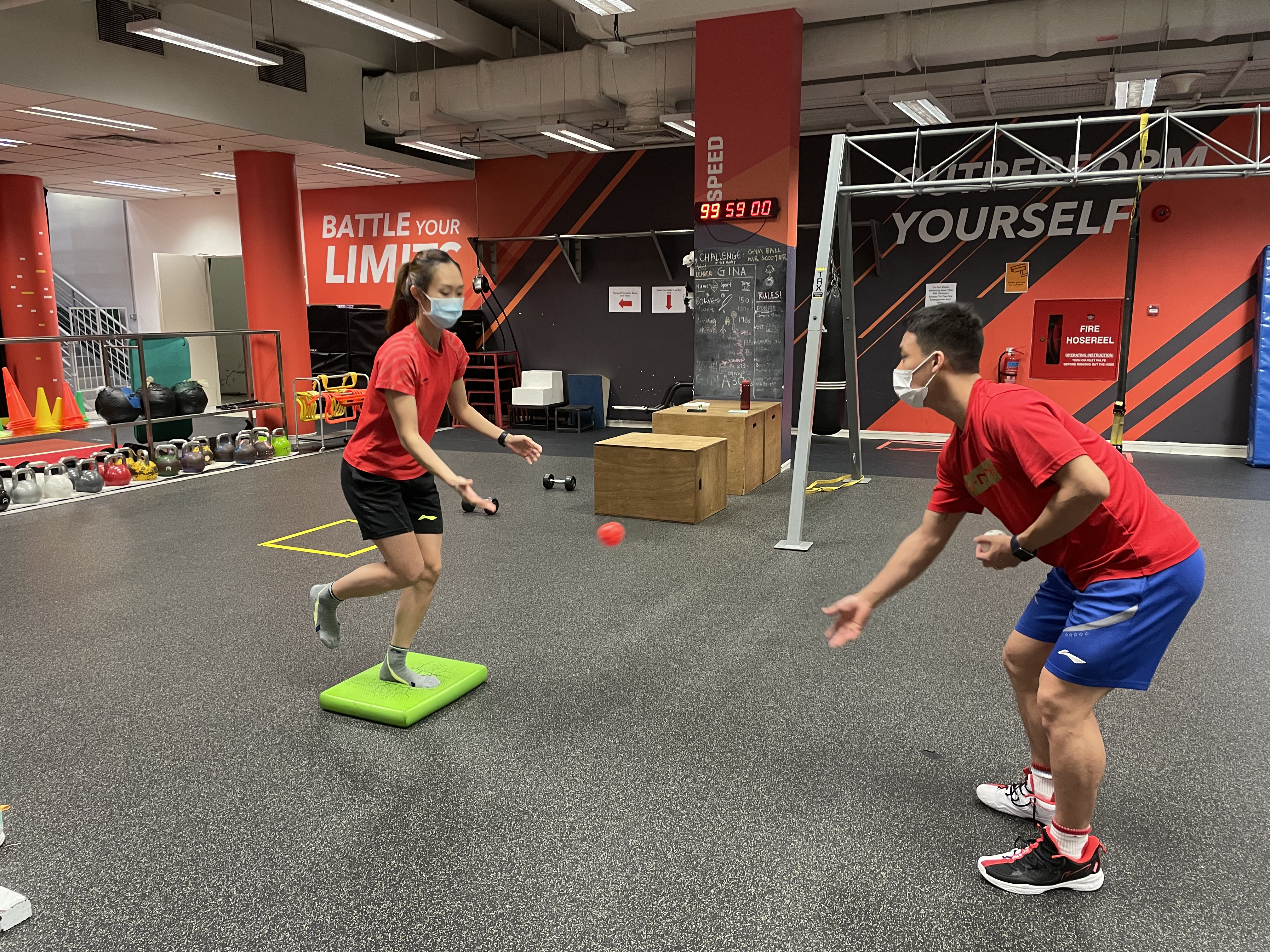 (Tan Wei Han and her Mixed Dbles partner Terry Hee at the gym. Photo Credit : Wei Han)
By Tan Wei Han
The badminton scene in Singapore has gained significant traction after the historic birth of our country's very own world champion, Loh Kean Yew. Since his coronation last December, several local media outlets had since reported on the rise of the sport played among the youth in the Republic. Playing the game recreationally among friends is fun, but badminton at the highest level is not an easy sport at all.
As a national player myself competing internationally with the world's best, I know clearly that there are several contributing factors to success. Badminton is an all-rounded dynamic sport but out of all, I attribute paramount importance to fitness.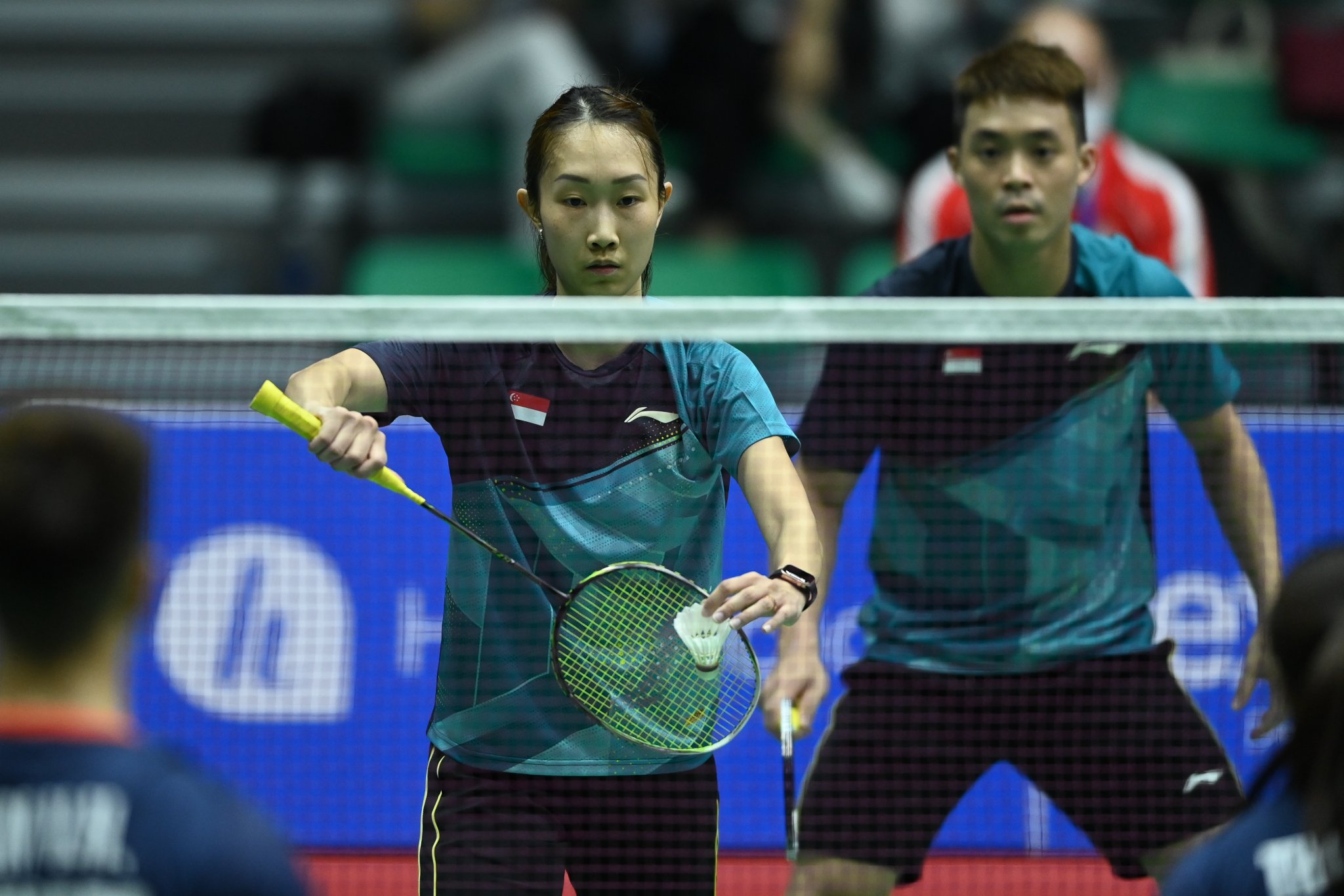 (Tan Wei Han and Terry Hee at 2021 SEA Games. Photo Credit : Sport Singapore
Apart from daily courtside work, my training regime also consists of S&C (strength and conditioning) aka weights training. Playing badminton requires the use of almost every single muscle in your body- from obvious ones like arms and legs, to overlooked yet important ones like your neck and even toes. Weights training help to improve strength, build muscular endurance and minimize the risk of injury. Using a combination of both barbell and dumbbell weights, the exercises that we do are namely: squats, deadlifts, bench press, bend over roll and many more.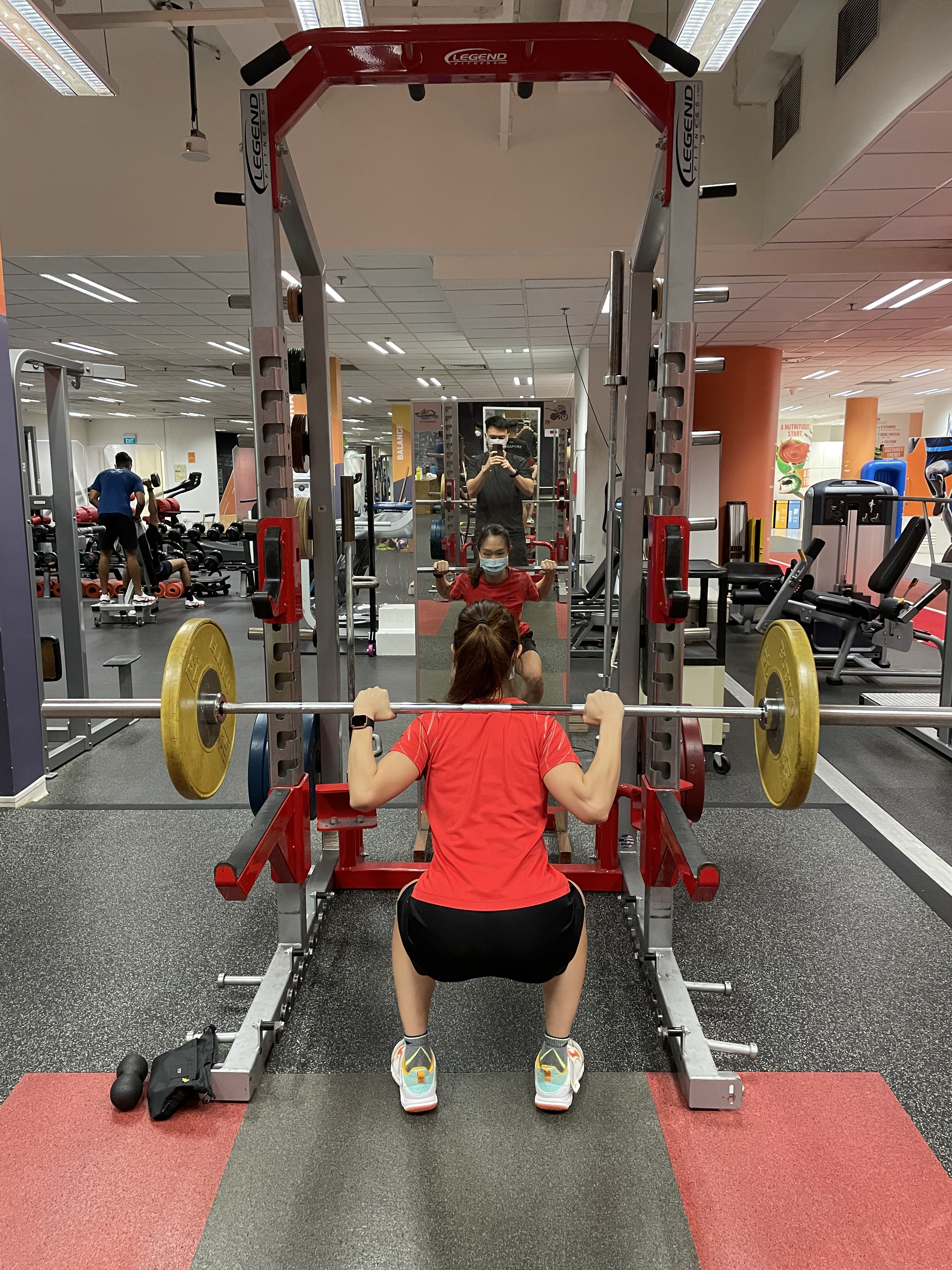 (Tan Wei Han and her Mixed Dbles partner Terry Hee at the gym. Photo Credit : Wei Han)
Due to the constant travelling for tournaments, we end up having not enough time back home to best improve on our fitness. Depending on the amount of time (in terms of weeks) we have, our sports trainer will then determine a strength or power specific program. Here are some exercises that I did during an S&C training. 1) Single leg balance on a foam pad while catching a ball. 2) Weighted barbell squat.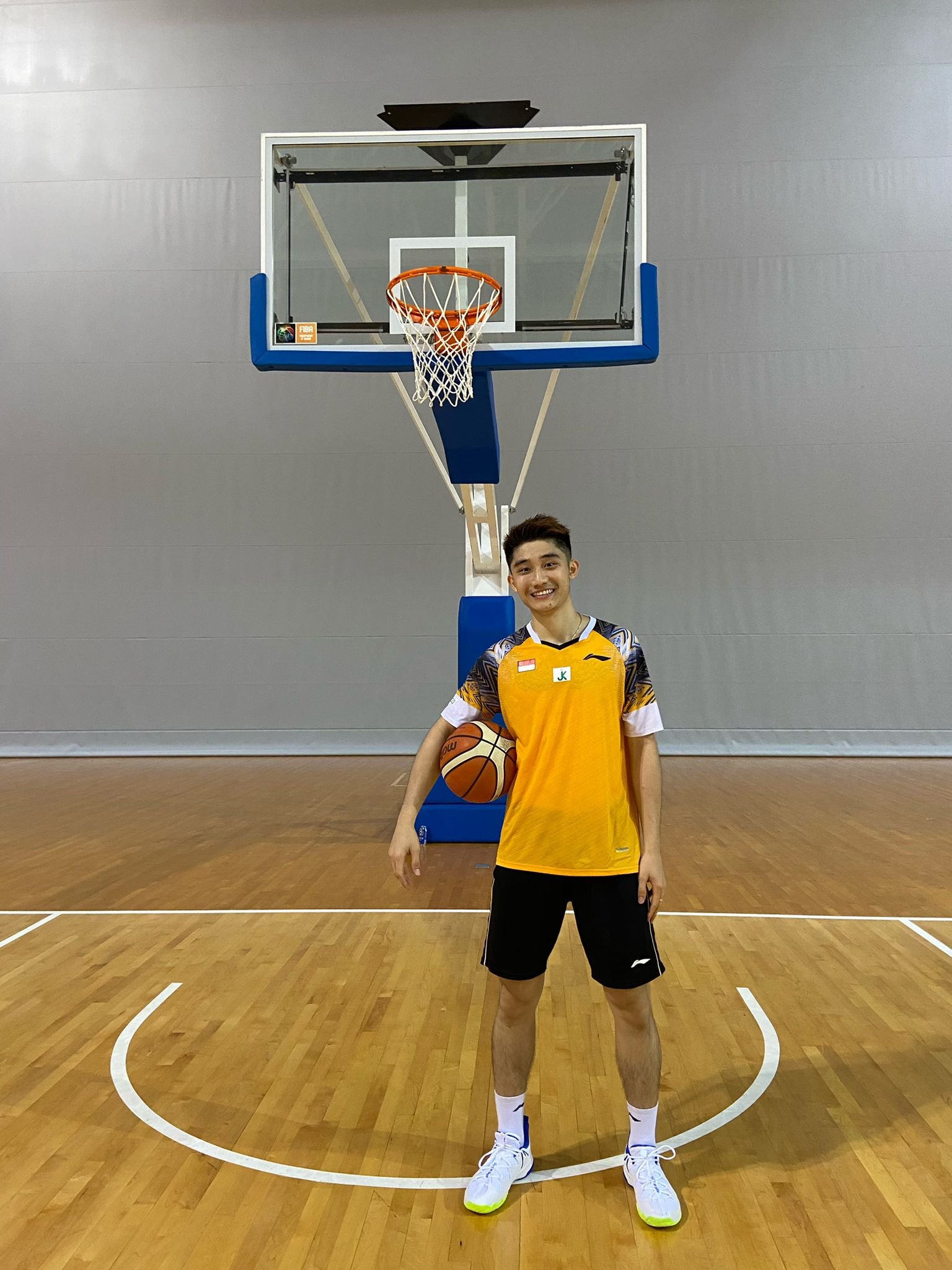 (TeamSG's Men's Singles player Jason Teh, also loves basketball. Photo Credit : Jason Teh)
I got some of our very own national shuttlers to share some insights on what sporting activities they do, to improve their fitness apart from playing badminton. Up and rising singles player Jason Teh is in fact multi-talented in a couple other sports as well! Standing at a height of 1.82m, he towers over most of his opponents on court which is a huge advantage in terms of his court coverage. However, often for lanky players, body shots and agility will be compromised. Jason reveals that on his half days, he incorporates basketball and table tennis into his sporting ritual. The former helps with improving his agility on court whereas the latter effectively activates different group of muscles that badminton is sometimes unable to target.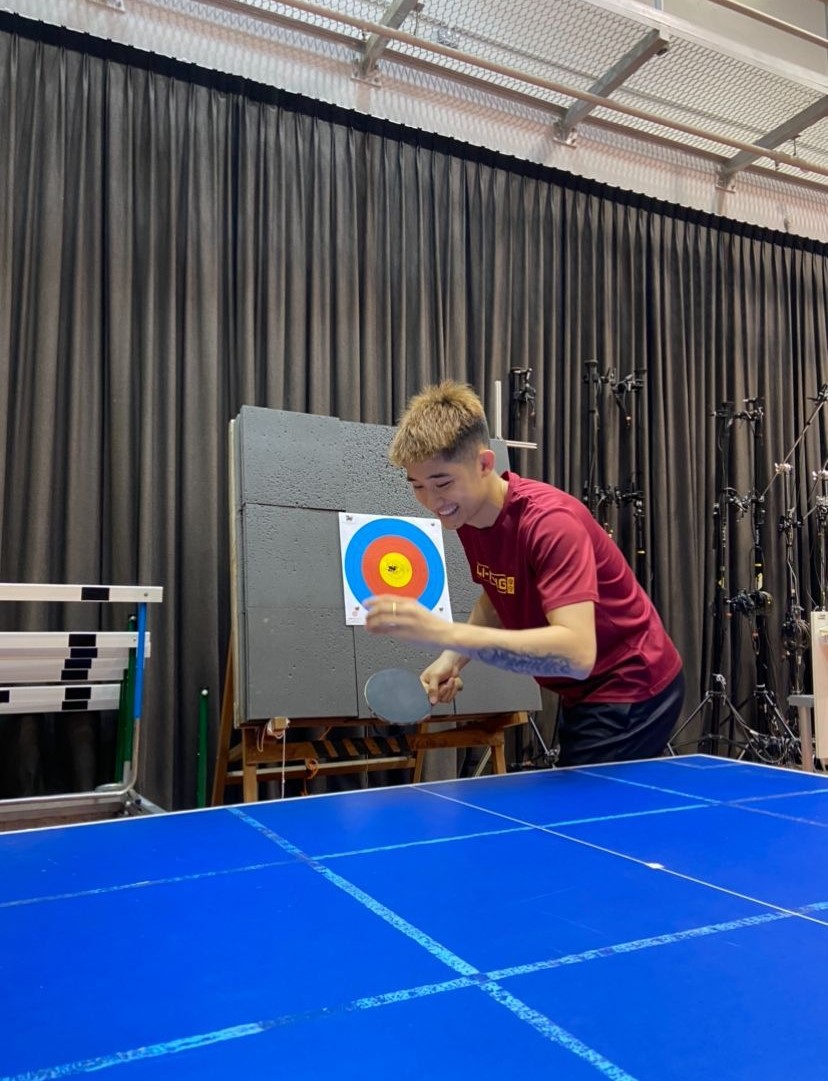 (TeamSG's Men's Singles player Jason Teh, is an avid table tennis player. Photo Credit : Jason Teh)
The next reveal comes from our nation's top women's doubles player, Crystal Wong. Other than the usual weights training in her training regime, cycling is one other activity that she adds on to work on her fitness. Due to a chronic knee injury that Crystal suffers from, stationary bike is a great alternative for her to train up the legs without the heavy impact and loading that running gives. Bike intervals are also beneficial for her in building up stamina and lower body endurance. Crystal shares: "Once in a while on weekends, I go cycling at the park near my house for a change and enjoy some me-time while improving on my fitness. It's a win-win!."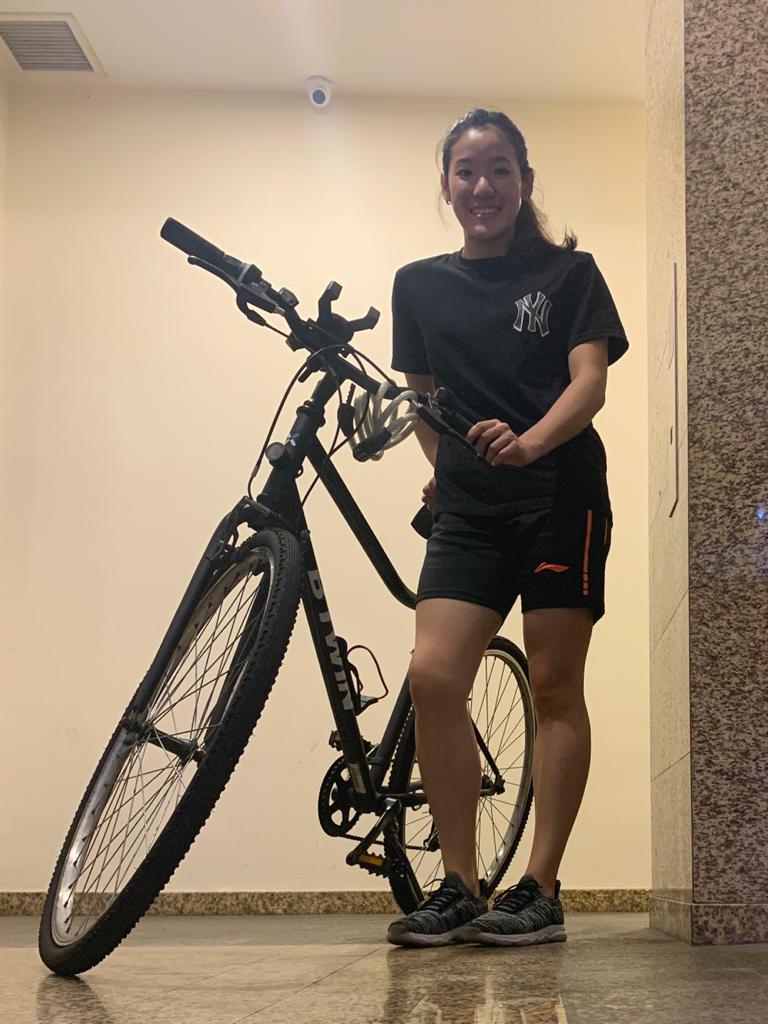 (TeamSG's Doubles specialist, Crystal Wong. Photo Credit : Crystal)
It's heartening to learn that although our badminton training is already demandingly tough on its own, our national shuttlers are still diligent in adding in various activities to improve on their fitness. Your dedication and hard work will definitely bring you to high places. Keep soaring!
Tickets start from $5 for children and $30 for adults
You can catch the Republic's shuttlers at the BWF Super 500 Singapore Badminton Open, from 12 - 17 July at the Singapore Indoor Stadium. Tickets are selling out fast, with season passes and a number of single-day passes to certain match days, including the semi-finals and finals, have sold out.
Fans can still choose to purchase single-day tickets to other match days. Single-day tickets start from $5 for children and $30 for adults.
Tickets will be available for purchase via Ticketmaster here.
Jessica Tan Wei Han has been playing Badminton competitively for 10 years and specializes in mixed doubles. Choosing the road less traveled, she withdrew her spot from NTU to compete full time and joined the national team at the age of 18. Achieving a highest ever ranking of 15th in the world, she is also a 4-time SEA Games medalist. She currently has 7 international titles under her belt- her career's biggest being the Super500 India Open in 2022. She enjoys sleeping, cafe-hopping and spending time with friends and family.