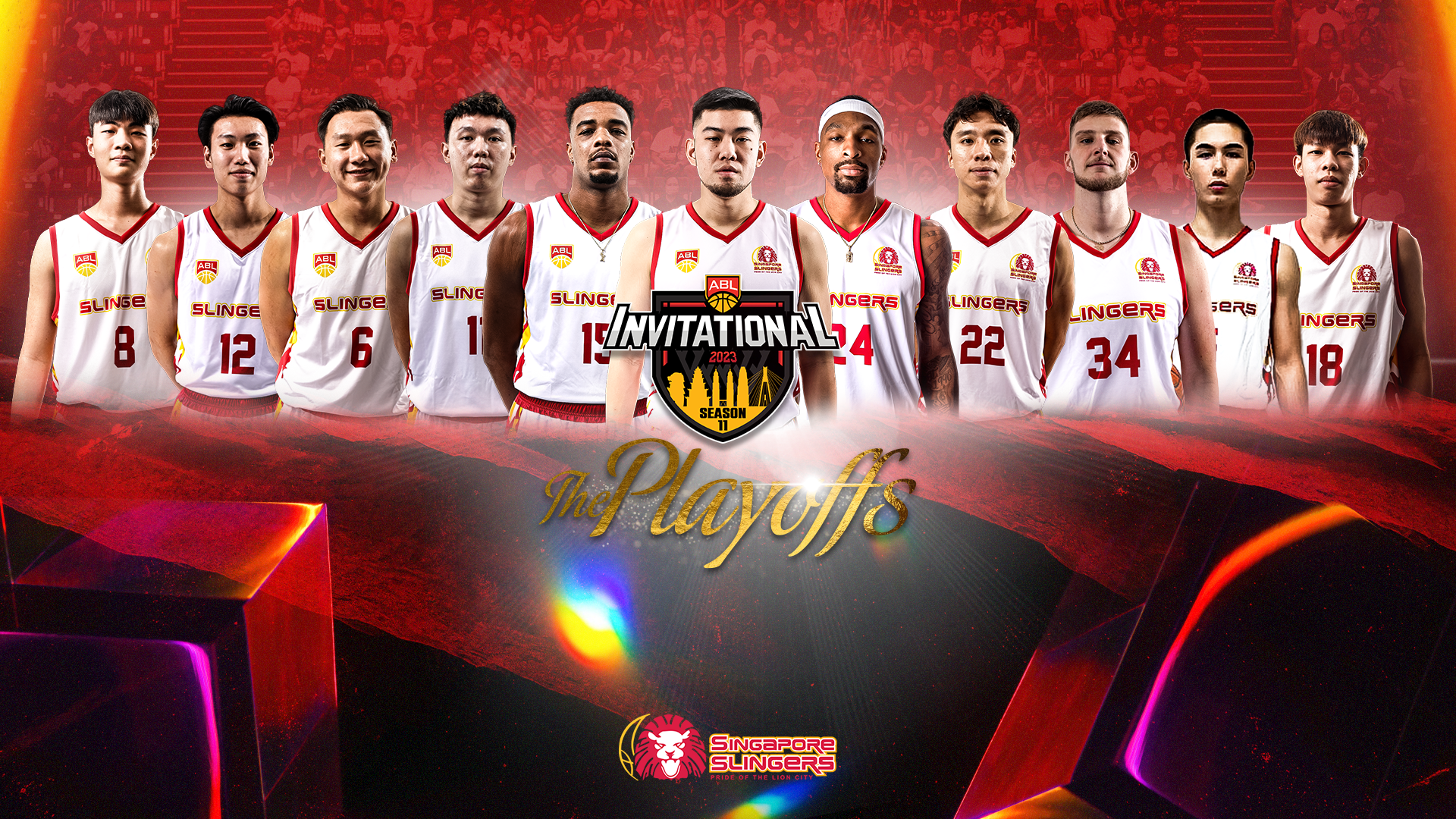 Singapore Slingers in 2023 ABL Playoffs. Image Credit : Singapore Slingers FB
The Singapore Slingers had to settle for the runner-up spot in the 2018-19 Asean Basketball League (ABL) season. That was after falling 3-2 in the best-of-5 games ABL Finals series against CLS Knights Indonesia. Following the end of the finals, the ABL was force to be cancelled for the next 3 years, owing to the global pandemic. And the long wait for regional basketball action finally resumed in January 2023, with Singapore staging the 1st of 4 ABL Invitational Series tournaments.
8 teams featured in the 14-round regular season across 4 cities including Kuala Lumpur, Batam and Ho Chi Minh. And by the end of the season, Saigon Heat finished at the top of the table standings, and will meet the Singapore Slingers (4th spot) in the 1st semi-final playoffs, while 2nd-ranked NS Matrix Malaysia will take on Hong Kong Eastern (3rd) in the other semi-final.
ActiveSG Circle recently caught up with Singapore Slingers General Manager Michael Johnson (MJ), Head Coach Neo Beng Siang and Slingers skipper Delvin Goh, for an update on the team's preparations ahead of the semi-finals.
Q : Having competed in 4 cities for the ABL Invitational over a 6-week period, how would you sum up the performance of the Slingers?
Michael Johnson : We started off the ABL Invitational fairly slowly. I think having not played in any high-level competition and in front of our home crowd for several years (due to covid), the players were somewhat nervous in the Singapore tournament. But after that, the team started to put it together and we've gotten better with each city's stopover.
Q : Did the lack of active and regular competition since 2020, show on court against your regional opponents?
MJ : I think it did in Singapore. But after playing 4 games here, things started to get back to normal for us and we've ended up finishing with 9 wins and only 5 losses across the 4 regional tournaments.
Q : Which was the 1 match which you truly loved the most and why?
MJ : Probably the final game of the series against Zamboanga (in Vietnam). We'd lost a game which we should have won to Saigon by the night before by 3 points. So our backs were against the wall in a win or miss-the-playoffs scenario. Zamboanga had also brought in Mario Chalmers and Renaldo Balkman, who are 2 quality former NBA players prior to the Vietnam leg to strengthen their lineup. So it was a huge effort by the Slingers to get the win!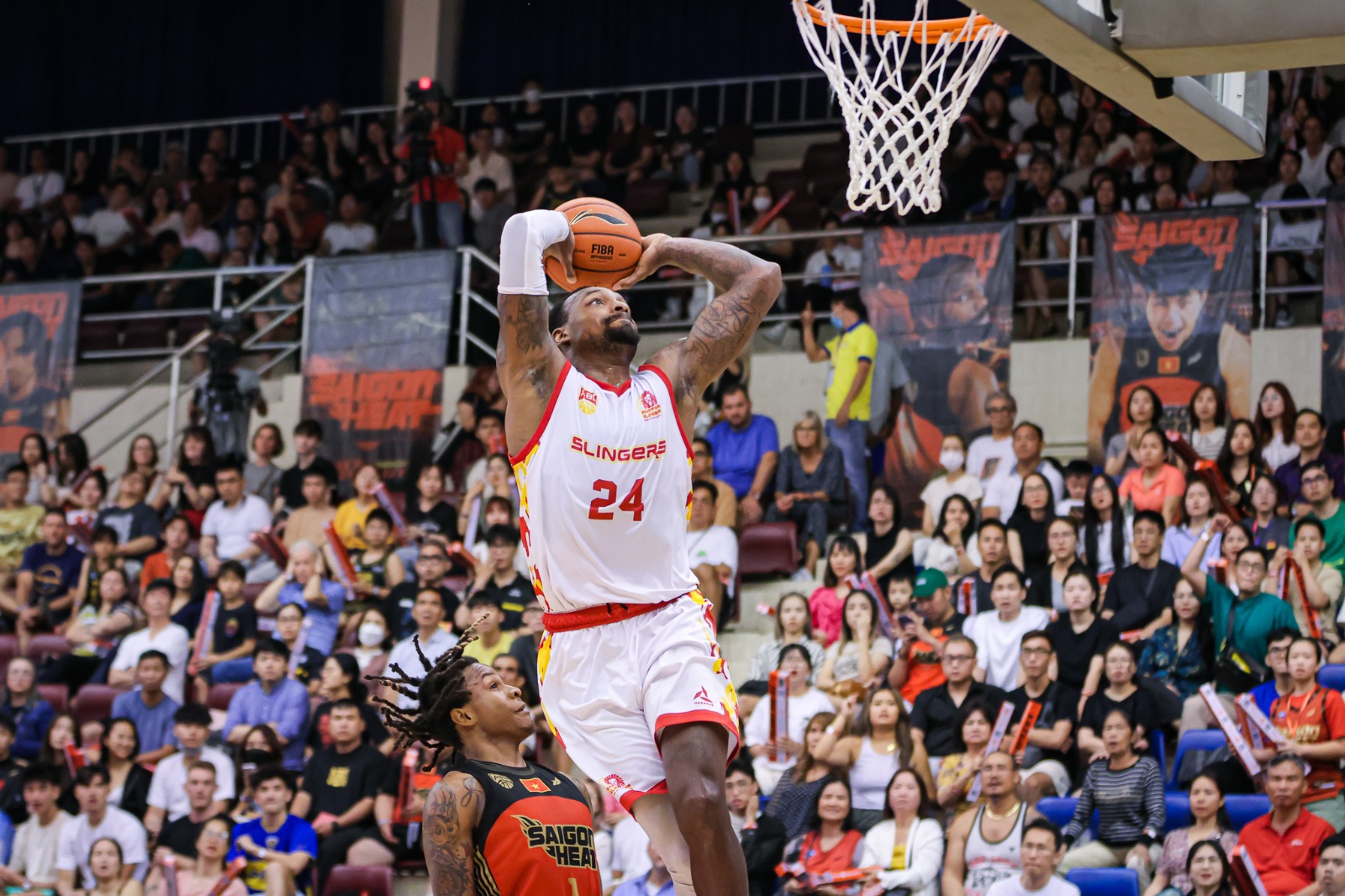 Slingers' Kentrell Barkley scores against Saigon Heat. Photo Credit : Singapore Slingers FB
Q : Based on his performances on the court, do you agree that shooting guard Kentrell Barkley has been the "go-to-guy" this season?
MJ : Kentrell has put up some impressive numbers "on the board" in his first season of ABL basketball and he is an important piece in the roster. But we win or lose as a team and don't rely on individual players. We have several "go-to-guys" in our team depending on the situation.
Q : What are your expectations of the Slingers in the semi-finals against the No 1 ranked team, Saigon Heat?
MJ : Our expectations are always the same - we expect to be very competitive and if we play well, we expect to win and I'm sure Saigon have the same expectations!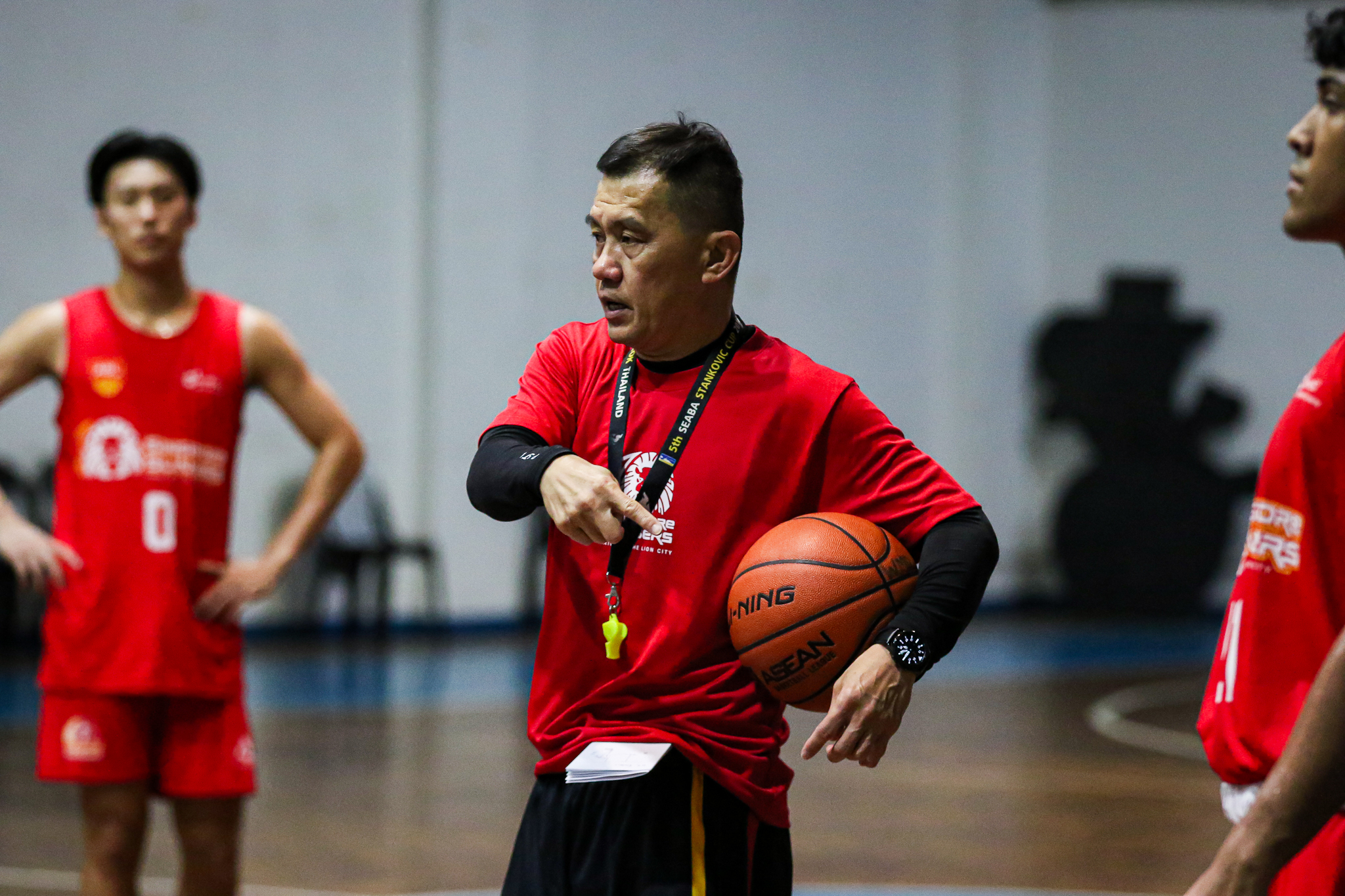 Slingers head coach Neo Beng Siang. Photo Credit : Singapore Slingers FB
Q : With a 9 to 5 win-loss record this season, what are your immediate thoughts of your team?Coach Neo Beng Siang : Overall I was not happy with the way we played, especially in the Singapore circuit, we had to wait until our last game to secure a spot in the playoffs. The team has yet to play at our best and for sure, we still have room for improvement going into the playoffs.
Q : Has the team been playing according to your plans, or were there 1-2 occasions when things just "got out of hand"?
Coach Neo : For the most part, overall I am happy with the team's performance. There were however, games which we struggled due to a lack of communication and things are not going our way. But we managed to get back on track when we place emphasis on what we want from the team and made the necessary adjustments during the games.
Q : What have you been working on during the 2-week break leading up to the Playoffs?
Coach Neo : We've been working on our running game, zone defense, full court press and we have focused on staying more competitive and physical during practice.
Q : Apart from Captain Delvin Goh, from the other Singaporean-born players, who's impressed you the most?
Coach Neo : Well, I think Delvin has yet to play at his his best during this Invitational season and we will expect more from him during the playoffs. Kelvin Lim and Jackson Mah impressed me the most, but the consistency is still not there as yet. I believe both players can give us more during the playoffs.
Q : Your hopes for the Slingers in the remainder of the season Coach Neo, as you're still looking for your 1st ABL title?
Coach Neo : We can be happy, but not satisfied with just having reached the playoffs. And yes definitely, I believe we can make it to the final and win the title!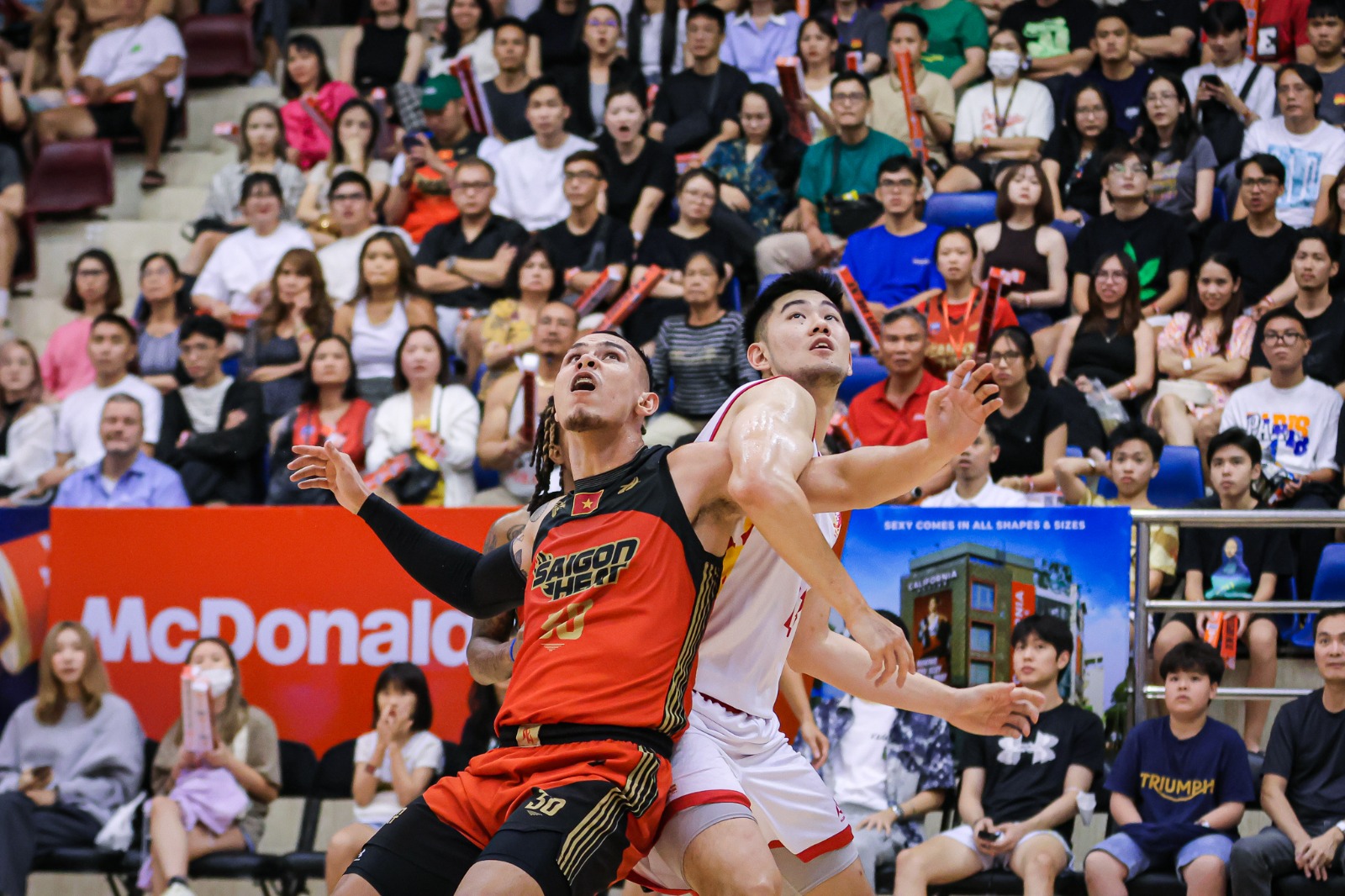 Slingers' skipper Delvin Goh (white outfit) competing against Saigon Heat. Photo Credit : Singapore Slingers FB
Q : Are you satisfied with the team's overall performance, especially having to be in a MUST-WIN situation for your final league match, before booking your playoff spot?
Delvin : I think overall with a record 9-5 record isn't exactly what we are after. But at the end of the day, getting into the playoffs spot and winning the overall champion is the main goal. I think with our game, whenever we have a situation where we can't lose, we push even harder. I think that's human nature. But overall I'm satisfied as we are right there.
Q : How has it been for you personally, coming off almost a 3-year break from competing in a highly competitive tournament?
Delvin : It's been really tough given that other countries opened up earlier and came back way sooner than us in playing the game. At the same time, we are just blessed to be healthy throughout the period and still training under the government's ruling during that period. Singapore Slingers have been really supportive of us, to make sure that we are still coping well.
Q : What do you tell your team-mates when the points and chances are not going your way during a game?
Delvin : We stick together like family, there's no panicking when we are down.. We made sure to have each other's back on any situation, because we know we will bounce back each time.
Q : Who's impressed you the most from the Slingers this season?
Delvin : I think everyone did their part really well this season, from Xavier Alexander's basketball IQ to Kentrell's offensive dominance to CJ Getty's all-around performance to Jackson Mah's confidence to Kelvin's energy, I think we all know that we will never be good as individuals, but as a team, we will strive. So we need that from everyone, everyday!
Q : Your target for 2023 in the ABL?
Delvin : Nobody wants to finish second, and we've been to the finals 3 times. So of course the target every year since I played back in 2011, is the ABL championship trophy!
The Singapore Slingers will be in Game 1 of the semi-finals on Monday, 6 Mar at 9pm (SGP time). You can catch the Live Stream here.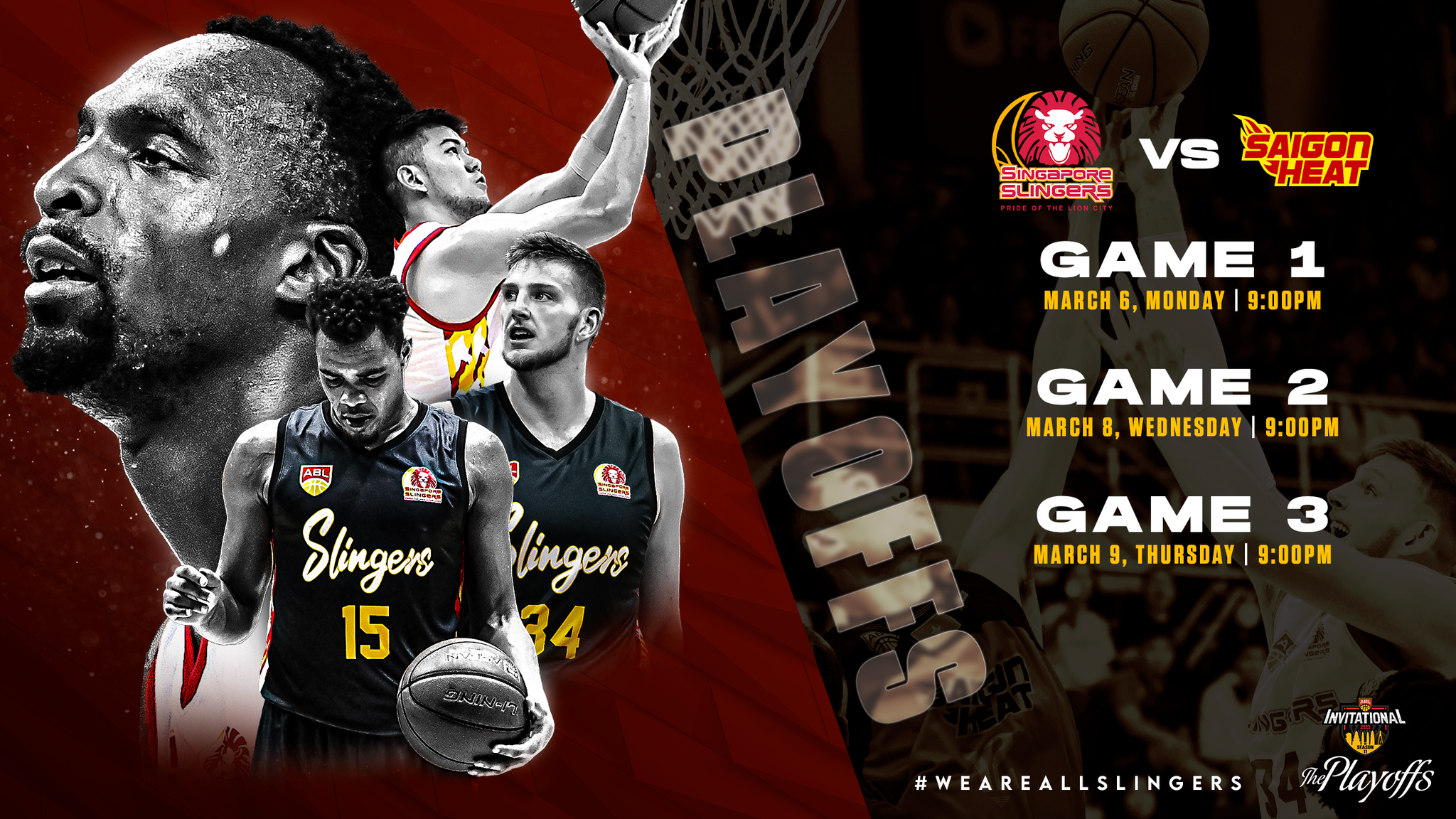 Image Credit : Singapore Slingers FB