Sport in Syonan: Triumph Over Despair - Chapter 10 | Sport in Changi Prisoner of War Camp
by Circle Stories, on February 5, 2022
▶ Download: Sport in Syonan: Triumph Over Despair - Chapter 10 | Sport in Changi Prisoner of War Camp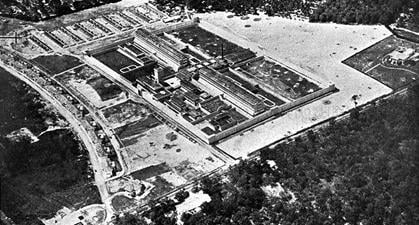 Pre-war: Aerial view of the new civilian prison at Changi, which later became the Prisoner-of-War (POW) Camp for allied POWs during the Japanese Occupation. 1936. Source: Courtesy of National Archives of Singapore (Media - Image No: 19980005075 – 0055)
A Sporting Distraction
In captivity, the Prisoners of War (POWs) managed to create a sporting distraction from the brutality of incarceration. One which reinforced their sense of toughness and resilience.
As most of the captives were brought up with a British Empire perspective on sport, it was not surprising that the major team games that might link British and Australian soldiers together were cricket and football. What was surprising was that some Japanese guards were drawn into the fascination of childlike play with footballs and cricket balls.
POW Playing Grounds
There were three main playing grounds for games. One near Selarang Barracks, which was occupied by Australians. One near the Roberts Barracks, which was occupied by the British. And one near the India Lines, which was occupied by British and Dutch POWs.
The Australians played Aussie Rules from the start of captivity and the British kicked a soccer ball around. There was a hidden message behind these games: it remained, as in times of peace, as a way to prove oneself. Still strong and fit.
The game that most symbolized the ailing British Empire was cricket. Thus it was no surprise that a cricket Test series would be initiated. Among the POWs were a significant number of first-grade Australian cricketers and county cricketers from England. It seems that the Australians were the dominant force!
Serious Play
There was rugby (both League and Union varieties), boxing and basketball, but football was the most enduring even though it adopted a particularly aggressive form. It was the only game that's survived a ban that had been imposed as a result of over-zealous play.
If the Aussies dominated the cricket and rugby, then the Brits called the tune with soccer. Most of the games were played on their 'turf'. They played their games in the early evening after tea.
"The POWs not only had a well-organised soccer league, but they also played competitively in the more physically violent contact games of Australian Rules, rugby league and rugby union."
"The players and officials took the game and its rules very seriously. They even had rules regarding the 'transfer' of players from 'club' to 'club'."
"Green (steward of Victorian Australian Rules team) described how when he was at Selarang Barracks, 'Max Street, a friend of mine, persuaded me to go to the hospital area to play football for "Melbourne". I was given three bowls of rice for transferring'."
- Quote from 'The Sportsmen of Changi' by Kevin Blackburn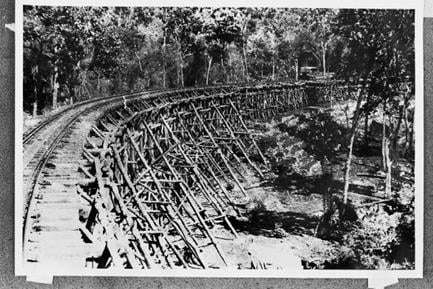 The infamous Death Railway constructed during the Japanese Occupation. 1942-1945. Source: National Archives of Singapore (Media - Image No: 20050000103 – 0011)