Sport in Syonan: Triumph Over Despair - Chapter 7 | Syonan Goodwill Tour to Malaya
by Circle Stories, on January 28, 2022
▶ Download: Sport in Syonan: Triumph Over Despair - Chapter 7 | Goodwill Tour to Malaya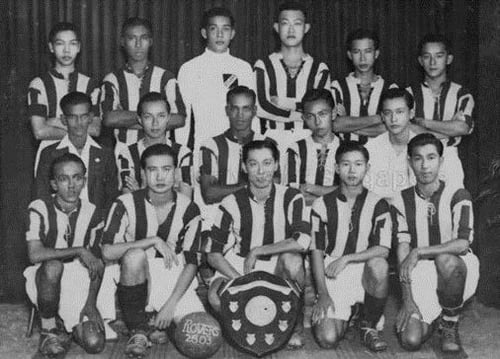 Pasir Panjang Rovers football team after winning the Alsagoff Shield in the Syonan Sports Association Soccer League, 1943 (2603 Japanese Occupation date). Front row (left to right): Shariff Madon, Tan Wee Eng, Ong Swee Hock, Chia Boon Leong, Gan Kee Siang. Middle row (left to right): Kally Din (official), Ong Leng Hoo, V Sabapathy, Zain (?), Francis Loh (official). Back row (left to right): John Hon, Abdul Rahman, Ong Eng Hoe, Tan Chin Lye, Wong Tong Seng, Choo Kwan Leong. 1943. Source: Chia Boon Leong Collection, courtesy of National Archives of Singapore (Media - Image No:20140000148 – 0196)
SSA Soccer League and Army Day
To signal that some form of normalcy was returning soon after the occupation, a report by the Japanese media stated that two soccer games had been played on a pitch at Cantonment Road. Although there were many informal football matches thereafter, there was no league programme in 1942.
In 1943, a communally-based soccer tournament was arranged to coincide with Army Day, which involved the four main racial groups and a sponsor – Syonan Nippo, the Japanese language daily newspaper.
Alsagoff Shield - May to September 1943
In March 1943, a new innovative, open soccer league was heralded by the Syonan Sports Association (SSA). Government departments and business houses were eligible to enter a single team each. Members of SSA were allowed free entry whilst non-members paid 20 cents. Ultimately, the Alsagoff Shield was won by the Pasir Panjang Rovers and Potong Pasir won the second division title.
Champions of Syonan
The end of 1943 marked the high point of sporting engagements. Jalan Besar Stadium became the venue of the first Inter-State soccer match between Syonan and Johore.
The charity match was a test before a 'goodwill tour' of soccer and hockey teams to Kuala Lumpur, Penang, Ipoh and Seremban from 2 November to 5 December 1943.
Japanese official Shinozaki from SSA was quick to exhort the players to seek success in the games.
"Go and fight and come back with victory. You are champions of Syonan and you must show your spirit. In Selangor, they are preparing the Sultan's Cup. You must bring the Cup down."
- Syonan Shimbun, 23 November 1943
His desire was fulfilled when the soccer players were undefeated in all six games. Two soccer members - Chia Boon Leong and Chu Chee Seng, would later represent China in the 1948 Olympic Games in London.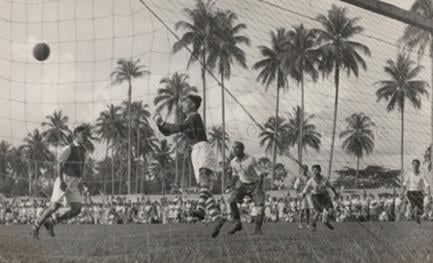 Post-war: Action on the field during the match between Rovers Sports Club football team against the T.P.C.A. Team taken in Kuala Lumpur. 21/04/1946. Source: Chia Boon Leong Collection, courtesy of National Archives of Singapore. (Media - Image No: 20140000148 – 0215)