Singapore to Host the First Major International Squash Event since 2012!
by Circle, on November 15, 2022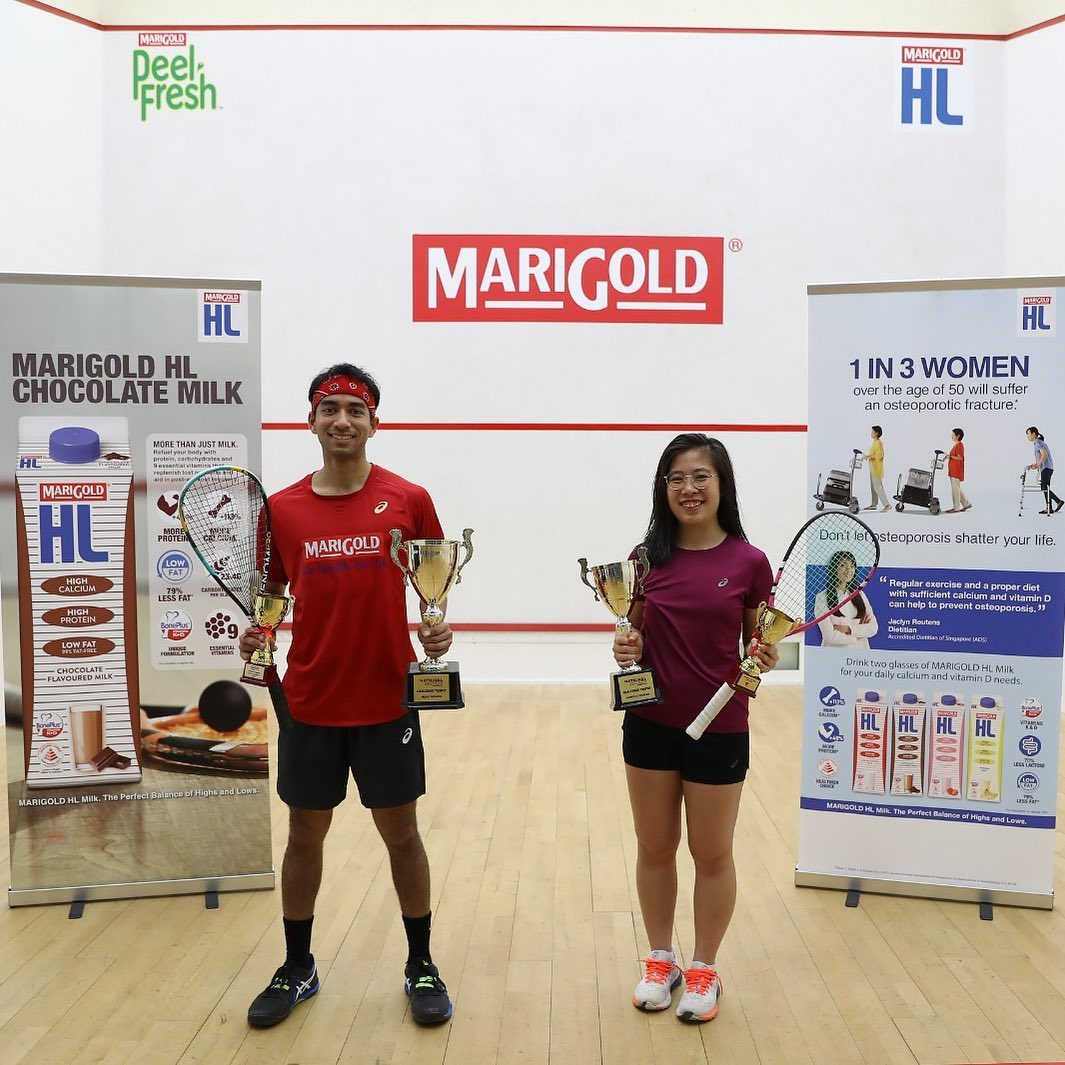 TeamSG' s Samuel Kang and Au Yeong Wai Yhaan. Photo Credit : Singapore Squash
Back in August 1998, the Singapore Pools Open Squash Championships were held in Bishan Junction 8. It marked the very 1st time that the sport of Squash, was brought to the heartlands via the staging of an international event within a shopping mall. A special 4-sided glass court was built and at least 500 spectators (each match) were allowed to watch world-class squash action.
Fast forward to almost 25 years later, a similar attempt to bring the sport to the masses is taking place at the MARIGOLD Singapore Squash Open 2022 event. From 15-20 Nov, top international stars will compete in the US$220,000 (S$313,000) event, at the OCBC Arena and the Kallang Squash Centre. This is the first Professional Squash Association (PSA) World Tour Gold event to be held in the Lion City. It's also the first major international squash competition to be held here in 10 years!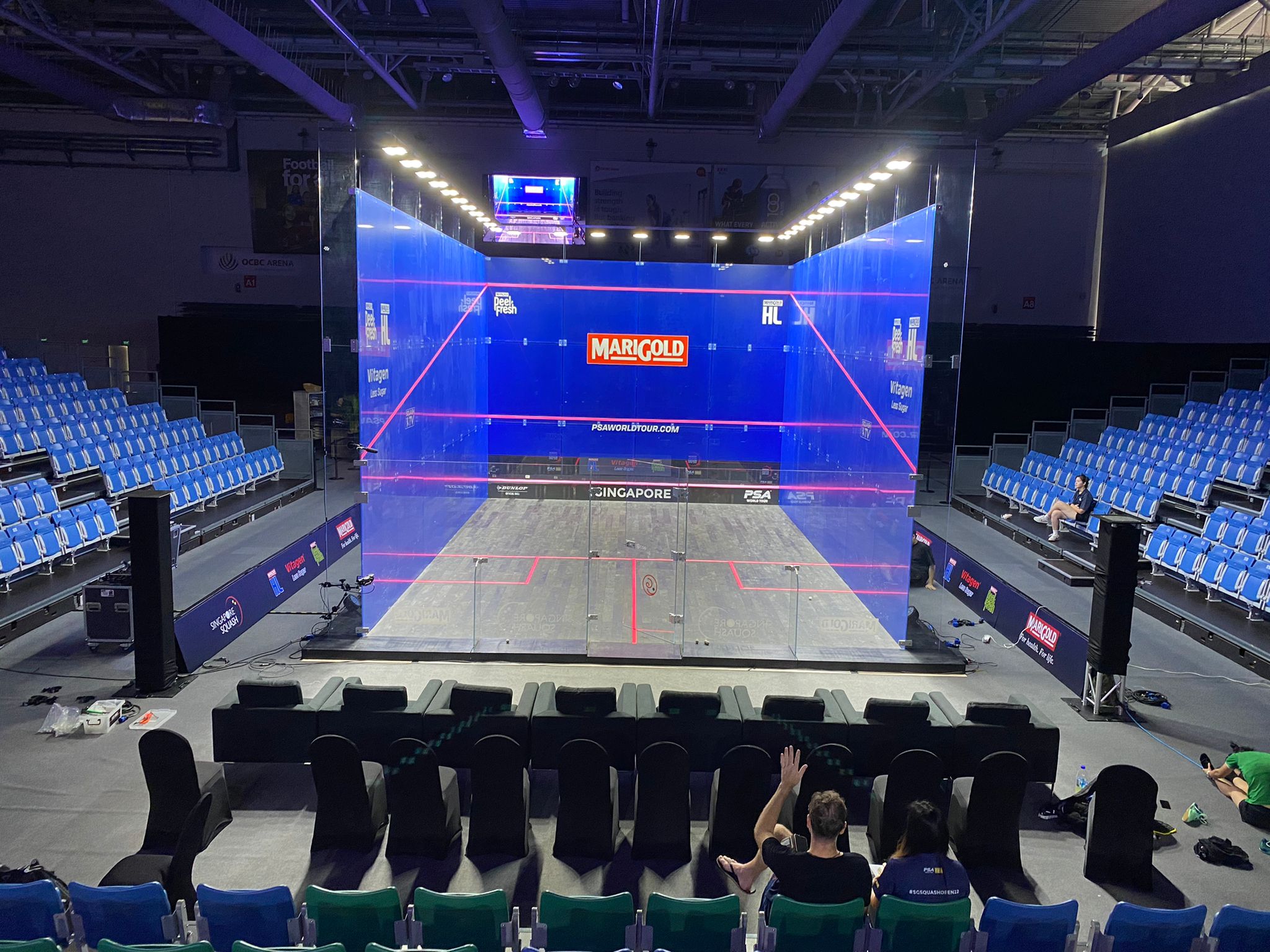 4-sided glass court setup at the OCBC Arena. Photo Credit : Singapore Squash
The sport of squash made the local and regional headlines in the 1980s-90s, with several Singaporean legends such as Zainal Abidin, Peter Hill, Mah Li Lian, Della Lee and others. The highest ranking ever for the Republic's Men's Team was 6th place at the World Championships in 1985. And Team Singapore was ranked 2nd in Asia, with several successful moments at the SEA Games, Asian Championships, East Asian Championships, Far East Championships and World Team Championships. But with the start of the new millennium and the gradual retirement of our top players (who were competing part-time), success on the squash courts started to disappear as the national team went through a rebuilding phase.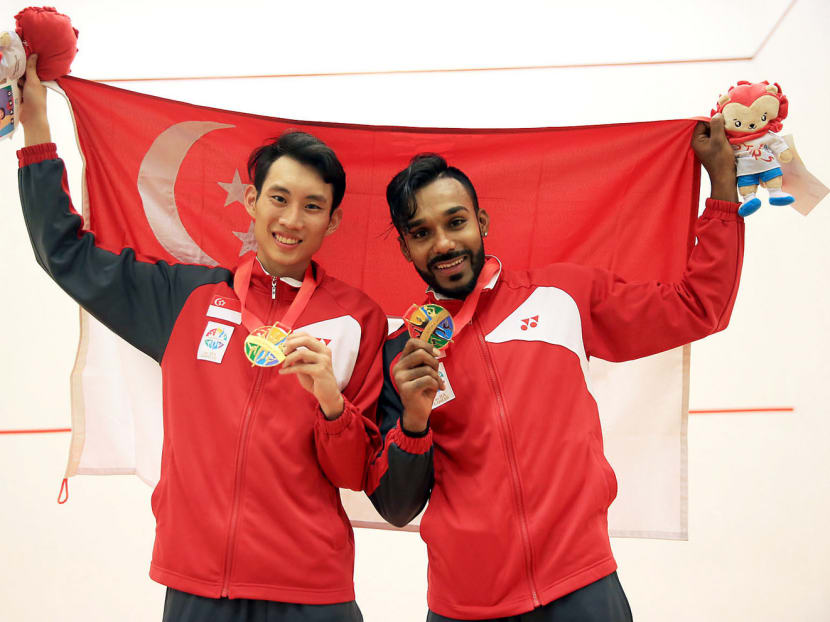 TeamSG's Marcus Phua and Vivian Rhamanan. Photo Credit : SportSG
Those changes in youth development programmes, sport science etc bore fruit when Singapore hosted the SEA Games in 2015, and the team of Marcus Phua and Vivian Rhamanan won the Men's Jumbo Doubles Gold medal. It was the Republic's first SEA Games squash gold medal since the 1995 Chiang Mai SEA Games. And since 2015, the current crop of TeamSG athletes, have accomplished regional successes in particular with Au Yeong Wai Yhann and Samuel Kang.
As the top-ranked players in the Lion City for the last 4-5 years, both were awarded wild card entries for the 2022 Singapore Open. Wai Yhann will come up against Hollie Naughton in the women's event, while Samuel will face German No. 1 Raphael Kandra in the men's draw. Meanwhile just last week, ActiveSG Circle caught up with both players via email-based interviews.
Q)Wai Yhann, how would you describe your sporting career in 2022 so far?
WY : It's been good! Though I started playing on the tour in 2017, it was very occasional and mostly within Asia. This is my first proper full year of competing on the tour and I have travelled to more than 8 countries and participated in my biggest tournament thus far, so it has been really exciting. And I hit the top 100 milestone – currently World Ranked 92, so am pleased that! Of course, with the SG Open coming up, I am thrilled to be competing in my first (and hopefully not last!) world tour event!
Q)Squash was absent from the SEA Games in May. But you were slated to compete at the Commonwealth Games in July, followed by the World Team Championships a month later.
Could you tell us briefly, how you fared and what experience did you gain?
WY : Unfortunately, I did not travel for CWG and World Team Championships. I did travel for Asian Senior Team Championships where I played at number 1 for the first time, leading a very young team (all juniors!). It was extremely tough as most players playing at no 1 are top-50 players – but it was an amazing experience being able to compete with them and see the gaps in my game as that is the level which I'd want to get to in the coming years.
Q) What are your thoughts ahead of the Singapore Squash Open?
WY : I am really thrilled! It's been so long since we have held such a big event in Singapore and it is just amazing to see that most of the worlds best players will be coming down to compete. Also, having missed out in SEA Games 2015, I've always hoped for the chance to compete at an international level in front of the home crowd – so I am excited and grateful for being given the wildcard slot and looking forward to a great tournament!
Q) How long have you been training and has there been a change in your overall gameplay, in the last few months?
WY : I've been training since I was 9 (haha joking!). Training has been / is still ongoing and it never really stops. I think during every competition and after every match I learn new things about myself and new areas to work on, so it is consistent work put into improving many, many areas. But I guess the biggest 'project' I have been working on is simply being more consistent with my length game – especially under high pressure situations.
Q)What are you expecting from the Singapore fans?
WY: I am hoping for a good turn out and that everyone will come down and show lots of support for all the players.
Q)What are your plans for 2023?
WY : It will be similar to this year I believe – Squash and uni. Definitely look to continue touring, and hopefully be competing in bigger tournaments as compared to this year. Apart from that, will continue to put in good work with Elitesquash back in Bristol and with Tim as well, as the national team coaches when I am back home.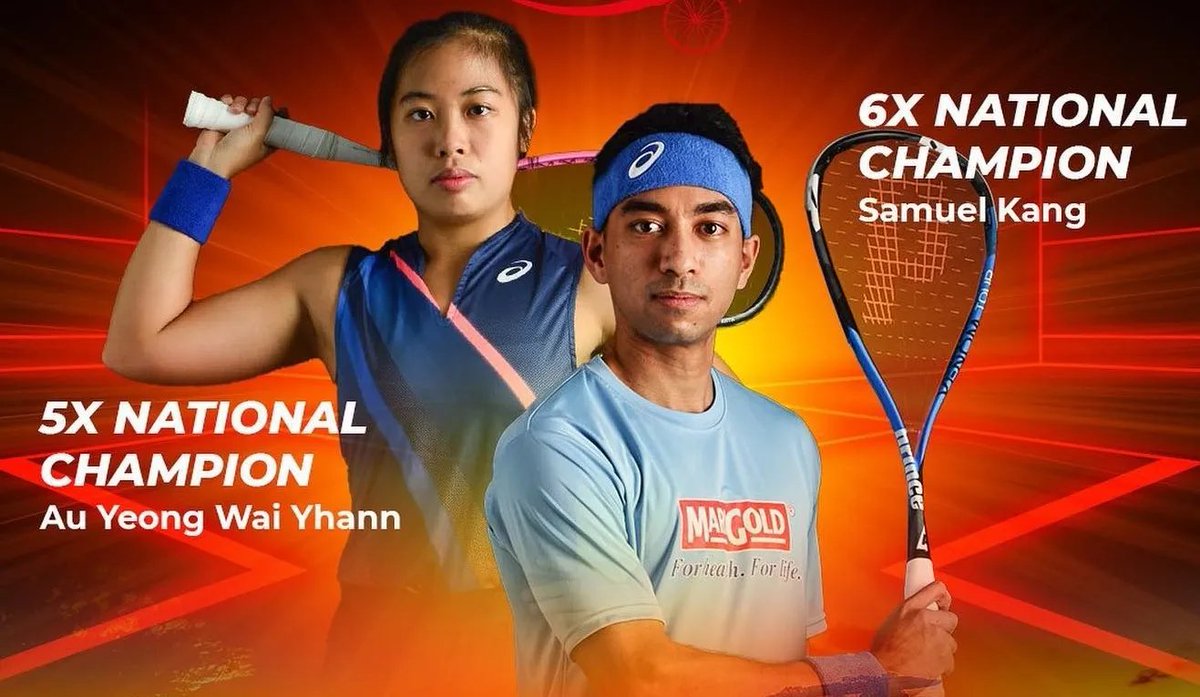 Image Credit : MARIGOLD Singapore Squash Open 2022
Q) Samuel, we're at the tail end of 2022. Can you describe briefly, how the year has panned out for you in terms of your sporting career?
SK : It's been a good year. I managed to win my sixth national title in March and got the opportunity to compete internationally for the first time since the pandemic when I participated in the World Doubles Championships in April, where my partner and I finished in the top 16! I also was able to compete in the Asian Team Championships earlier in Nov, which gave me the opportunity to play against foreign professional players for the first time in 3 years. It hasn't been easy to keep up my training having switched jobs 5 months ago and becoming a father recently too, but I'm slowly getting into a routine that'll hopefully allow me to continue to compete.
Q)Which would you say was your biggest disappointment so far in 20-22?
SK : Not being able to participate in any overseas PSA events.
Q)How long have you been prepping for this event, and is there anything you've changed in your training format ahead of this tournament?
SK : I was only informed by the association of the wildcard about 1 month ago, so there hasn't been a lot of time to prepare specifically for this event. But I guess I've been preparing for this since I started taking squash more seriously when I was 16? I've been trying to regain my fitness since taking a break in Aug/Sep when my child was born.
Q)How do you reckon the playing experience will be like in the specially built all-glass court at the OCBC Arena?
SK : It'll be fantastic, I'm really looking forward to it. Playing on a glass court is not something I get to experience often, let alone in my own backyard!
Q) What are you hoping to achieve at this US$220,000 event?
SK : Gain experience competing against top-class players and watching them in person.
Tickets for the MARIGOLD Singapore Squash Open are on sale here. And all of the action from the 6-day event will also be streamed live on SQUASHTV.