TeamSG Bowlers are prepped and ready to roll, at IBF Super World Championships 2021!
by Circle Stories, on November 4, 2021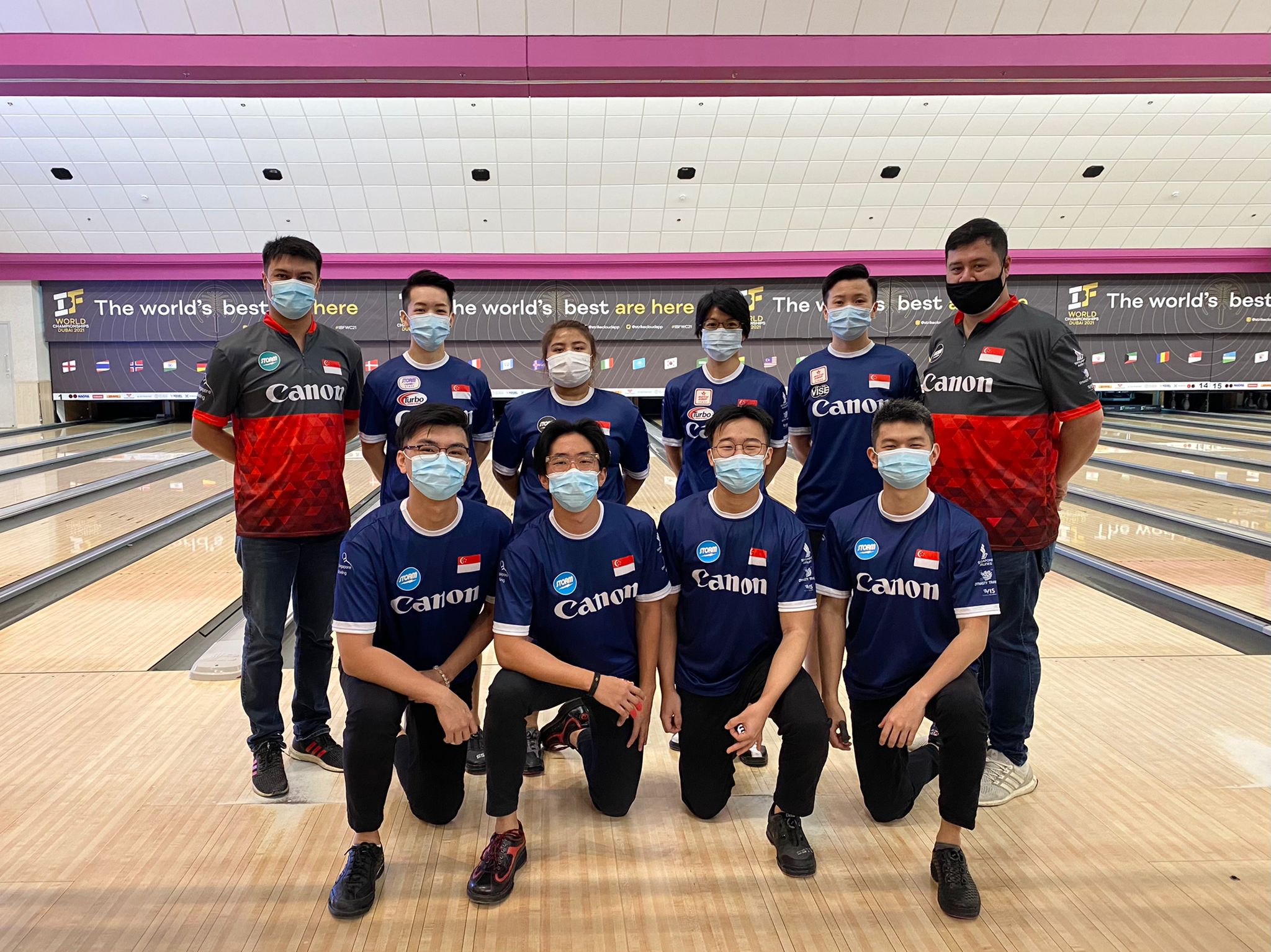 (TeamSG Bowlers @IBF Super World Championships 2021 - Photo by Singapore Bowling)
By Raj Kumar
When it comes to the sport of Tenpin Bowling, Team Singapore are no strangers to competing at the highest levels, as proven by our former achievements.
Dating back to 1985 in London, Adelene Wee won the Women's Singles title in Bowling at the World Games. And more than 20 years later in 2006, Remy Ong was victorious in both the Men's Singles and the All-Masters title at the World Championships in Busan, South Korea.
Meanwhile, Jasmine Yeong-Nathan went on to lift the Women's Singles Trophy at the 2008 QubicaAMF Bowling World Cup in Mexico and 4 years later, Shayna Ng clinched the same Women's title in Poland. In 2015, Shayna made the headlines again by winning the All-Events Gold medal at the World Championships. And in 2019, Cherie Tan won the Masters title, also at the World Champs in Las Vegas.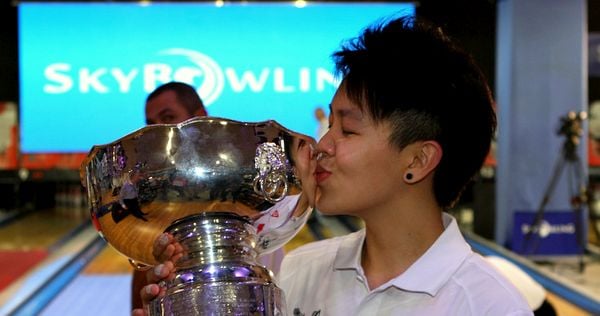 (Shayna wins the 48th QubicaAMF Bowling World Cup in 2012. Photo Credit - bowling.digital.com)
5 Team Singapore Bowlers made the headlines in the last 36 years. And we're now just hours away from the start of the Super World Championships 2021 in Dubai. Organised by the International Bowling Federation (IBF), the 8-day event sees more than 250 elite keglers from around the world, compete in 5 formats ie Singles, Doubles, Trios, Team (of 4) and Mixed Team.
Team Singapore will be represented by 8 athletes :
Men's Team:

Cheah Ray Han

Jonovan Neo

Darren Ong

Jomond Chia
Head Coach –

Jason Yeong-Nathan
Women's Team:
Cherie Tan

Shayna Ng

New Hui Fen

Iliya Syamim Bte Md Azni
Head Coach – Helmi Chew
The TeamSG contingent arrived in Dubai on 1st November. And they're now in the final stage of preparations at the Dubai International Bowling Center. But just before they were allowed to train officially for 2 days. the Singapore squad addressed a few questions posed by Circle News (SportSG), via an email-based interview format.
Q1. For Both Coach Jason and Helmi :
How much of training / how long have you been preparing for this World Championships campaign?

Helmi Chew -
IBF first informed the national federations of this new World Championships in April 2021 and by May, we had more information on the change of formats and events. There is more emphasis on team events with Singles being the only individual event and Doubles, Trios, Mixed Doubles, and Team (of 4) being the other events.

Hence, our preparations have focused not only on getting each team member individually ready to compete against the best bowlers in the world, but also on playing together as a team. With the introduction of the "baker format" in the other events, not only are individual skills important, but also team synergy, trust and the ability to read off each other will be crucial in those events.

Jason Yeong-Nathan -
The Men's world championships team was selected in September, and we have been training hard since. This championship is different from the previous championship, because the format of play is bakers. Unlike the traditional format, the bakers format requires excellent teamwork as each bowler would take turns to bowl a frame within a game. For this peaking cycle, there was a lot of focus on team play trying different strategies.

Q2. What are your expectations of your respective teams, especially since we are 6 months away from the SEA Games?

Helmi -
We expect our women bowlers to demonstrate that they can compete with the best in the world, as they have done so in the past few years.

The SEA Games was originally slated to take place, soon after the World Championships. Now that it has been postponed till May 2022, our focus is to compete as best as we can in this World Championships. The Hanoi SEA Games will have a different format and events, so our team selection and preparation would begin afresh in 2022. However, a good performance from each of our bowlers in this world championships, would certainly be advantageous to their possible selection for SEA Games, as it would demonstrate their ability to perform at the highest level of competition.

Jason -
The format of the world championship and SEA games are different. It's 2 completely separate events. We always go into every competition/championship with the same mindset and that's to bring glory to Singapore. Right now, we are only focused on doing our best for the world championship!


Q3. (For Helmi) Could you explain the selection of 22 year old Iliya Syamim for this campaign?

Being the newcomer on the team, she has earned her place. Before COVID-19 came along, she had breakthrough achievements in 2019 such as winning the Hong Kong Open and she's represented Singapore in the Asian Bowling Championships held in Kuwait. She was also one of the top performers during the national program roll-off held in 2021.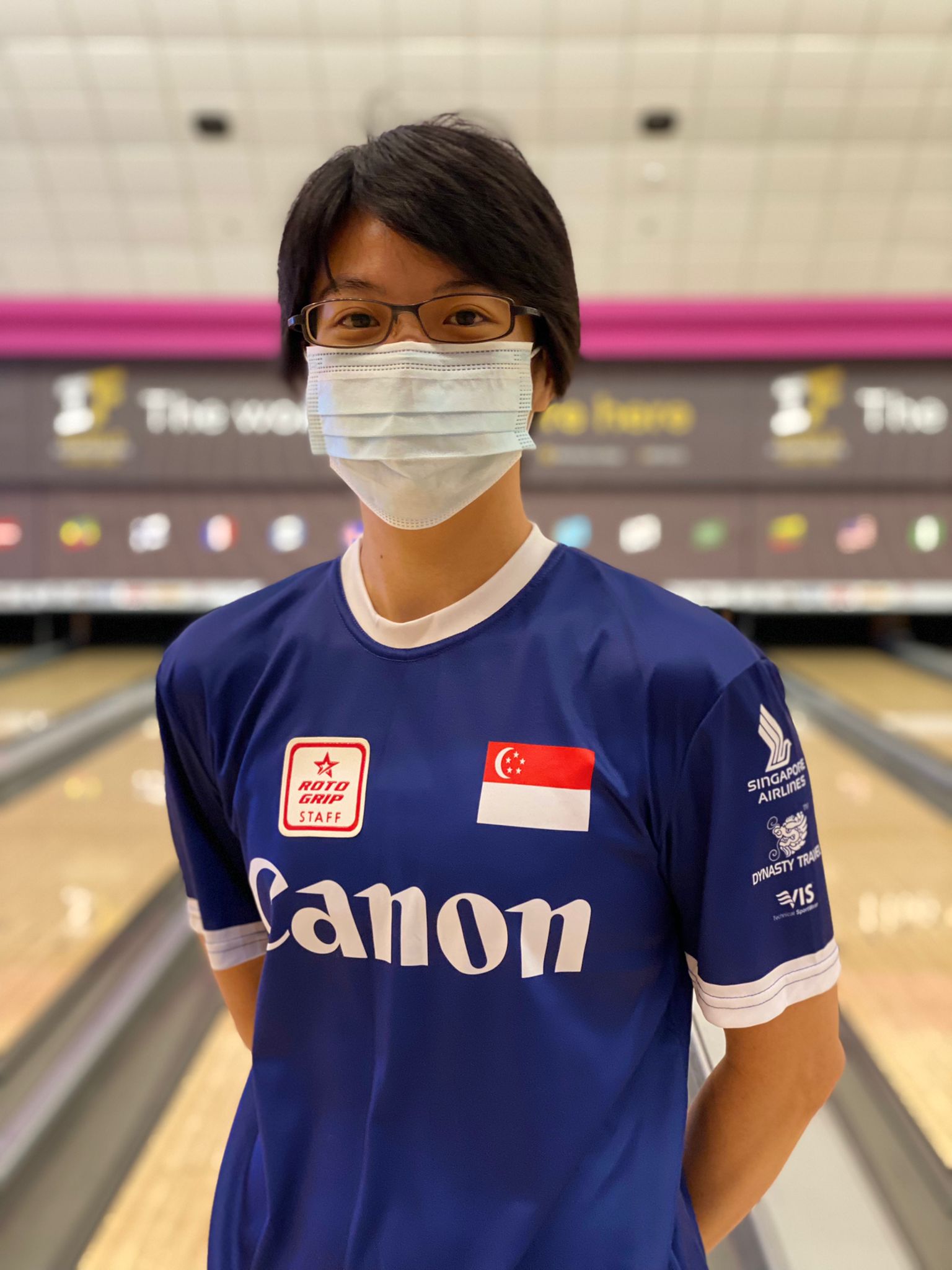 (TeamSG Bowler Cherie Tan @IBF Super World Championships 2021 - Photo by Singapore Bowling)
For Cherie Tan (Won the Masters title at the 2019 World Championships)

Q1 : You had a great run at the 2021 US Open in August. What lessons did you learn from that experience, which you've brought to Dubai for the current championships?

Cherie : Being able to compete after a long break (18 months) was great, as I managed to figure out which part of my game needs adjustment. I worked on those parts of my physical game right after the stay home notice and continued tweaking it during the peaking program.

Q2 : Did you do anything differently in your training since returning to Singapore and prepping for this campaign?

Cherie : The training program was a little different as compared to previous competition preparations, as the format of play (in Dubai) is very different from what we are used to. We spent some time getting accustomed to the baker format, as it comes with different tactical requirements.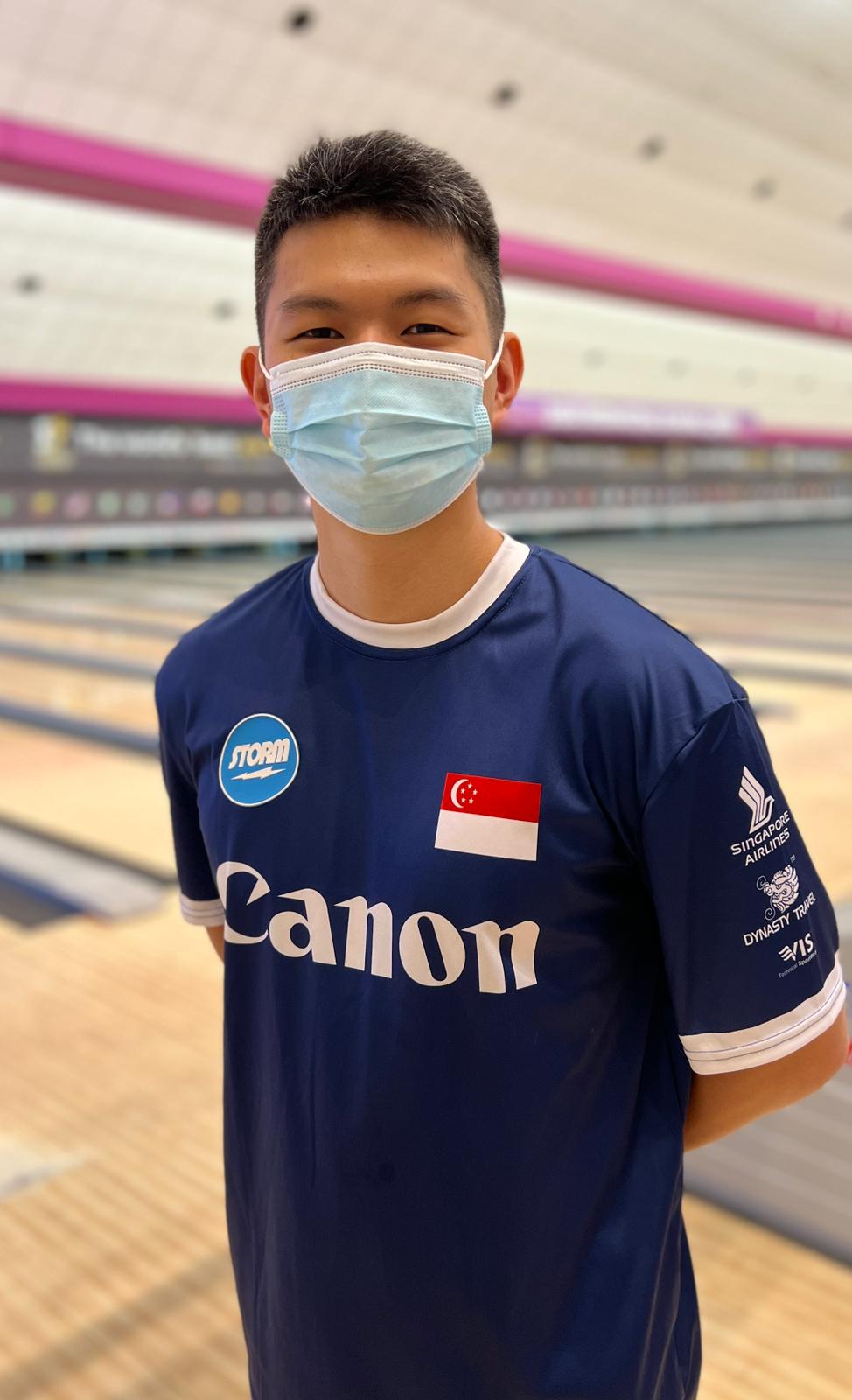 (TeamSG Bowler Darren Ong @IBF Super World Championships 2021 - Photo by Singapore Bowling)
For Darren Ong :

Q1 : You competed at the World Cup in 2018, so you're no stranger when it comes to the Big events. Hence, how are you approaching this World Champs?

Darren : For this year's world championships, I would say that I'm approaching it the same way, I've always approached any majors. Doing all the necessary preparation and training leading up to the competition, which allows me to be in the best position to succeed. Yes, the format might be different this year, however together with my coaches and teammates, we've been working hard, finding the right strategy, that will allow us to maximize each of our strengths.


Q2 : The absence for more than 18 months from the international arena to train and compete due to Covid-19, how did you manage to address that setback?

Darren : It's been tough on us bowlers as well as the coaches and the biggest setback has been the lack of opportunities to compete in overseas competitions. Given that we weren't training for any tournaments, a lot of us were able to take a step back and look at our physical/mental game to see if there was a need to make any necessary changes that could potentially bring us to that next level. Such changes always take us some time, but with the given situation, it was the perfect opportunity for us to take advantage. I'm truly grateful for our coaches, as they kept us motivated and made challenges during our training to keep that competitive spirit intact.


Q3 : What did you miss about bowling, when you weren't able to compete for more than 1.5 years?

Darren : I think the competitive feeling about the game is what I miss the most, no scenario or simulation can replicate what we feel during competition and I think every bowler will agree with me that's the part we all love and that's why we do what we do. The traveling aspect of it is another big part that many of us miss. It's always a privilege for us when we can travel and represent our country doing what we love.

To add to that it's been closer to 3 years since I competed in an overseas tournament. The last competition was back in 2018 at the World Men's Championship in Hong Kong, and just a month after I returned I enlisted for National Service. So I wasn't able to compete while I was in NS and halfway through, Covid hit which made it impossible for me to travel and compete. So finally being able to travel and compete once again, I would say I'm ready to go and can't wait for the competition to begin.
Day 01 (6 Nov)
0800 – 11:00 Singles Games 1-5, Female Group 1, Squad 1
11:00 – 11:30 Lane Maintenance
11:30 – 14:30 Singles Games 1-5, Male Group 1, Squad 1
14:30 – 15:00 Lane Maintenance
15:00 – 18:00 Singles Games 1-5, Female Group 2, Squad 1
18:00 – 18:30 Lane Maintenance
18:30 – 21:30 Singles Games 1-5, Male Group 2, Squad 1
After a 2 year absence, the World Championships (in a new format) gets underway from 8am local time on 6 Nov. And we wish our Team Singapore keglers, the Best of Luck, Success and Safety in Dubai :)
Raj Kumar's been in Singapore's sports reporting and broadcasting scene since 1997. He was the former Sports Editor and Presenter on Power 98FM (SAFRA Radio) and 938LIVE (Mediacorp Radio). Over the years, he travelled to report on Team Singapore at the 2008 Beijing Olympics and 2012 London Olympiad, including 4 SEA Games cities. As a familiar voice and face on Radio, TV and online sports, he has produced and hosted more than 650 talkshows and programmes.
Related Events & Programmes