Screen time erodes mental health and productivity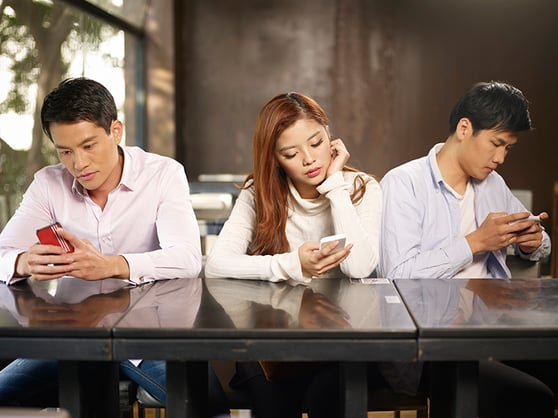 Distractions. They are everywhere. And it's a major problem.
Distractions result in high-frequency task-switching, which leads to more errors and low productivity. Some research suggests up to 40% lower productivity.
Right now, the biggest culprit for creating distractions is social media. Open browser tabs, mobile app alerts, and email notifications are always demanding attention, diverting us away from things that actually matter. Things like work, family, (real-life) friends, and ourselves as well.
In fact, social media platforms are designed to command our attention. And the increased usage that results has been linked to:
addictive behaviours, such as compulsion and symptoms of withdrawal, increased anxiety, low self-esteem, symptoms of depression
To reduce these negative effects, we need to set social media boundaries. And considering that 72% of Singaporean adults use Facebook, 43% use Instagram, and 33% use Twitter, we need a simple way to make it a habit.
MORE ABOUT DAILY HABIT #1: I WILL USE SOCIAL MEDIA FOR A MAXIMUM OF 30 MINUTES PER DAY
This habit offers a huge payoff. It improves productivity by limiting distractions created from "multitasking". It decreases the anxiety caused by excessive social media use. It will reduce our exposure to addictive behaviours. Most importantly, this habit gives us more time to spend with family and friends, doing the things we love most.
How do I build this habit?
Turn off notifications and alerts to your mobile and email.
Choose one time each day to check your social media. Book it like an appointment, and include a cut-off time. Eg. Social media time is 12pm to 12:30pm every day.
Be sure to close your social media feed after you've finished checking it.
If need to restrict your access, try to only check social media on your computer. Remove all social media apps from your mobile devices.
Want to know exactly how much time you spend on social media with your mobile? The following apps track your mobile screen time, and the specific apps you're using:

Android -

http://www.qualitytimeapp.com/
iOS -

https://inthemoment.io/
for you and your family -

https://screentimelabs.com/
Commit to this strategy consistently and build it into your daily routine! This habit isn't an easy one, so remember better beats perfect.
How do I measure my success?
Monitor: Make a note at the end of the day if you spent more than 30 minutes on social media over the day
Sources: