Disciplines in Equestrian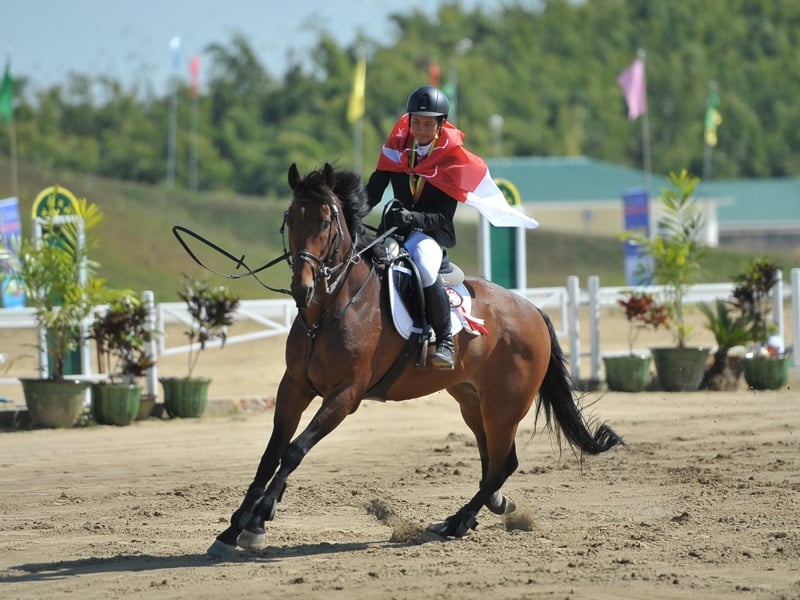 Image credit: Siong San/SportSG
There are three Equestrian disciplines that athletes will compete in during the 2015 SEA Games. They are Endurance, Jumping and Dressage. Each discipline has both individual and team events.
The Endurance discipline tests the rider's skill on horseback as well as the fitness and stamina of the horse. Course tracks are cross-country, including both natural and man-made obstacles like hills, ditches or hedges. There is a set distance and time limit given for each round, with riders divided by weight divisions to ensure that no rider has an advantage. Riders are ranked by the time they take to finish the course, with the faster times ranked higher. Awards are also given to the horses that cross the finish line in the best condition. There are four riders in each group for the team event and ranking is given based on the number of riders in each team that finish the course.
The Jumping discipline tests the rider's ability to work with their horse and the horse's ability to jump over obstacles on command. The course is filled with eight to twelve obstacles like ditches, low walls, and parallel bars. The objective is to complete the course in the shortest amount of time without knocking over or missing any obstacle, straying from the course sequence, and exceeding the time limit. Any infringements will result in penalties and points will be taken off the final scores.
Riders have to make two passes through the course and those with the highest scores will advance to the finals. The rider and horse that performs the best with the shortest time wins the round, with riders required to perform an additional pass if their scores are tied. Only four riders are allowed in team events and the worst score out of the four riders is discarded. The team that performs the best with the shortest time wins.
The Dressage discipline is known as "horse ballet" because it tests the rider's ability to work the horse into performing a series of required moves. Judges will look at the horse's form and its willingness to perform each element with minimum prompting from the rider. The rider should also look relaxed and in control. Based on this criteria, judges will award points (0 - 10) for each element performed and the rider with the highest score wins. For this discipline, the team event is held first. Only four riders are allowed in each group and the worst score out of the four is discarded before the total is added together. The group with the highest score wins. The riders with the best scores for the team event will then qualify for the individual event.
To receive the latest updates on the happenings in the Singapore sports scene, or to find out more about some of the latest programmes on offer at ActiveSG, like our Facebook page here.