How to care for your Equestrian equipment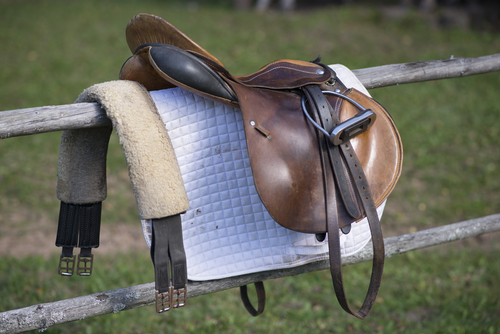 Image credit: Shutterstock.com
Equestrian equipment is not cheap, so learning how to take care of these items will make them last longer. Taking good care of your equipment will also help to prevent skin conditions, infections and discomfort to your horse.
Metal equipment like stirrups and spurs should be cleaned with soap and water, and you can polish them to give a shine. You should wash all fabric items like saddle pads, leg wraps and track bandages once a week.
A mounted shelving unit like a bathroom organizer can help you sort out your grooming supplies when you clean and brush your animal at the start and end of each session. Don't forget to wash your grooming tools with diluted dishwashing liquid periodically and disinfect them by soaking them in bleach overnight. You should sun dry the washed equipment, so they stay clean and disinfected. Fabric items like indoor / outdoor sheets and horse blankets should be brushed with a stiff plastic brush to clean off manure, shavings or hay.
Sometimes, you can get caught in the rain and your equestrian equipment gets wet. You should air dry your equipment for a few hours in a well-ventilated area, then wipe the leather equipment with a leather conditioner to prevent them from cracking. Do not use hot oil as it rots the stitching and weakens the leather fibres.
Dust is an enemy to leather goods, so it is extremely important to make sure you wipe down and store your leather tack and saddles properly. Always clean or wipe down your leather equipment with a weak shampoo or soap made for leather goods. Retain moisture with a leather conditioner and prevent them from drying and cracking by storing them away from direct sunlight. Your leather equipment will last for years if they are well cared for and stored correctly.


Try to use airtight containers to protect equipment made from natural materials such as leather or wool. By extending the life of your equipment, you not only save money but enhance your animal's performance.
To receive the latest updates on the happenings in the Singapore sports scene, or to find out more about some of the latest programmes on offer at ActiveSG, like our Facebook page here.