73 and going strong with Pilates
Ms KAM Kum Wone, 73, started practicing Pilates 10 years ago. She and 7 like-minded friends came together and started a weekly Pilates class regime 7 years ago that is still ongoing today. Dubbed the "Golden Girls", the oldest member in the group is in her 80's while the youngest is in her 50's.


"Golden girls" and a boy (spouse of Kum Wone), Kum Wone is sited in the front row, second from the left.


While many people seem to be happy to blame immobility on simply just getting older, Kum Wone and her friends knew very well that the body joints and muscles deteriorate more from inactivity then just simply aging. With a fast aging society, increase awareness in maintaining a healthy body regardless of age is more important than ever so as to reduce strain on the healthcare system and more crucially on the loved ones.


Their class of 8 held at Focus Pilates, and is led by a dedicated instructor, who customized a series of exercises in accordance to their individual physical conditions. The class starts with some warming exercises followed by stretching exercises on a reformer (a Pilates exercise apparatus). The reformer enables the individual to perform the exercises according to their individual physical conditions with its adjustable springs that modifies the exercise intensities. The instructor lead the class in exercises that involves strengthening of muscles and joints from head to toe and incorporates proper breathing rhythm and the proper use of lower abdomen muscles.


Kum Wone on the reformer


Kum Wone shared that at times, the class would complain that their instructor was "torturing" them when the going gets tough but they would be immensely grateful at the end of the session when they feel the benefits from the work out. They fully trust their instructor who is highly experienced to help push them to their limits to reap maximum benefits without injuring themselves.


"My joints are no longer stiff. It felt good after every session and that I could maintain my general well-being and fitness with no pains and aches." said Kum Wone, who still swings her golf clubs whenever she finds the time.

Foundation of Pilates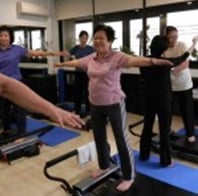 Founded by Joseph Pilates in the early 20th century, on the foundation of holistic health, his exercise regime was only part of the philosophy of wellness that he had. Through taking care of one's mind, body and spirit, Joseph Pilates believed one could achieve and maintain prime health and fitness well into old age. He, himself, was a perfect example of this as you can see from the photos below.
From the left, Joseph Pilates at age 57 and 82 (standing in the snow)
Prime Pilates – Reformer Classes for 55years and above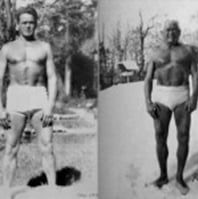 After receiving increasing enquiries in recent months for more classes suitable for the older age group, Focus Pilates is introducing the Prime Pilates classes on the reformer. Specifically designed for the physique needs of people 55 years or older, the class will work on improving and maintaining mobility in joints and increasing strength in the muscles. The reformer is an ideal tool for this class as it facilitates good movement easily through the assistance of the springs. Carefully chosen mat work exercises will also be included for a complete exercise programme.
Prime Pilates class package consisting of 2 x private sessions and 5 x group classes is available at $385. Classes will be available from March 2013 onwards.
Call Focus Pilates at 6733 8785 / 6235 3938 or email info@focuspilates.com.sg and find out more.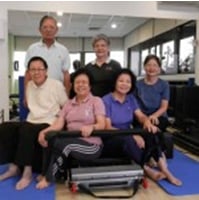 To receive the latest updates on the happenings in the Singapore sports scene, or to find out more about some of the latest programmes on offer at ActiveSG, like our Facebook page here.