Judo ranking system and belt colours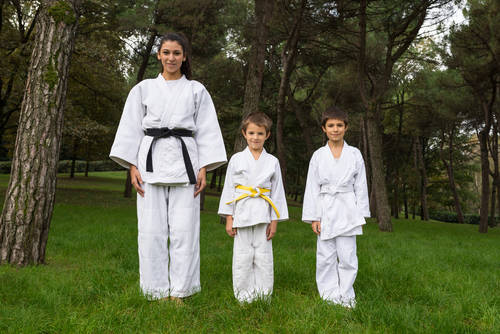 image credit: Shutterstock.com
In Judo, improvement and understanding of the art is represented by a system of ranks. These are indicated with various systems of coloured belts, with the black belt indicating a practitioner who has attained a certain level of competence.
There are 2 groups of belt holders, Kyu grades and Dan grades. Kyu grades, also known as mu-dan-sha, are for beginners learning the art of Judo, which consists of 6 ranks starting with brown belt (Ikkyu), followed by blue belt (Nikyu), green belt (Sankyu), orange belt (Yonkyu), yellow belt (Gokyu), and lastly white belt (Rokyu). After which, a test will be taken by the Rokyu, to advance further into the Dan grades (Black Belt Grades).
The black belt group is called yū-dan-sha, which also means "black belt holder". There are ten ranks within this group starting with a first degree black belt. Everyone in this group wears a black belt to signify that they are part of this group, however there are some optional belts that can be worn.
A red and white paneled belt may be worn by people who possess a 6th, 7th, or 8th degree black belt. A red belt may be worn by those who possess a 9th or 10th degree black belt. These optional belts are usually worn during special events.
To receive the latest updates on the happenings in the Singapore sports scene, or to find out more about some of the latest programmes on offer at ActiveSG, like our Facebook page here.