Equipment for Petanque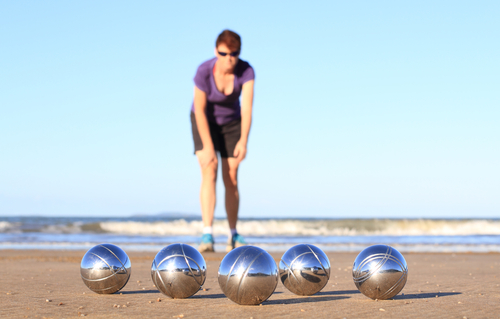 Image credit: Shutterstock.com
Every ball game requires specific equipment, and petanque is no different. Here are some of the items you should have in order to play a petanque match.

Ball

The boules are the hollow metal balls thrown towards the target wooden ball. Each boule must be crafted according to specific regulations in order to make sure the game is fair. According to the international governing body for Petanque, Federation Internationale de Petanque et Jeu Provencal (FIPJP), the boules have to be made of metal, hollow and possess a diameter between 70.5 millimeters to 80 millimeters. The boules also have to weigh between 650 to 800 grams, and bear engravings from the manufacturer stating its diameter and weight.

Additionally, the boules are also not allowed to be filled with anything, or tampered with in any way. However, players are allowed to engrave their names or grooves on the boules.

The jack has to be 30 millimeters and made of wood, commonly beechwood or boxwood, and is traditionally unpolished. However, FIPJP has allowed the jack to be painted in recent times.

Circle

The players have to individually stand in the circle when they want to throw a boule. Traditionally, the circle has been drawn into sand or dirt, with a diameter of between 35 to 50 centimeters. However, the usage of red plastic circles are also allowed and has been rapidly gaining popularity. These 'prefabricated' red plastic circles must have a diameter of 50 centimeters.

Terrain

There is no specific location for petanque to be played, as it can be played on almost any flat surface. There are no restrictions or regulations about the boundary as the game can be played both with marked territory or without. Boards or other materials can be used to mark the boundary, but strings wound round nails and driven into the ground are most commonly used to mark out the playing area. In specially constructed areas meant for petanque the terrain is usually gravel.

Measuring Tape

Most games encourage players and teams to bring along at least one measuring tape, in order to measure the distance of the boules and the jack in the event it is not immediately clear which boule is nearer to the jack. This is to ensure a fair game for both teams.


To receive the latest updates on the happenings in the Singapore sports scene, or to find out more about some of the latest programmes on offer at ActiveSG, like our Facebook page here.