Staying safe in Taekwondo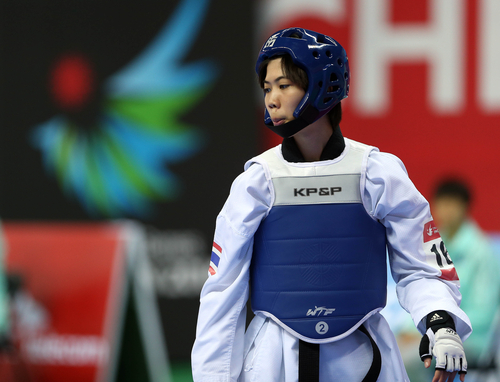 Image credit: Shutterstock.com
As with all contact sports, injuries can be common in Taekwondo. Here are some of the ways you can prevent yourself from getting injured and stay safe during a match.

Protective Padding

The most important step towards preventing injuries is to adhere to the rules regarding protective gear. Requirements for protective padding differ depending on the form of taekwondo practiced, due to the fact that there is a varying intensity of contact. Make sure to follow the requirements stated for each match and style to prevent injuries.

The most important form of protective gear is definitely the head guard, as impact to the head can cause severe damage. Studies have found that head injuries are also the most common form of injuries sustained in taekwondo, followed by foot and thigh injuries. Mouth guards are not compulsory, but you should wear one during sparring matches, especially in ITF matches as the head is an approved target area. Additionally, male participants should also wear the groin guard, even though it is optional.

Avoiding injuries inflicted during attacks

Self-inflicted injuries happen when participants hurt themselves while attempting to attack their opponents. These includes sprains and strained muscles, as well as more serious injuries such as broken fingers and toes.

A way to prevent less serious injuries like sprains is to ensure you warm up and stretch properly. This allows blood to flow to your muscles and prevent any stiffness, hence preventing strained muscles. It is also important to relax during matches or promotion tests, as being too tense can cause delayed reaction and over-straining.

While sportsmen try to push themselves as much as possible to gain an edge over their opponents, it is also important to know when to stop. For instance, if you have never attempted to break a three-inch board prior to a match or test, do not force yourself to attempt it as it can cause more harm than good. While there is a chance that you might be able to execute the break properly, there is a higher likelihood that you will injure yourself. Board breaking is a big source of serious injuries like broken toes and fingers.

It might be logical for a sportsman to train more in order to work their muscles and improve their stamina, but training too much can also be detrimental. Excessive training, especially before a match, can cause exhaustion. This means that they are less likely to be alert, and their muscles are overworked before the match even begins, which slows down their actions and puts them at a disadvantage.


Keen to start your Taekwondo journey? Check out ActiveSG Martial Arts Club for our latest classes and workshops!
To receive the latest updates on the happenings in the Singapore sports scene, or to find out more about some of the latest programmes on offer at ActiveSG, like our Facebook page here.