15,000 strong Kallang Roar rallies Singapore Lions to 2-1 win over Malaysia in friendly!
by Circle Stories, on March 26, 2022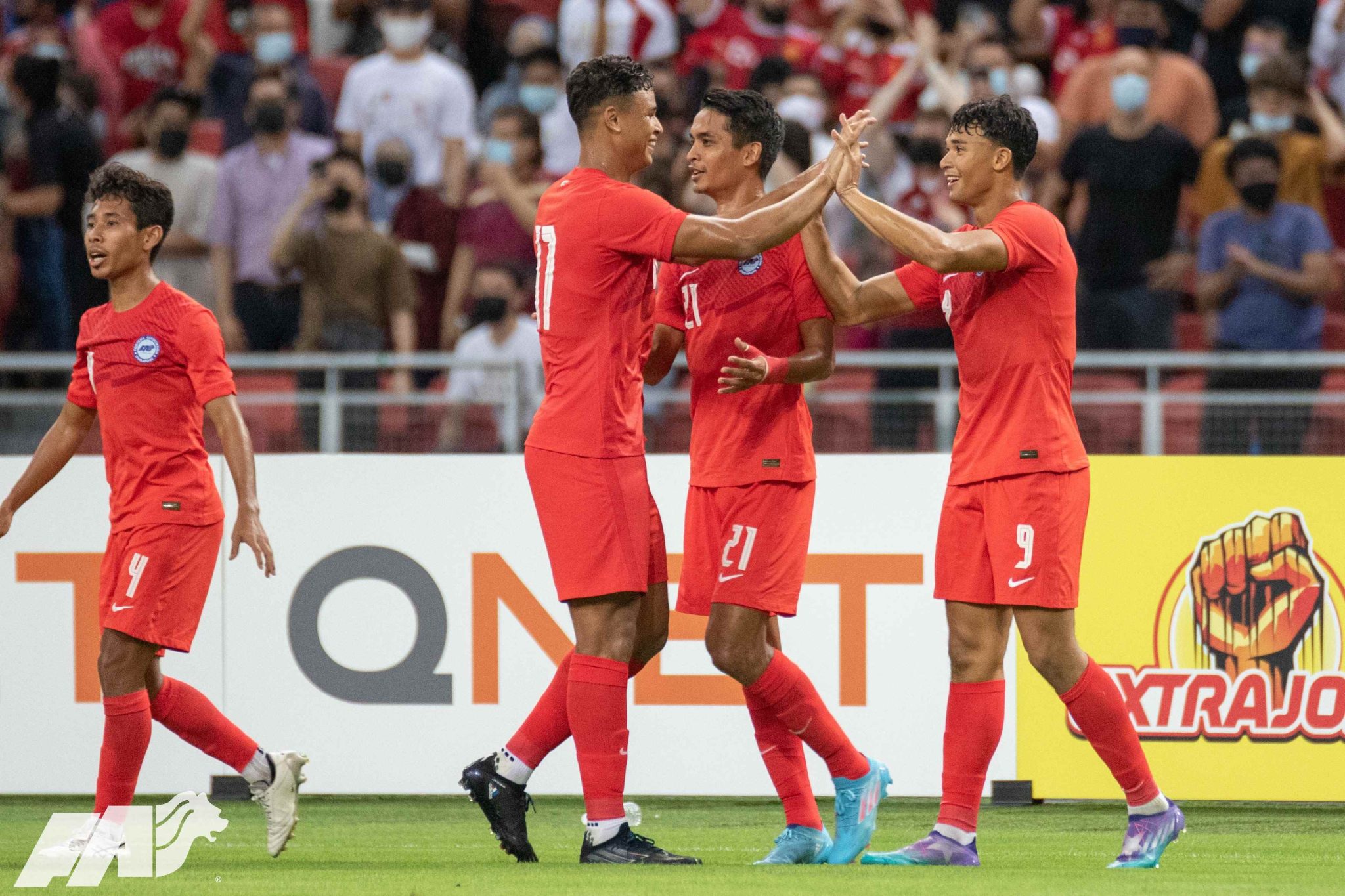 (No 9 Ikhsan Fandi stars in TeamSG's 2-1 win over Malaysia. Photo Credit : Football Association of Singapore)
By Chia Han Keong
It was reportedly their 77th head-to-head clash. And against their traditional arch-rivals (Malaysia), Singapore's national football team had to rely on their tried-and-tested weapon to win – and Ikhsan Fandi delivered superbly!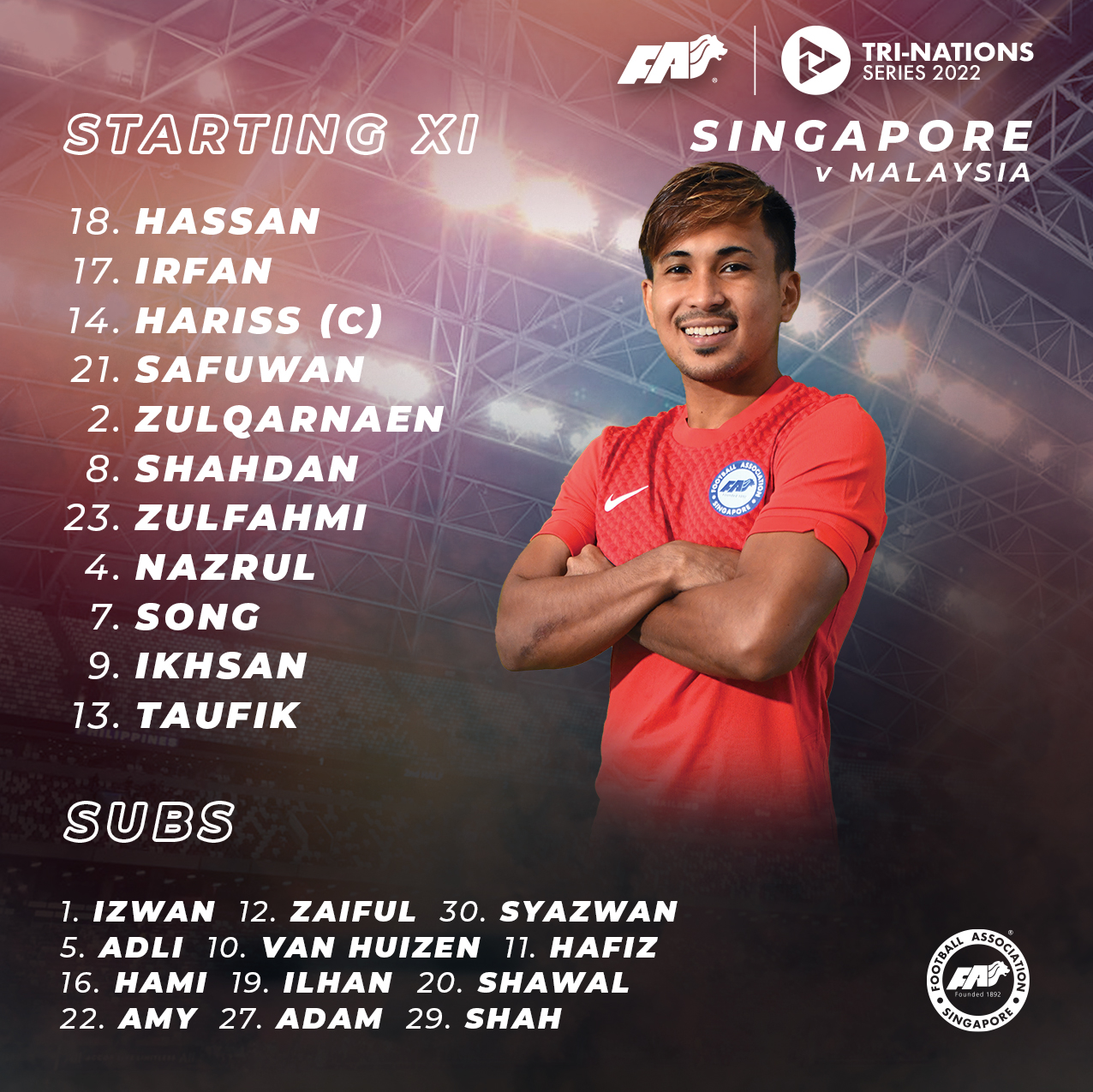 22-year-old Lions striker Ikhsan scored both goals - the first clinical, the second spectacular - as the Lions beat Malaysia 2-1 in the FAS Tri-Nations Series international friendly tournament at National Stadium on Saturday (Mar 26). In a gripping encounter under an 'electrifying' atmosphere amid the 15,000 fans, Ikhsan's eye for goal proved to be the edge that the Lions needed to - fend off a spirited display by Malaysia and keep the fans' morale high after last year's encouraging AFF Suzuki Cup performances.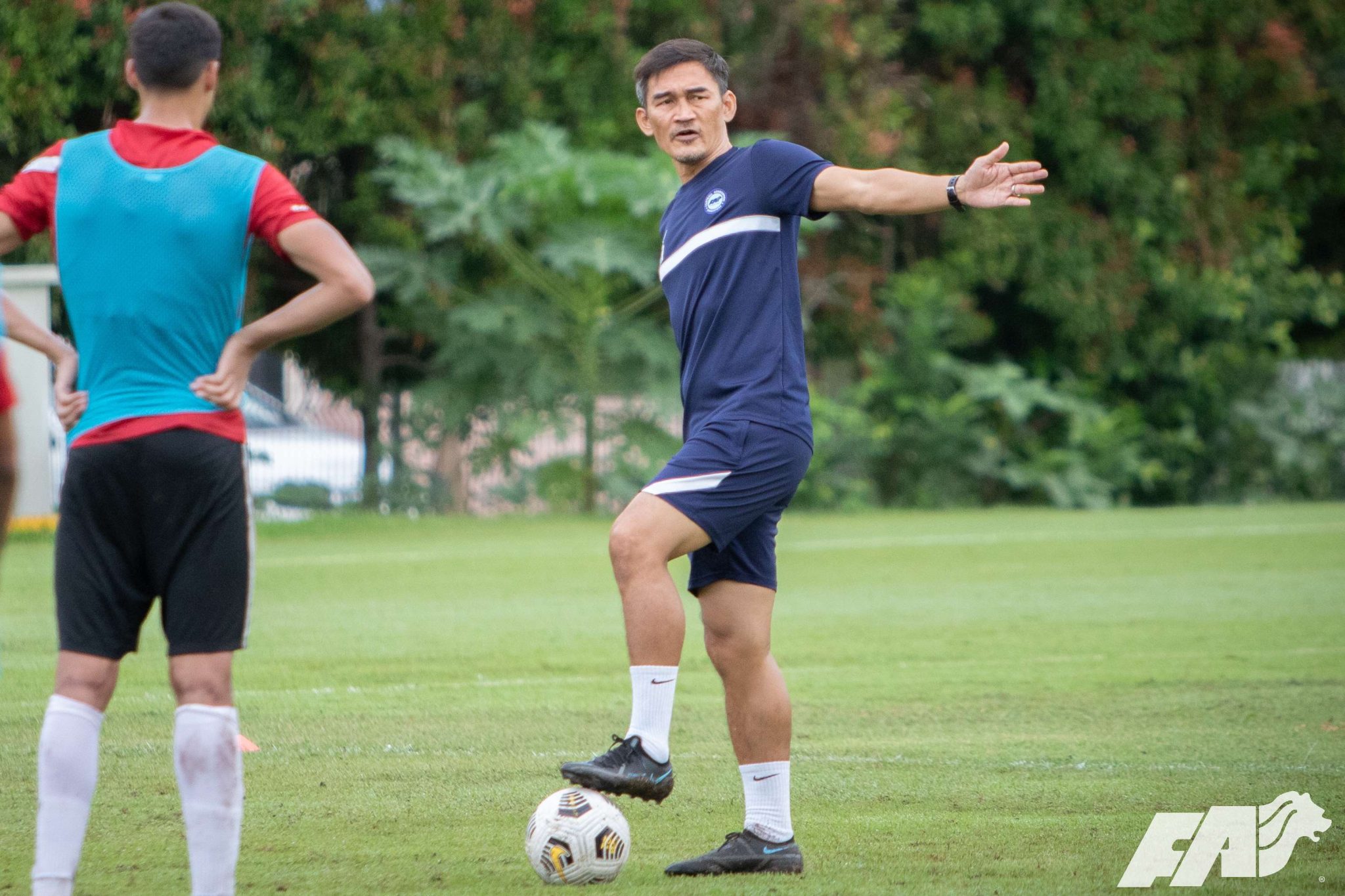 (Interim Head Coach Nazri Nasir at a Singapore training session, 23/3/22. Photo Credit : FAS)
"We fought very hard, whatever the score was. Every player I put into the match, they gave 100 per cent effort. I'm very proud of them," said interim head coach Nazri Nasir, leading the Lions as they continue their search to replace Tatsuma Yoshida, who left after the Suzuki Cup to return to his native Japan.
"We knew Malaysia would come out very fast, but we had veterans on the pitch such as Hariss (Harun), Shahdan (Sulaiman) and Zulfahmi (Arifin), so we told them to keep the ball, play at our own tempo and not theirs. Eventually we were able to create the opportunities for Ikhsan to score. ...I'm happy to get the win for the fans."
Both sides have had to contend with the departures of their head coaches following the AFF Suzuki Cup. While the Lions have yet to find a new head coach to succeed Yoshida, Malaysia have already found the replacement for Tan in Kim Pan-gon, who was previously the technical director of South Korea's national team. And within two months of his appointment, Kim has already instilled the unmistakable traits of Korean football among the Tigers - incessant running and intense pressing.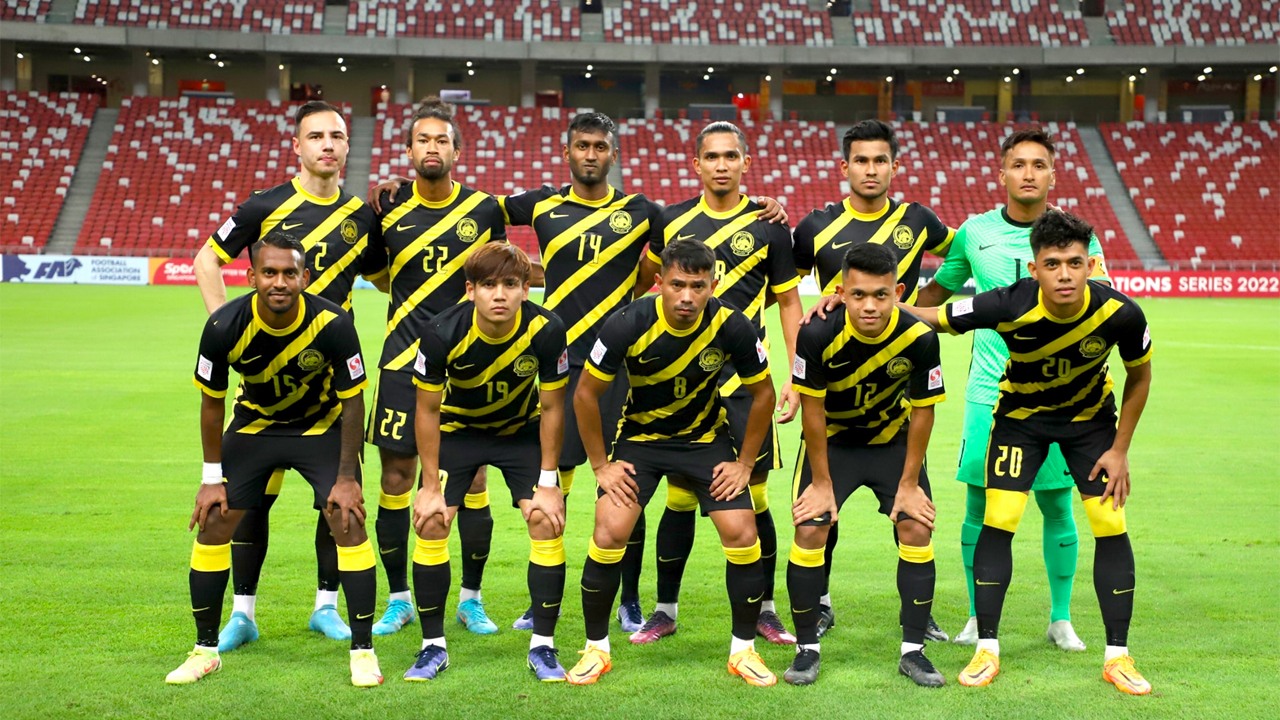 (Team Malaysia at the Singapore Sports Hub on 23/3/22. Photo Credit : Football Association of Malaysia)
It has already reaped rewards when Malaysia beat the Philippines 2-0 in the Tri-Nations Series' opening match on Wednesday, as they swamped the Filipinos from the opening whistle and got both their goals early. They threatened to do the same against the Singapore Lions, powering out of the blocks with an immediate shot attempt by midfielder Safiq Rahim which went just wide. 5 minutes later, right winger Safawi Rashid had an effort further out from goal that also fizzled wide.
With Safawi and dangerous left winger Akhyar Rashid - who scored both goals against the Philippines - nipping around, Singapore's defenders were given a stern test from the opening whistle, which they just about managed to keep their opponents at bay.
For the first 20 minutes though, the hosts were pegged back, due to the ferocity of Malaysia's offence. Yet after weathering the early storm, the Lions began to pass with more confidence and probe with more menace. And as the Tigers' intensity began to wane around the half-hour mark, Singapore struck, and Kim's game plan was ironically undone by Singapore's Korea-born player, Song Ui-yong.
Showing all the traits of a hard-running Korean national player, Song latched onto Ikhsan's pass near the centre circle and rampaged forward, withstanding the attention of two Malaysia defenders. As the Lions fans roared in anticipation, Song made an inch-perfect low cross that found Ikhsan, who raced ahead of his marker to tap home from point-blank range. 1-0 to the Lions!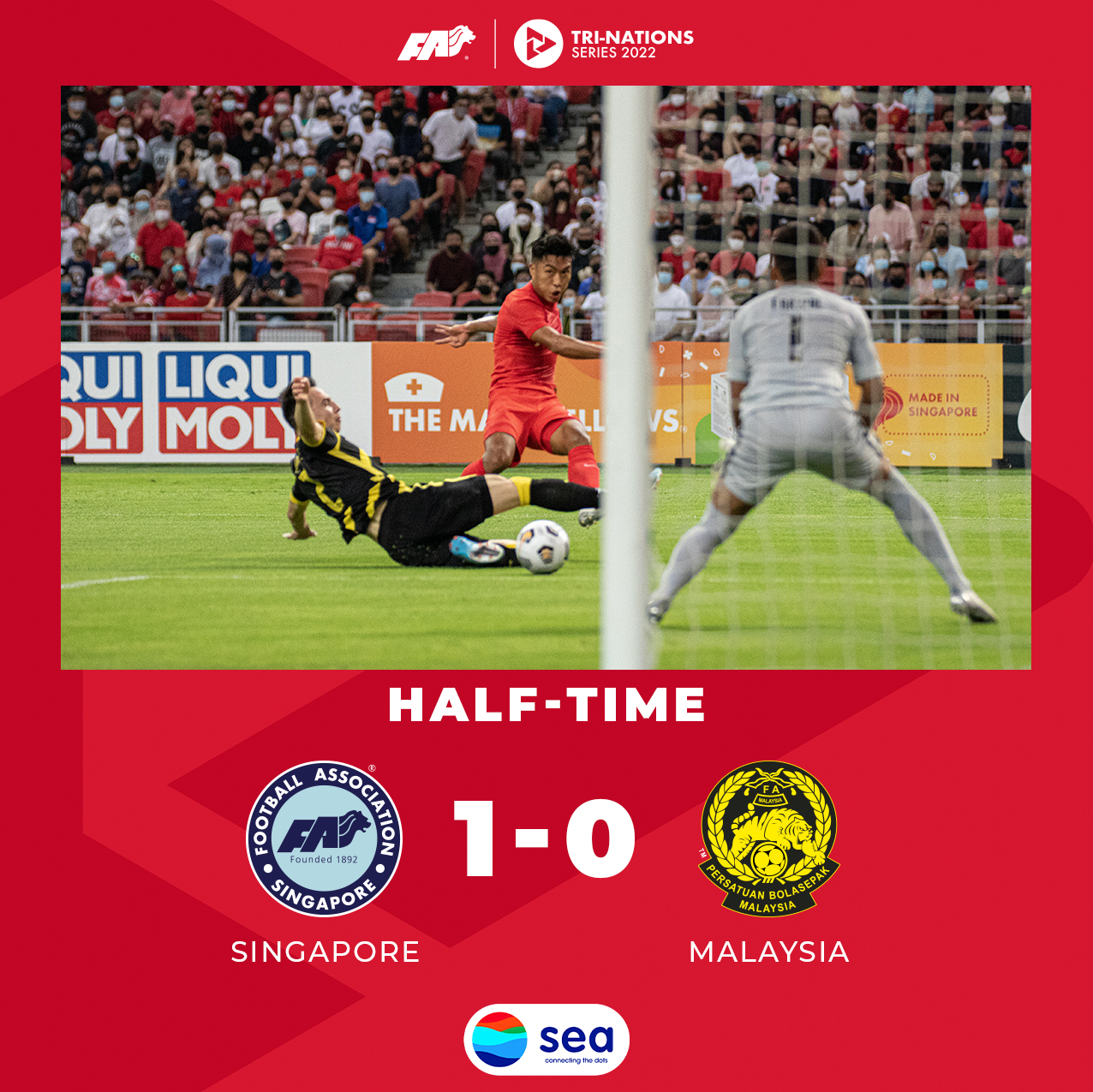 The match proceeded along in its traditional blood-and-thunder style, with both sides unwilling to cede an inch to each other. Malaysia began the 2nd half as they did in the first, and this time, they were rewarded with a penalty just a minute into the half, when Lions' veteran defender Safuwan Baharudin tripped Safawi with a trailing leg.
Safawi, however, drew loud groans from the Malaysian fans, when his spot kick crashed against the crossbar. Still, the Tigers were eventually rewarded for their positive play in the 57th minute. Akhyar, who had been tormenting the Lions' defence all game, threaded a superb through pass for substitute Liridon Krasniqi.
The Kosovo-born midfielder took one touch to steady himself, before launching a stinging low shot which gave goalkeeper Hassan Sunny no chance. At 1-1, many fans would have thought it was a fair result, and would have settled for it come the final whistle. But Ikhsan had other ideas.
Latching onto Nazrul Nazari's pass in the 76th minute, the striker was faced with three defenders just outside the penalty area on the left, seemingly with little option but to pass back to the wing-back. However, he spotted a gap among the defenders and dribbled through, steadied himself, and fired a low shot that whizzed into the net, to a huge roar at the National Stadium.
A goal worthy of winning any match, it proved to be the difference maker in this highly-competitive friendly, as the Lions safely saw through the final moments of the game. Ikhsan could even savor his match-winning effort with his brothers Irfan and Ilhan, the first time the 3 sons of Singapore great Fandi Ahmad had shared the same pitch as Lions players.
"It's a special moment, the three of us suffering for the cause on the pitch," Ikhsan quipped after the game. "I hope my parents who are watching the match back home are proud of us." Singapore's next match is against the Filipinos on 29 March at the National Stadium.
Singapore:
Hassan Sunny, Irfan Fandi, Hariss Harun (C), Safuwan Baharudin, Zulqarnaen Suzliman (Christopher van Huizen 79'), Shahdan Sulaiman, Zulfahmi Arifin (Hami Syahin 79'), Nazrul Nazari, Song Uiyoung (Shawal Anuar 88'), Ikhsan Fandi, Taufik Suparno (Ilhan Fandi 71').

Unused subs:
Izwan Mahbud, Zaiful Nizam, Syazwan Buhari, Amirul Adli, Hafiz Nor, Amy Recha, Adam Swandi, Shah Shahiran.

Chia Han Keong is a veteran journalist who has covered both Singapore and international sports extensively for the past 19 years. He was the sports editor of bilingual tabloid My Paper, and has also worked for The Straits Times and Yahoo News Singapore. He has covered four SEA Games (2009, 2011, 2013, 2019), two Asian Games (2010, 2014) as well as the 2008 Beijing Summer Olympics and the Tokyo 2020 Olympiad. He counts himself as a massive Liverpool, LA Lakers and Rafael Nadal fan.