$2.1 Million to fund projects promoting citizen partnership & social cohesion through sport and physical activity
by Circle Stories, on March 25, 2022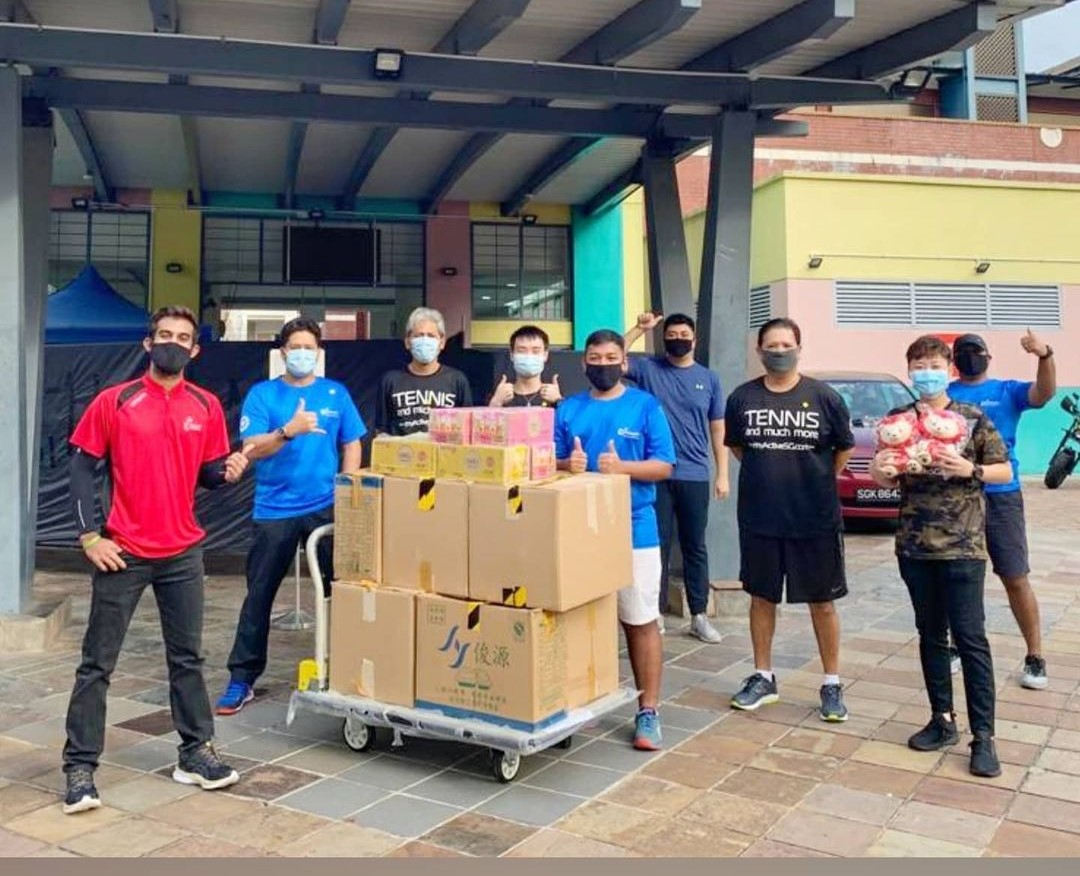 With the launch of Team Singapore Cares, (the Republic's top men's Singles tennis player) Shaheed Alam (in Red Shirt) is keen to work on projects to support migrant workers. (Photo Credit : Team Singapore)
Applications are now open for the newly launched Active Citizen Grant (ACG) 2022. The grant is set up to fund community-based projects that help to nurture a caring, cohesive, and confident society through sport volunteerism and physical activity.
The ACG, a collaboration between Ministry of Culture, Community and Youth (MCCY) and Sport Singapore (SportSG), provides thematic tracks for Our Singapore Fund (OSF) that bring to the fore Vision 2030 approach to sport as a strategy for nation building. A total of $2.1M will be allocated under the ACG to fund projects up to 2023 under four tracks - Team Singapore (TeamSG) Cares, Team Nila, YouthCreates and the Active Enabler Programme.


Mr. Rostam Umar, Chief of Strategy Group, SportSG said, "As we look forward to bring sport and physical activity back, we want to partner others to reach out to various segments of our community to partake in and benefit from sports and physical activity. We hope TeamSG athletes, Team Nila volunteers, and the broader sporting community comprising youths, organisations and individuals can step forward to make a difference in how we engage Singaporeans to be active and healthy, and more importantly to do this together as a community."
Team Singapore Cares
Under the ACG, TeamSG Cares provides a platform for TeamSG athletes, both past and present, to give back to the community through initiatives that not only promote healthy lifestyle and care for vulnerable groups in the community, but epitomise the TeamSG values of pride, perseverance, performance and service.


Former and current athletes can choose to tap on the grant to kickstart ground-up initiatives on their own or collaborate with corporate partners. Through this approach, they can reach out to and impact more people as role models.


Through TeamSG Cares, athletes can start their own charity or social pursuit for causes close to their hearts. The intent is to encourage more athletes to step up and take the lead in projects that target communities from different backgrounds such as helping migrant workers to eat healthier during Ramadan, promoting team sport to children from underprivileged backgrounds or helping ex-offenders to reintegrate back into society through sport.
Engaging Volunteers and Youth through Team Nila and YouthCreates
Another key aspect of the ACG is fostering co-creation among citizens to promote giving and strengthen social cohesion. This can be achieved through innovative ground-up initiatives and community-based activities in three domains - sports volunteerism, physical activity, and health & wellness.


Under the Team Nila track, the ACG looks to expand and sustain sport volunteerism through initiatives that will enable Team Nila volunteers to innovate and develop meaningful and impactful volunteering opportunities. The intent is to implement projects that inspire the community to engage, empower or enrich volunteer experiences such as organising 'Sports Day Out' to bring communities to sport centres, increase participation in physical activity and bond people through sport.


To encourage and support youths to initiate projects that promote social care and inclusivity, the ACG offers the YouthCreates track. The intent is to promote projects that inspire the community to live a healthy lifestyle, while encouraging interactions between youths of different backgrounds or between youths and seniors through activities such as workout sessions, workshops on health and wellness or team sports.
Active Enabler Programme
As part of the objective to 'Move More and Well with Active Health' and celebrate the upcoming National Day through sport and physical activity, the Active Enabler Programme (AEP) supports ground-up initiatives by members of the public, non-profit organisations and corporates to encourage Singaporeans to adopt active habits.


The AEP seeks proposals for sport and physical activities, and events that inculcate the SG Together ideals of a shared future together where Singaporeans partner with the government to co-create and implement citizen-led initiatives. Funding is available for up to 90% of qualifying costs, capped at $10,000 for the Project Grant and $50,000 for the Mass Event Grant. Applications will open in end-March 2022. Details on AEP funding criteria are available at :
https://circle.myactivesg.com/getactive/2022/aep

.



For any queries, please email ActiveEnabler@sport.gov.sg.


Funding for ACG grant proposals is available for both new and existing projects, for up to 12 months and are open throughout the year beginning 24 March 2022. Refer to Annex for more information on the various grants. You may also access more information from https://circle.myactivesg.com/industry/support/active-citizen-grant

.