The 27th edition of the Lion City Cup will kick off on September 1. It will feature top regional sides Selangor Football Club (Malaysia), BG Pathum (Thailand), Borneo F.C. Samarinda (Indonesia), and host Singapore's National Development Centre (NDC) Under-15 team.
First introduced in 1977, the invitational Under-16 tournament served as a platform to nurture young footballing talents in Singapore and provide them with valuable tournament experience.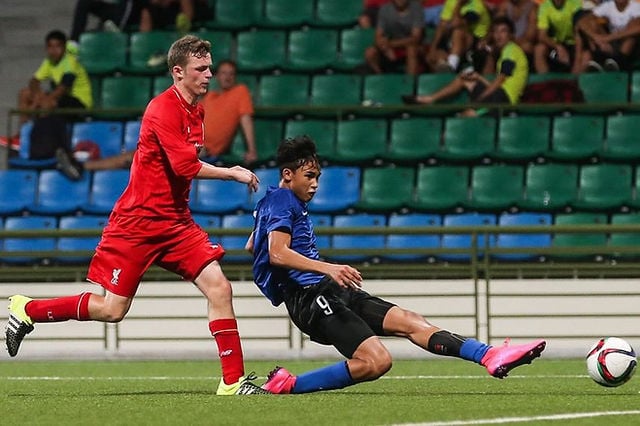 Ikhsan Fandi (right) gave fans his own version of the "Miracle of Istanbul" when he orchestrated the Singapore Under-16s' comeback from 0-3 down against Liverpool U-15s. He scored a hat-trick, but the Cubs went on to lose 5-3 on penalties. Photo Credit : The New Paper
Over the years, the event has attracted the likes of top European club sides such as Liverpool, Ajax Amsterdam and national youth teams across Asia. The success of the tournament caught the attention of FIFA, leading to the inception of the U-16 World Championships.
Some of the star names who have graced the Lion City Cup and became future stars include Singapore's own footballing legend Fandi Ahmad and his sons Irfan and Ikhsan Fandi, Manchester United's Donny van de Beek and Liverpool's Curtis Jones.
Who will be the young footballer to light up this year's tournament?
While that remains to be seen, here is a look at six memorable moments of the world's oldest U16 tournament.
1. THE DOUBLE-WINNERS (1977-78)
In 1977, Singapore's national youth team were the winners of the inaugural Lion City Cup. The young Lions displayed exceptional coordination, skill, and tactical acumen throughout the tournament. Fandi Ahmad emerged as a standout player, leaving an indelible mark with his electrifying performance alongside the likes of of Razali Alias, Leon Williams and Omar Salleh.
The final match against the Pahang showcased Singapore's offensive prowess, as they romped to a resounding 5-0 victory to claim the first-ever Lion City Cup.
Building on their success, Singapore's national youth team continued their winning run in the 1978 Lion City Cup.
Their persistence and dedication were evident as they once again navigated past challenging to reach the final stage. With Sahari Isnin and Fandi in the team, the Cubs beat Selangor 3-0 to retain the Cup.
2. THE COMEBACK THAIS (1979-82)
The Lion City Cup from 1979 to 1982 provided the platform for Thailand's youth teams to showcase their steady rise in the tournament. Starting with the 1979 Lion City Cup, Thailand's national youth team put in strong performances, securing a commendable third-place finish after beating defending champions Singapore. The following year, Thailand clinched fourth place, losing out to favourites South Korea.
The trend continued in the 1981 Lion City Cup, with the Thais securing a third-place finish, beating Bahrain on penalties. However, it was in the 1982 edition that Thailand's efforts bore fruit. Building on their experiences and learning from past defeats, Thailand's national youth team emerged as champions, securing their first Lion City Cup title. They beat the likes Qatar, South Korea and finally Saudi Arabia in the final.
3. A GLIMPSE OF THE FUTURE - INDRA SAHDAN AND AHMAD LATIFF (1995)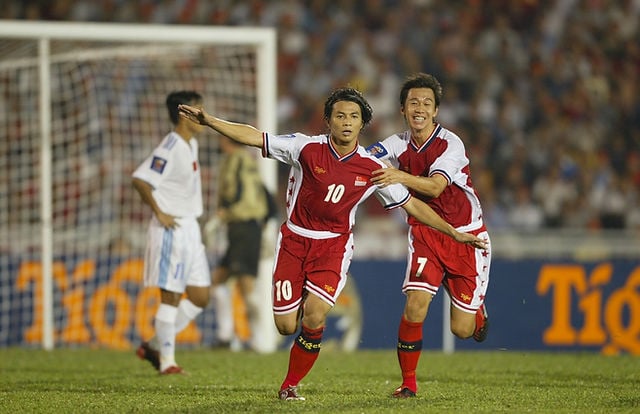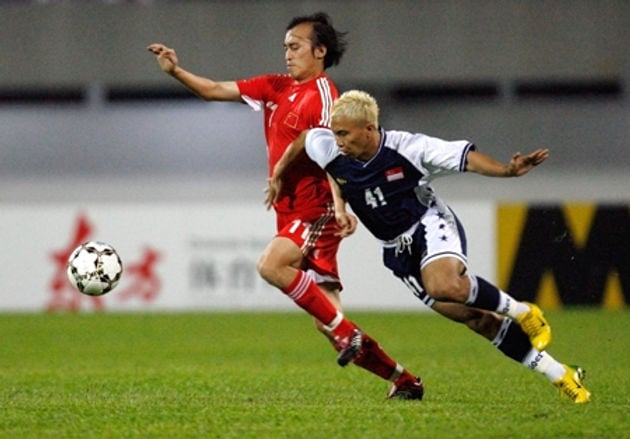 Indra Sahdan Daud (top photo, No 10 jersey) and Ahmad Latiff Khamaruddin (above in blue, No 41) formed a partnership in the 1995 Lion City Cup that would last for almost a decade. Photo Credit : SPORTFIVE
In 1995, the tournament gave Singapore football fans a glimpse of what was to come in the future.
Two young forwards, Indra Sahdan Daud and Ahmad Latiff Khamaruddin, shone the brightest as the Singapore U16s stormed their way to lifting the Lion City Cup. Singapore defeated Darwin, Hong Kong, Brunei, AIK Stockholm, with both Indra and Latiff each scoring four goals.
Indra would become one of Singapore's most successful footballers, amassing more than 100 caps and 26 goals. He had a knack for scoring against the big boys and found the net against Manchester United, Uruguay and Japan. He was also part of the Singapore team that lifted the Asean Football Federation (AFF) Cup in 2004 and 2007. In 2011, Indra scored his 200th domestic goal.
Latiff was a key member of Singapore's 1998 AFF Cup squad and was the Lions' top scorer with three goals as Singapore picked up their first regional tournament.
He also tasted success domestically, winning several titles for the now defunct Singapore Armed Forces FC and Tampines Rovers. With SAFFC, he famously scored against Shanghai Shenhua in the 2009 AFC Champions League for, earning the Warriors their first-ever AFC Champions League point.
4. ADAM SWANDI SHINES WITH IMPRESSIVE DISPLAYS (2011)
The history books may have it as Flamengo as the champions of the 2011 Lion City Cup. But for local fans, the tournament signaled the coming of age of a young Adam Swandi. The astute playmaker stood out against top European opposition with his fine footwork and brilliant playmaking ability.
He put in a man-of-the-match performance and scored a goal in the Singapore U15's 4-0 win over Juventus. But it was how he masterminded a brilliant comeback from 1-3 down to a Newcastle United team - with Southampton player Adam Armstrong in the side - to win 4-3 that made him a Lion City Cup legend.
"They were up 3-1 before we scored three goals in the last five minutes to win it," Adam told ESPN FC.
"I remember the crowd was cheering so loud with each goal we scored and the team fed on their energy to push ourselves to the limit. When the final whistle blew, there was so much happiness and joy for everyone from the players, coaches to the fans who kept singing our names," added Adam.
Watch the Singapore U15's amazing comeback against Newcastle in this highlight reel of the 2011 Lion City Cup (See footage from 0:30 to 0:53 seconds). (Click on video to expand the view).Video Credit : Football Association of Singapore
5. THE FUTURE OF AJAX ON DISPLAY (2012)
In 2019, an exciting young Ajax team threatened to upset the football world order when they beat the likes of Real Madrid and Juventus to reach the semi-finals of the Champions League.
But little do football fans know that a couple of the stars of that 2019 campaign first made their mark in the 2012 Lion City Cup.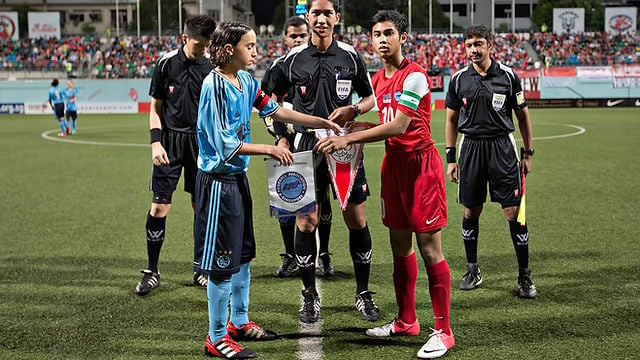 Ajax captain Abdelhak Nouri (left) and Singapore U16 captain Adam Swandi (right) were the stars of the 2012 Lion City Cup - which was won by the impressive Ajax side. Photo Credit : Football Association of Singapore
The likes of Donny van de Beek (now Manchester United and the Netherlands) and Noussair Mazraoui (now Bayen Munich and Morocco), who were part of the 2019 Ajax team, were also part of the Ajax Lion City Cup squad in 2012 which won all the way to lift the coveted trophy. They beat a Adam Swandi-led Singapore U16 side 4-1, sweet revenge for a 1-2 loss to the hosts in the group stage.
Singapore fans were witness to some amazing young players, including current Portugal international Ruben Neves, who turned out for FC Porto and Ajax captain Abdelhak Nouri. Tragically for Nouri, in July 2017, at the age of 20, he collapsed during a pre-season friendly match after suffering a cardiac arrhythmia attack, which left him with severe and permanent brain damage and unable to continue his football career.
6. IKHSAN FANDI`S PERFECT HAT TRICK VERSUS LIVERPOOL (2015)
In 2015, there was much buzz from local fans about a certain 16-year-old Chilean-based striker by the name of Ikhsan Fandi, son of Singapore legend Fandi Ahmad. He was then a player with Club Deportivo Universidad Católica of the Chilean First Division and also had stints with other overseas clubs, including Spanish side Hércules CF and Chilean side A.C. Barnechea.
Video Credit : Football Association of Singapore
Although Ikshan and the Singapore U16s did not win the tournament, he gave Singapore fans their own version of a Miracle in Jalan Besar as the hosts came back from 0-3 down at half-time to English giants Liverpool to force the match into penalty kicks.
Ikshan scored a perfect hat-trick (left foot, right foot and a header) in a memorable second half against a Liverpool side that had the likes of now full-Welsh international Neco Williams and England U23 International Curtis Jones in the squad.
There was no fairy tale ending for Ikshan though, as Singapore lost 3-5 on penalties. But the Singapore and Thai side BG Pathum star striker gave the world a taste of what was to come.
Written by: Mashidayat Maszeni
(This article was originally published on Unleash The Roar!'s website here
on 27 August 2023)