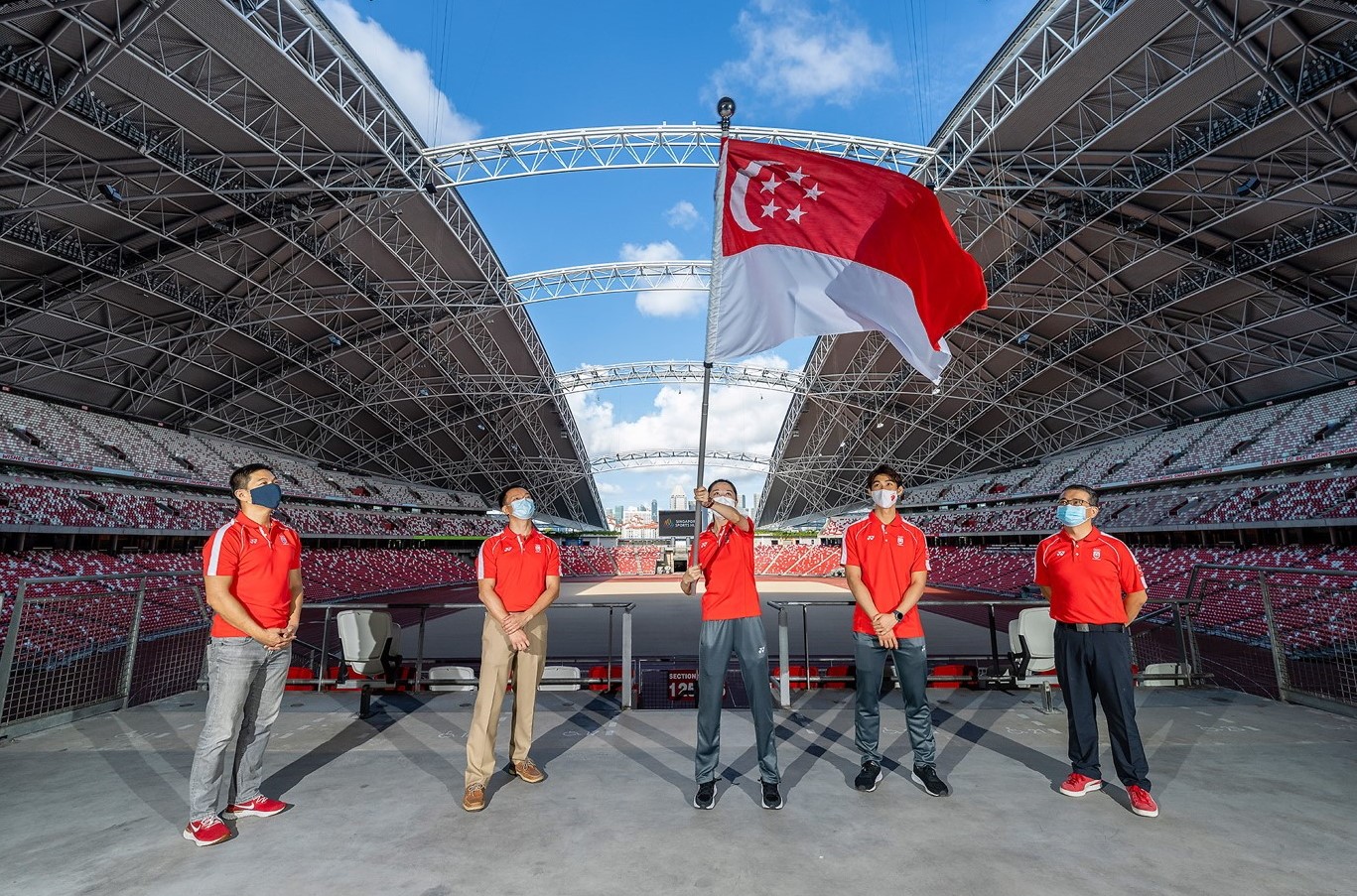 From L to R: Tan Chuan-Jin, President of the Singapore National Olympic Council (SNOC), Dr Ben Tan, Team Singapore Chef de Mission, Yu Mengyu, TeamSG athlete and flag bearer, Loh Kean Yew, TeamSG athlete and flag bearer and Edwin Tong, Minister for Culture, Community and Youth. (Photo: SNOC)
(Highlights from the virtual media conference - Packaged by Raj Kumar)
Download Media Release PDF here
23 athletes to represent the Republic across 12 sports – a record high – with breakthrough qualifications in three sports

Paddler Yu Mengyu and shuttler Loh Kean Yew appointed as flag bearers

Tokyo-bound athletes epitomising perseverance and commitment in unprecedented times, exercising care and caution while representing Singapore
Singapore, 6 July 2021 – Even before the first postponed and rescheduled Tokyo Olympic Games begin on 23 July, Team Singapore would have achieved many firsts in their 18th outing at the Summer Olympic Games.
A Games of Firsts
Twenty-three athletes are set to represent Singapore in 12 sports. This is the highest number of sports Singapore will contest at the Olympic Games, surpassing its previous record of nine sports in 2012. The Republic's largest contingent of 51 athletes across six sports, including three team sports, competed at the Melbourne 1956 Olympic Games.
Three sports – diving, equestrian and marathon swimming – will field athletes at sport's pinnacle for the first time. Divers Jonathan Chan and Frieda Lim, equestrienne Caroline Chew and marathon swimmer Chantal Liew have all made history to qualify in their respective events and be the first Singaporeans from their sports to compete on the Olympic stage.
At this first gender-balanced Olympic Games, the International Olympic Committee (IOC) has introduced one male and one female flag bearer for each delegation at the opening ceremony. Paddler Yu Mengyu, who will be making her second Olympic appearance, and shuttler and Olympic debutant Loh Kean Yew will both lead the Team Singapore athlete contingent at the Games.
Health and safety as top priority
In preparing the contingent to ensure their health and safety, the contingent has taken additional measures in their preparations. This comes on top of the playbooks issued by the IOC – a set of strict Covid-19 countermeasures developed based on science.
All in the Singapore contingent will receive their Covid-19 vaccinations prior to the Games. The Singapore-based athletes have been training within a "bubble" to minimise disruptions to their performance plans. Athletes will arrive five days before their competition commences, and depart within 48 hours after their competition ends. While in Tokyo, they will function in a "bubble within a bubble" to minimise their exposure to risks, and will undergo Covid-19 tests daily. A safety and hygiene protocol is in place to ensure that they are in tip-top shape and health at all times.
Support from all quarters – an united effort
The Singapore National Olympic Council (SNOC), together with Sport Singapore, the Singapore Sport Institute, the National Sports Associations and many other government agencies and organisations, have been preparing for the Tokyo Olympic Games for years as with planning every other major Games. The level of support from the stakeholders include those from corporate organisations such as the Tote Board family comprising Tote Board, Singapore Pools and the Singapore Turf Club, Fitness First, Oakley, Singapore Airlines, Singtel, Toyota and Yonex Sunrise, who have pledged dedicated support to Team Singapore on their journey to Tokyo.
As SNOC's corporate sponsor for the past ten years and an avid supporter of Team Singapore, Singtel has stepped up to the plate again this year with a generous contribution of its roaming services including 5G roaming. With its extensive roaming coverage in Japan, the entire contingent can stay seamlessly connected to family, friends and fans back in Singapore. Live coverage of the Games will available on Singtel TV and CAST, as well as Mediacorp's meWATCH.
Mr Yuen Kuan Moon, Group CEO, Singtel, said, "The uncertainty that COVID has brought to the Olympic Games has made it a tough year and a half for our Team Singapore athletes. That they have persisted in their training and qualified for the games is testament to their resilience, and an inspiration to us all to keep striving in uncertainty. We wish them all the best and are proud to show our support with our connectivity services so they can stay well-connected and feel the virtual presence of family, friends and fans who are cheering them on back in Singapore."
Ready for Tokyo
Chef de mission Dr Ben Tan and 1996 Olympian said, "We are ready for the Tokyo Olympic Games. These Olympic Games is an unprecedented one, and we have prepared and put into place measures to ensure the health and safety of our contingent. We have been preparing for these Games for years with the support of stakeholders such as the Singapore National Olympic Council, Sport Singapore, the National Sports Associations, Ministry of Foreign Affairs and many other government agencies, organisations and individuals behind Team Singapore.
"The Singapore contingent will be 100% vaccinated against Covid-19 before the Games commence. The sports medicine and science team led by chief medical officer Dr Teoh Chin Sim has put into place a health, hygiene and safety protocol which covers the contingent pre-departure, during the Games and their return to Singapore. While in Tokyo, we will be tested for Covid-19 daily and comply with the comprehensive Covid-19 safeguards.
"Having had the privilege to compete at the Olympic Games myself, I have an even greater responsibility to ensure that our contingent bound for Tokyo have a fulfilling experience while doing Singapore proud. Our athletes have demonstrated their resilience and adaptability in managing and working towards their sporting aspirations, and our support teams have taken great pains to ensure that they are in optimal physical and mental health and form to perform their best on the Olympic stage. I'm very proud of how professional our athletes have been, and thankful to all who have been supporting and caring for them.
As the Games draws near, I hope Singaporeans can lend their full support to cheer our athletes and wish them success at the Games."
Support Team Singapore athletes via updates from the SNOC (@sgolympics) and Team Singapore (@teamsingapore) social media accounts on Facebook and Instagram and live coverage of the Games will available on Singtel TV and CAST, as well as Mediacorp's meWATCH.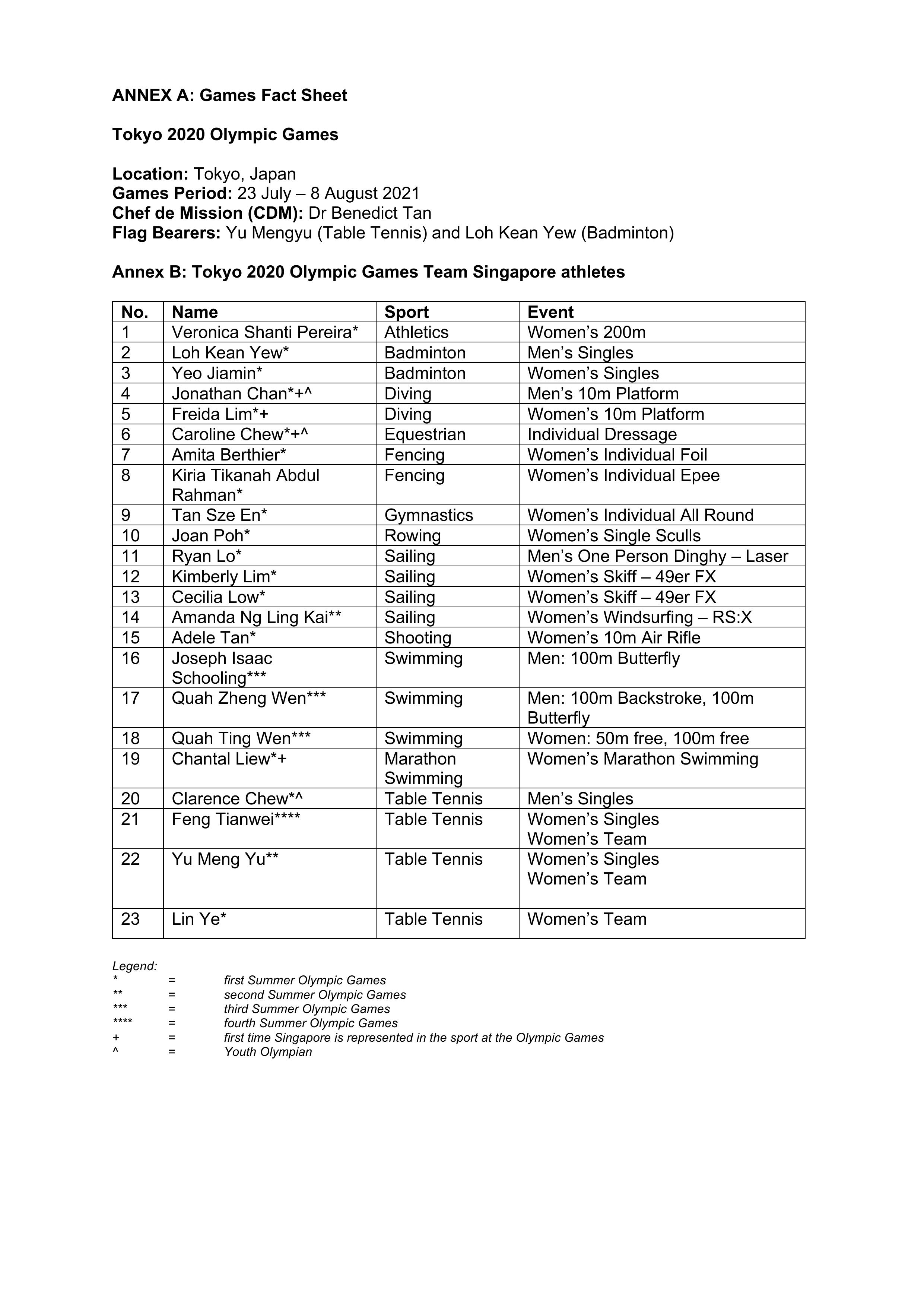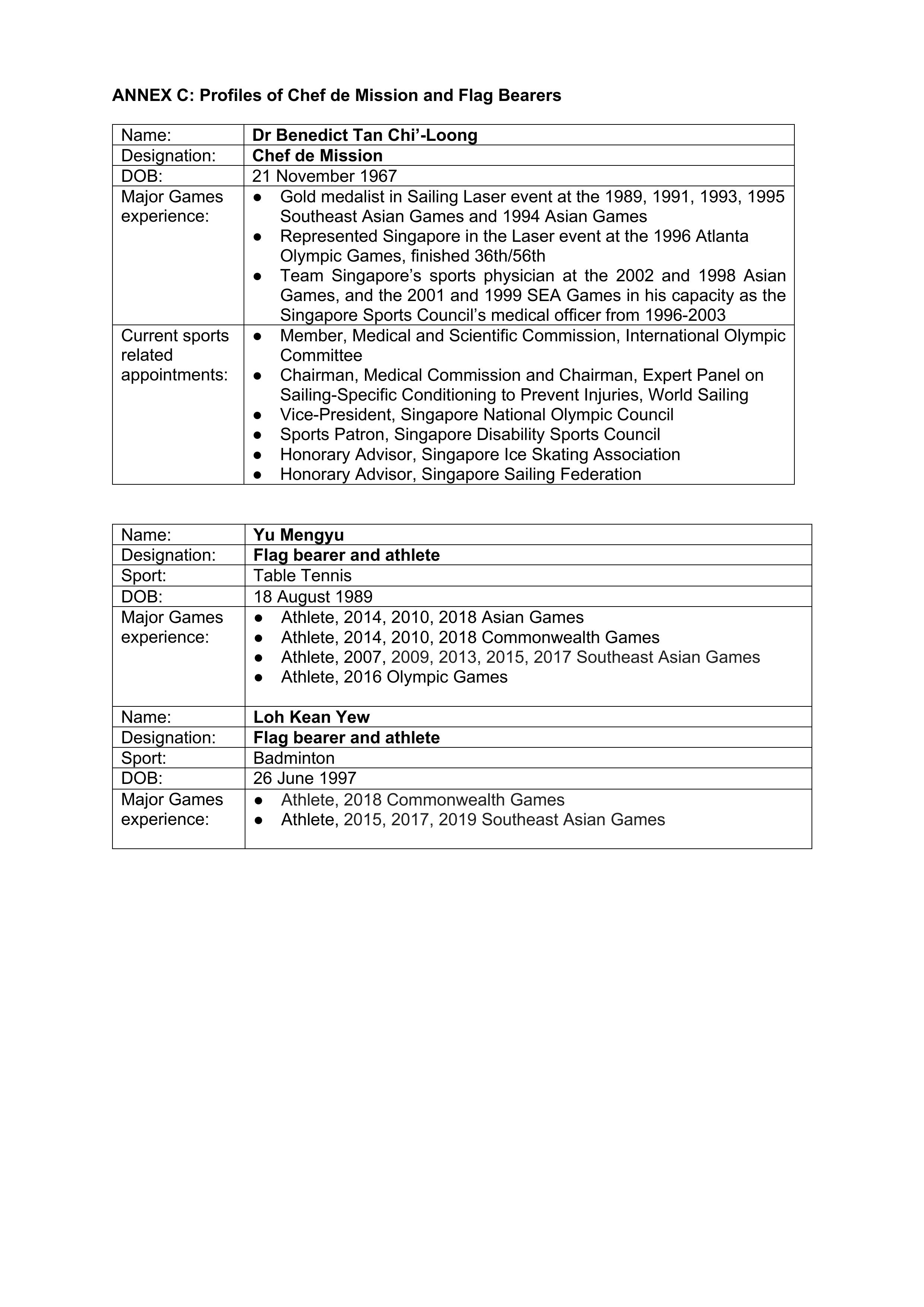 The 32nd edition of the Olympic Games will begin on 23 July 2021.
For all coverage and news of the Republic's national athletes who'll be competing at the Games, check out the official Team Singapore website.