Sri Lankans end Team Singapore's winning streak at Asian Netball Championships!
by Circle Stories, on September 8, 2022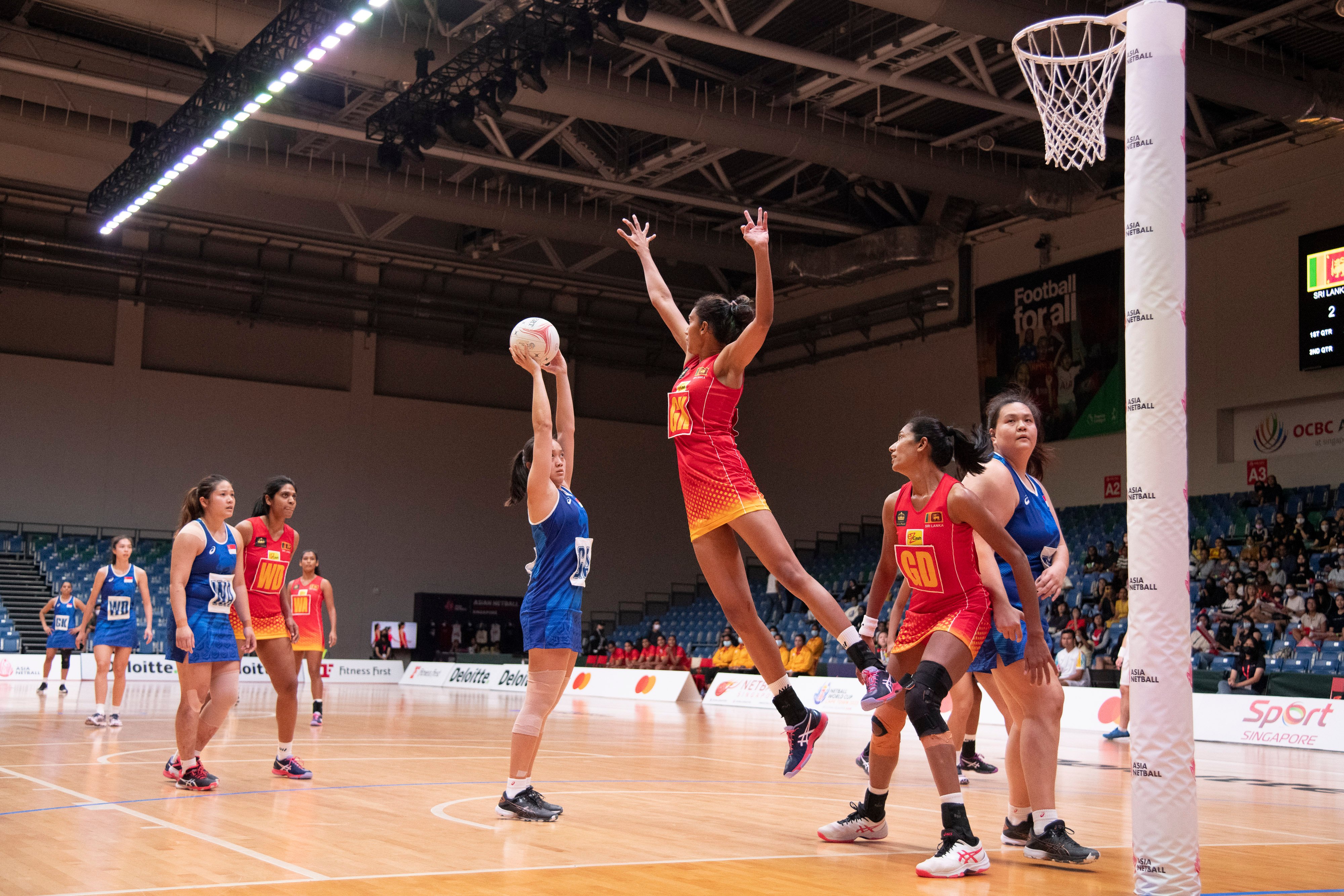 Team Singapore (Blue) vs Sri Lanka. Photo Credit : Netball Singapore
7 September 2022 – The OCBC Arena was treated to a spectacular display of exciting netball action at the Asian Netball Championships 2022, as Malaysia overcame a slow start to defeat Hong Kong 55-46. The Philippines and India also pipped their opponents narrowly – the Philippines beat Brunei 40-37, while India won 47-43 over Chinese Taipei. Defending champions Sri Lanka continued their unbeaten run, triumphing 67-49 over hosts Singapore.
Round 2 continues today, 8 September. The results for 7 September are as follows :

Hong Kong came out strong against a Malaysia side whose starting line-up comprised the team's less experienced players – of the starting seven, four had fewer than 10 international caps. Hong Kong did well to keep their opponents at bay for the first half, leading 14-10 and 25-21 at the end of the first and second quarters respectively. Malaysia started the third quarter with almost an entirely new line-up that included experienced shooter An Najwa Azizan, who holds the most caps in the Malaysia team (86). The 2016 champions clawed back to lead 37-36 at the end of the third quarter, and maintained their momentum till the end with An Najwa scoring 25 goals in as many attempts in the second half.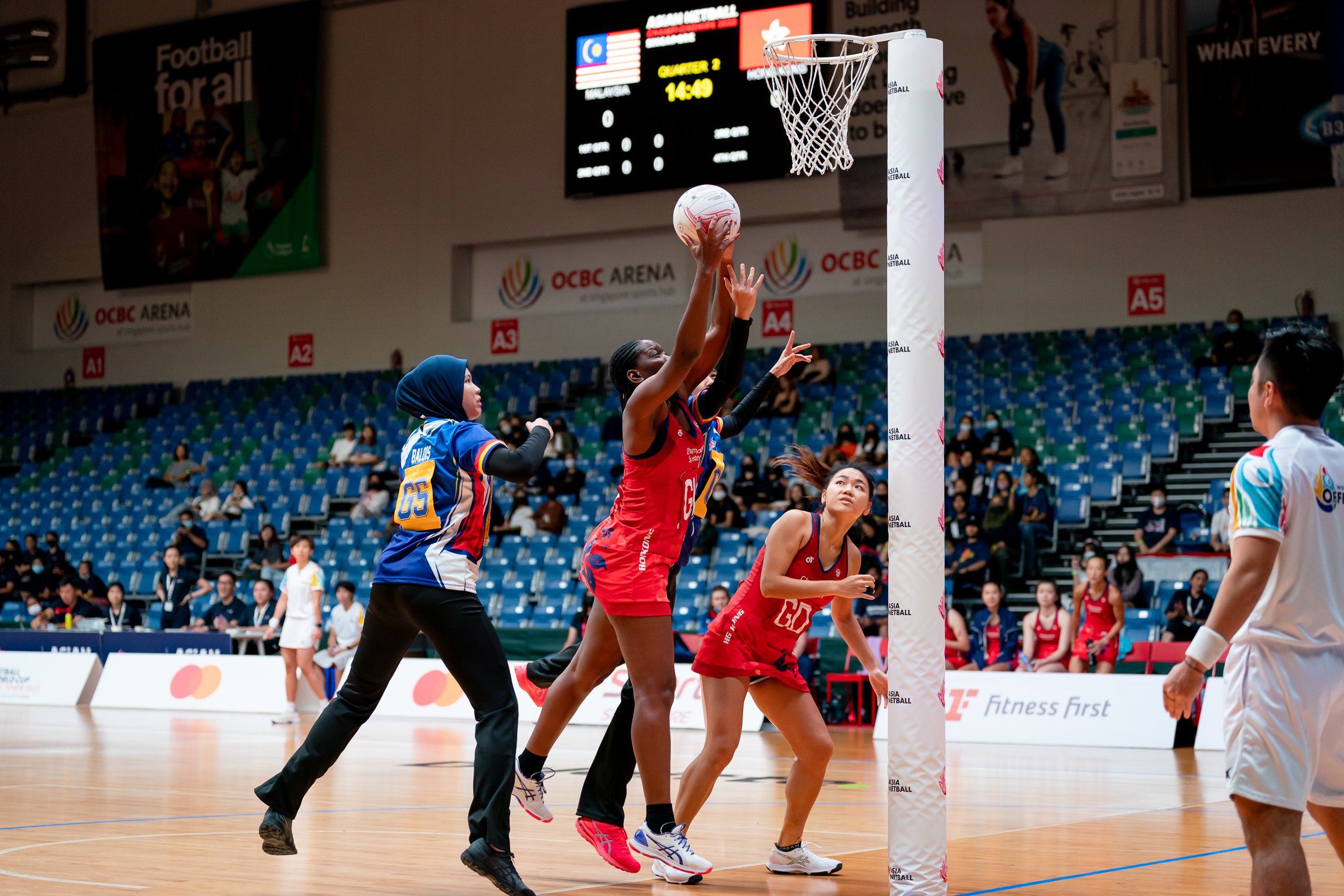 2016 champions Malaysia vs Hong Kong. Photo Credit : Netball Singapore
Malaysia coach Lisa Beehag said: "We put a few of our older players back on (after half-time), and we changed the style of play that we were playing with our moving goal attack. I think that made it a little bit harder for them. We've got a lot of young players in this team with very few caps, and we wanted to try and make sure they were exposed (to more games). I expected it to be a hard, close match, but I didn't expect to trail at half-time. Hong Kong played fantastically today, they were really in for it and we had to really fight. I'm pleased with the way we maintained our composure defensively in that last quarter; we didn't give away as many penalties as we had in the other quarters. And in attack, we were very definite – we were controlled and I think that made the big difference for us to be able to turn that around."
Hong Kong shooter Krystle Edwards was optimistic in defeat, noting: "We still have a chance, we just need to win the semi-final. We've got Sri Lanka tomorrow and we need to take it to them and whatever happens in the other games today and tomorrow, we still have a chance to get to the World Cup. All we have to do is win the semi-finals. We've had a good look at both of the teams we've played – Singapore and Malaysia – so far, we know we can beat them. We've beaten them in some quarters, we've had a look at how they play, we now know what we need to do. Both those games we lost through ourselves, we made too many mistakes so we need to clean those mistakes up and we can win."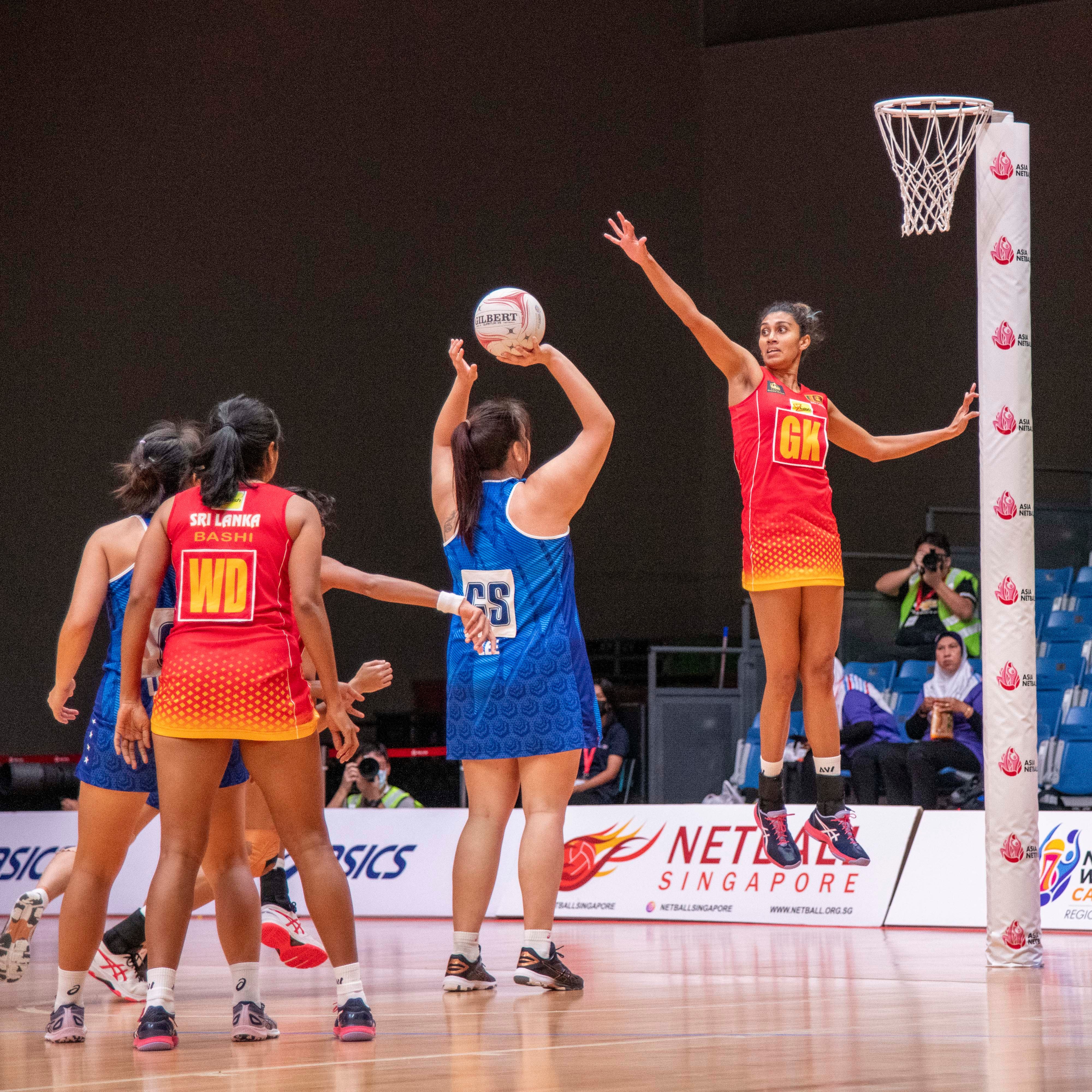 Team Singapore (Blue) vs Sri Lanka. Photo Credit : Netball Singapore
Hosts Singapore put up a valiant fight in their 67-49 defeat to five-time champions Sri Lanka, putting the pressure on their opponents from the start. Singapore trailed 15-11 in the first quarter before Sri Lanka pulled away.
Singapore defender Sindhu Nair was pleased with her team's effort as she also thanked the crowd for their support. She added: "I'm very proud of the team as we worked really hard, and we are ready to come back stronger. We knew there was going to be a challenge going up against Sri Lanka, especially with a very tough shooter (Sri Lanka shooter Tharjini Sivalingam). It's definitely a challenge (defending against her) because she's about 30cm taller than me, but that's the whole point of this competition – we enjoy the challenges as well. It's amazing to be competing on home ground. We haven't competed in three years and to be in front of the home crowd is incredible, especially when we are going against a very challenging team. Hearing the crowd support us whenever we get an intercept or when we get a shot really motivates us on court."
Brunei vs Philippines at OCBC Arena. Photo Credit : Netball Singapore
In the day's opening match, the Philippines took an early lead that proved crucial in their 40-37 win over Brunei, who kept their opponents on their toes despite trailing throughout the match. Though Brunei outscored the Philippines in the second and fourth quarters and narrowed the score to a one-goal margin in the third, the Philippines remained just ahead until the end of the game.
The Philippines had lost to Brunei in their last encounter at the 2019 SEA Games, and Philippines captain Lomogda Karen Domingo believes a tight defence made the difference in Wednesday's encounter. She said: "We were a bit off in the first quarter, but we came back with another game plan from our coaches. We focused on our defence, making it tough for Brunei's goal shooter – we could see that they were having a hard time facing our defenders. We also made our shots, ultimately wining us the match."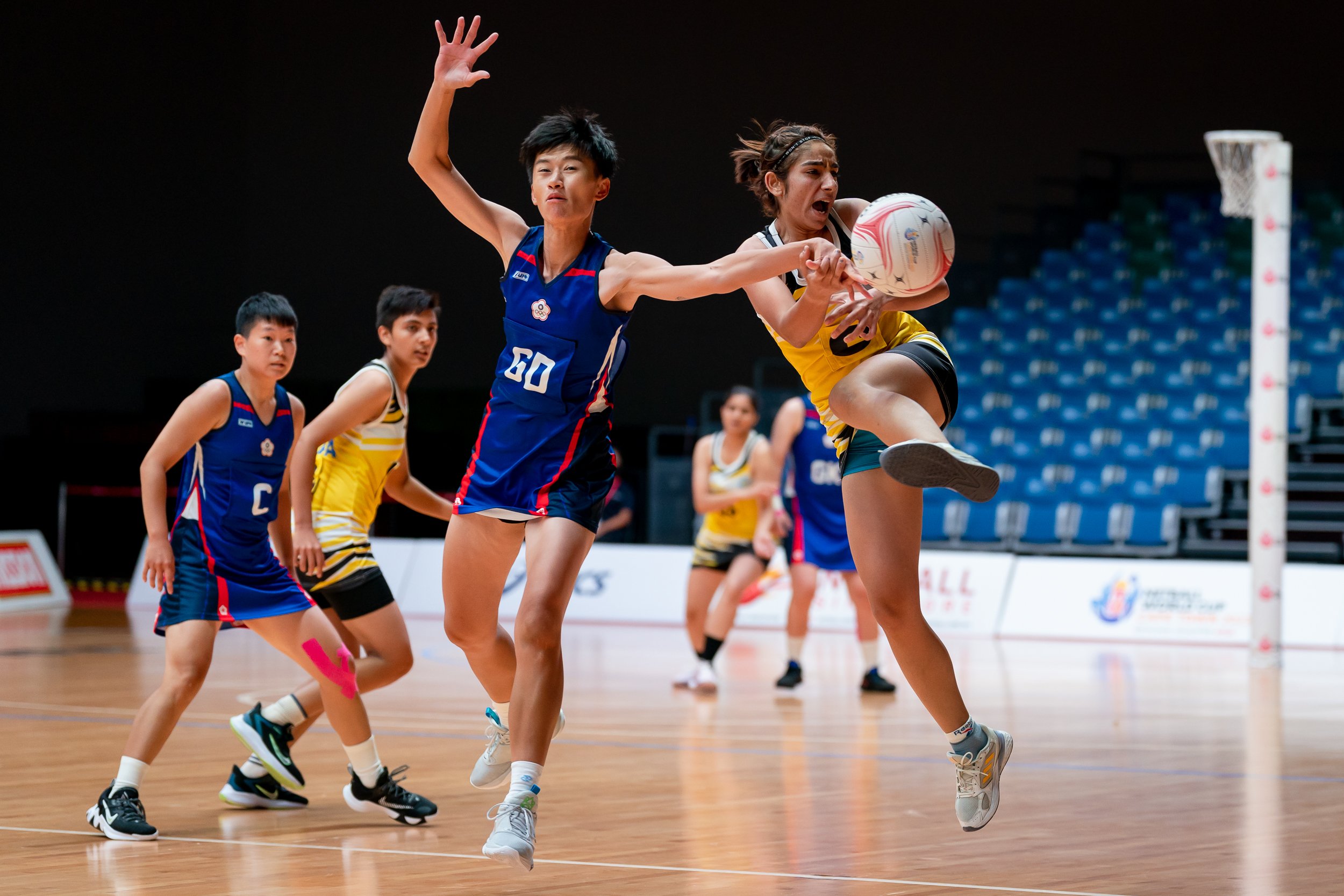 India vs Chinese Taipei. Photo Credit : Netball Singapore
India survived a scare to edge out Chinese Taipei 47-43 in a tight encounter that saw the lead change sides several times. The gap in scores never exceeded four goals during the match, and Chinese Taipei captain Lin Tsai-Jen felt nerves were her team's undoing. She added: "The close scoreline through the whole game made us nervous, some of us lost our cool, stressed and that showed on court. We wanted to focus on one point at a time but nerves resulted in mistakes and points were lost. I feel that we lacked strength in our legs too, there were several times while chasing for the ball we somehow lacked the explosive power and we lost out to India on that. That being said, I felt that the team overall communicated very well at this match. I'm very proud of my team for encouraging each other even when we made mistakes. I have no doubt we will come back stronger."
The Asian Netball Championships 2022 is ongoing till 11 September at the OCBC Arena. The 11 teams in action at the biennial event are defending champions Sri Lanka, 2018 runner-up Singapore, Malaysia, Thailand, Brunei, Hong Kong, Chinese Taipei, Japan, India, the Philippines and Maldives. The top 2 finishers will attain automatic qualification to the 2023 Netball World Cup. The competition schedule and results are available here :https://www.netball.org.sg/event/asian-netball-championships-2022/
Tickets can be purchased online via go.gov.sg/anc2022tickets, by phone, or by going to Ticketmaster's outlets at Singpost or The Star Performing Arts Centre Box Office. Concession prices are available for students in Ministry of Education schools, as well as children aged between 5 to 12.
You can also catch the live streaming to all Asian Netball Championships 2022 matches via Netball Singapore's Facebook page!