Cambodia 2023 APG : TeamSG Paddler Md Dinie Asyraf, is Aiming To Win his first Gold Medal in 4th campaign!
by ActiveSG Circle, on June 1, 2023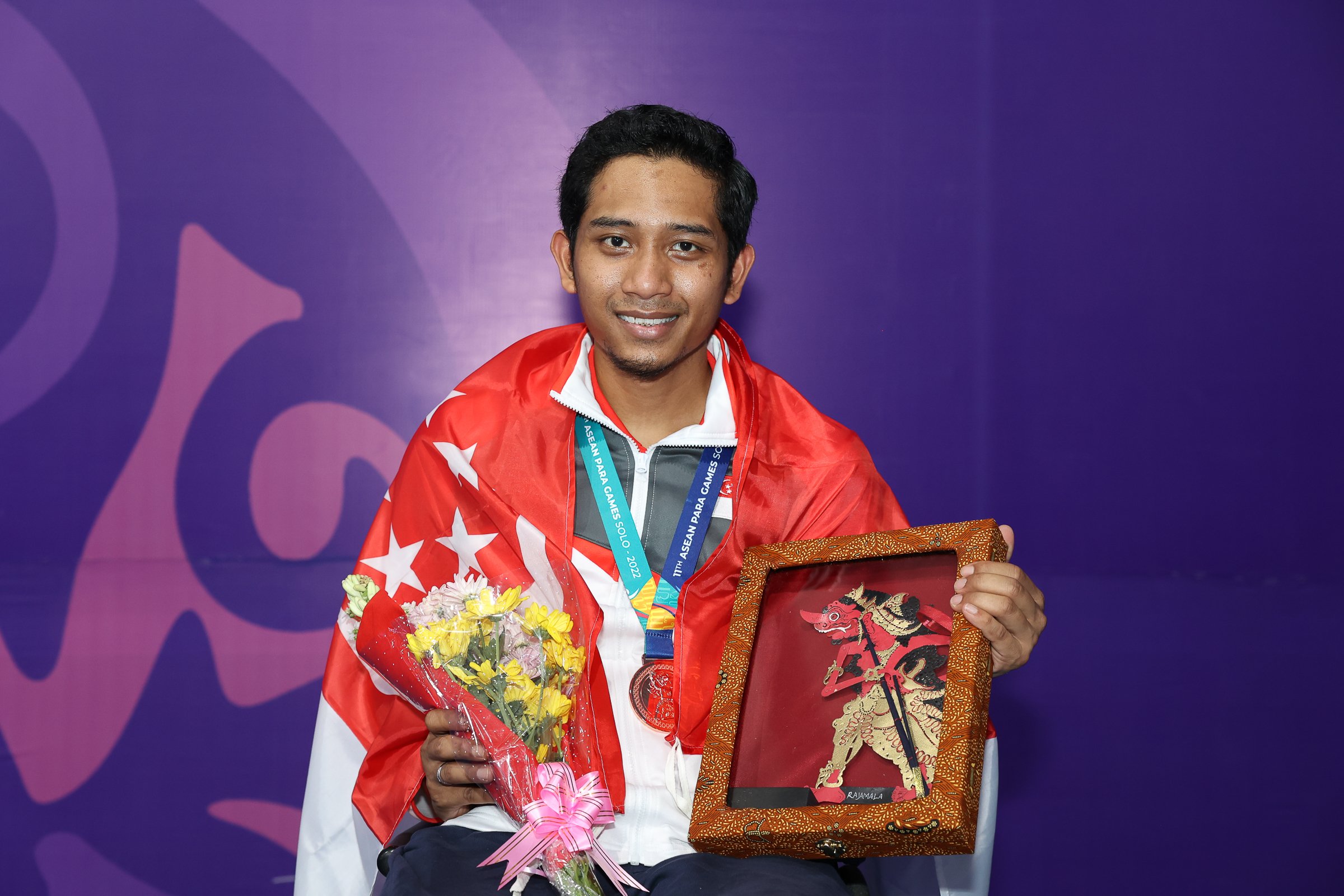 TeamSG's Md Dinie Asyraf claimed a Table Tennis bronze at the 11th APG in Solo, Indonesia. Photo Credit : SNPC/Calvin Teoh
It's been 8 years since Md Dinie Asyraf bin Huzaini made his Team Singapore debut. And Cambodia 2023 will be his 4th outing at the ASEAN Para Games (APG), competing in the sport of table tennis. After winning a bronze at last year's APG, Dinie said, "I decided to compete as an athlete, because my coach saw the potential in me and motivated me. Though I find it challenging to travel overseas for competitions and stay committed, I have help from my coaches and teammates. Table tennis has also taught me to be more responsible".
For the 12th edition of the APG, 33-year-old Dinie is part of a 3-member Table Tennis squad which includes Rodrick Li and Claire Toh. Back in August 2022 in Solo, Indonesia, Team Singapore bagged 4 bronzes in table tennis at the 11th APG. Meanwhile, ActiveSG Circle checked in with the 4-time APG veteran paddler for his plans in Cambodia and beyond.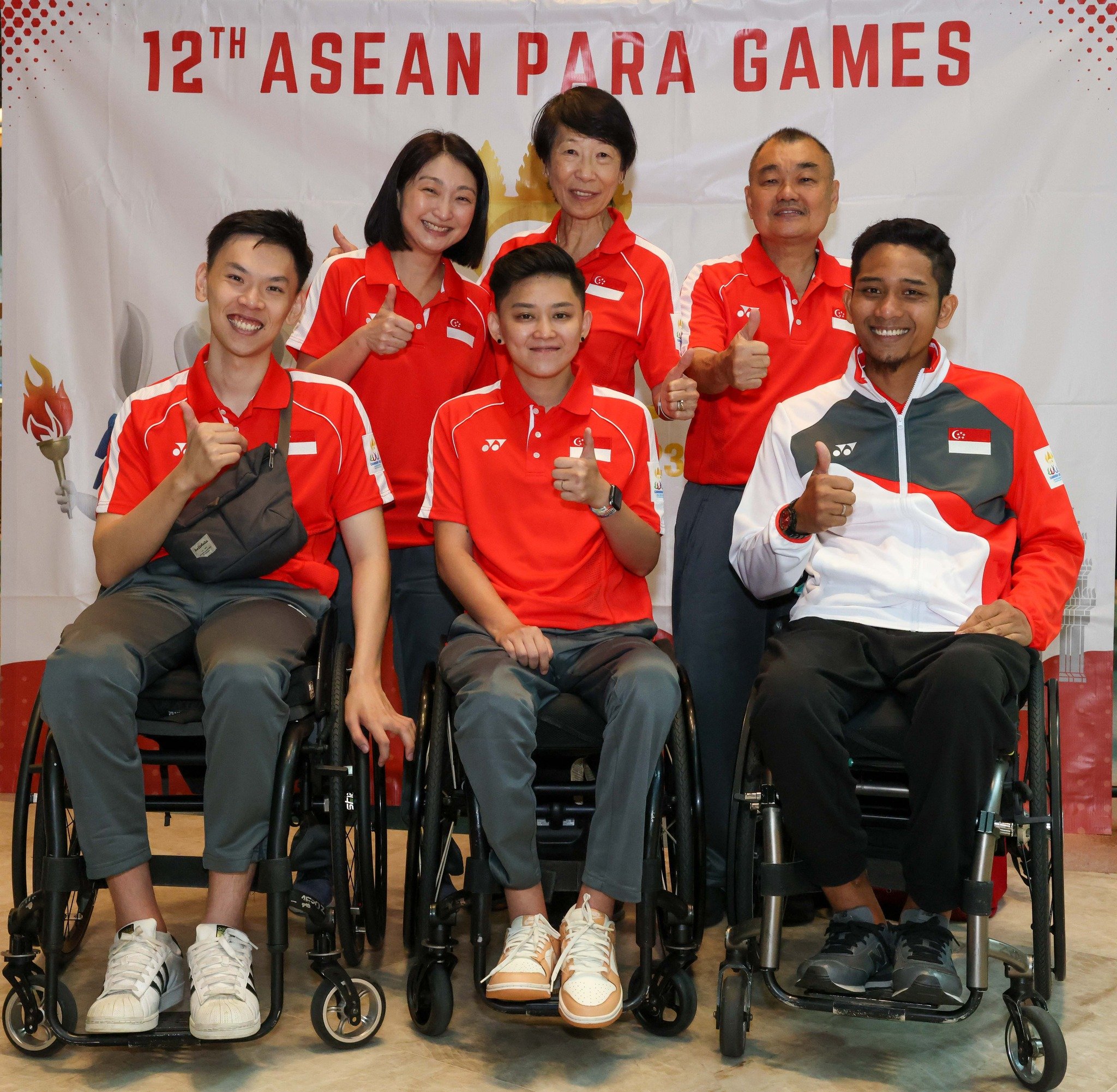 (Front Row from L to R) TeamSG's Rodrick Lee, Claire Toh and Md Dinie Asyraf will compete in Cambodia 2023. Photo Credit : SNPC/Calvin Teoh
Md Dinie Asyraf bin Huzaini (Table Tennis, Team Singapore)


Age :

33


No of years in TeamSG :

9

Q : Cambodia 2023 marks your 4th ASEAN Para Games. How are you feeling ahead of the upcoming campaign?
Dinie : I feel excited and a little nervous.

Q : Take us through your training preparations for Cambodia 2023?
Dinie : I've started intense training 5 days a week... more sparring partners for me to spar with... also went for 2 overseas training stints in South Korea and Thailand.

Q : Which events are you competing in?
Dinie : I will be competing in the class 3 singles event, doubles event and mix doubles event.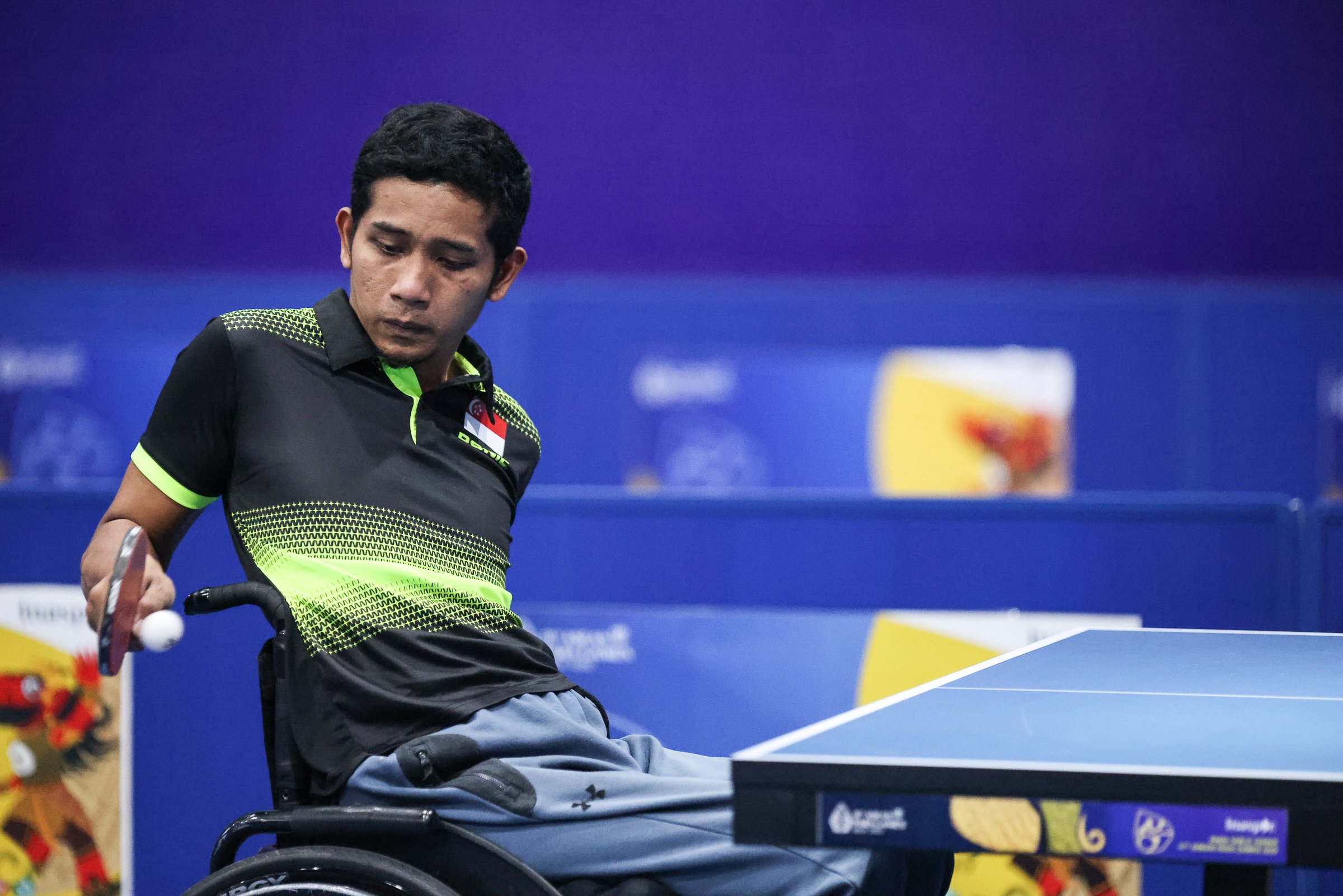 TeamSG's Md Dinie competing at the 11th APG in Solo, Indonesia in Table Tennis. Photo Credit : SNPC/Calvin Teoh
Q : Do you have a few words about your current coaches and how have they brought out the best in you?
Dinie : They are supportive and always push me to train harder, because they know I can do better.
Q : With 2 bronzes from previous APG campaigns, what are you hoping to achieve in Cambodia and what's next for your table tennis career in 2023?
Dinie : I am hoping to get more medals and my next target is to participate in the Asian Para Games in Hangzhou in 6 months.
Q : Your favourite Athlete in the world and why?
Dinie : Park Jin Cheol from South Korea.. because he is very humble and willing to share knowledge.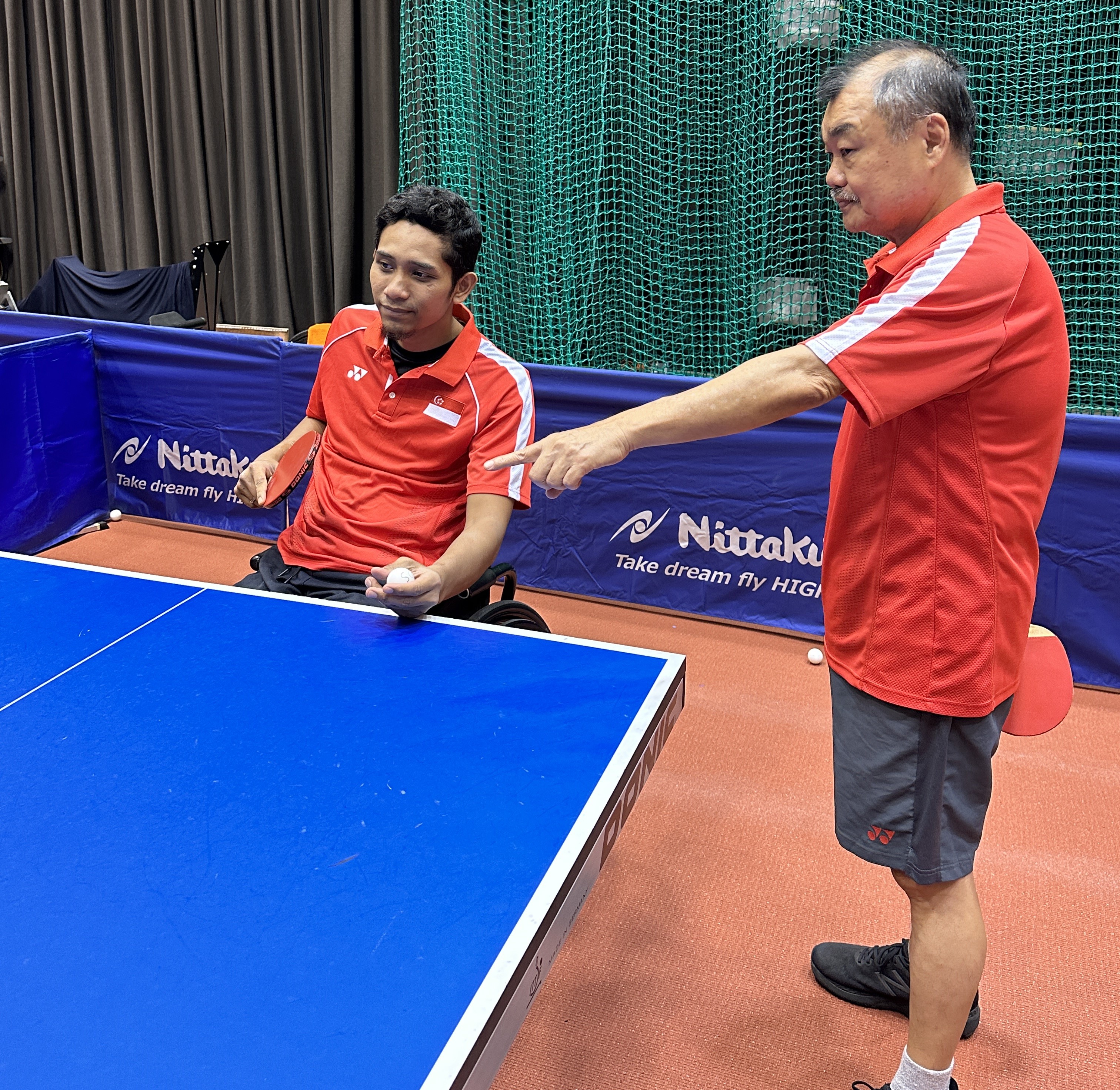 Coach Goh Chyuan with Md Dinie at training session. Photo Credit : SNPC
Coach Goh Chyuan
Q : Can you briefly describe Dinie's mindset going into Cambodia?
Coach Goh : To represent Singapore and win medals.
Q : How are his preparations in the leadup to the APG?
Coach Goh : Dinie was sent to Thailand to train with their National Team in March. And in April, he was training in Gwangju, Korea with their National Team as well.
Q : What are you hoping for Dinie to achieve in his 4th APG and what's next for him in 2023?
Coach Goh : To maintain his bronze medal and advance to the APG Final. And to take part in the Asian Para Games at Hangzhou in October.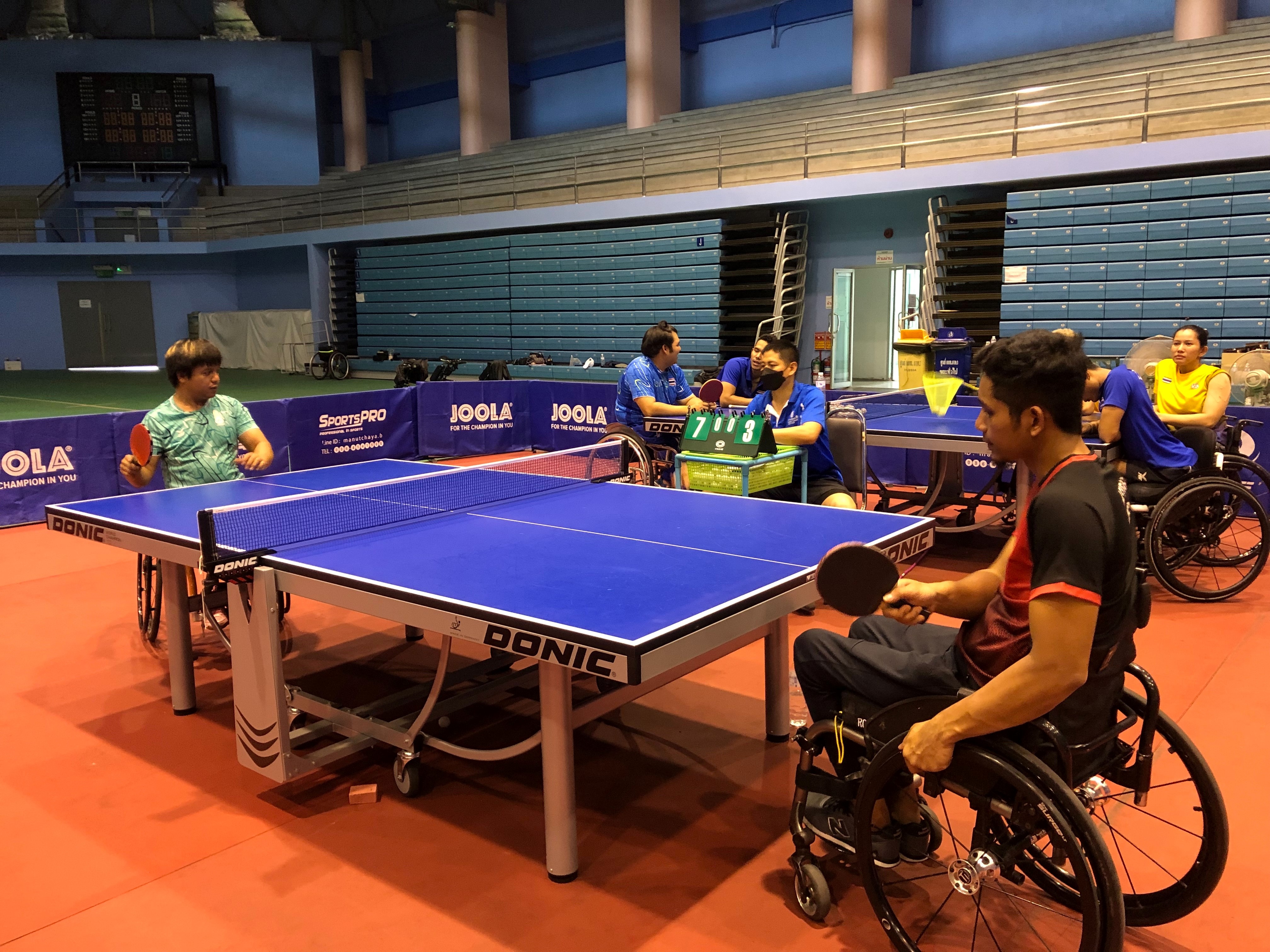 TeamSG's Md Dinie (Right) in a wheelchair and engaged in training. Photo Credit : Coach Goh Chyuan
The 12th ASEAN Para Games are held in Cambodia from 3-9 June 2023. For the latest Team Singapore coverage and news, follow Team Singapore on their social media channels (Facebook, Instagram, TikTok) or visit the official Team Singapore website.
You can also follow our TeamSG athletes on Singapore National Paralympic Council's Facebook and Instagram.