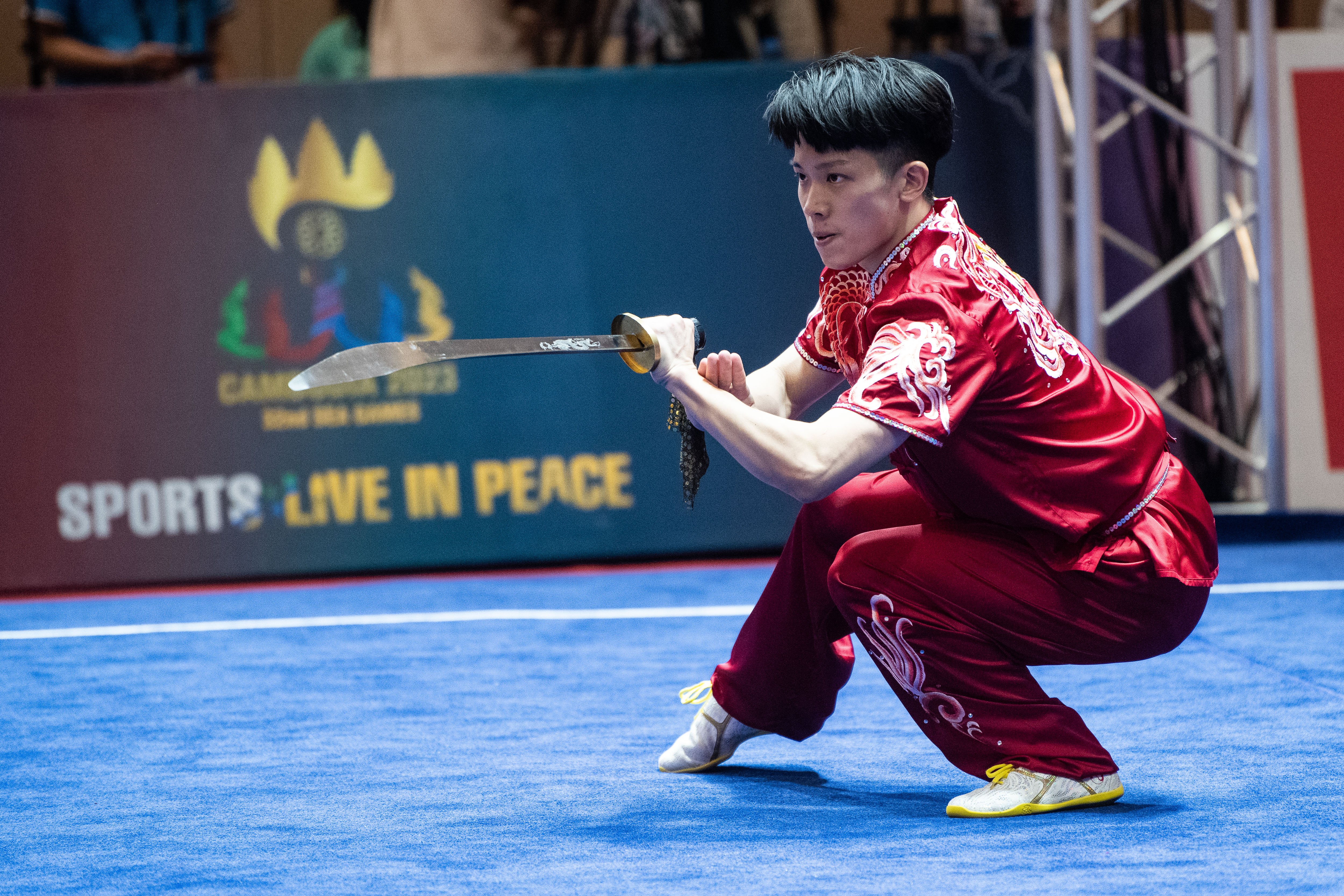 Ong Zi Meng missed out on the medals but came away with tons of experience. Photo: SNOC/Lim Weixiang
By Philip Goh
It had looked ominous on Wednesday (10 May) when Singapore's wushu athletes came away holding good positions in the men's and women's Daoshu + Gunshu combined events.
In the women's, Kimberly Ong was leading in the Gunshu discipline with 9.603 points with teammate Zoe Tan in fourth position.
In the men's, Jowen sat in third place after the Daoshu discipline while Ong Zi Meng was seventh in the 11-strong field.
A day later, at the completion of both events, Singapore had come away with three medals, with Ong the only athlete to miss out despite coming second in the Daoshu programme but failing to improve on his overall position.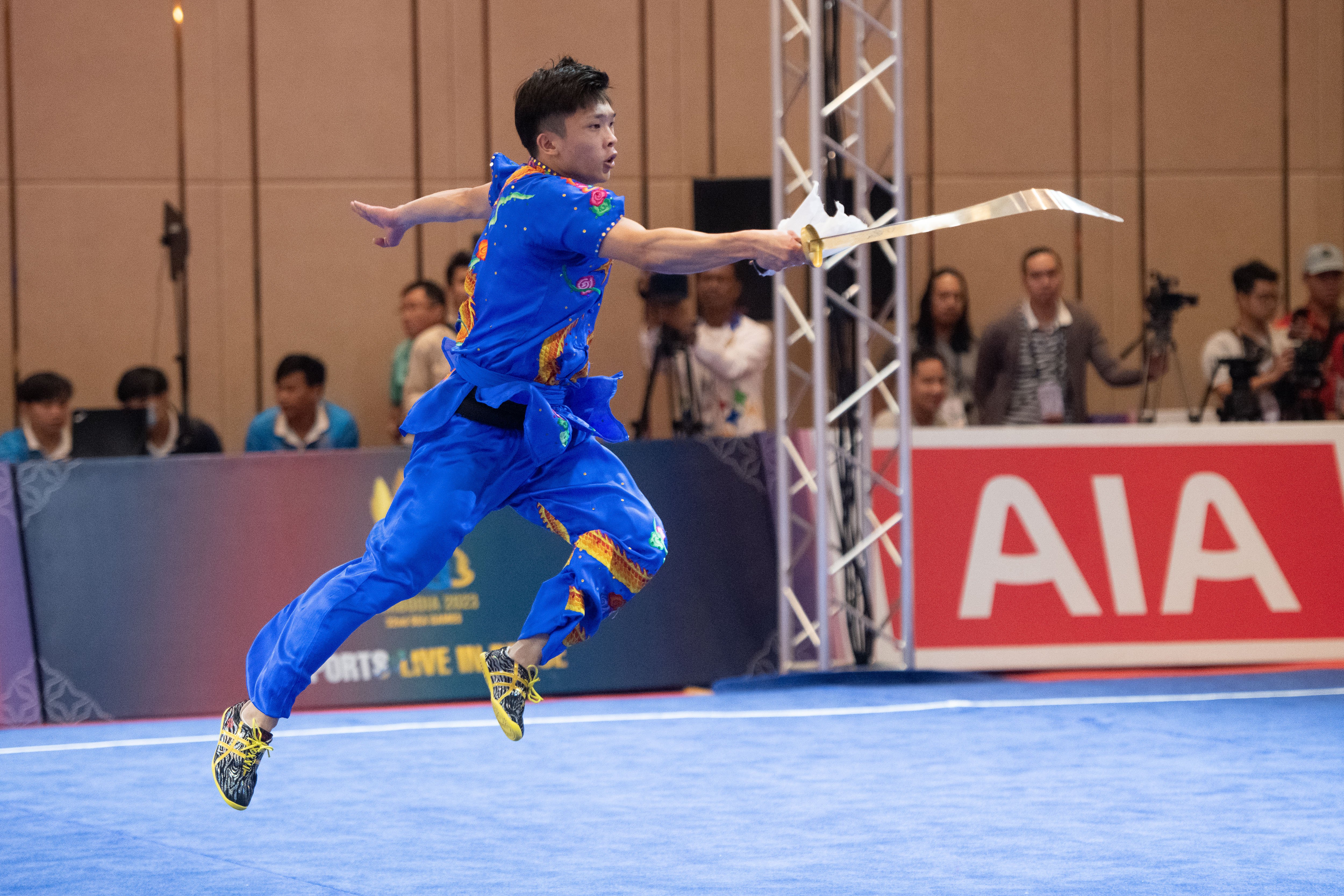 Jowen Lim wasn't ready to let this one slip yet again. Photo: SNOC/Lim Weixiang
Teammate Jowen Lim put on a dazzling display of swordsmanship to finish first in the Daoshu programmes with 9.710, and his overall combined score of 19.386 was good enough to win Gold for Team Singapore.
Speaking to SportSG, an elated Lim said: "My last gold in the SEA Games was six years ago and I came so close the past two Games. So, this gold is extra special to me, especially standing on the top step hearing the national anthem play.
Heading into today's programme in third place, Lim was prepared to give it his all.
"I came in twice as focused and gave my all on the carpet," he said. "I wanted to make sure that I left no regrets since Daoshu and Gunshu are my pet events.
"Between the two, Daoshu has always been my stronger event. Knowing this, I've put more time and effort training the Gunshu."
And it looked like the effort paid off as the Gunshu score gave Lim the platform to launch his Gold medal effort today.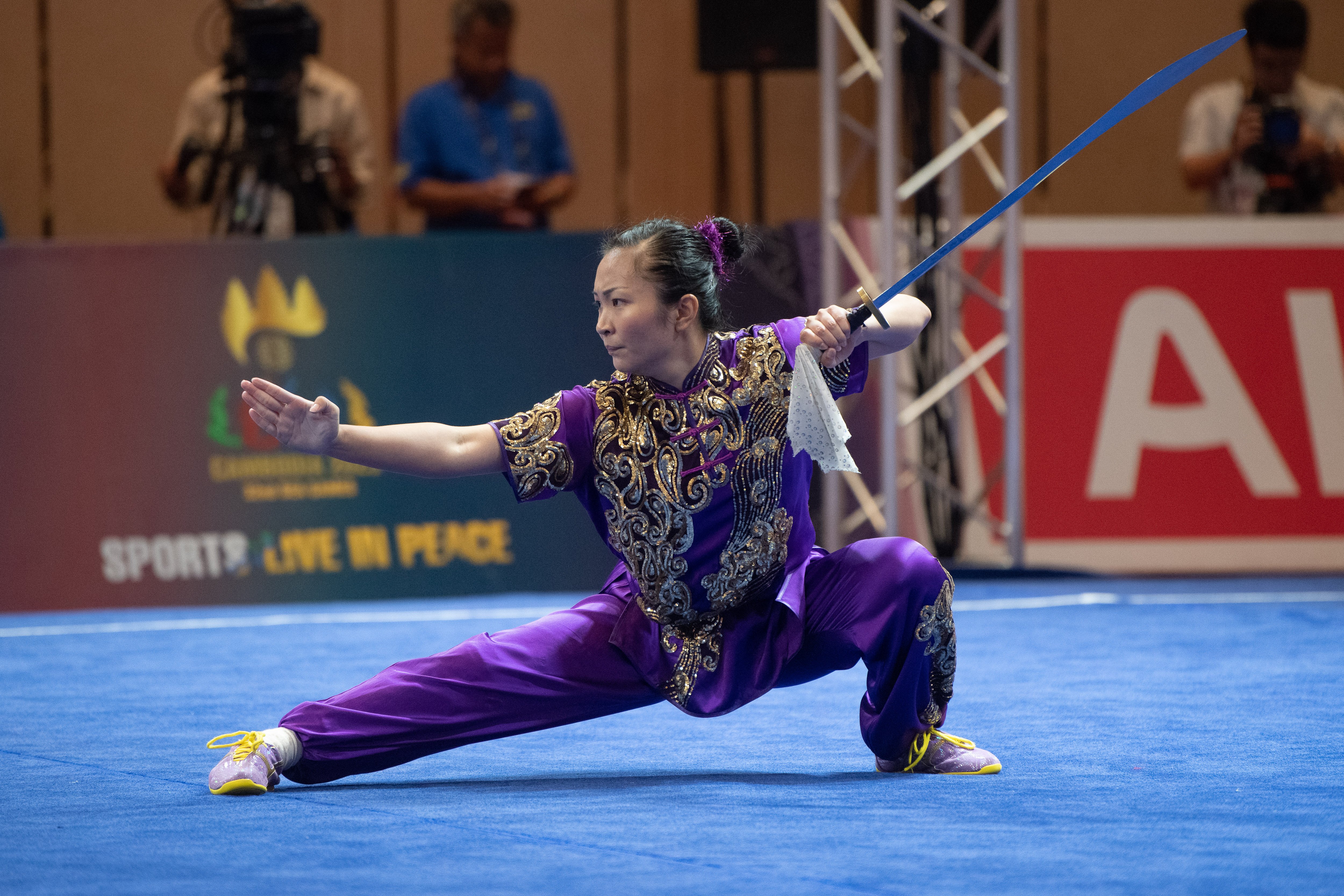 Kimberly Ong felt no pressure coming into the second half of the competition. Photo: SNOC/Lim Weixiang
As for Ong, she felt confident of holding on to her leading position.
"Yeah, I had quite a healthy lead over most of my competitors except for Malaysia. But I knew that as long as I managed a clean routine, I would be able to seal the title," said Ong.
"I'm mostly feeling thankful for all the support I've received, and relieved that all my hard work for the past few months have paid off.
"This gold medal means so much to me since I had to defend my title from last year, and it is a real testament to my hard work over the past year."
Recalling her Wushu journey, Ong talks of taking time away from law studies at the National University of Singapore.
"Many sacrifices were made this year," she said. "The federation had arranged a one-month training camp for us in Tianjin, China, in March. It meant I had to take a month off law school and return to take my finals after the training camp.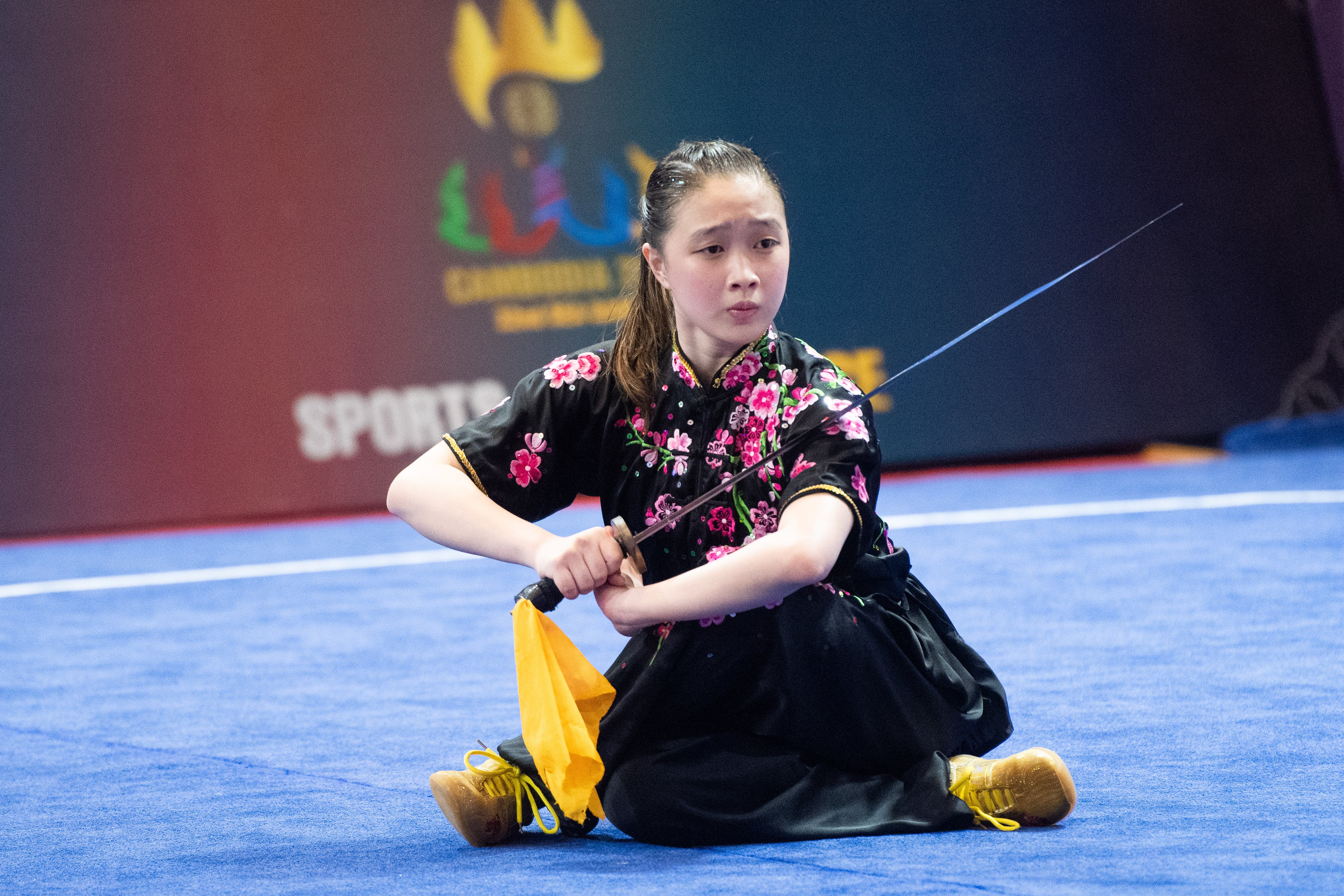 Silver for Zoe Tan after a compelling routine in the Daoshu. Photo: SNOC/Lim Weixiang
"Nonetheless, I still went for the training camp because I knew how important it was for my preparation for the Games. The time devoted to training and the high intensity also led to many injuries. But I endured the pain and continued to press on, and it has all paid off."
Looking ahead, Ong will now focus on the upcoming Asian Games in Hangzhou.
"I've not had any Asian Game experience, so it's good to be able to challenge myself to greater heights. I'm aiming for a top 5 finish at the Asian Games.
"Additionally, the world wushu championships will also be happening in November. i would also like to qualify and compete at the championships, as well as attain a top eight finish for all my events. I will continue to work extremely hard for my goals and dreams."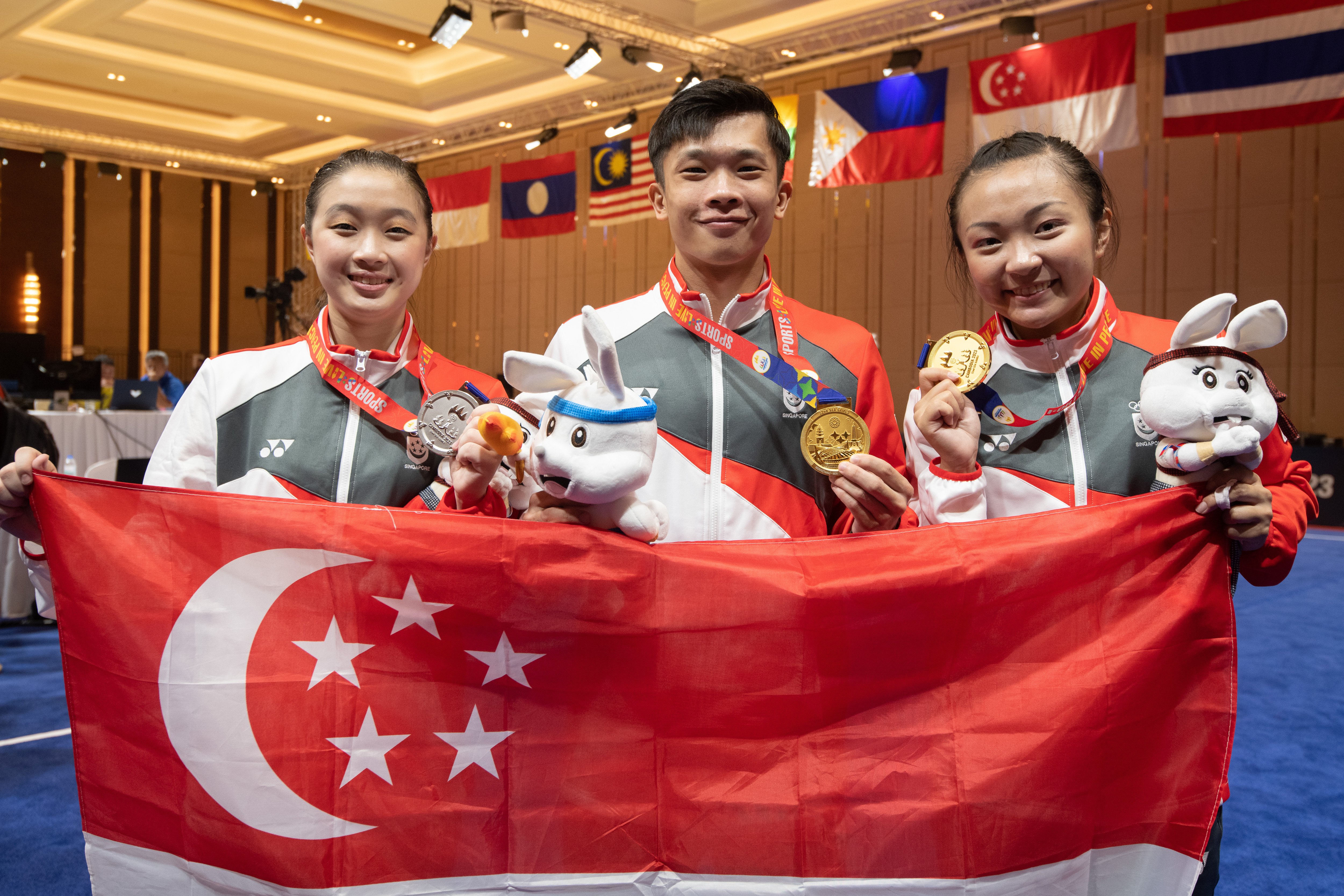 Winners are grinners - Singapore's wushu medallists on Day 6 of competition in Cambodia. Photo: SNOC/Lim Weixiang
Adding to the two gold medals, Zoe Tan scored a 9.580 in the Daoshu to take her combined score to 19.043, good enough for the silver behind Ong.
The 32nd SEA Games are held in Cambodia from 5 to 17 May 2023. For the latest Team Singapore coverage and news, follow Team Singapore on their social media channels (Facebook, Instagram, TikTok) or visit the official Team Singapore website.
Related Topics
Related Events & Programmes
Related Topics