Singapore's women track and field athletes came up with the goods on Tuesday (9 May) at the Morodok Techo National Stadium in Phnom Penh, as high jumper Michelle Sng won bronze in her event while Goh Chui Ling ran a new National Record in the women's 1,500m final to grab bronze.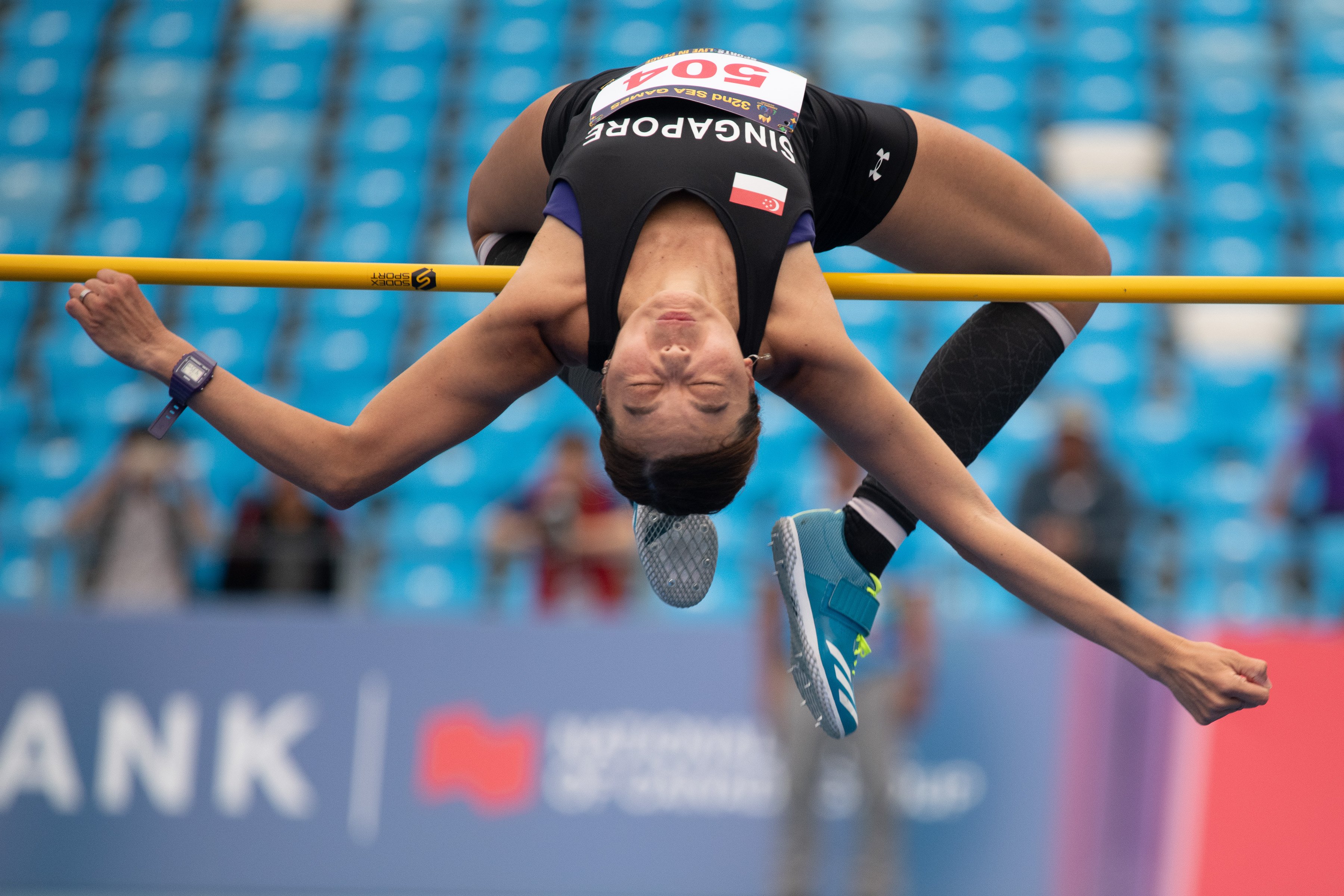 A season's best height for Sng who brought her "A" game to Cambodia. Photo: SNOC/Lim Weixiang
Sng recorded a height of 1.73 metres, which was her season's best.
She said: "I'm always grateful for every opportunity I receive to compete for the nation, and it's always a great feeling to stand up on the podium to hold the flag high.
"I'm pleased about the season's best I achieved today. But as athletes, we hold ourselves to high standards, so I do wish I had jumped higher."
The soon-to-be 36-year-old now looks forward to the Taiwan Open Track & Field Championships at the end of the month where she will again relish being back in action.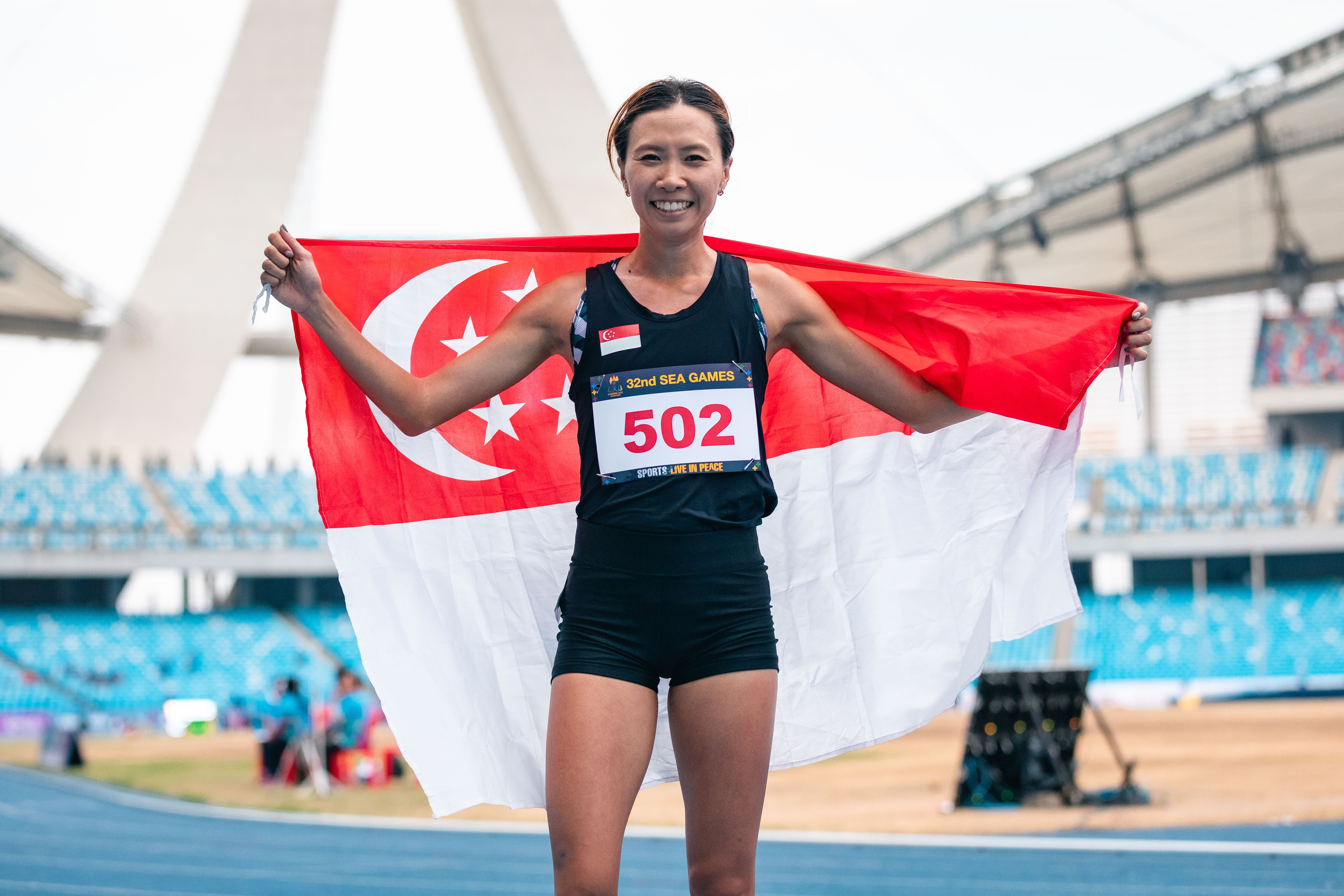 University lecturer Goh Chui Ling reaps the rewards of a solid training campaign. Photo: SNOC/Eng Chin An
As for Chui Ling, completing the race in 4 mins 26.33 seconds vindicates her coach's belief in her based on the training sessions where she has clocked good times.
Said Goh: "I was surprised to be able to commit to the race 100 percent and courageously, with the heat this afternoon and the fluid changes to the schedule the past days.
"For months, it has been about training consistently and staying as healthy as possible in the process. I'm also teaching at the University of Melbourne and doing my PhD, so I had to be very intentional and purposeful with my time management with training."
Describing the race, she says it still feels a bit surreal to her.
"It was about holding the fort at the 3rd-4th placing until the last 500m before picking up the pace. It was painful with the heat and the fatigue, but I gave everything I had for the last parts of the race.
"I was mentally strong despite the physical fatigue and I'm grateful for the months of preparation and support from my crew which has set up this win."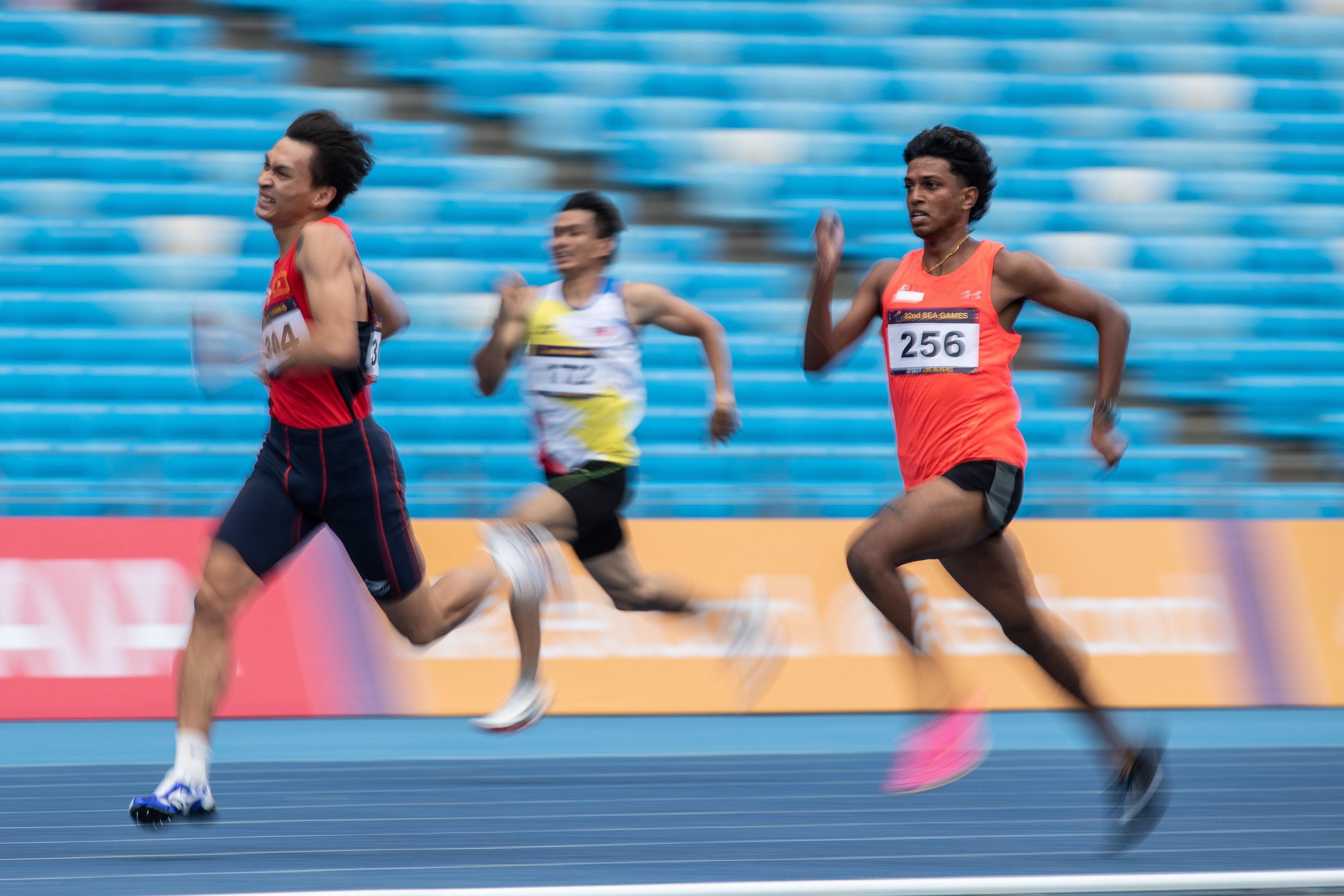 Thiruben Thana Rajan ran his heart out at the Morodok Techo National Stadium. Photo: SNOC/Lim Weixiang
In the men's 400m final, Thiruben Thana Rajan finished fifth while teammate Zubin Percy Muncherji failed to make it out of the heats.
Meanwhile, the men's 5,000m final saw marathoner Soh Rui Yong run a creditable 14 mins 46.4 seconds, just four seconds out of his personal best, to finish in fourth place.
Despite missing out on a medal, the University College London law student says he's happy with the outcome.
"I got stuck behind the Myanmar guy today and that's when the medallists got away," he noted. "You give these speedsters a 10-metre advantage late in the race that's it. I'm a bit rusty with my race tactics.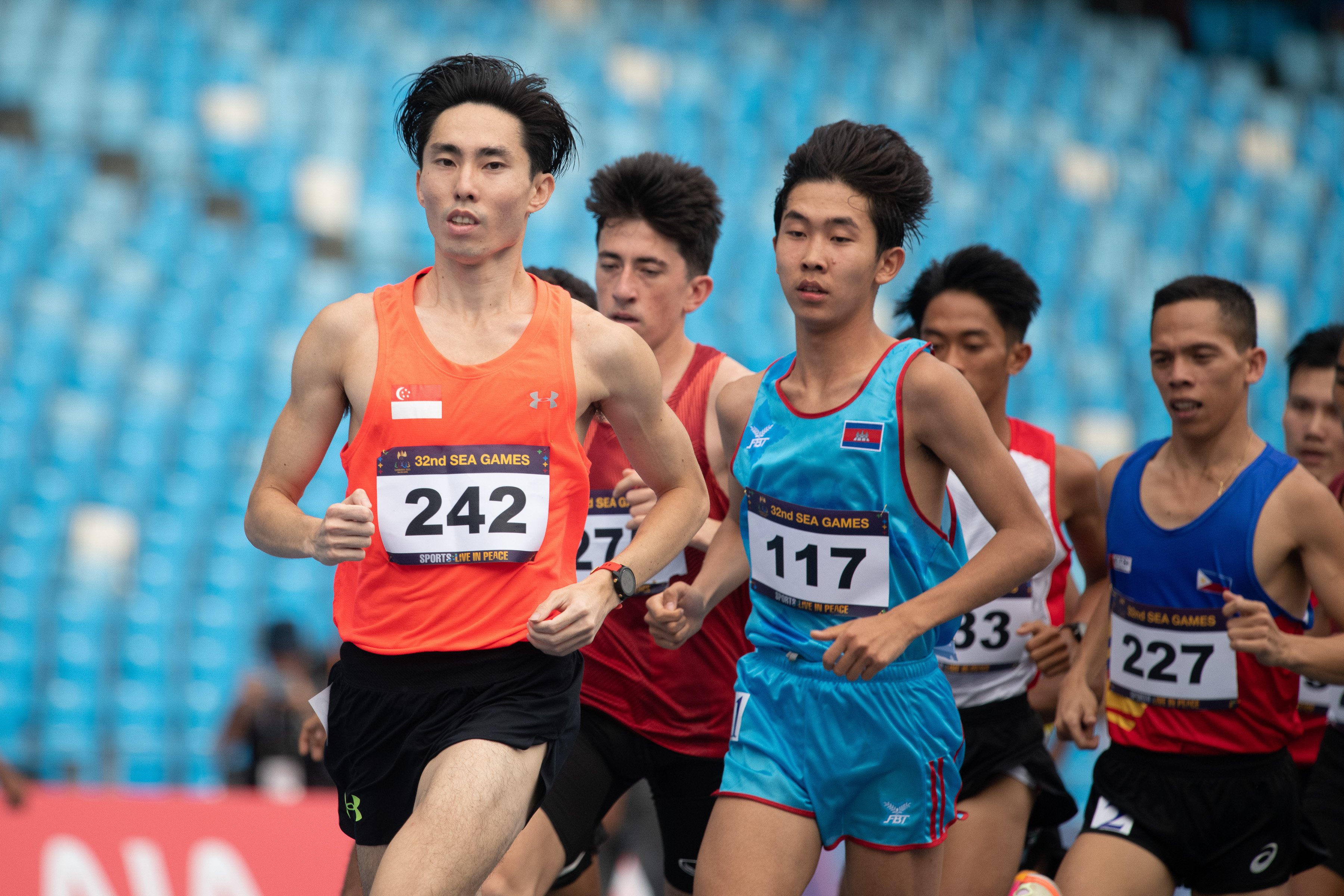 A creditable comeback in national colours for Soh Rui Yong who finished just outside his personal best. Photo: SNOC/Lim Weixiang
Looking ahead to his next race, the 10,000m final on Thursday (11 May), Soh said: "It really depends on who shows up but 10,000m will be a bloodbath. I fully expect Agus to set a punishing pace from the start but today's race gives me confidence I can stick in a fast race and hang on till the end."
Teammate Jeevanesh Soundararajah finished 15th in the 5,000m final with a time of 15 mins 51.6 seconds.
The 32nd SEA Games are held in Cambodia from 5 to 17 May 2023. For the latest Team Singapore coverage and news, follow Team Singapore on their social media channels (Facebook, Instagram, TikTok) or visit the official Team Singapore website.
Related Topics
Related Events & Programmes
Related Topics