Cambodia 2023: Patience, belief take Middleditch to SEA Games podium
by ActiveSG Circle, on May 8, 2023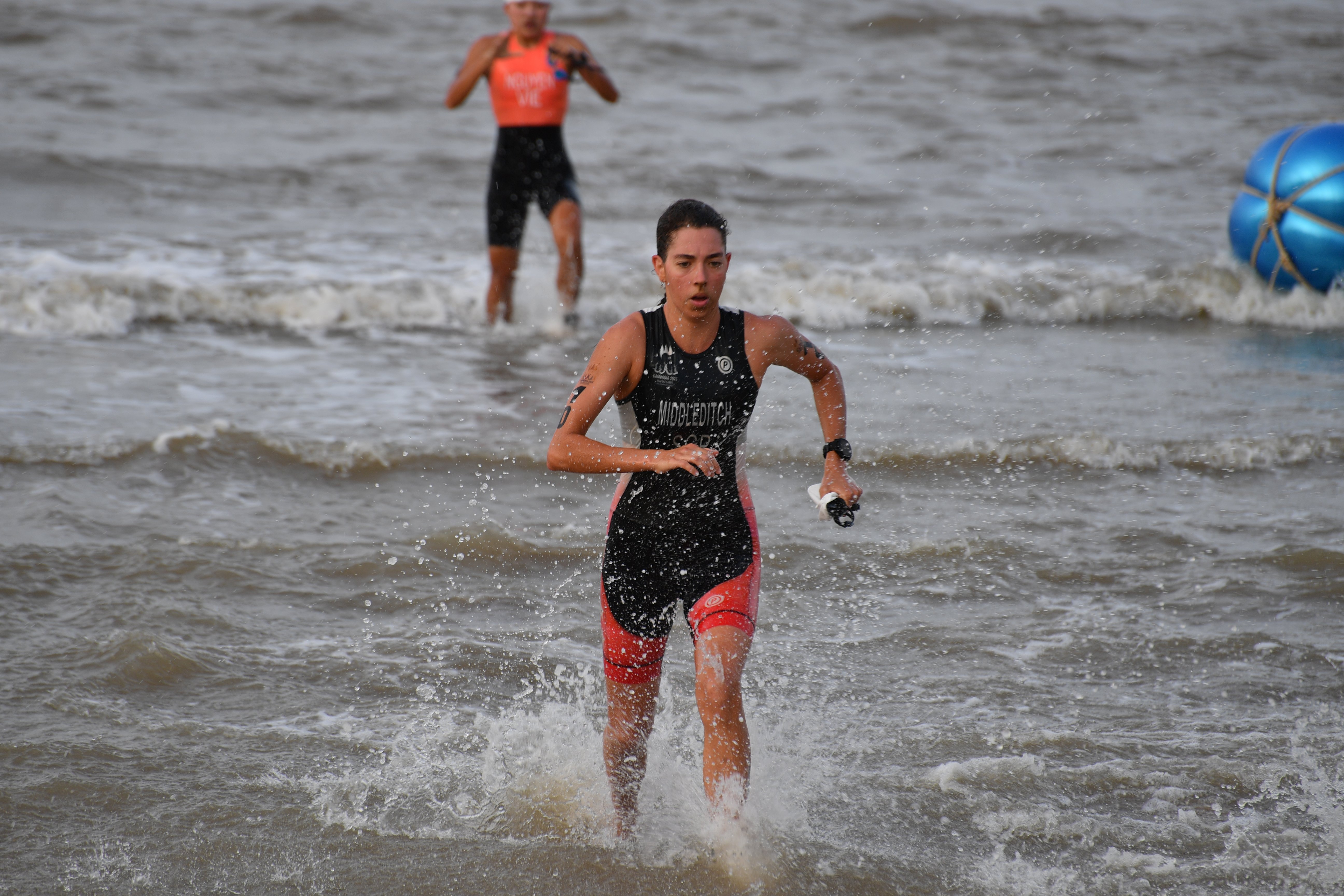 Louisa Middleditch's SEA Games debut came with a bronze, a gratifying result given a frustrating few months due to injuries. Photo: SportSG/Alfie Lee
By May Chen
There are probably few things more frustrating than injuries for athletes, when your mind is racing but your body is unable to.
For months, Singapore triathlete Louisa Middleditch struggled with just that when injuries kept her from running in preparation for her SEA Games debut. But patience and belief bore fruit on Monday (May 8), in the form of a shiny bronze medal around her neck.
She crossed the finish line in 1hr 7min 30.1sec, coming in behind Cambodia's gold medallist Margot Garabedian (1:05.34.2) and just seconds behind silver medallist Marion Kim Mangrobang of the Philippines (1:07.24).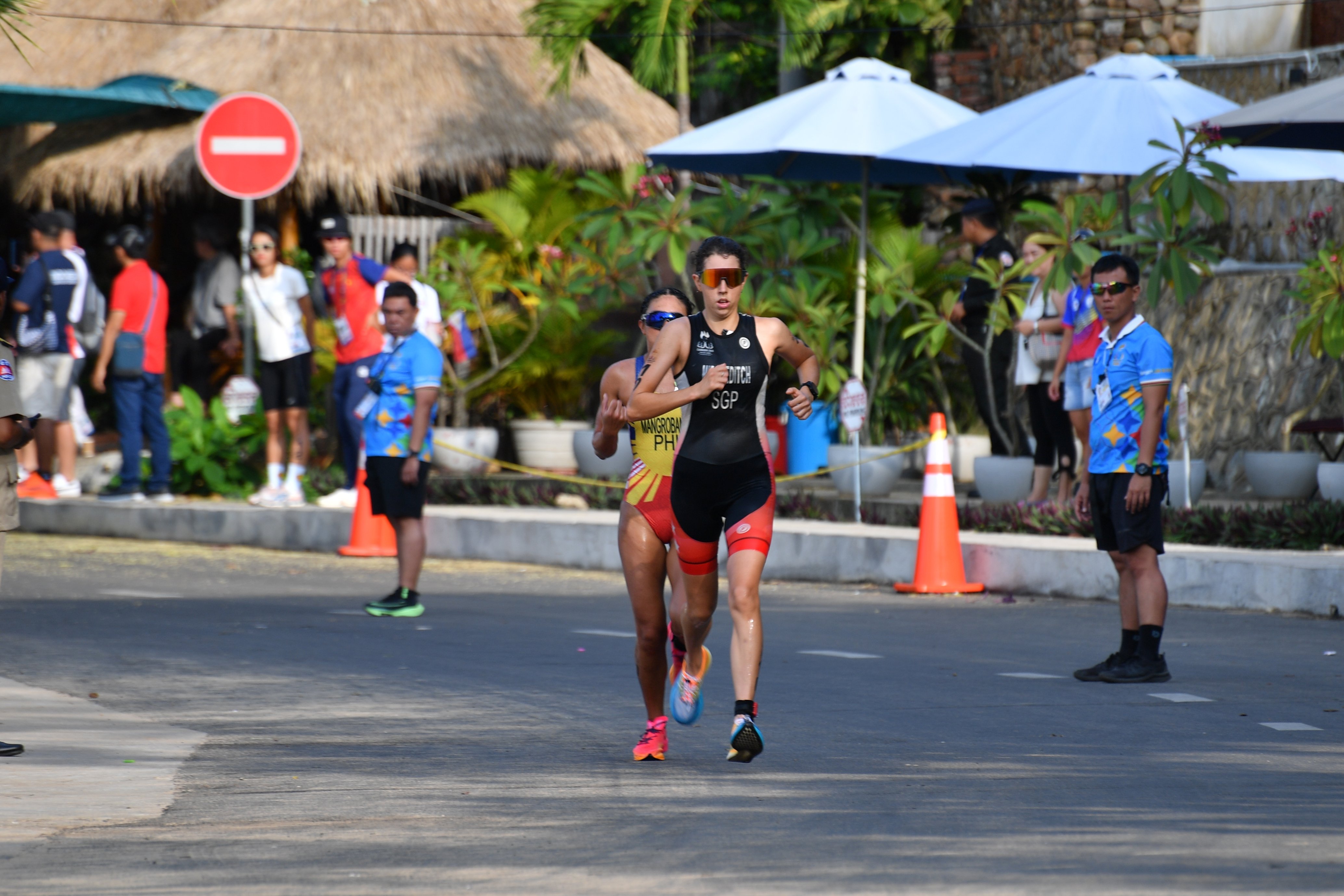 Louisa Middleditch in action at the Kep Town Beach during the triathlon on May 8. Photo: SportSG/Alfie Lee
Said the 22-year-old, who was born and raised in Singapore: "I'm just delighted and lost for words. There were a lot of setbacks coming into the SEA Games."
Middleditch was off running for six weeks after breaking her toe, which was swiftly followed by a Grade 1 stress injury on her fibula. She also competed in the duathlon on Sunday (May 7), but fell just short when she finished fourth.
She said: "I had injuries, sickness, and I've not been able to run for the last three months. I was focusing on the duathlon yesterday and it was a frustrating result. I was deflated and wasn't the most motivated this morning, but it turned out better than I could have asked for.
"I was just soft jogging when I got back to it a week or two ago, a 15-minute jog in the week just so my body doesn't forget how to run. It's been very challenging mentally."
Middleditch's medal adds another to the family's collection of SEA Games accolades. Her younger sister Emma was part of the mixed relay teams that took silvers at the 2019 Games in the duathlon and triathlon events.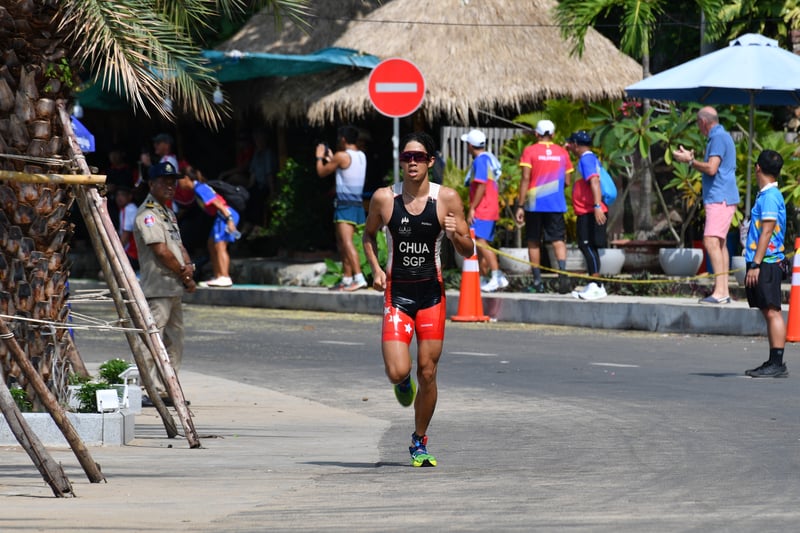 Singapore's Luke Chua in action in the men's triathlon on Sunday. Photo: SportSG/Alfie Lee
To cope with the sweltering conditions at the Kep Town Beach, she made small tweaks from how she would usually prepare for the sprint triathlon (750m swim, 20km bike, 5km run). Instead of just one bottle of water on her bike, she prepared two – one to drink from and another to cool her body with.
"I've done scorching races in places like Subic Bay, but this was definitely up there with the hottest," she said. "Our run course was actually nice, and we did get a little breeze at times. There were some shady areas but it was mostly just the ambient heat. It's very stuffy and it gets to you and takes it out of you. You really need to pace yourself."
Beyond learning to cope with weather conditions and tactics on race day, it was a bigger lesson in self-belief that Middleditch will take home from Cambodia.
She said: "It's about being patient and believing in yourself even when everything seems to be going against you. I learnt it's important to just accept it if you get injured or fall sick, and not try to push it away.
"I did that, and when another setback came along it was just too much. I learnt it's important to not judge yourself for it, just acknowledge it and give yourself time to be sad and frustrated. The benefit of triathlon is that you've got other disciplines. Just focus on what you can do, and trust that your body and mind will get you to the finish line."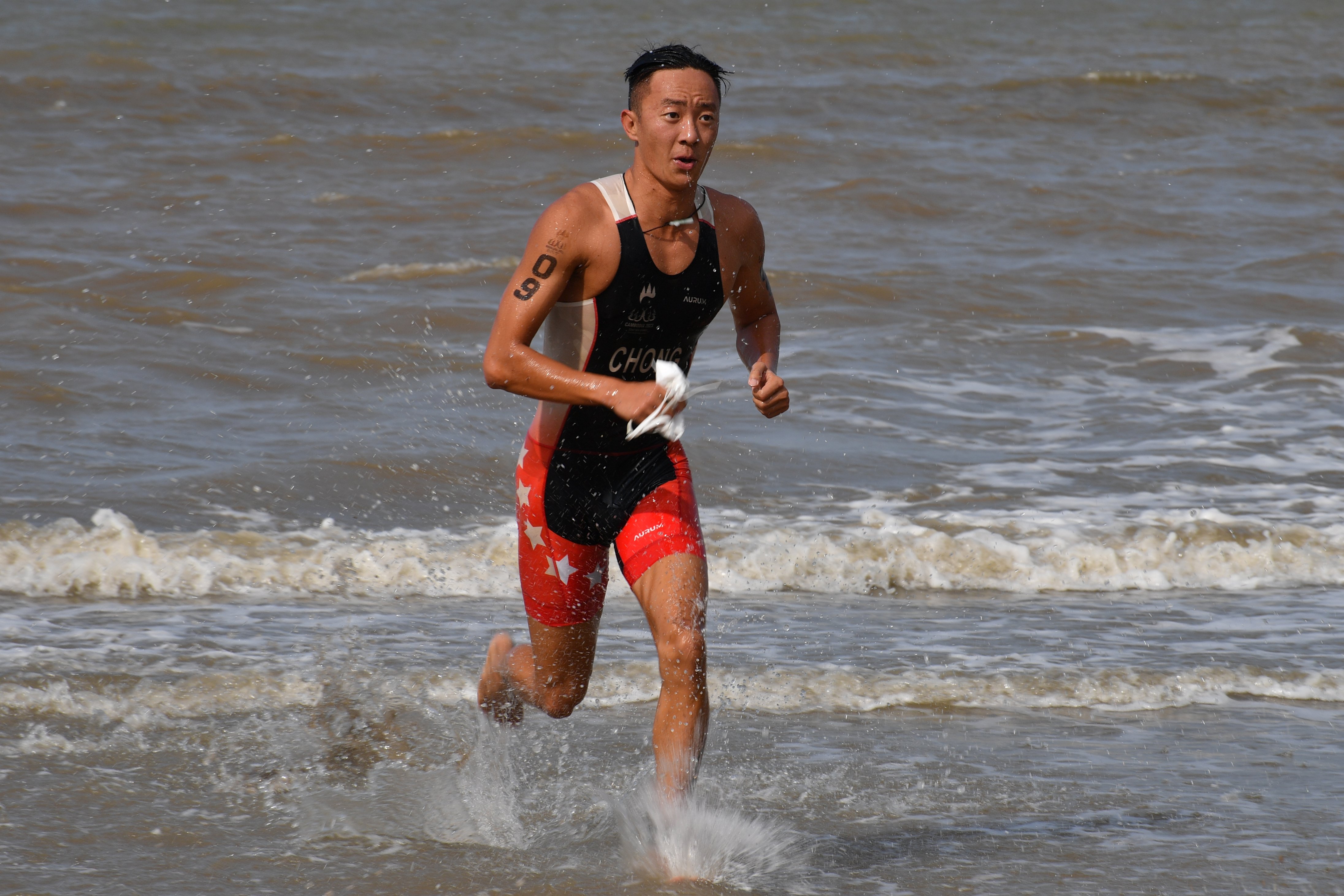 Bryce Chong completing the swim segment of the triathlon on Monday. He had won a bronze earlier in the aquathlon. Photo: SportSG/Alfie Lee
Across the events, the triathletes finish the Cambodia SEA Games with two bronze medals. Bryce Chong had won Team Singapore's first medal of the Games in the men's aquathlon on Saturday (May 6).
The 32nd SEA Games are held in Cambodia from 5 to 17 May 2023. For the latest Team Singapore coverage and news, follow Team Singapore on their social media channels (Facebook, Instagram, TikTok) or visit the official Team Singapore website.